TikTok's Baked Buffalo Mac and Cheese Recipe With Photos
You Know What's Better Than Baked Feta Pasta? TikTok's Baked Buffalo Mac and Cheese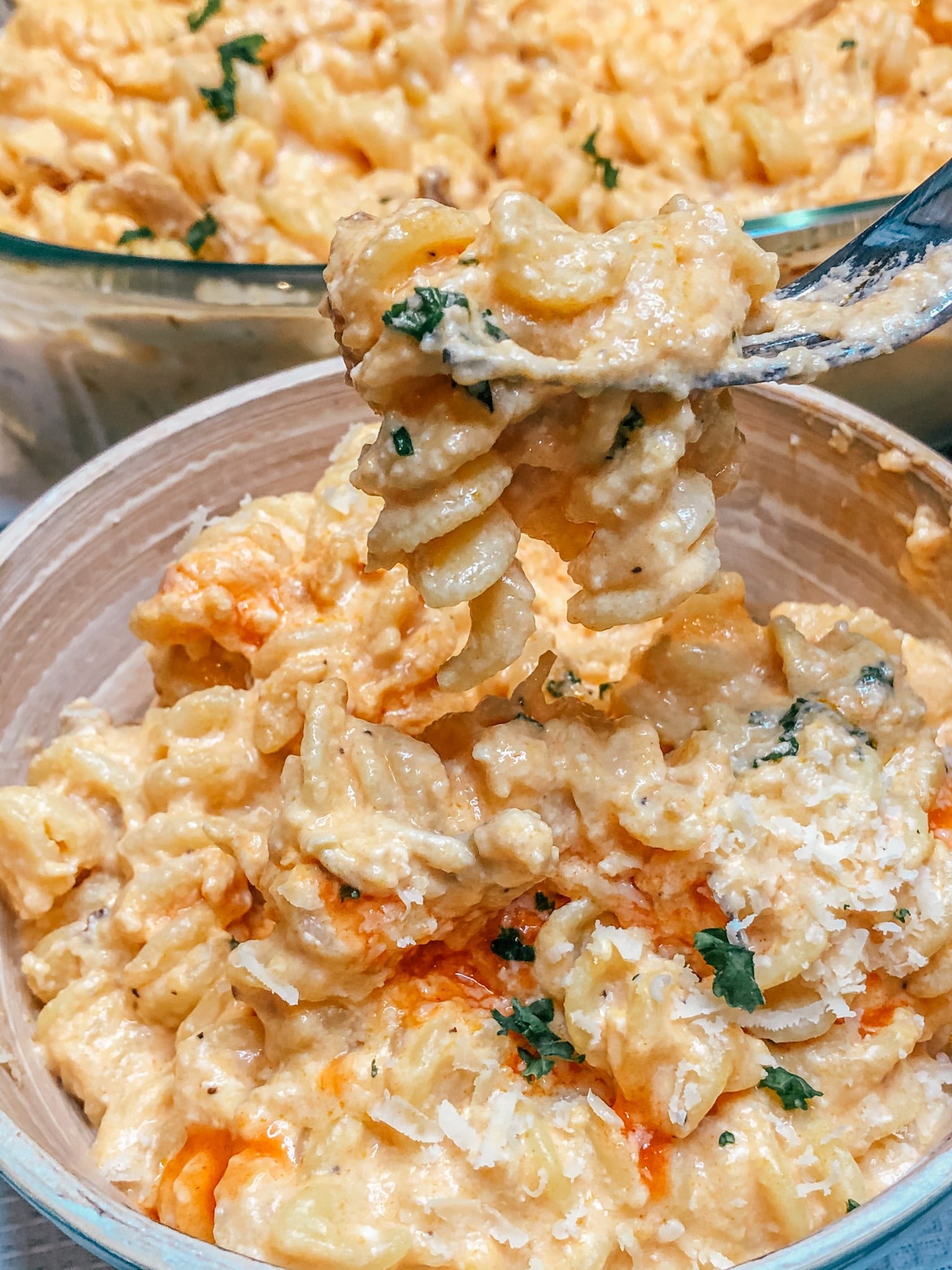 If you, like me, find yourself scrolling through TikTok for what feels like hours every day, you've likely seen the infamous baked feta pasta — a viral recipe in which salty feta cheese and juicy cherry tomatoes are roasted and combined to create a creamy sauce that coats cooked pasta — more times than you can count. While the popular dish has taken on many forms since its inception, none has reached A Goofy Movie's cheese levels ('90s kids know what I'm talking about!) like TikTok user @thehungerdiaries's baked buffalo mac and cheese.
This one-pan recipe calls for a double-cheese center composed of both feta and cream cheese and a shredded cheddar perimeter mixed with raw macaroni and milk, all coated in a layer of hot sauce before being baked to gooey perfection. For how easy it is to make, it's a showstopping dish that's sure to satisfy everyone at the dinner table.
The recipe is relatively easy to assemble, as it more or less calls for dumping all the ingredients in one pot and throwing it in the oven, but I tried this dish a few times and found that there are a few important steps not mentioned in the TikTok that could make or break your final dish.
First, preheat your oven to 350°F. Then, add feta and cream cheese to the center of an oval baking dish.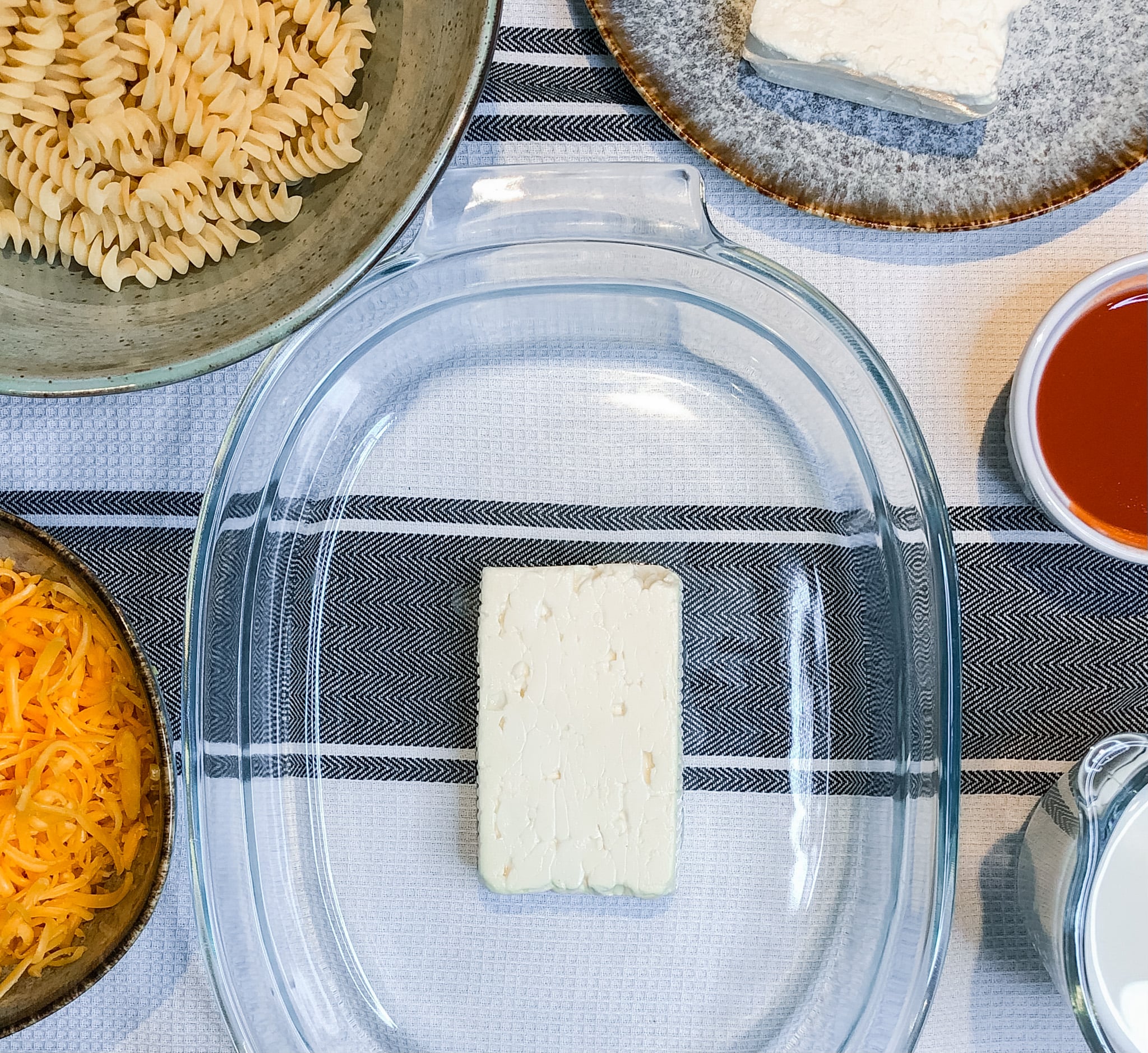 Layer raw macaroni, shredded cheese, milk, and garlic around the perimeter of the dish. Add a few generous pinches of salt and cracked black pepper before gently mixing the macaroni portion of the dish, being careful not to disturb the blocks of cheese in the center.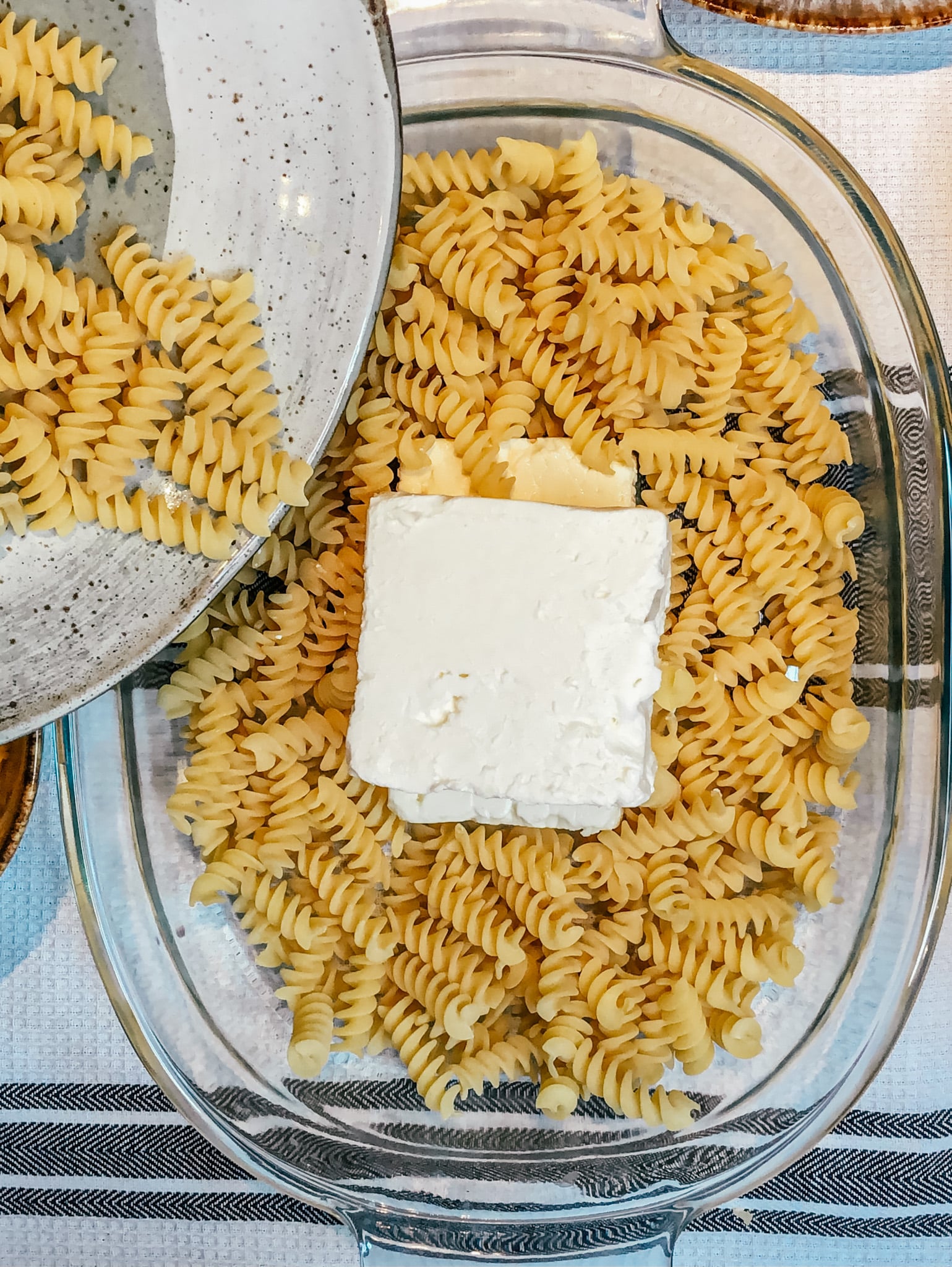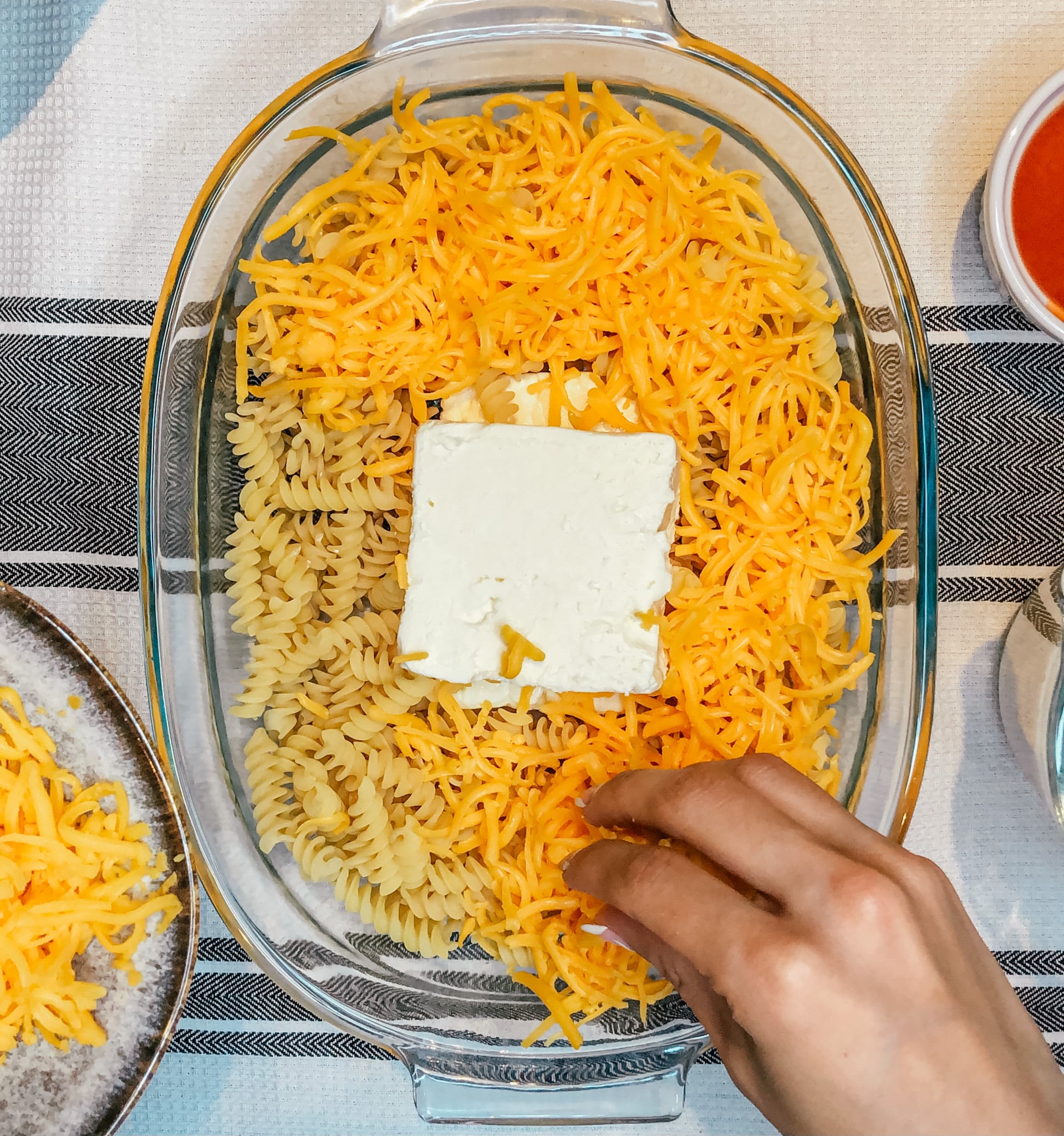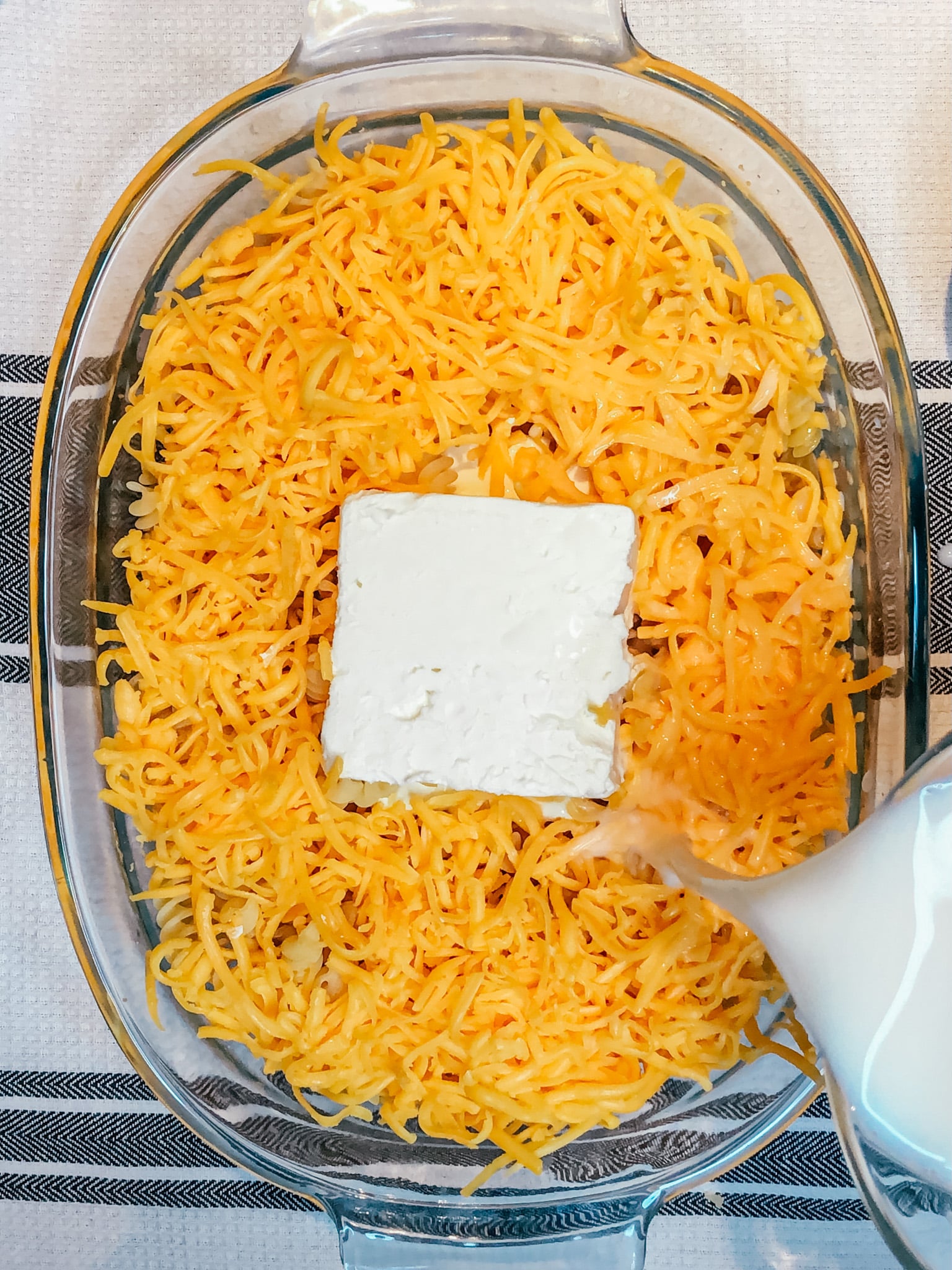 Pour hot sauce evenly across the top of the dish.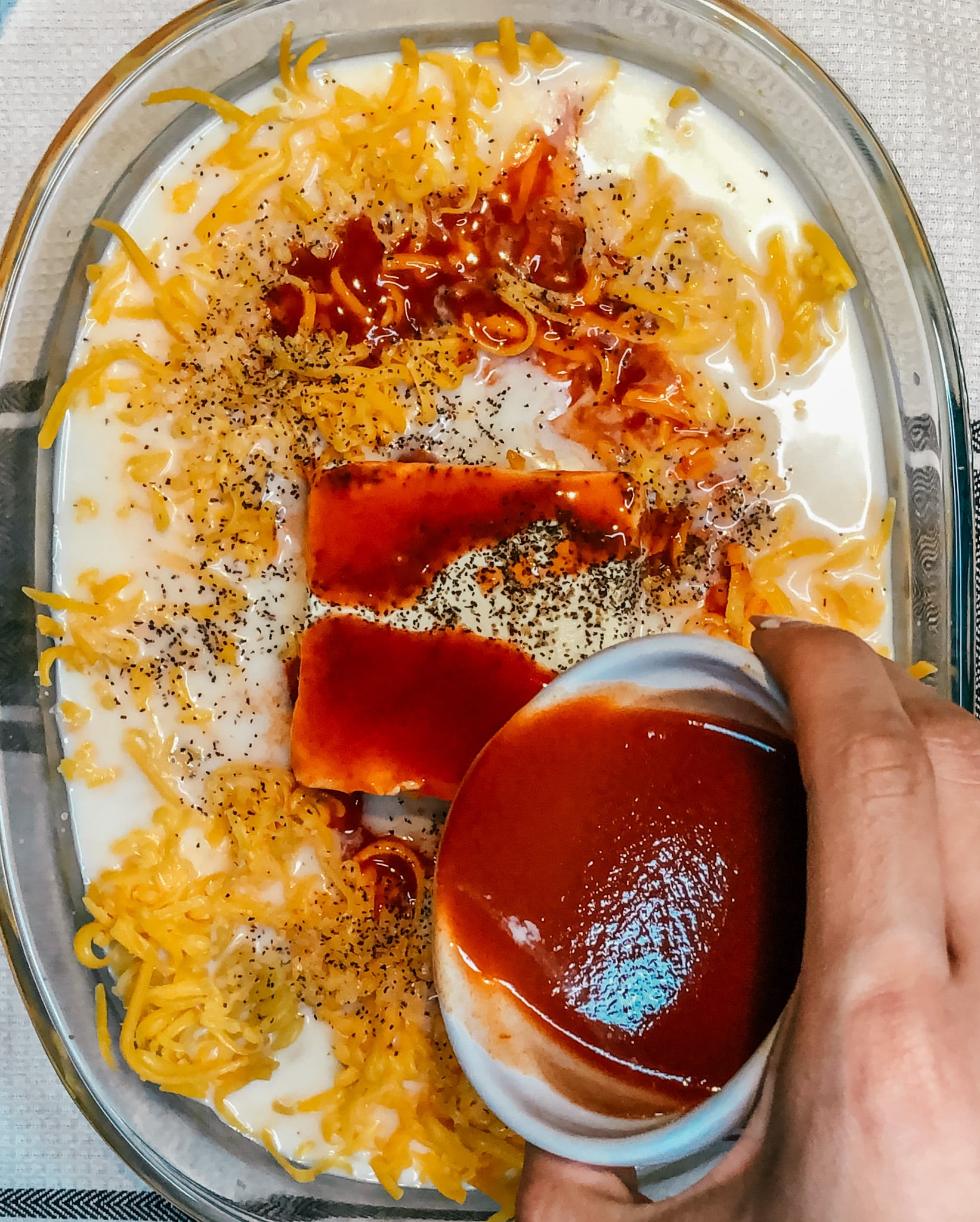 Place in the oven, and heat for 50 minutes. After 50 minutes, check the doneness of your macaroni by removing a noodle and biting down once cool enough. If it has a firm bite to it and a white center, it needs a few more minutes in the oven. But make sure not to leave the dish in the oven for too much longer, as the overcooked noodles will turn to mush.
Once the pasta is al dente, remove the dish from the oven and gently begin to stir.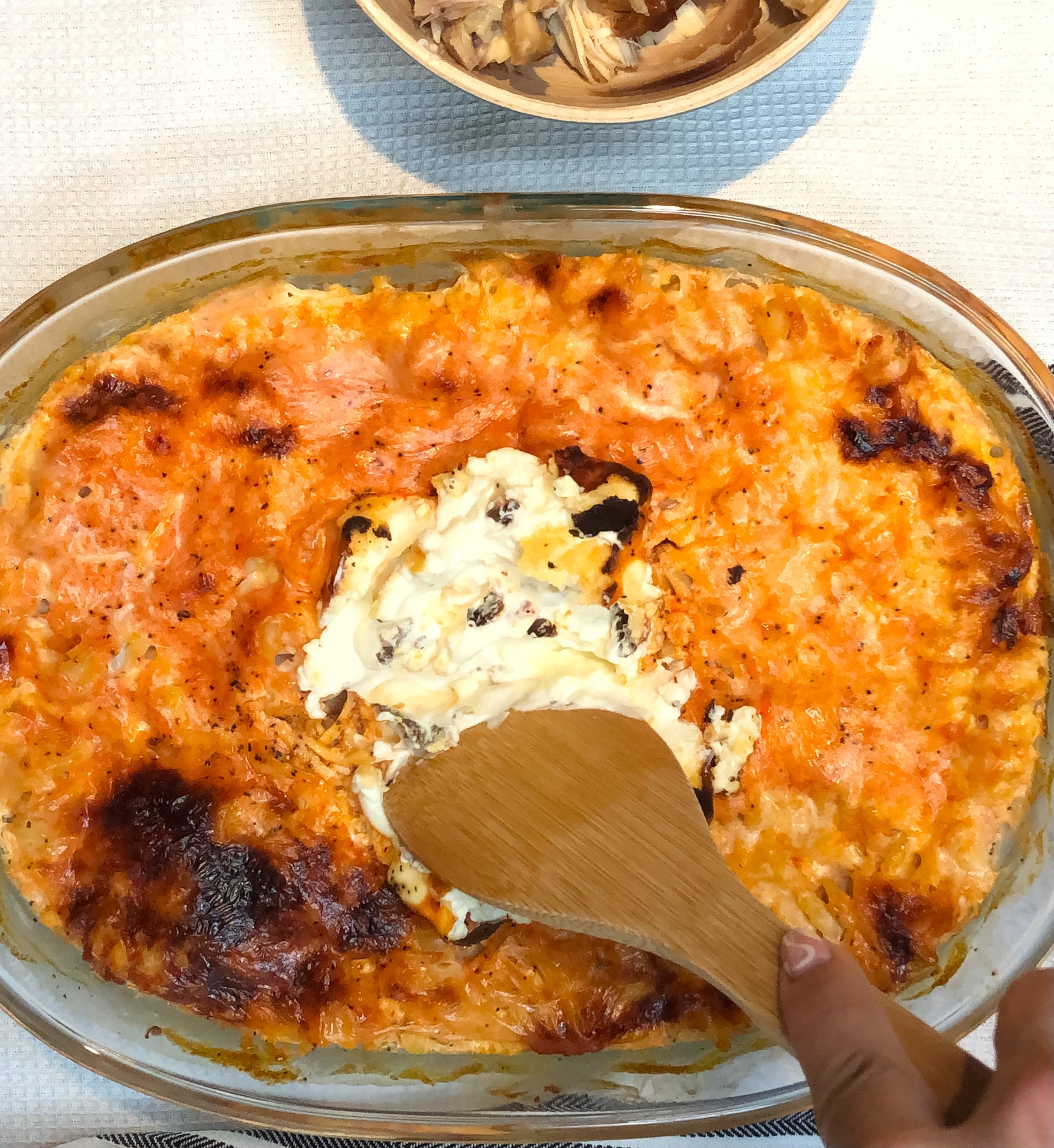 The most important advice I can give when making this dish, besides not overcooking the noodles, is to remove any clear, excess liquid trapped beneath the pasta instead of mixing it in with the cheeses. You can do this using a serving spoon. This step is crucial in ensuring that your mac and cheese turns out gooey instead of runny and watery.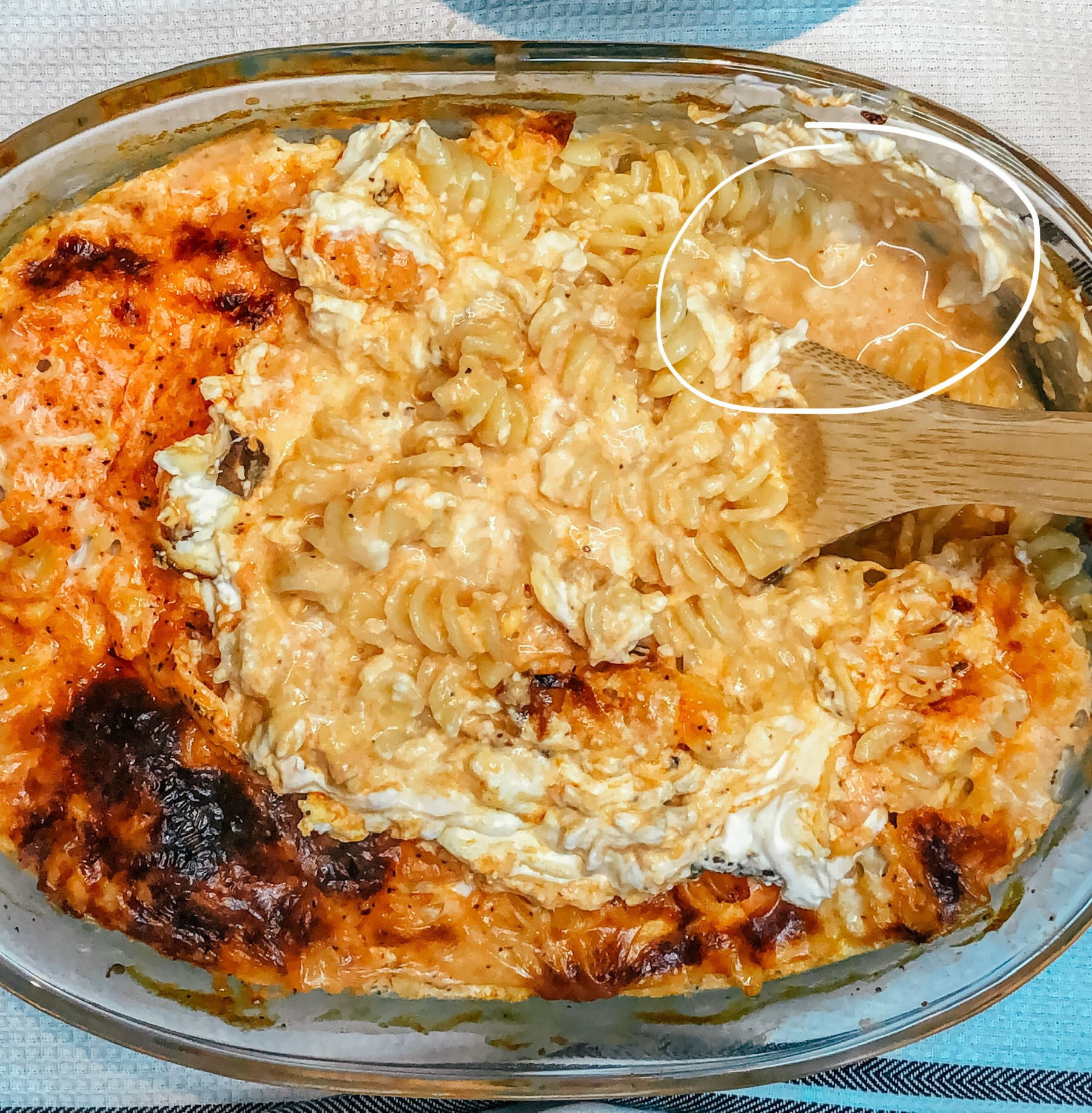 Once you have removed the excess liquid, mix all ingredients thoroughly until well-combined. Add shredded chicken, and mix well.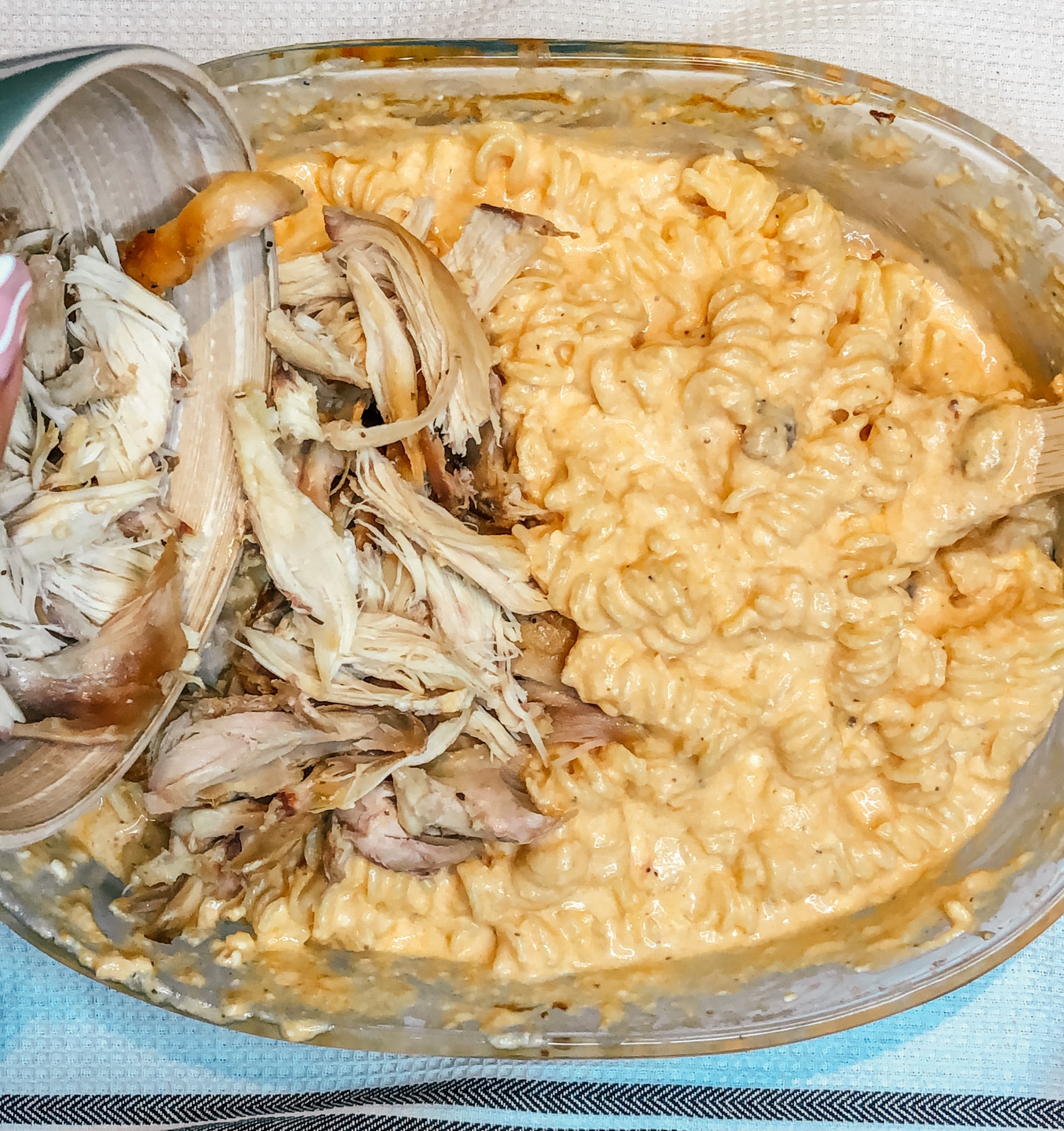 Serve in a deep bowl, and garnish with some fresh-grated cheese and extra hot sauce.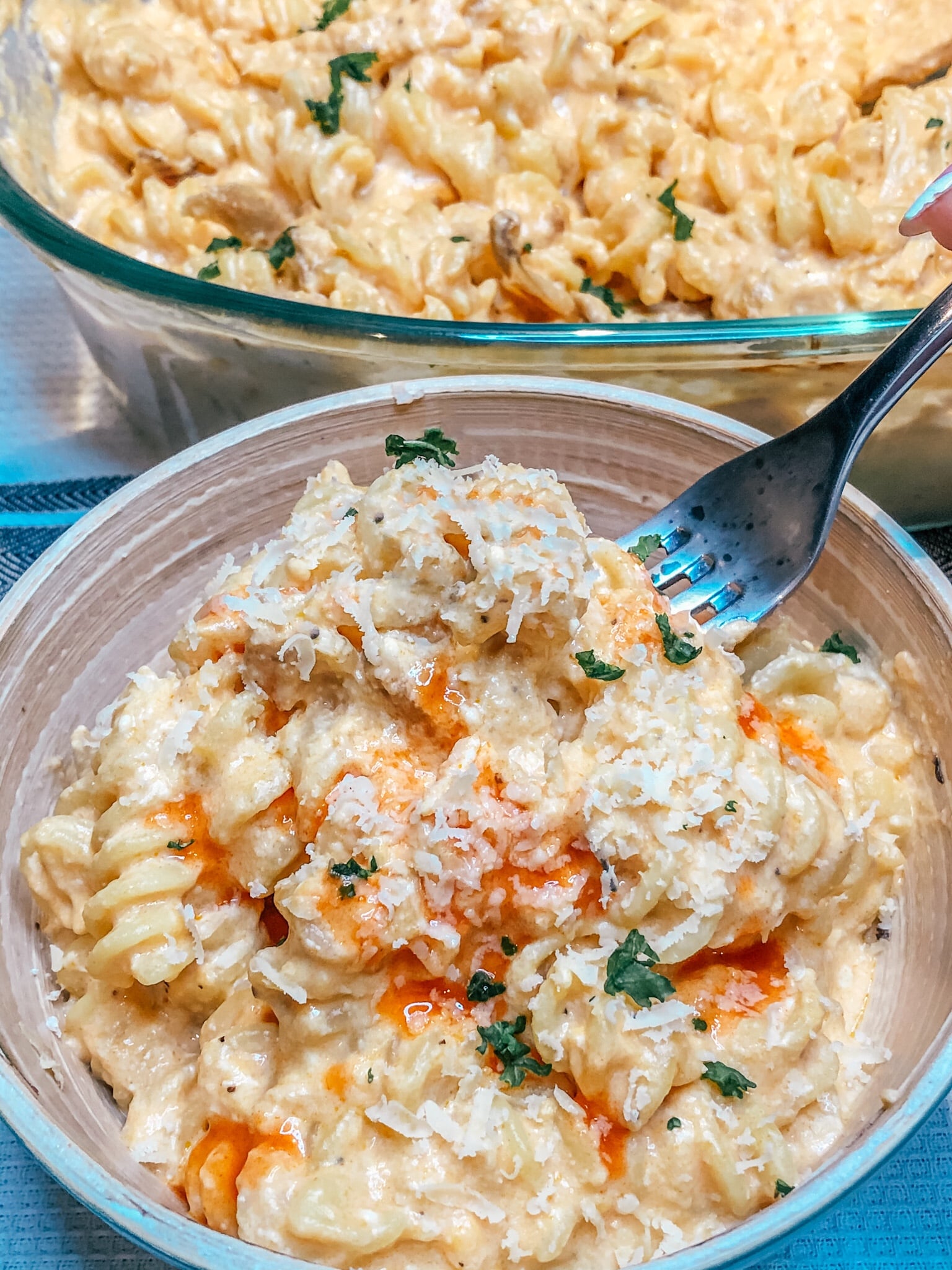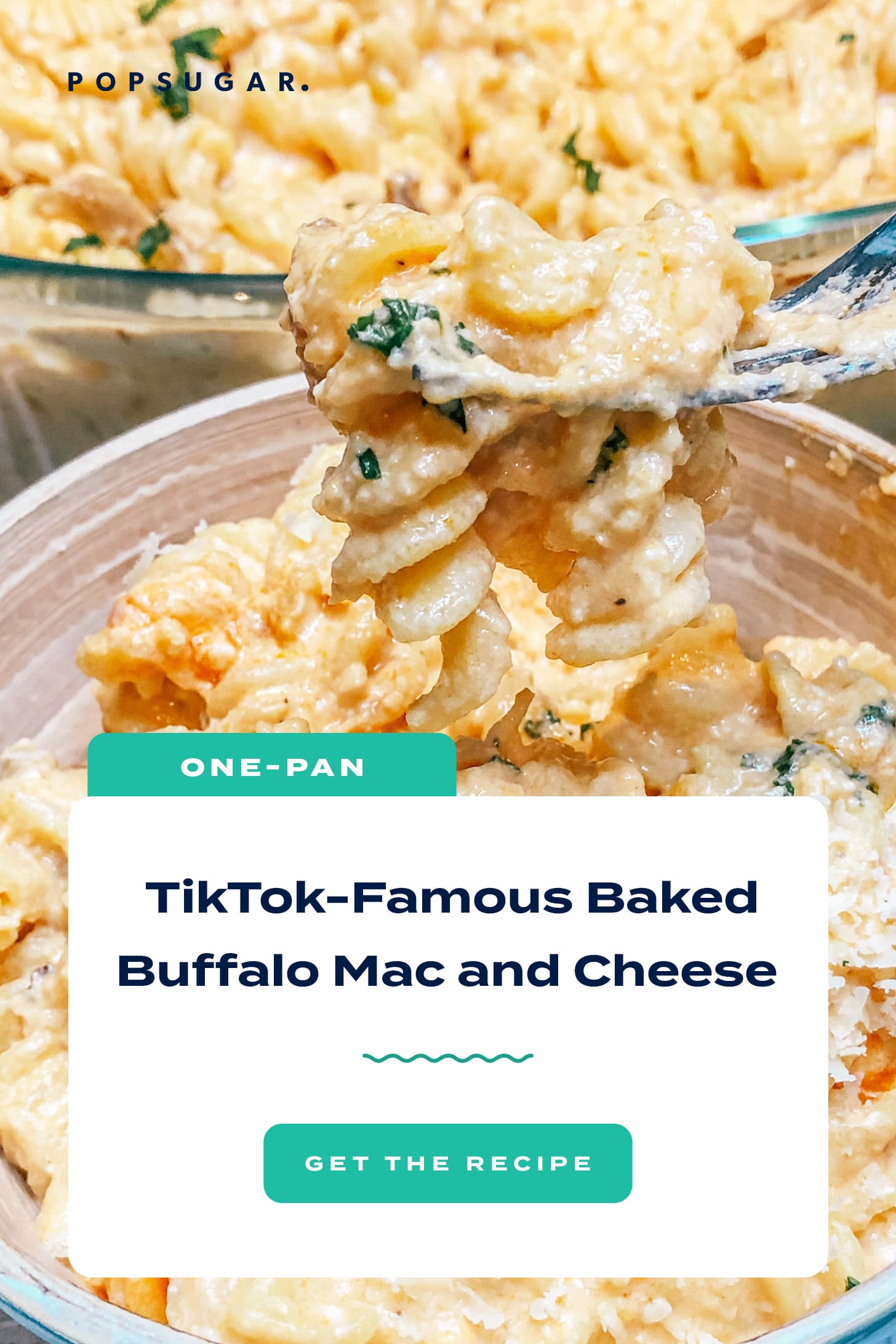 Baked Buffalo Mac and Cheese
TikTok user @thehungerdiaries
Notes
The recipe calls for elbow macaroni, but you can also use rotini (or spiral) noodles.
Remove any clear, excess liquid trapped beneath the cooked pasta before mixing everything together.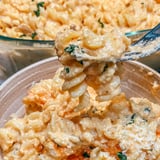 Ingredients
1 8-ounce square feta cheese
1 8-ounce block cream cheese
1 pound elbow macaroni
2-3 cups shredded cheddar cheese
6 cups milk
3 tablespoons minced garlic
A lot of salt (a few really good pinches)
1/2 cup hot sauce
Fresh-cracked black pepper
1 rotisserie chicken, shredded
Directions
Preheat oven to 350°F.
Add a block of feta and a block of cream cheese to the center of a deep baking dish.
Pour raw macaroni, cheese, and milk around the cheese in the center, along the perimeter of the dish.
Add garlic and a generous portion of salt.
Gently stir along the perimeter of the dish to mix the pasta, milk, and shredded cheese.
Pour hot sauce evenly throughout the dish.
Sprinkle with pepper.
Place in the oven, and bake for 50 minutes.
Remove from the oven, and stir to combine until the cheeses from the center are evenly incorporated throughout the mac and cheese. Season to taste.
Add shredded chicken, and stir.
Serve and garnish with additional shredded cheese and a drizzle of hot sauce.
Information
Category

Pasta, Main Dishes

Yield

6 servings