Chrissy Teigen's Cacio e Pepe Oatmeal Recipe: How to Make It
Chrissy Teigen's Savory Cacio e Pepe Oatmeal Is Highly Intriguing — and Yes, Highly Cheesy
Blueberries and brown sugar? Psh, Chrissy Teigen is out here topping her oatmeal with copious amounts of cheese and pepper, and we're ready to get on her level. The cookbook author and soon-to-be mom of three recently shared her recipe for cacio e pepe oatmeal, making sure to provide an explanation for anyone who may be unsure about the unconventional combination. "Oatmeal perfectly absorbs and balances any flavor it comes into contact with, thus making it the ultimate for flavor packed breakfasts!" Chrissy wrote on Instagram. "Sure, brown sugar is nice. Fruit is nice. But cheesy pepper is...naughty. Be bad!!!!!"
The savory breakfast dish requires just seven ingredients — two different cheeses being the most paramount, obviously — and only takes about 10 minutes to come together. Considering how incredible Chrissy's famous cacio e pepe spaghetti is, we have no doubts she's got this recipe down to a delicious science. Check out the step-by-step instructions ahead if you're ready to bid adieu to that bland oatmeal for good.
Chrissy Teigen's Cacio e Pepe Oatmeal
Cravings by Chrissy Teigen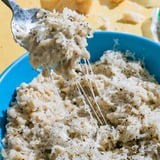 Ingredients
1 cup milk
1 cup water
1 cup old-fashioned (rolled) oats
1 cup finely grated Parmigiano-Reggiano cheese, plus more for garnish
1/4 cup shredded mozzarella cheese
3/4 teaspoon kosher salt
1/2 teaspoon freshly ground black pepper, plus more to taste
Directions
In a medium saucepan, bring the milk and water to a low boil over medium heat. Add the oats, return to a simmer, and then reduce heat to medium-low and cook, stirring, until the oats are tender and most of the milk has been absorbed (about 7-8 minutes).
Mix in the Parmigiano-Reggiano, mozzarella, salt, and pepper, and cook until the cheese is melted (about one minute).
Remove the saucepan from heat, scoop servings into bowls, and garnish with more pepper and Parm.
Information
Category

Breakfast/Brunch

Yield

1-3 servings

Prep Time

5 minutes

Cook Time

5 minutes

Total Time

9 minutes, 59 seconds