These Are the 20 Craziest State Fair Foods, and Yes, There Are Balls of Deep-Fried Butter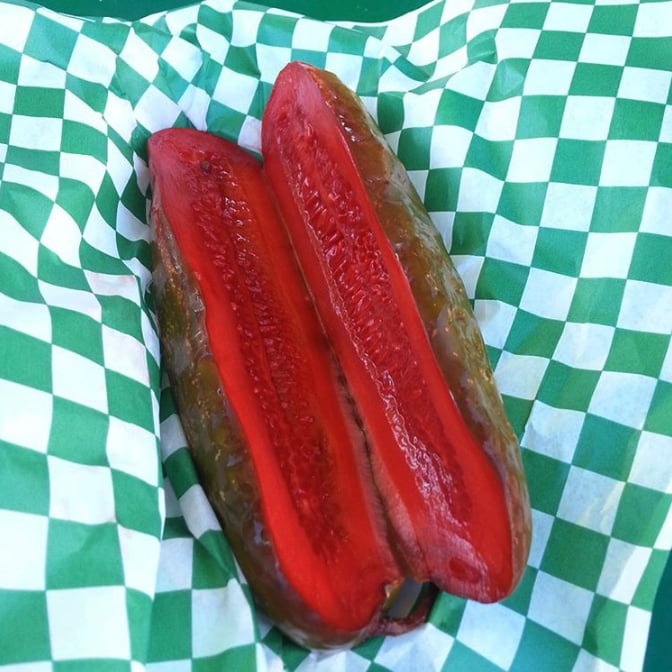 When was the last time you went to a good, old-fashioned state fair? Whether you used to go as a kid and have nostalgic memories or you've made it an annual tradition with your family, you have to admit that they're pretty damn fun. Fair games and rides are always worth the excitement, but the most anticipated part of any fair is the unique (and sometimes strange) food options. I mean, is there anything more American than stuffing your face with something deep-fried and covered in sugar? Whether it's Kool-Aid pickles (not kidding) in North Carolina or deep-fried jelly beans in New England, state fairs do not take creative food concoctions lightly. Here are some of the craziest state fair foods that you'll find throughout the US, so get ready to want to try them all and, you know, have your dentist on speed dial.
01
Ice Cream Potato at Western Idaho Fair
From a potato hotel to potato ice cream, Idaho knows how to put a spin on their state food mascot. This dessert is actually vanilla ice cream shaped like a potato, rolled in cocoa powder, and topped with whipped cream (like sour cream), chocolate sauce, peanuts, and crushed cookies.
02
Kool-Aid Pickles at North Carolina State Fair
The Kool-Aid pickle is a sweet and sour snack found at the North Carolina State Fair. Also known as Koolickles, pickles are soaked in the sugary beverage and served chilled.
03
Deep-Fried Watermelon at California State Fair
Deep-fried watermelon is now a thing that exists in real life, thanks to the batch of concessions at the California State Fair. To top it off, it's covered in a berry syrup and powdered sugar.
04
Fruity Pebble Shrimp on a Stick at Alameda County Fair
Fruity Pebbles and shrimp? The combination may seem odd, but these sticks are a fair favorite in Alameda. The shrimps are fried in a Fruity Pebble batter for a savory and sweet mix.
05
Hot Beef Sundae at Iowa State Fair
The hot beef sundae is an Iowa State Fair classic. It's a mixture of mashed potatoes, roast beef, gravy, and a cherry tomato on top.
06
Rainbow Cloud Roll at Minnesota State Fair
The colorful rainbow cloud roll at the Minnesota State Fair has the two most important food groups: cotton candy and ice cream. It's three scoops of ice cream sprinkled with fruity cereal and wrapped in a pillow of cotton candy that's hand-rolled on-site. Ice cream choices include Superman, vanilla, strawberry, and chocolate.
07
Green Chile Pepperoni Funnel Cake at New Mexico State Fair
The New Mexico State Fair puts a hot spin on the classic funnel cake typically found at fairs. This one is filled and topped with green chili and pepperoni for an extra kick.
08
Deep-Fried Chicken Noodle Soup at State Fair of Texas
The State Fair of Texas figured out how to deep-fry chicken noodle soup and put it on a stick. The crunchy soup balls are served with a side of broth, which fairgoers pour into holes poked in each fried package of flavor.
09
Inside-Out Grilled Cheese at Indiana State Fair
The locals in Indiana don't take cheese lightly. This inside-out grilled cheese is sourdough bread stuffed with gouda cheese. Then they put cheddar on the outside and toast it all up until it's melty on the inside and crunchy on the outside.
10
Hot Cheeto-Covered Corn at California State Fair
Everyone loves Cheetos, and the California State Fair takes it to the next level. The Flamin'-Hot-Cheeto-covered corn is spicy and tangy with the perfect amount of crunch to get you through the day.
11
Alligator on a Stick at Illinois State Fair
One of the most bizzare foods you'll find is at the Illinois State Fair. They serve a deep-fried and skewered alligator on a stick, which is a fan favorite every year.
12
Italian Dessert Nachos at Minnesota State Fair
The Italian dessert nachos at the Minnesota State Fair are sugar-filled masterpieces. The base is cinnamon-and-sugar-dusted pita chips and cannoli filling with added strawberries, Nutella, chocolate chips, and whipped cream.
13
Deep-Fried Bubble Gum at New Jersey State Fair
New Jersey's state fair has deep-fried bubble gum, and we're not sure if you chew it or swallow it? This treat is filled with marshmallow and fried in pink batter.
14
Fried Butter Balls at New England State Fair
New England's Great State fair, known as "The Big E," serves fried balls of just butter. This crazy and calorie-filled food can only exist in this kind of environment, and people love it.
15
Thanksgiving Egg Roll at North Carolina State Fair
You'll feel extra thankful when indulging in the Thanksgiving egg roll at the North Carolina State Fair. The egg roll combines turkey, mashed potatoes, gravy, stuffing, and cranberries in a deep-fried shell.
16
Cookie Dough Spaghetti at Iowa State Fair
The Iowa State Fair has a cookie-dough spaghetti for a completely new way to look at this Italian dish. The spaghetti sauce is made from mixing Ghirardelli white chocolate sauce with red food dye, and the finishing touch is a Ferrero Rocher hazlenut chocolate that resembles a meatball.
17
Crabby Patty at Maryland State Fair
Maryland is known for their amazing crabs, so it's only natural that the state fair would serve up a crabby patty sandwich. This crazy sandwich has an actual shelled crab on top, making it super fun to pick apart and eat.
18
Fried Jelly Beans at New England State Fair
When you think of jelly beans you may think of a favorite childhood candy. However, The Big E state fair does is completely differently with these crazy deep-fried jelly-bean balls.
19
Deep-Fried Coca Cola at State Fair of Texas
Why drink your Coca Cola when you can fry it and eat it? Texas does it right with this deep-fried Coca Cola snack with a cherry on top.
20
Pork Parfait at Indiana State Fair
Indiana State Fair's pork parfait is a unique treat. This cup features mashed potatoes, pulled pork, and BBQ sauce.