Disney's Ratatouille Recipe
How to Make Disneyland's Original Ratatouille Recipe at Home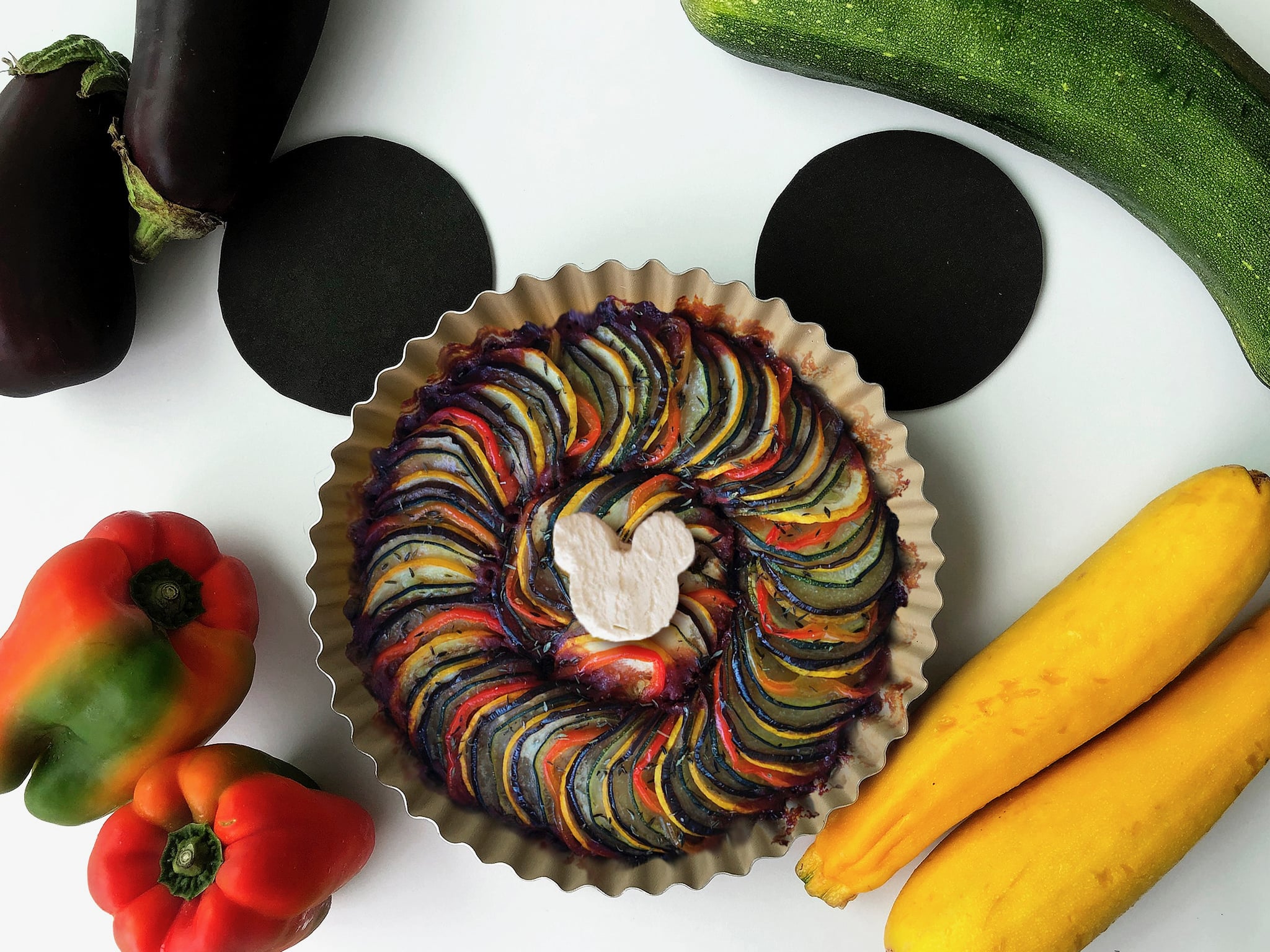 If you've ever wondered just what it takes to create the notorious roasted vegetable dish ratatouille, look no further than "Disney's Ratatouille Recipe" from The Family Cookbook Project. A Disneyland original recipe published in the Disneyland Resort Inspire Cookbook, this seemingly intricate dish comes together easier than one would think, stacking thinly sliced zucchini, eggplant, and bell pepper and roasting them to perfection.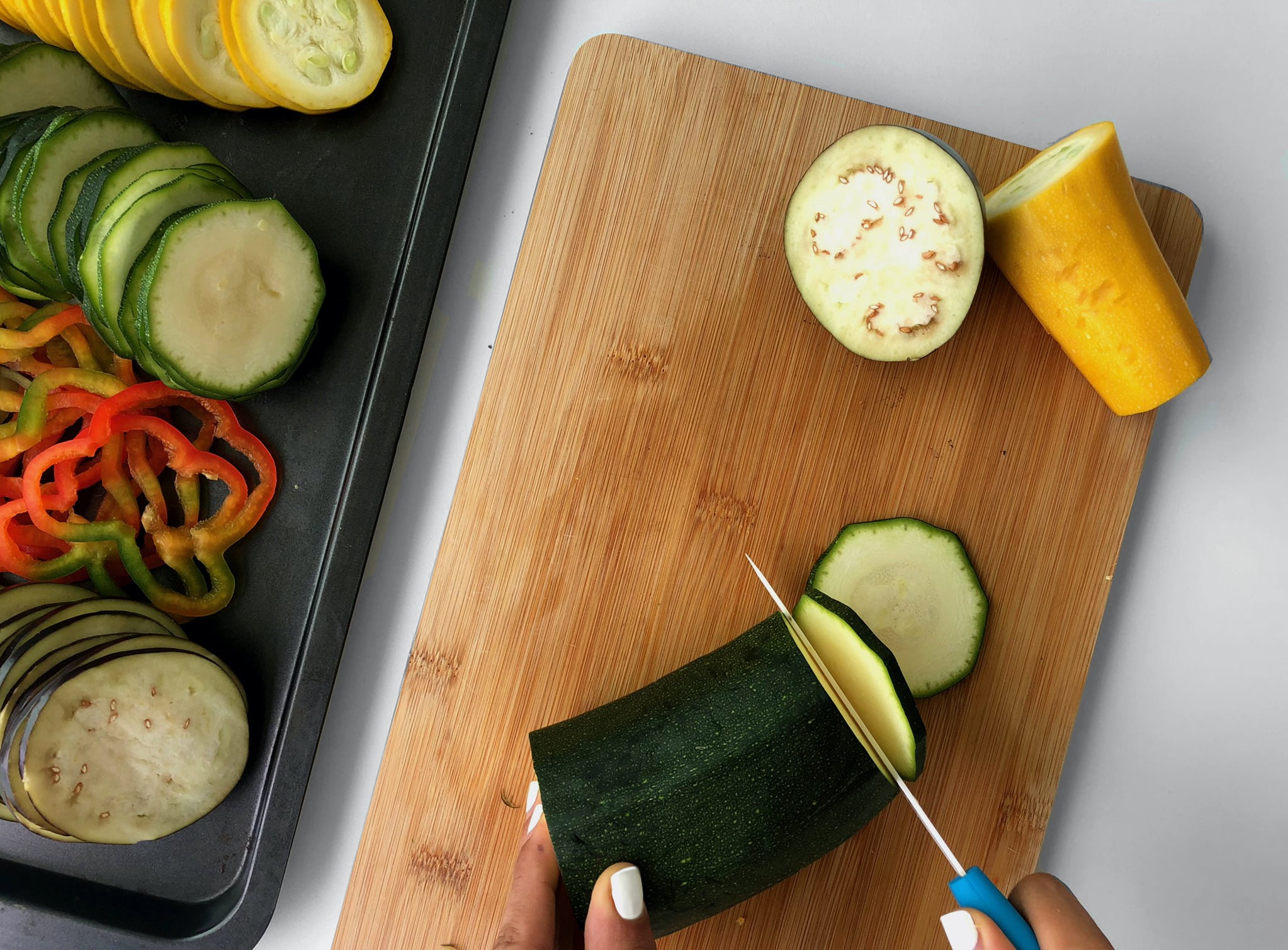 The trick to this recipe is patience. The ingredients are few and the directions are relatively simple: slice your veggies thinly, stack them in alternating patterns, and arrange the stacks in spirals around your baking dish. But, uniformity among the sliced vegetables is key in order to achieve the desired result; this can be achieved by using a sharp knife or a mandolin.
The recipe calls for a base of tomato paste, topped with chopped onion and garlic before adding the spiraled stacks of veggie slices on top. In my kitchen, I blended the onion and garlic into the tomato paste before adding it to the pan, but you can do whatever the Little Chef in your toque deems best.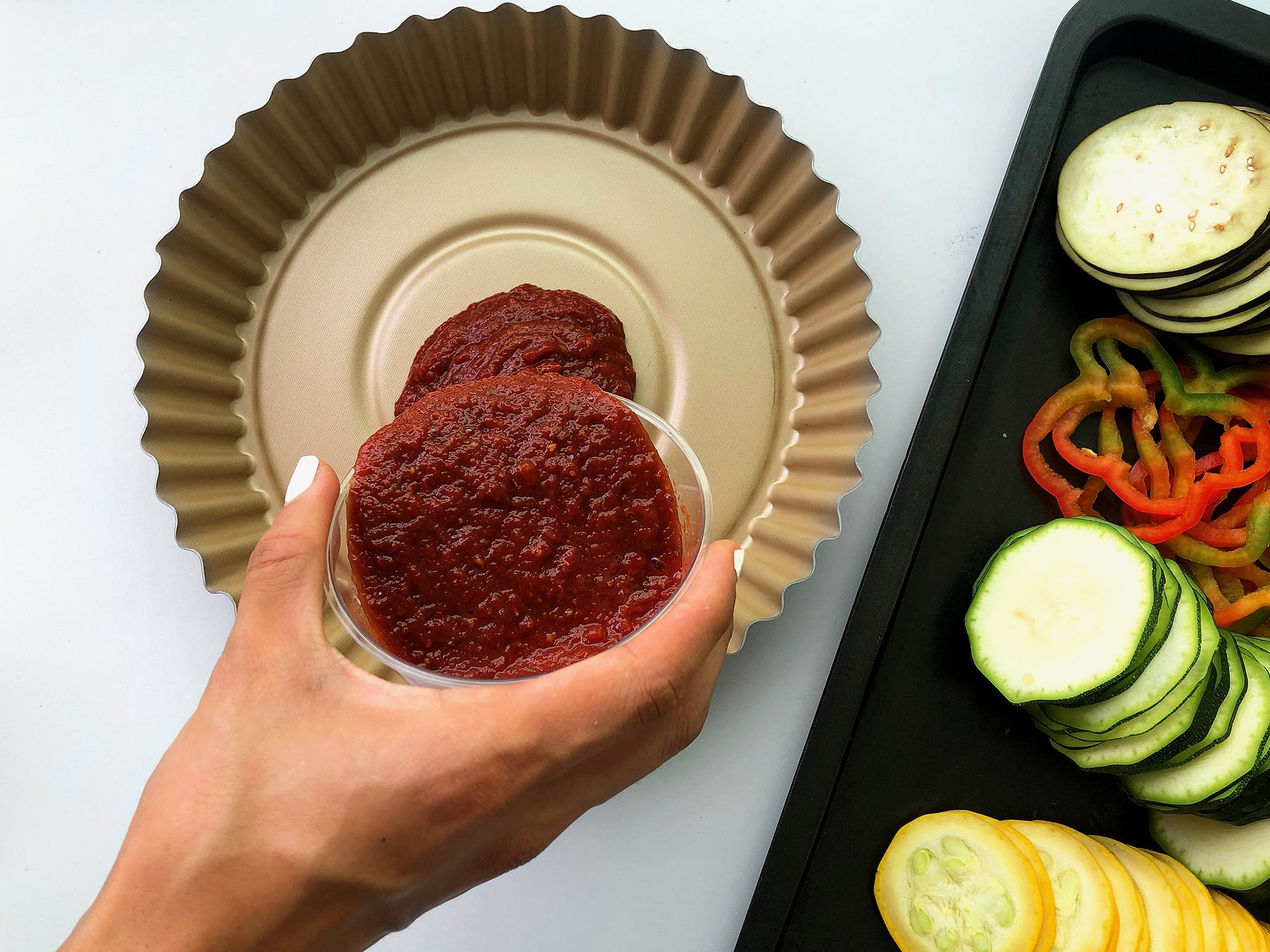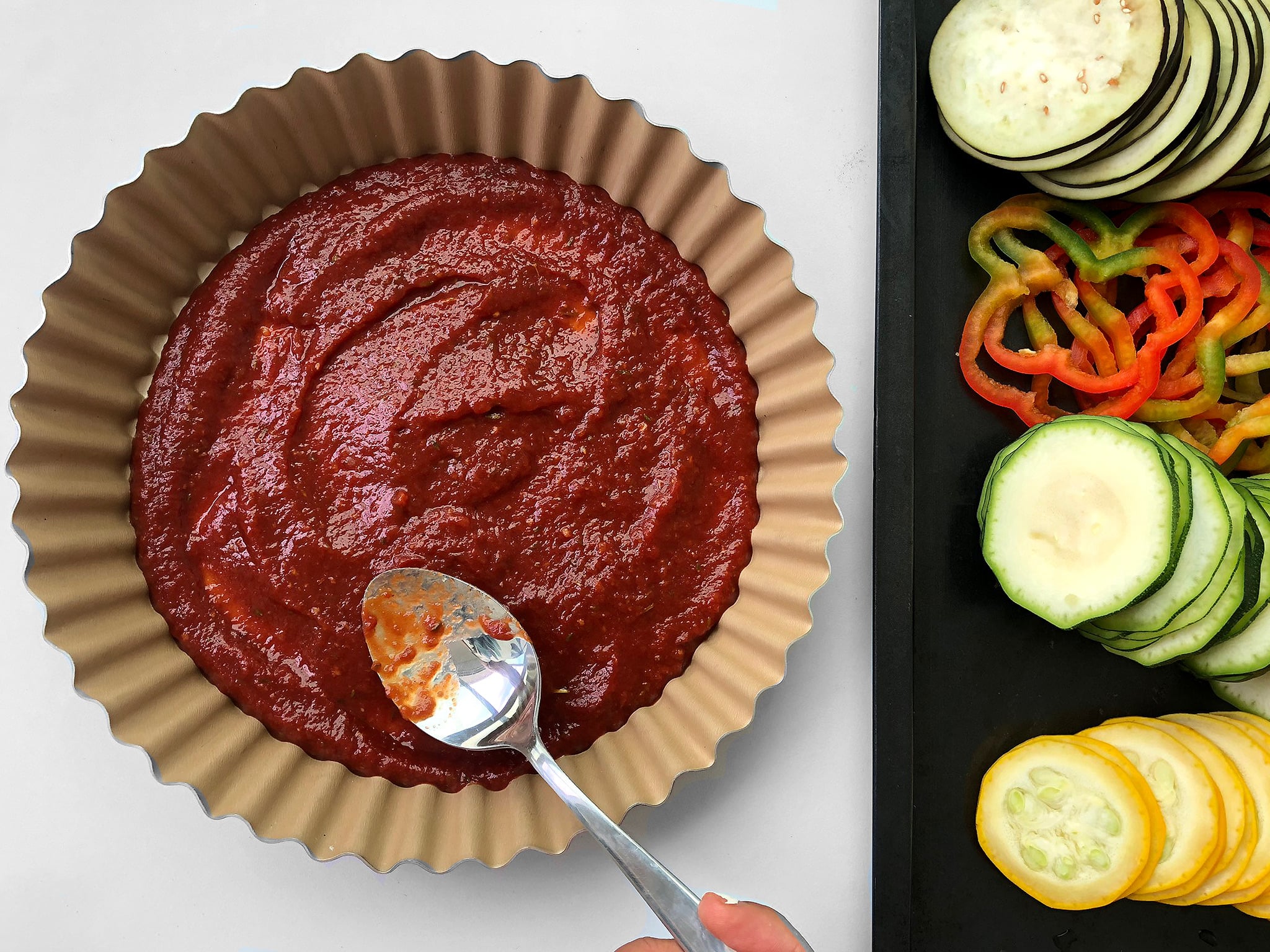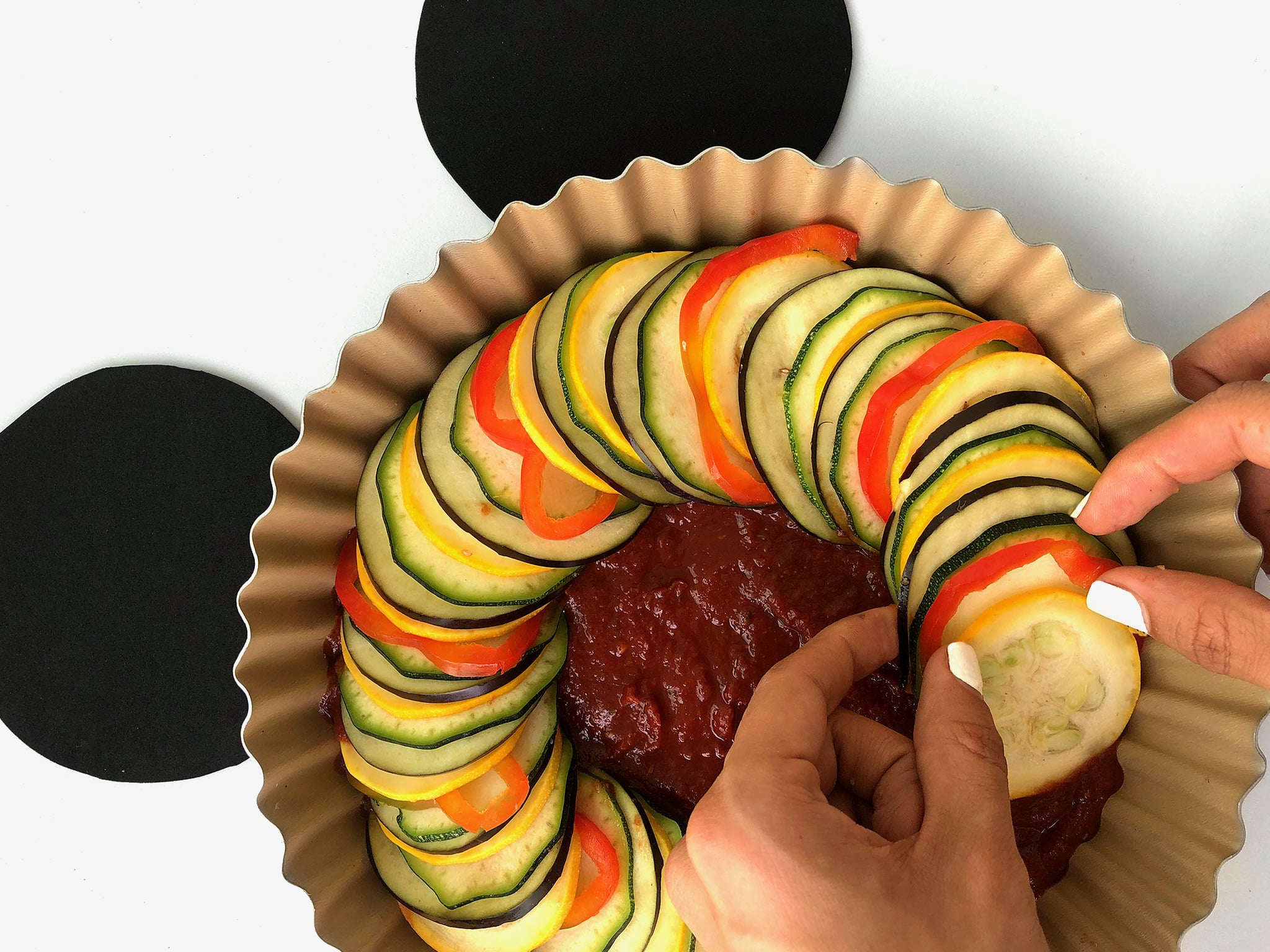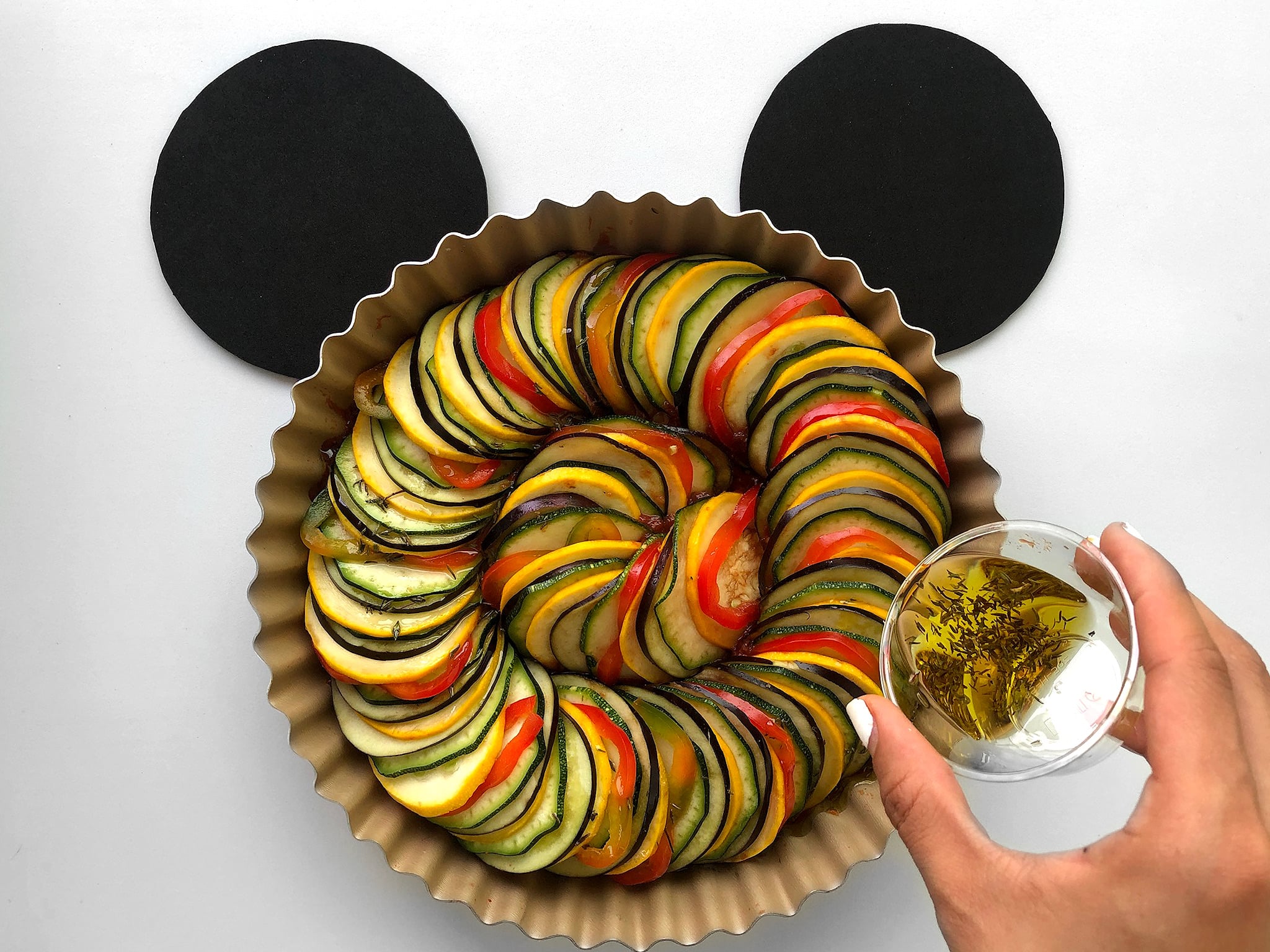 If you're feeling intimidated, don't worry. As Auguste Gasteau says, "Anyone can cook." And while this recipe does not include an adorable master-chef rat helping cook you from above, the resulting ratatouille will be stunning enough to impress food critic Anton Ego even on his grumpiest days.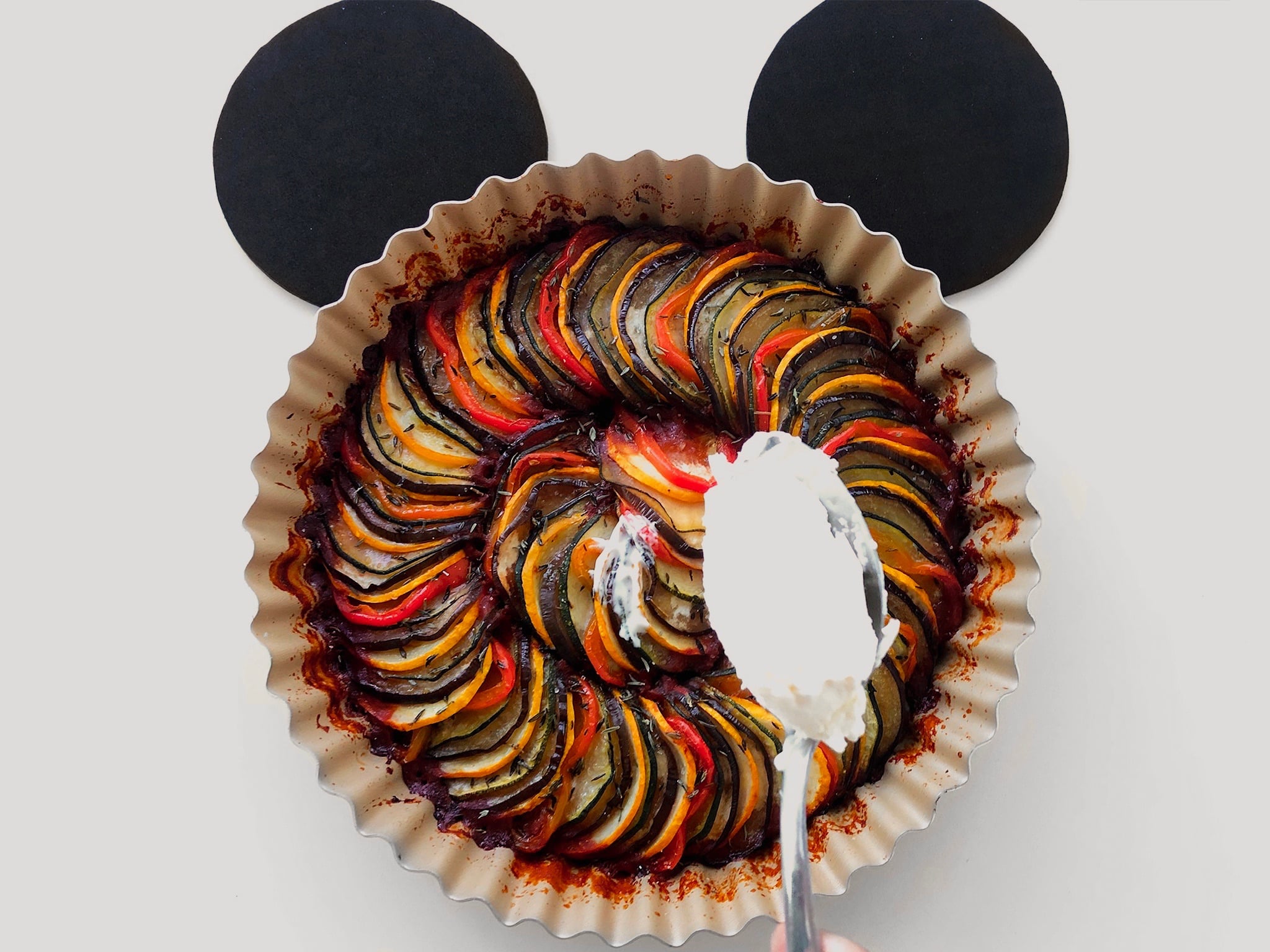 To make the perfect Mickey-shaped mascarpone topper for your ratatouille, click here, and see the recipe notes below.
Disney's Ratatouille Recipe
The Family Cookbook Project
Notes
While the directions call for tomato paste, it is not indicated in the source recipe just how much is needed. I recommend using enough to create a 1" layer at the bottom of the pan, about 1 cup.
To make a mascarpone Mickey, place a Mickey-shaped cookie cutter on a flat surface, fill with mascarpone, and place in the freezer for 10-15 minutes or until solid. Gently remove the mascarpone Mickey from the cookie cutter, and place atop of your freshly baked ratatouille. The heat from the ratatouille will warm the cheese.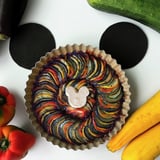 Ingredients
1/2 onion, chopped
1/4 cup minced garlic
1 tablespoon olive oil
3/4 cup water
salt and ground pepper to taste
1 small eggplant, trimmed and very thinly sliced
1 zucchini, trimmed and very thinly sliced
1 yellow squash, trimmed and very thinly sliced
1 red bell pepper, cored and very thinly sliced
1 yellow bell pepper, cored and very thinly sliced
3 tablespoons olive oil, or to taste
1 teaspoon fresh thyme leaves, or to taste
3 tablespoons mascarpone cheese
Directions
Preheat the oven to 375°F (190°C).
Spread tomato paste into the bottom of a 10x10-inch baking dish. Sprinkle with onion and garlic, and stir in 1 tablespoon olive oil and water until thoroughly combined. Season with salt and pepper.
Arrange alternating slices of eggplant, zucchini, yellow squash, red bell pepper, and yellow bell pepper, starting at the outer edge of the dish and working concentrically toward the center. Overlap the slices a little to display the colors.
Drizzle the vegetables with 3 tablespoons olive oil and season with salt and black pepper. Sprinkle with thyme leaves.
Cover vegetables with a piece of parchment paper cut to fit inside.
Bake in the preheated oven until vegetables are roasted and tender, about 45 minutes.
Serve with dollops of mascarpone cheese.
Information
Category

Main Dishes

Prep Time

45 minutes

Cook Time

45 minutes

Total Time

1 hour, 29 minutes, 59 seconds
Image Source: POPSUGAR Photography / Ashley Ortiz