Easy Banana Bread in a Mug Recipe | TikTok Video
Craving Banana Bread? This Recipe Can Be Made in Under 4 Minutes in the Microwave
The banana bread craze is real, you guys, and I know I'm not the only one who's been baking up a storm. If ever I'm in the mood for a foolproof and delicious banana bread, I know Chrissy Teigen has my back. And when I'm not in the mood to preheat the oven and mash up exactly six ripe bananas by hand, a single-serve microwavable banana bread recipe will always do the trick.
This recipe shared by TikTok user kaylaiutzwig — one of the many people living their best banana bread lives — only calls for a few simple ingredients and is ready in just four minutes. You can even add chocolate and play around with the spices to better suit your tastes. I, for one, will be sprinkling a generous hand full of chocolate chips on top when I make this. As someone who consistently gets a craving for sweets and is also impatient when it comes to getting those sweets, I can confirm this is worth making every night of the week. Try the full recipe out for yourself ahead.
TikTok-Inspired Microwavable Banana Bread in a Mug
TikTok user kaylaiutzwig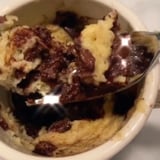 Ingredients
1 ripe banana
1/2 teaspoon oil
1/2 teaspoon cinnamon
1/2 teaspoon baking soda
1 tablespoon plant-based milk
3 tablespoons flour of your choice
Agave or sweetener of your choice
Directions
In a medium to large mug, mash up one ripe banana.
Add in all of your dry ingredients and the plant-based milk.
Stir with a fork until thoroughly combined. Note: If you're adding in chocolate chips, do so now.
Bake for one to two minutes or until the mixture has taken on a bread-like texture, and enjoy!
Information
Category

Desserts

Yield

Serves 1

Prep Time

2 minutes

Cook Time

2 minutes

Total Time

3 minutes, 59 seconds