Ina Garten Shared Emily Blunt's English Roast Potato Recipe
Ina Garten Shared Emily Blunt's English Roast Potato Recipe, and My Dinner Plans Are Set
Ina Garten's creamy pasta recipes and giant cosmo cocktails have been a huge inspiration to me in the kitchen lately, and she just shared a recipe I'm absolutely adding to my stay-at-home cooking list. In a post on the Barefoot Contessa website, Ina shared Emily Blunt's English roast potato recipe, and fans were so intrigued that the site crashed because of it. "This is like a staple in the Blunt household," Emily told Ina as they made the dish together in a 2018 episode of Barefoot Contessa.
The recipe only calls for five ingredients, and while it's pretty straightforward, Emily did share one step that makes these potatoes truly unique. She shakes the boiled and drained potatoes for five seconds to "rough up" the edges and make them crispier after they roast. It is a slight arm workout, but it's totally worth it for a potato dish that has me ready to jump through my screen for a taste. Follow along with Emily's full English roast potato recipe here.
Emily Blunt's 5-Ingredient English Roast Potato Recipe
Barefoot Contessa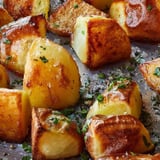 Ingredients
3 pounds large Yukon Gold potatoes
Coarse sea salt or fleur de sel
1/2 cup vegetable oil
Minced parsley
Kosher salt
Directions
Preheat the oven to 425°F.
Bring a large pot of water to boil with two tablespoons of kosher salt.
While the water is boiling, peel your potatoes and dice them into 1 1/2-inch to 2-inch cubes.
Add the potatoes to the water and lower the heat. Let the potatoes simmer for eight minutes.
Drain the potatoes before placing them back in the pot with the lid on. Shake the pot roughly for five seconds to rough up the edges.
Carefully transfer the potatoes to a baking rack set over a sheet pan. Make sure the potatoes are in one even layer. Set them aside to dry for at least 15 minutes or up to six hours in the fridge or at room temperature.
Coat a separate sheet pan in vegetable oil, tilting the pan to distribute the oil. Once the oil is evenly distributed, place the pan in the oven for five to seven minutes, until the oil is smoking hot.
Transfer the potatoes carefully into the oil with a large metal spatula and toss them lightly to coat each one with the hot oil.
Roast the potatoes for 45 minutes to one hour until brown and crisp on the outside and tender and creamy inside. Note: While the potatoes are roasting, be sure to turn them occasionally with tongs so all sides are evenly browned.
Transfer the potatoes to a serving dish and sprinkle them generously with 1 1/2 to 2 teaspoons each of sea salt and parsley. Serve them hot and enjoy!
Information
Category

Side Dishes, Potato

Yield

Serves 6 to 8 people