Fig and Prosciutto Naan Pizza Recipe
This Fig and Prosciutto Flatbread Recipe Mixes Sweet and Savory Deliciousness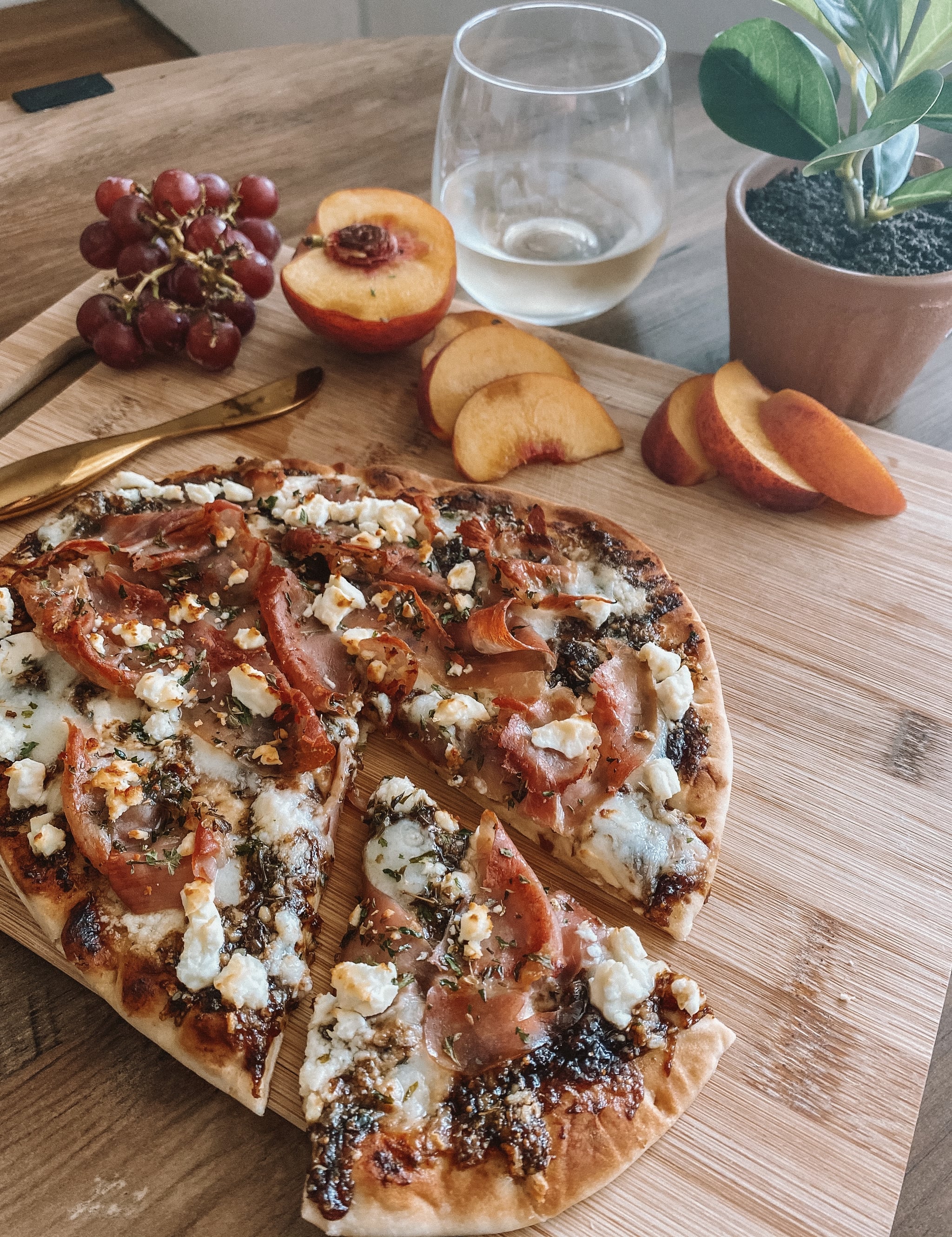 I would consider myself a pizza connoisseur, if you will — I love playing with all kinds of cheeses, textures, and toppings to create true masterpieces of flavor. Pizza crusts are my canvases and toppings are my paints (just call me the Picasso of pizza), and this naan flatbread is my pride and joy. Out of all flavor combinations I've experimented with thus far, this takes the cake (er, the pie). The marriage of sweet and savory is truly mouthwatering, and can we give a big round of applause to the Trader Joe's Fig Butter for tying everything together? Do yourself a favor and pick up a jar, because you'll want to use it on everything!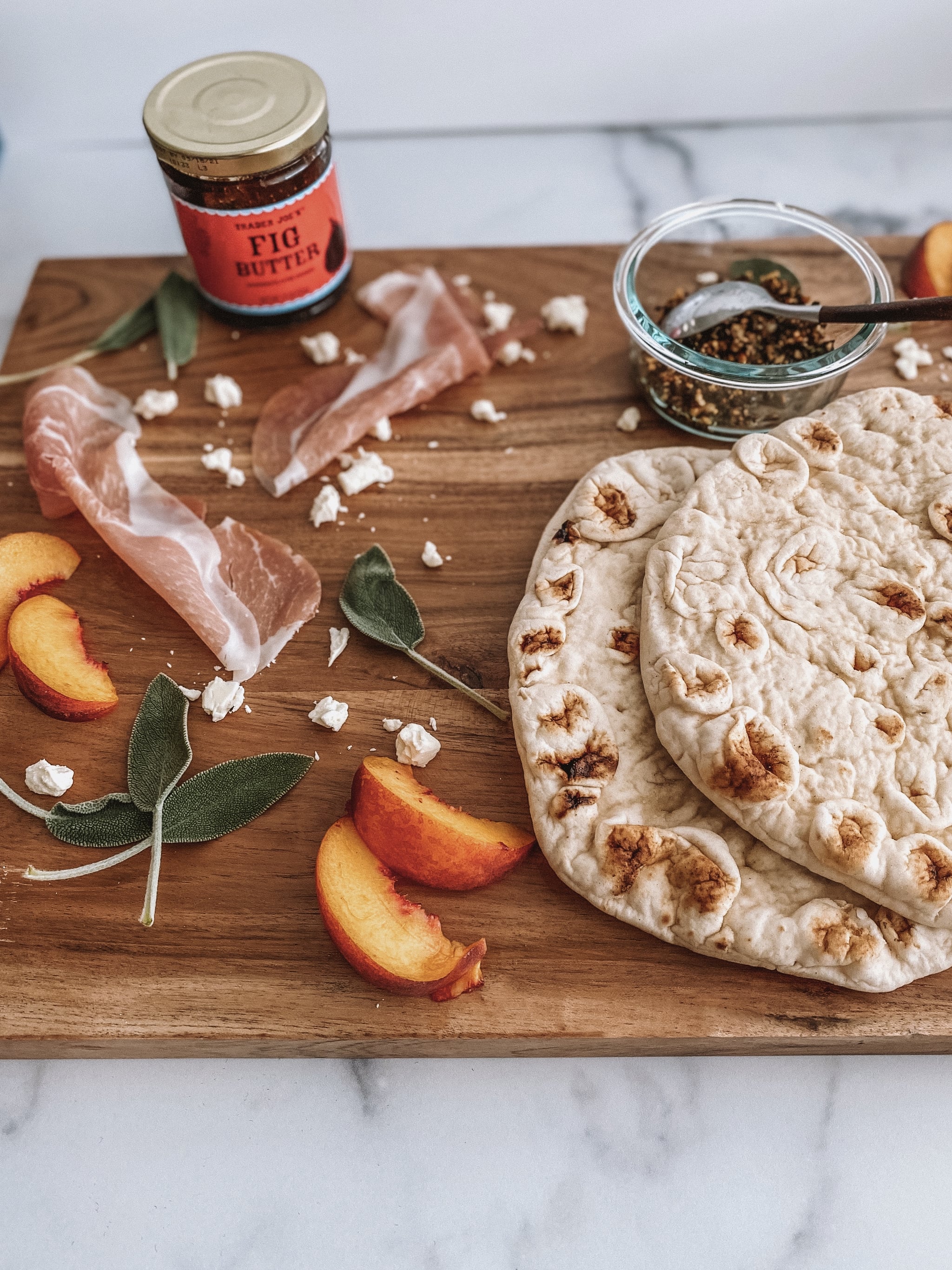 I was inspired to create this pizza after a girls' night on my patio featured a charcuterie board filled with meats, cheeses, and fruit. I kept catching myself combining the fig butter, prosciutto, and Swiss on a piece of naan. That's when I had a light-bulb moment to combine these flavors and bake 'em up to make a gooey, salty-meets-sweet pizza! The sweet creaminess of the fig butter paired with the salty prosciutto and tangy feta topped with garlic and spices is everything your taste buds have been missing. When assembling your pizza, make sure you spread all of your ingredients to every corner of your flatbread to ensure you get all the flavors together in each bite.
You can make a few of these pizzas, cut them into fours, and throw them on a cutting board with some fruit for a quick and easy yet elegant appetizer. Or you can just sit down and enjoy the entire thing by yourself. Either way, I recommend pairing it with fresh peaches and/or red grapes, as both fruits add a touch of refreshing tart flavor.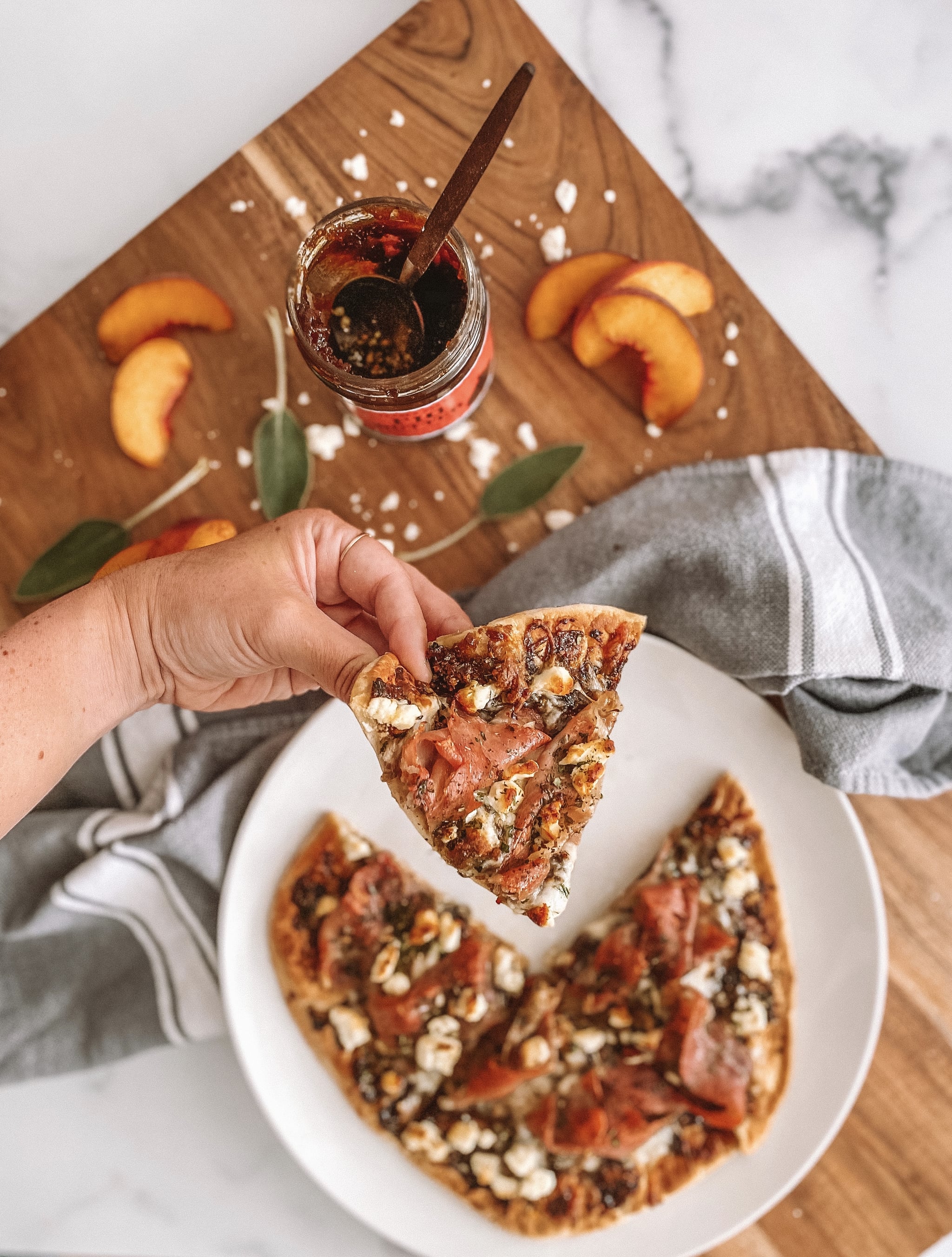 Fig and Prosciutto Naan Pizza
Original recipe by Taylor Celentano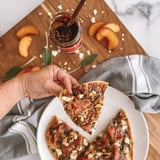 Ingredients
1 piece naan flatbread
2 tablespoons fig butter
2 tablespoons olive oil
2-3 garlic cloves (minced)
1 teaspoon basil (dried)
1 teaspoon oregano (dried)
1 teaspoon parsley (dried)
4-5 pieces thinly sliced prosciutto
2-3 medium slices Swiss cheese
2 tablespoons crumbled feta cheese
Honey to drizzle
Directions
Spread your fig butter evenly across entire surface of flatbread.
In a small sauce pan, heat up your olive oil and add in your minced garlic, basil, oregano, and parsley. Let sauté for 2-3 minutes, or until the garlic is golden and fragrant.
Turn off your burner and using a spoon, spread the garlic and spices evenly on your naan.
Break up your Swiss cheese slices and place onto your flatbread, making sure each corner of your pizza has a bit of the Swiss.
Lay out your pieces of prosciutto to cover the entire surface of your pizza (the slices may overlap a bit).
Sprinkle your feta evenly and top it with one last sprinkle of your spices (basil, oregano, and parsley).
Put your pizza directly onto your cooking rack to broil at 400 degrees for about 4-6 minutes. Make sure you are continuously checking on it to ensure you do not burn the cheese.
Take it out of the oven, cut into fours, drizzle with honey, and enjoy!
Information
Category

Main Dishes, Pizza

Cuisine

Italian

Yield

(1) 10" personal pizza

Prep Time

5 minutes

Cook Time

6 minutes

Total Time

10 minutes, 59 seconds