How to Make Indian Watermelon Rind Recipe on TikTok
This Viral TikTok Recipe Is Just What Your Summer Needs to End on a (Watermelon Sugar) High
A wise man once sang, "I just wanna taste it, I just wanna taste it / Watermelon sugar high," and truer words have never been spoken. There's something special about savoring the sweet flavors of a fresh watermelon on a hot summer day, and it never seems to get old, even after countless seasons in the sun. While we're no strangers to enjoying a watermelon in its many forms (especially in this smoky melon cocktail), we are somewhat new to making the most of the fruit's fresh rind. But leave it to TikTok users to change that and enlighten our taste buds in the very way we needed.
TikTok user Chaheti (@rootedinspice) shared her mom's easy watermelon-rind recipe, and it's the definition of watermelon (sugar) high. Known as tarbooz ki sabji (or cooked watermelon rinds), this drool-worthy Indian recipe just requires a pot of boiling water, a dash of spices, and of course, watermelon rinds. Simple enough for any at-home chef to re-create, this viral video has already racked up more than five million views, and it's not hard to see why! With delicious spices and easy steps, this recipe is all you need to make the most of the season's finest flavors. Enjoy!
Tarbooz Ki Sabji (Cooked Watermelon Rinds)
Notes
Use the whole watermelon including the green skin.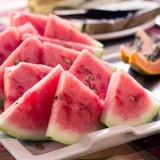 Ingredients
4 cups watermelon rinds with the green skin on
1/2 tablespoon extra virgin olive oil
1/2 teaspoon cumin seeds
1/4 to 1/2 teaspoon hing (asafoetida)
1/2 teaspoon coriander powder
1/8 teaspoon turmeric powder
1/2 teaspoon chili powder (+/- based on heat preference)
1 dried red chili (optional)
1 teaspoon amchur (dried mango powder) (can sub with fresh lemon juice)
Salt to taste
Chopped cilantro for garnish (optional)
Directions
Start boiling water in a large sauté pan.
Carefully cut the watermelon, and separate the rind from the "flesh."
Then, cut the rinds into bite-size pieces.
Add the rinds to the boiling water, return the water back to a boil, and cook the watermelon for 20 to 25 minutes or until the rinds are tender.
Drain the rinds, set them aside, and dry the pan.
Once the pan is completely dry, heat up the oil.
Add cumin seeds to the pan, and wait for them to get hot. Then on low heat, add the hing, coriander, turmeric, chili powder, and dried chili. Toast the spices for 30 seconds.
Add the rinds back to the pan, increase the heat, add salt, and sauté for 5 minutes or until the raw smell of the spices has gone away and the watermelons are well coated.
Turn off the heat, add amchur, and mix well.
Garnish with cilantro, and serve.
Information
Category

Snacks

Yield

2-3 servings