Russian Pelmeni Recipe With Photos
This Russian Pelmeni Dumpling Recipe Will Be Your New Favorite Cozy Comfort Food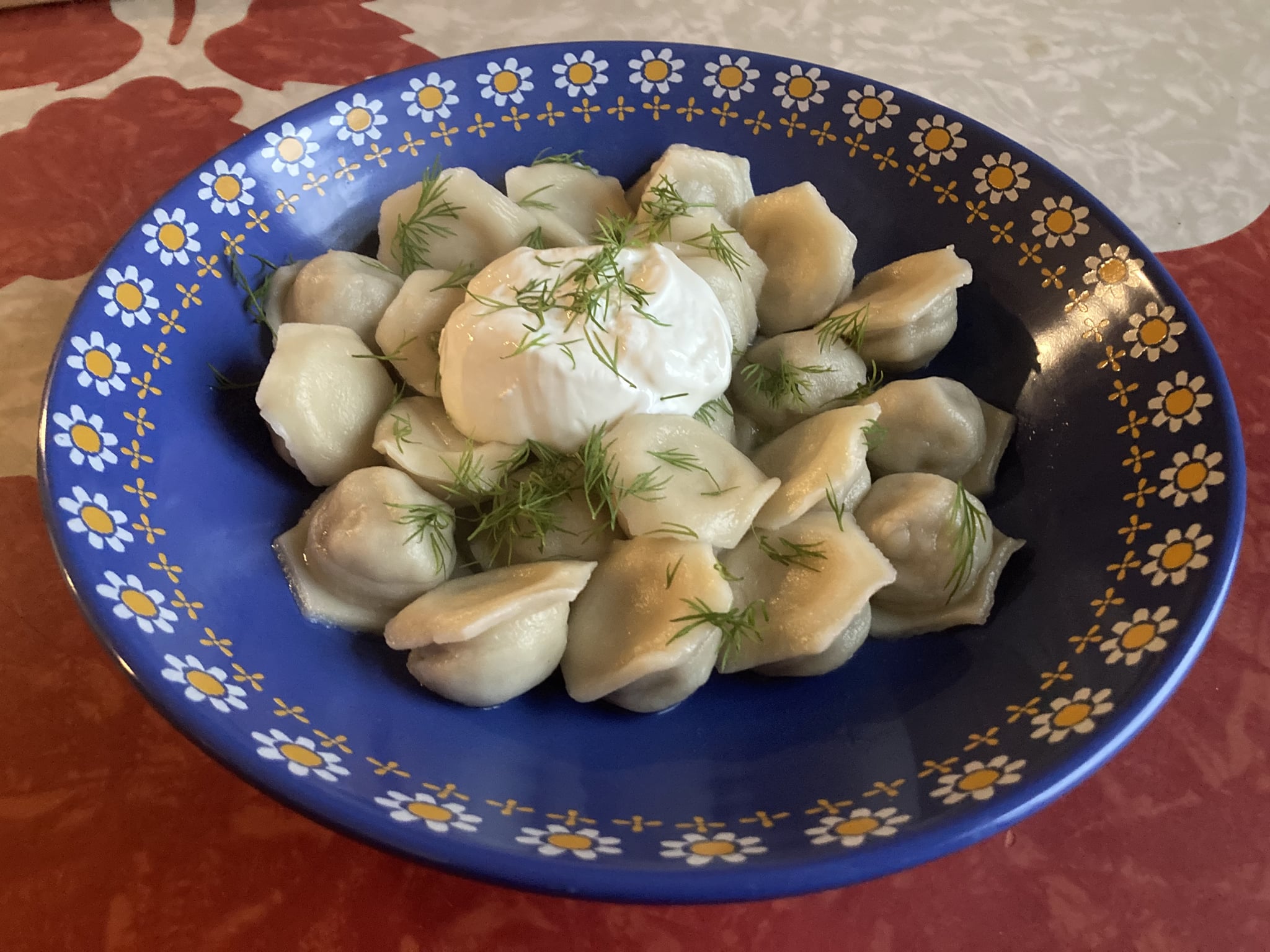 My husband is half Russian, and not long after we started dating, he introduced me to the Russian-style dumplings called pelmeni, which he often bought from a local specialty store. I was instantly hooked. These dumplings are deceptively simple in terms of ingredients, and they're the kind of comfort food I could eat almost every day. The traditional way of serving them — with sour cream, dill, and vinegar — gives them a delicious, fresh flavor that everyone should try.
Although buying pelmeni from a specialty store is convenient, it's also very expensive. When we got married, my husband's grandmother visited from overseas and taught us how to make these dumplings by hand. I was surprised to find that the process takes several hours — but pelmeni are so delicious that I still make them regularly. The steps for making the dumplings are fairly simple: knead the dough, roll it out, use a circular cookie cutter, stuff, and fold. To make the process a little more streamlined, you can use a special pelmeni mold, which allows you to make multiple pelmeni at once without needing to fold them individually. Since it's a major time-saver, I'm partial to using a pelmeni mold. In this recipe, however, I'll show both processes — creating the dumplings by hand and creating them with a mold — so you can see how it's done no matter which method you prefer. Either with a mold or hand-folded, these dumplings will warm your home and satisfy your appetite. Winter blues don't stand a chance against these delicious dumplings.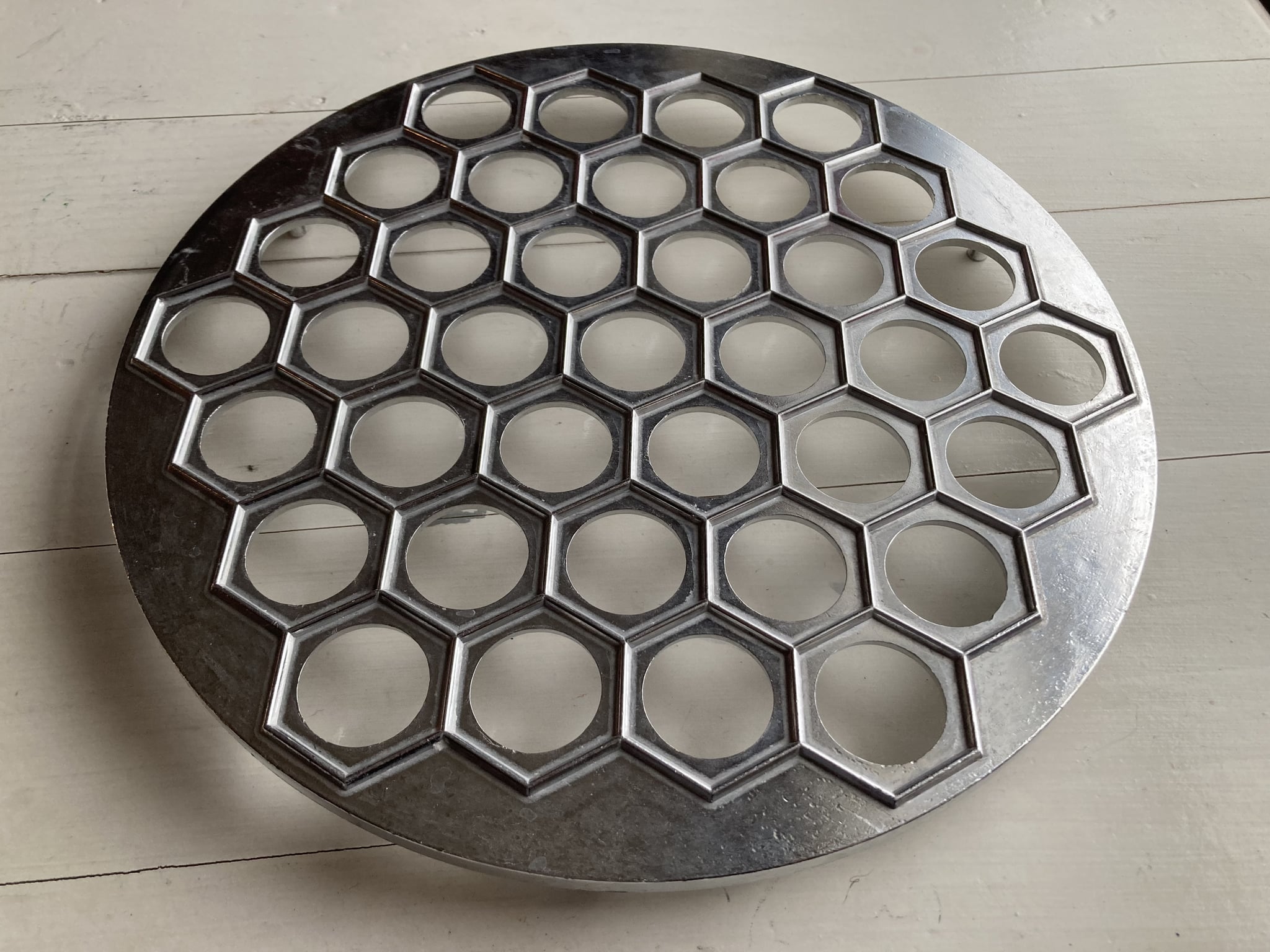 This pelmeni mold allows me to make three dozen dumplings at once.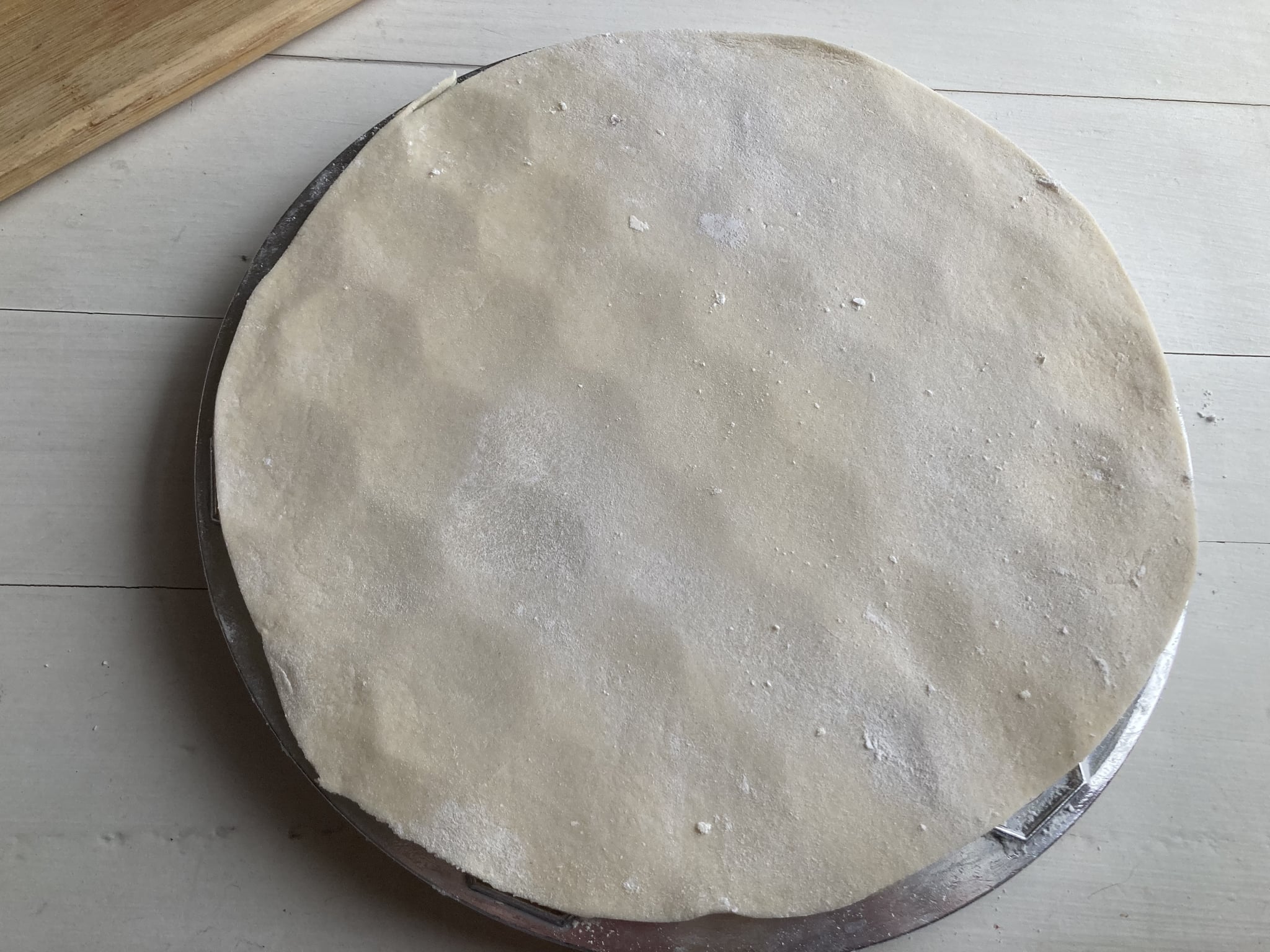 Roll out the dough and place on top of the mold.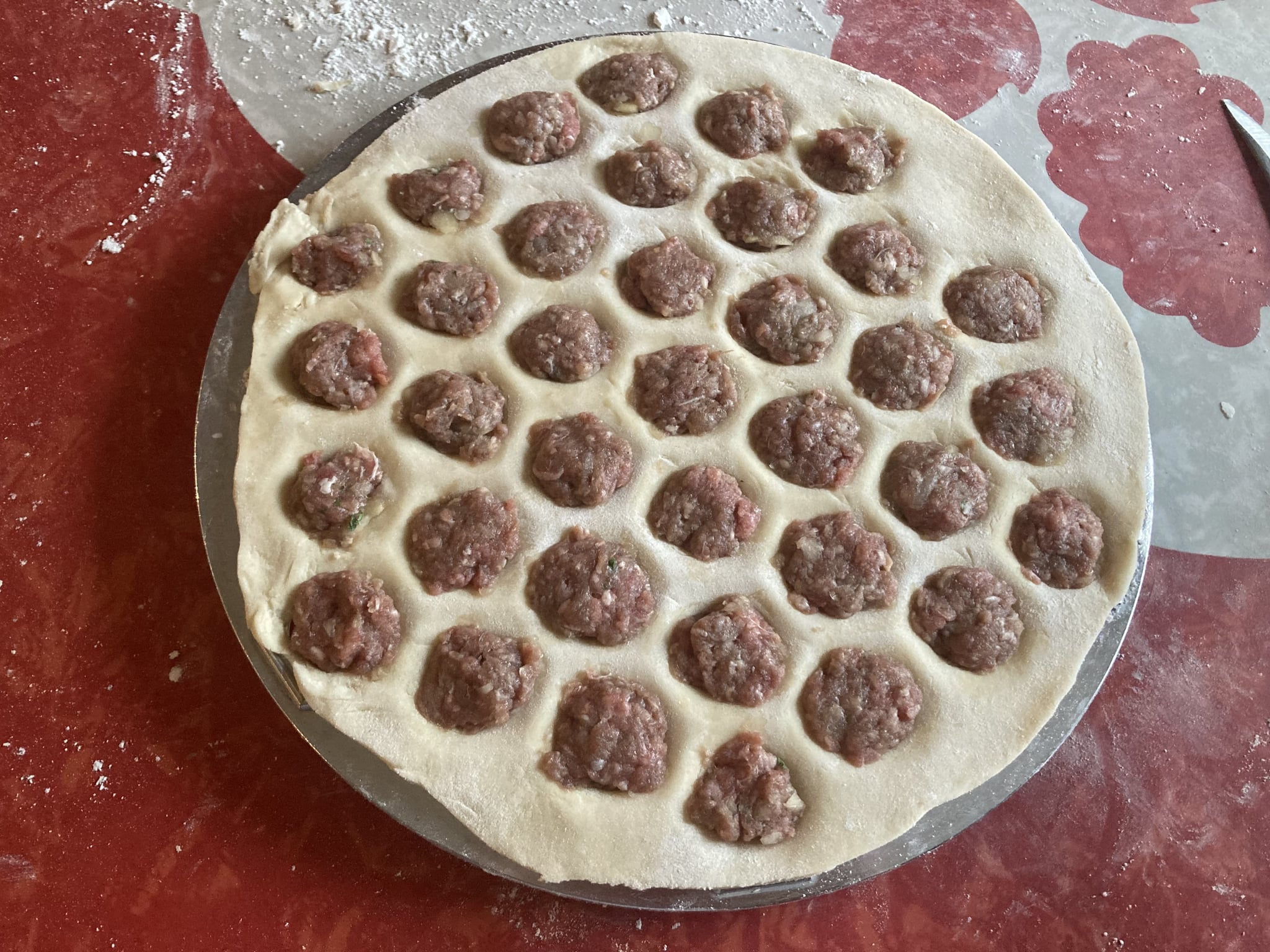 Fill each space in the mold with meat mixture.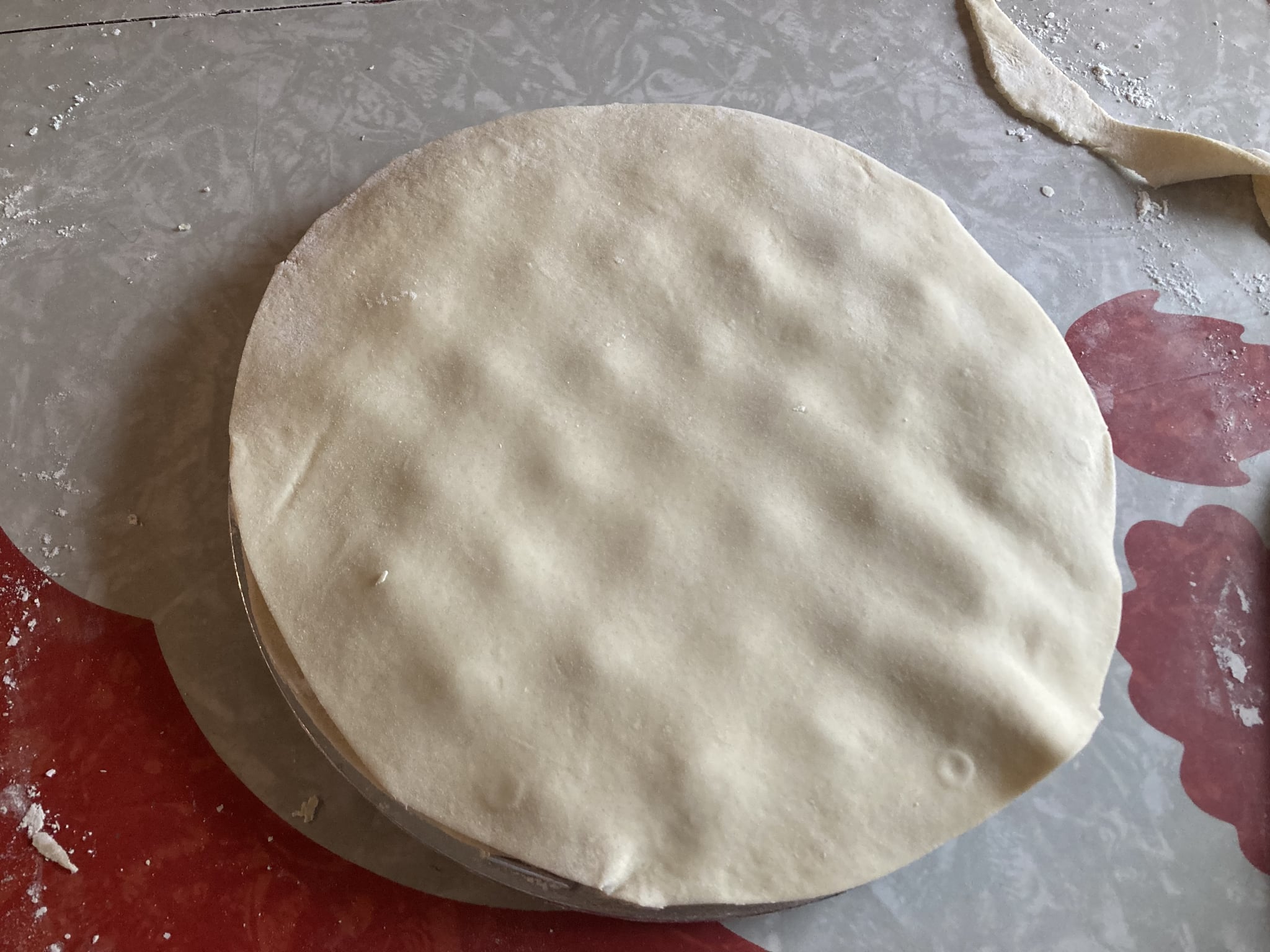 Top with second layer of dough, then use a rolling pin to separate dumplings.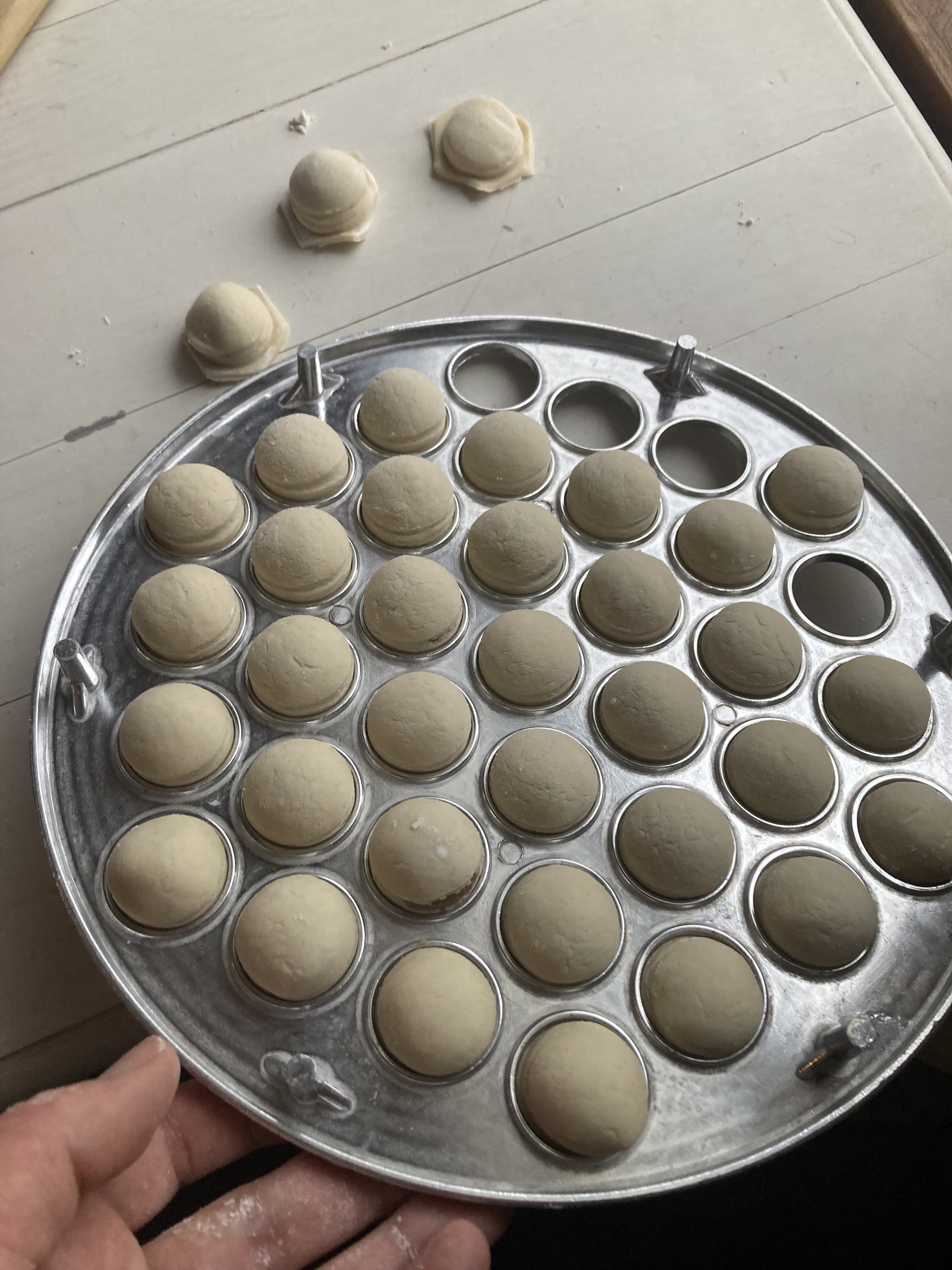 Flip the mold and gently press out dumplings.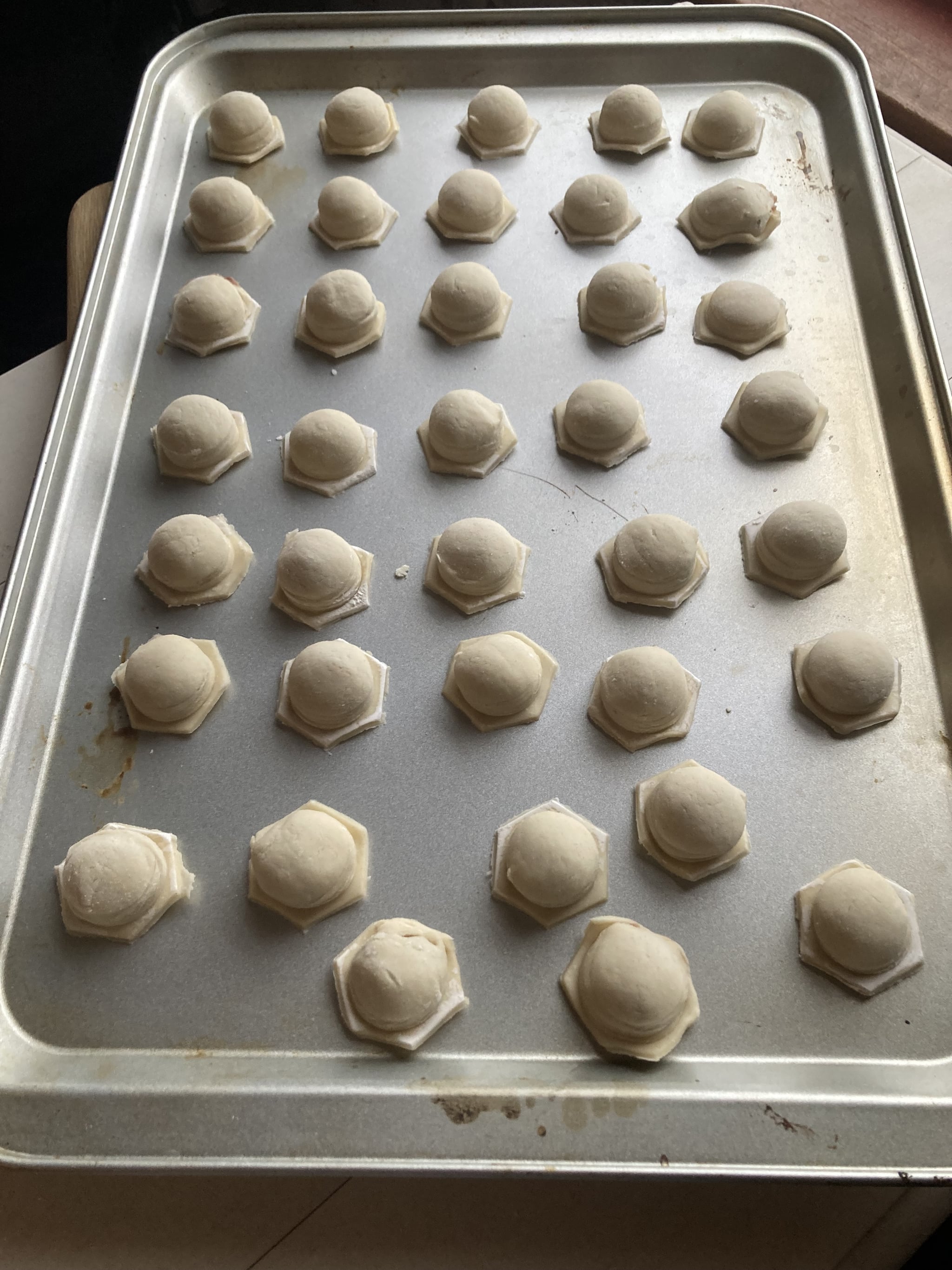 Freeze pelmeni or cook right away.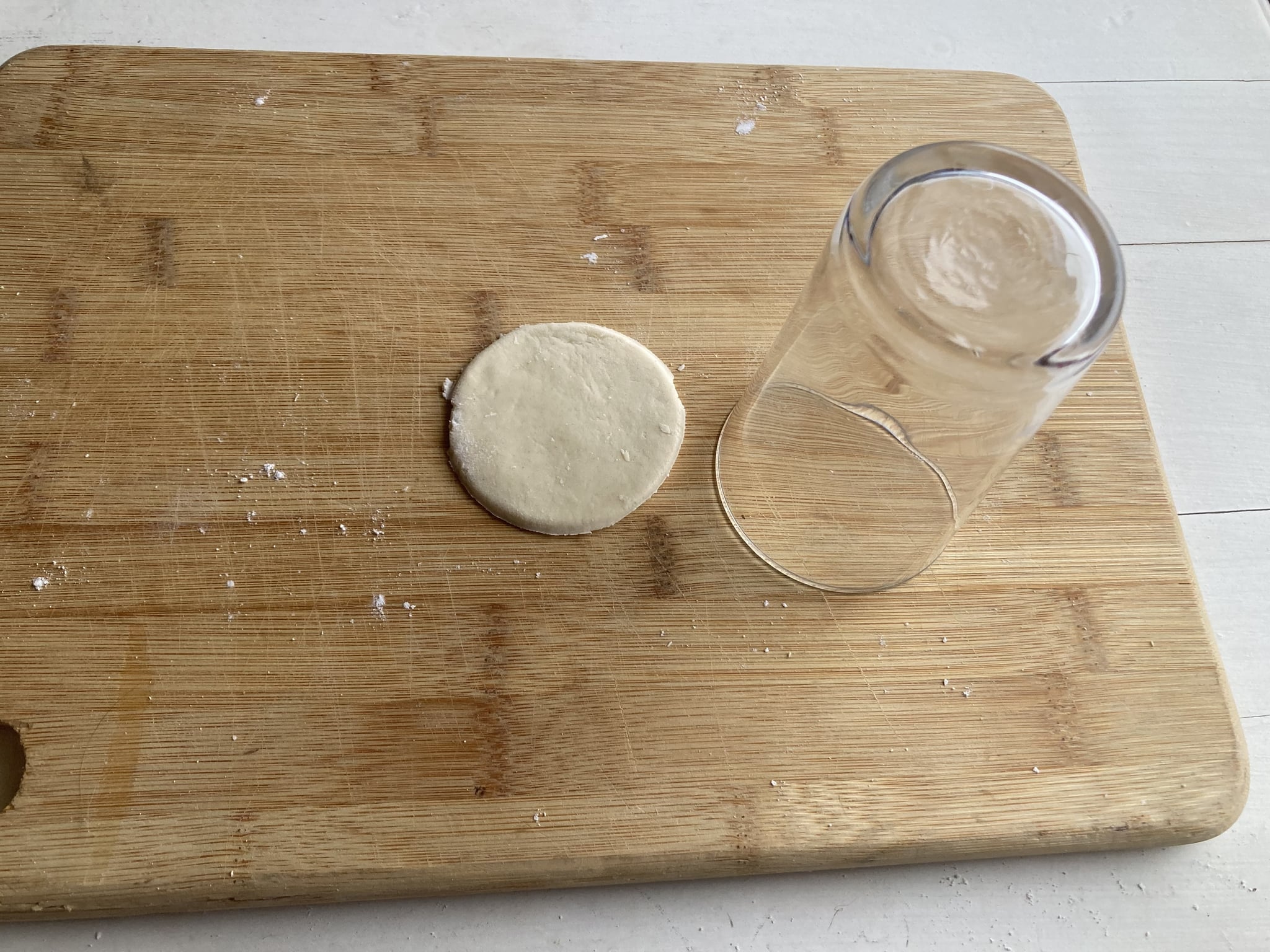 For the traditional hand-cut method, use a glass or a round cookie cutter to cut dough into circular pieces.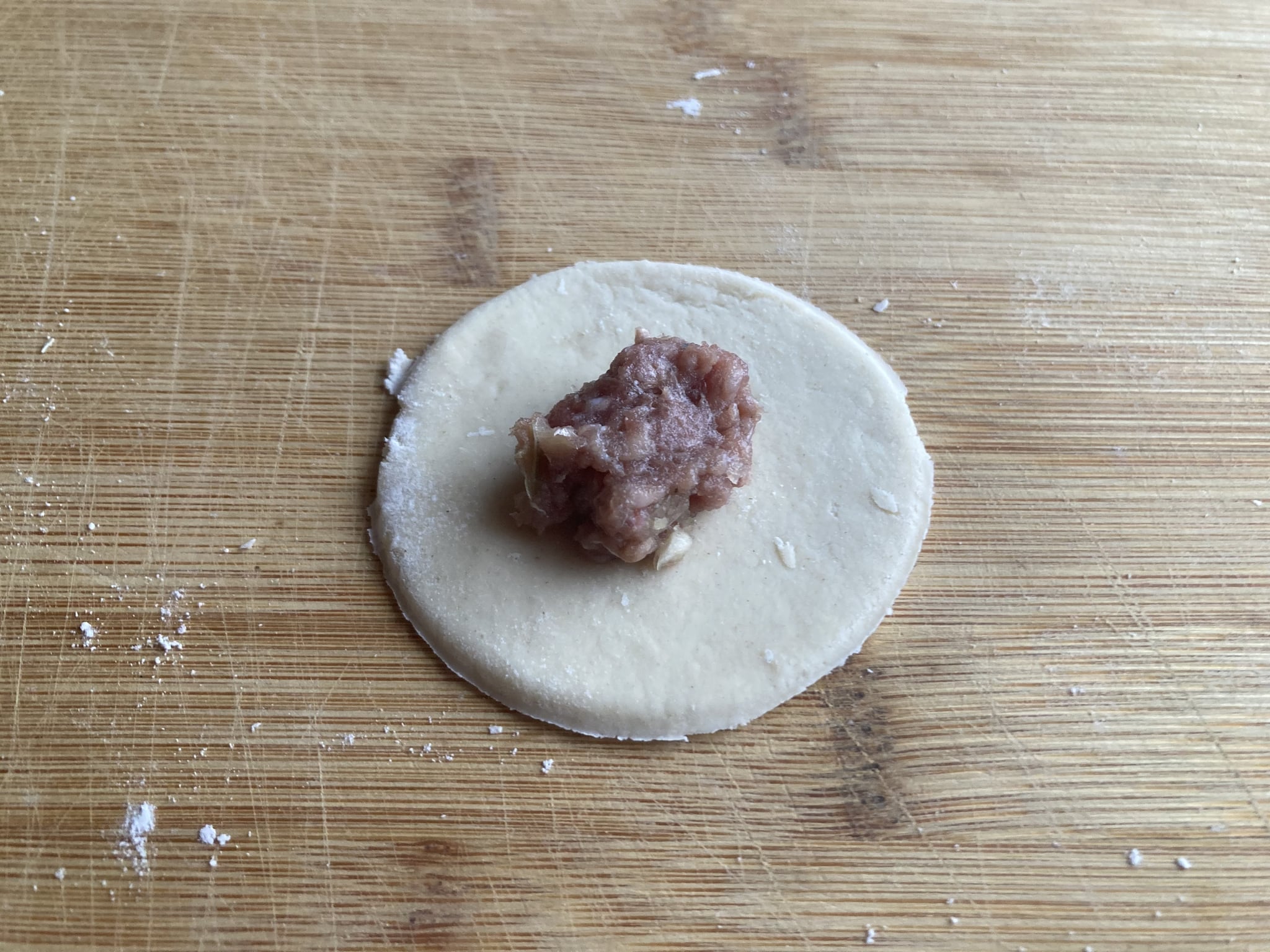 Fill each pelmeni individually with your meat mixture.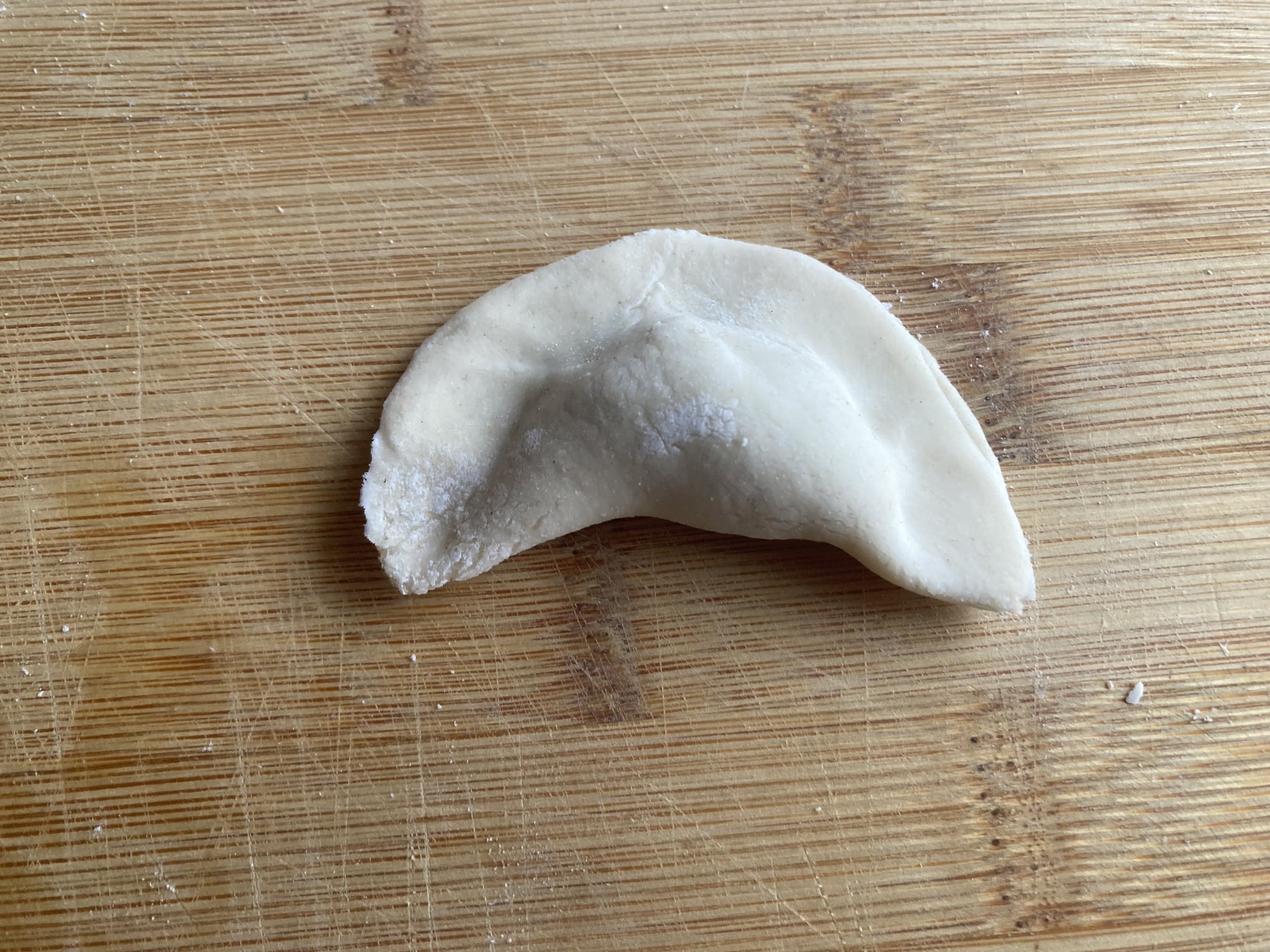 Fold in half and seal the edges.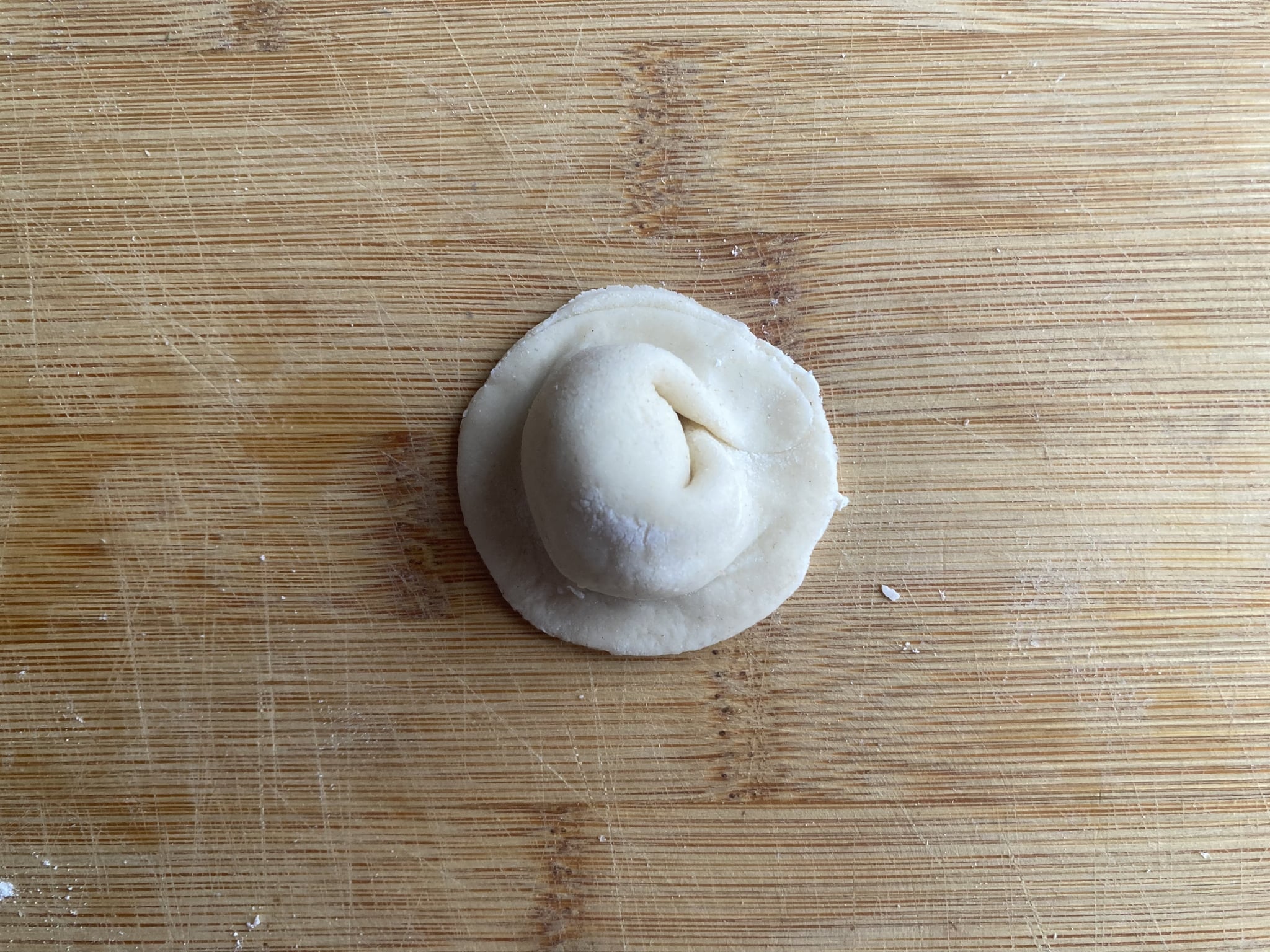 Twist the ends together and squeeze to create a rounded shape.
Russian Pelmeni
Original Recipe
Notes
It's crucial not to overstuff your dumplings, especially if you're using a mold, because it will break the dough apart. I recommend using a 1/2 teaspoon measuring spoon so that you get the same amount of meat in each one and don't overfill them.
For the ground meat, you may use beef, pork, veal, chicken, or any combination.
Don't skip the sour cream, vinegar, and dill garnish. These toppings truly make the dish!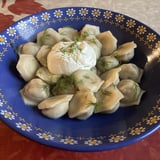 Ingredients
Dough:
2 eggs
4 1/2 cups all-purpose flour
1 teaspoon salt
1 cup lukewarm water
Filling:
1 pound ground meat
1/2 onion, chopped fine
3 cloves garlic, minced
1 teaspoon salt
1/4 teaspoon black pepper
1 teaspoon dried parsley (optional)
Garnish:
Sour cream
Fresh or dried dill
White vinegar
Butter (optional)
Directions
To make the filling, combine ground meat, salt, pepper, parsley, onion, and garlic in a large bowl. Cover and refrigerate while you make the dough.
In another large bowl, combine water, salt, and eggs. Whisk well.
Slowly add flour to the egg mixture and stir using a whisk or spoon until dough becomes too thick to stir. Then continue adding flour and knead well on a floured surface until the dough is elastic and does not stick to your hands.
Separate dough into four equal-size balls and cover two of them to be used later. Roll out the other two balls of dough on a well-floured surface so that the dough is very thin.
Lightly flour your pelmeni mold and place one piece of the rolled-out dough on top. Trim the extra dough from around the mold. Using 1/2 teaspoon measuring spoon, stuff each hole of the mold with your meat mixture.
Place your other piece of rolled-out dough on top and use a rolling pin to flatten the dough over the mold until the dumplings separate. Flip over the mold and gently press out each dumpling. Repeat this process with the other two balls of dough.
With any leftover dough, make some hand-folded pelmeni so there's no waste. To do so, roll out the dough and use a glass or circular cookie cutter to make a circle. Place 1/2 teaspoon of filling in the center, then fold in half, so it is moon-shaped. Curve the points together, as seen above, to create a round dumpling.
At this point, you can freeze your pelmeni for later or cook immediately. To save, place the dumplings on a large cookie sheet and freeze for 20 minutes before moving them to a freezer-safe bag to prevent them from sticking together. To cook, add the pelmeni to boiling water and boil for several minutes. The dumplings will be done about 5 minutes after they start floating in the boiling water.
To serve, toss the pelmeni in vinegar and fresh or dried dill. Some people add butter, but it's optional. Top with sour cream, and enjoy!
Information
Category

Main Dishes

Yield

74 dumplings

Prep Time

90 minutes

Cook Time

10 minutes

Total Time

1 hour, 39 minutes, 59 seconds
Image Source: POPSUGAR Photography / Julia Vorobiev