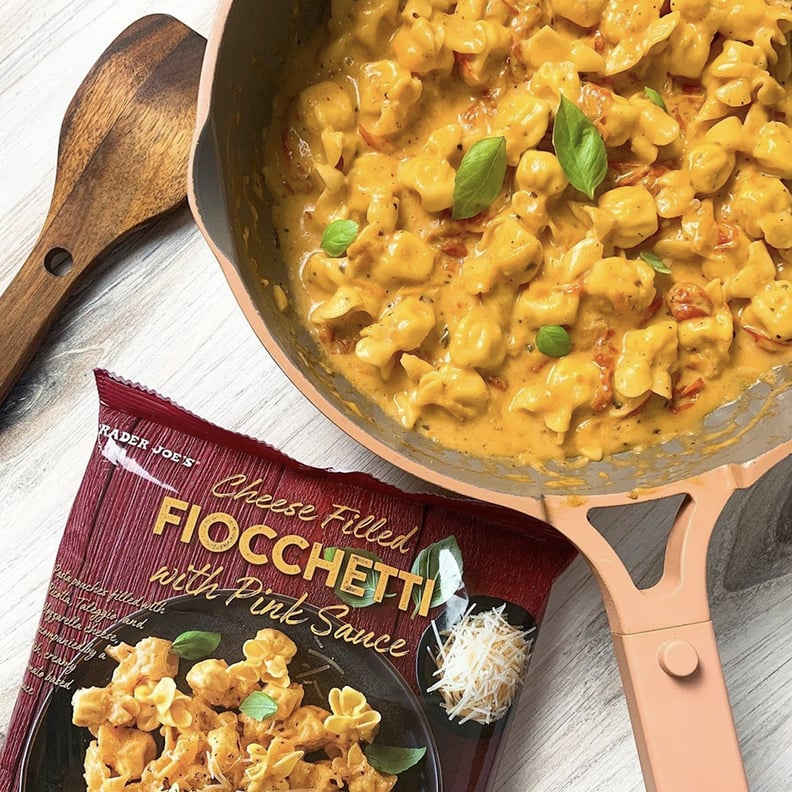 Trader Joe's is undoubtedly the best one-stop shop for everything from new and exciting products with affordable prices to drool-worthy comfort foods that can be whipped up whenever the craving strikes. Whether it's a chilly night in or a lazy afternoon that consists of binge-watching your favorite show, there's nothing better than indulging in tasty comfort foods. And TJ's has all that and more, with options that are smothered in cheese, coated in crispy breadcrumbs, doused in truffle, or drenched in your favorite sauces. From mac and cheese to burrata flatbread, these rich foods with fill your stomach with happiness and your kitchen with drool-inducing aromas. Check out the best comfort foods from Trader Joe's ahead, and get ready to whip up a meal that your taste buds won't soon forget. Enjoy!
— Additional reporting by Haley Lyndes and Erin Cullum
Prices and products may vary by Trader Joe's location.
01
Trader Joe's Macaroni and Cheese With Wisconsin Cheddar
An all-time classic, this box of traditional mac and cheese will make your mouth water. And the best part? You can make it in just a handful of minutes, so you can enjoy it in no time.
02
Trader Joe's Fall Zucchette Pasta
Festive and cute, making a fall-inspired pasta dish is as easy as picking up this pack of zucchette pasta. The pumpkin-shaped pasta gets its orange hue from paprika and butternut squash, meaning it's even tastier than it looks.
03
Trader Joe's Cornbread Mix
A chilly night, a rich dinner, and a side of cornbread — what could be better? This easy-to-make mix lets you whip up moist and crumbly cornbread in less than 30 minutes. Just add butter or honey to make it complete.
04
Trader Joe's Mac and Cheese Bites
Featuring a blend of cheddar, havarti, swiss, and gouda cheeses, these tasty bites will make your mouth drool before they're even done cooking. With a crispy panko-style breading, you'll be dreaming about these every hour of the day.
05
Trader Joe's Jumbo Cinnamon Rolls
Ready in about 20 minutes, these jumbo rolls puff up to create the tastiest treat you've ever had. Drizzle icing on top of them, and enjoy them while they're still warm.
06
Trader Joe's Pumpkin Empanadas
These empanadas are warm and flaky and filled with a sweet, creamy pumpkin filling. All you have to do is heat them up, and they're ready to be noshed on.
07
Trader Joe's Organic Shells and White Cheddar Macaroni and Cheese
Do the words "white cheddar" make you salivate? Because same. This box of mac 'n' cheese goodness will curb your cravings for cheese and pasta in just minutes. If you're really feeling adventurous, you can top it off with a dash of cayenne pepper to give it a kick.
08
Trader Joe's A Dozen Sweet Bites
A frozen box filled with 12 mini cakes, these sweet bites will cure your sugar craving in no time. You can choose between three different flavors (chocolate and coffee opera cake, raspberry macaron aux framboises cake, and caramel and chocolate cake), and nibble on them all night long!
09
Trader Joe's Organic Tomato Mozzarella Piccolo Pizza
If you're craving pizza, this little dinner dish is for you. It's small enough that you can eat it all in one sitting without feeling too full. The crust is crispy on the outside and soft on the inside, and the sauce is the perfect mix of sweet and tomatoey. Pair with a small side salad for best results.
10
Trader Joe's Mandarin Orange Chicken Bowl
If you're hangry, we hope you're reaching for this orange chicken bowl! It takes less than five minutes to heat up, meaning you can be noshing on it ASAP. With tender pieces of chicken atop a mountain of veggie fried rice, you won't be able to get enough of this delicious bowl.
11
Trader Joe's Ube Purple Yam Flavored Ice Cream
Creamy, sweet, and perfectly nutty, this purple yam dessert is a treat for all those who try it. It tastes like a mix of vanilla and pistachio and features light hints of coconut. Enjoy it with honey and nuts on top or alone. Dig in!
12
Trader Joe's Chipotle Vegetable Quesadillas
Take the traditional quesadilla to the next level when you cook up this vegetarian option. Each flour tortilla is packed with gooey Monterey Jack and cheddar cheeses and stuffed with smoked jalapeños, savory onions, black beans, and sweet corn. You'll notice the rich chipotle sauce every time you bite into it.
13
Trader Joe's Steamed Pork and Ginger Soup Dumplings
Filled with hot ginger soup and a flavorful pork filling, you'll want these soup dumplings for dinner every night. Dunk them in your favorite sauce to make your taste buds sing.
14
Trader Joe's Frozen Mac 'n' Cheese
Frozen dinners for the win! This box might look little, but it's packed with big flavor. Just pop it in the microwave, and get ready dive into a warm bowl of pasta in minutes. Feel free to add broccoli, breadcrumbs, or truffle flakes to the mix.
15
Trader Joe's Creamy Cauliflower Jalapeño Dip
Made with cream cheese, ricotta, Parmesan, and a hint of jalapeño, this indulgent dip will have you coming back for more. Switch things up by baking it in the oven until it gets a golden-brown crust and then dunking freshly toasted bread into it. Can you say "yum"?
16
Trader Joe's Organic Italian Four Cheese Tortellini
Craving cheese? Same! This rich tortellini is stuffed with mozzarella, ricotta, parmesan, and romano cheeses, and pairs well with warm garlic bread and a glass or red wine. Top it off with your favorite bolognese or vodka sauce.
17
Trader Joe's Chicken Fried Rice
With three-and-a-half servings per container, this chicken fried rice will last you more meals than one. Pair it with dumplings or add it to the side of a much larger meal; it's versatile (and tasty) enough to be eaten with or without other foods.
18
Trader Joe's Sublime Ice Cream Sandwiches
The treat is made up of a huge scoop of vanilla ice cream that's perfectly molded in between two chocolate chip cookies and then rolled in crunchy and silky chocolate chips. But the thing that really makes these stand out from the rest is the cookies. They're still so soft, which makes every bite melt in your mouth. They're chewy, smooth, refreshing, and just straight-up lovely all around, OK?!
19
Trader Joe's Creamy Spinach and Artichoke Dip
With Swiss and Parmesan cheeses and just the right amount of herbs and spices, this rich dip will leave you scraping the bottom of the barrel. The dip comes in a convenient package that allows you to dump the whole thing into a bowl at once, and it's the perfect serving size for a few people to finish it off. You don't run the risk of letting a half-eaten jar sit in your fridge for months. It gets warm and bubbly in mere minutes and tastes great with pita chips, crackers, or carrots.
20
Trader Joe's Cacio e Pepe Ravioli
Get ready to stuff your face full of Trader Joe's cacio e pepe ravioli. Filled with creamy ricotta and pecorino romano cheese, it tastes delicious with a dash of olive oil or your favorite sauce.
21
Trader Joe's Brazilian-Style Cheese Bread
Forget dinner! Trader Joe's Brazilian-style cheese bread is so delicious, you'll fill up on just this alone.
22
Trader Joe's Cheese-Less Cheesecakes
OK, vegans, get ready for your taste buds to be blown out of the water. Trader Joe's cheese-less cheesecakes are here, and you'd never believe how good they taste. Throw them in the freezer for a few hours, and you'll have yourself a yummy dessert.
23
Trader Joe's Butternut Squash Mac and Cheese
The single-serve mac and cheese, found in the frozen aisle, is ridged rigatoni pasta blended with a three-cheese sauce of cheddar, Gouda, and parmesan, plus a creamy béchamel sauce and butternut squash purée. A dash of warm spices like nutmeg and sage take the flavor over the edge (but don't overpower), and the finished product is the definition of creamy, decadent comfort food.
24
Trader Joe's Buffalo Style Chicken Poppers
If you love buffalo chicken, then these poppers will wind you right up. The outside has the perfect crunch while the spicy chicken inside will bring you to life.
25
Trader Joe's Fiocchetti With Pink Sauce
If you had a full day of work and just want to whip up a quick meal and relax, this cheese-filled fiocchetti with pink sauce is your best bet. Pasta filled with ricotta, taleggio, and mozzarella cheese? You can't beat it.
26
Trader Joe's Corn Poblano Chowder
There's no doubt the hearty texture of this hearty chowder will get you through chilly nights. If you really want to go all out, pair it with cornbread or crispy tortilla chips.
27
Trader Joe's Sweet Corn, Burrata, and Basil Ravioli
This drool-worthy ravioli features a filling that has a combination of soft ricotta cheese and creamy burrata. Each bite offers a pop of fresh, sweet corn and an earthy taste of basil. The flavors work perfectly together, and this convenient eight-ounce package allows you to enjoy a rich and tasty dinner without any effort. Top the ravioli with basil pesto or olive oil or butter, and serve it with your favorite side dish.
28
Trader Joe's Pumpkin Chocolate Chunk Oatmeal Cookie Mix
Why not add a little pumpkin to your favorite cookie? Trader Joe's has a pumpkin oatmeal and chocolate chunk cookie mix perfect for cozy fall afternoons.
29
Trader Joe's Burrata, Prosciutto, and Arugula Flatbread
If you love burrata, prosciutto, arugula, and flatbread, then imagine all four ingredients mixed together! This Trader Joe's specialty flatbread takes store-bought pizza to a whole new scrumptious level.
30
Trader Joe's Unexpected Broccoli Cheddar Soup
Just in time for fall, TJ's dropped a delicious soup that we can warm up to. Ideal for a quick lunch or dinner, your tastebuds will enjoy the sharp cheddar cheese mixed into this creamy soup.
31
Trader Joe's Cookie Butter Ice Cream
If you believe chunkier is better when it comes to ice cream, then Trader Joe's cookie butter ice cream is for you. With enormous cookie pieces and decadent Speculoos cookie butter added to TJ's already rich vanilla ice cream, we really don't trust anyone who would say no to this flavor.
32
Trader Joe's Buffalo Style Chicken Dip
Complete with bite-size pieces of white meat chicken breast, this creamy and cheesy dip will have you begging for more. Warm it up to make it even more mouthwatering.
33
Trader Joe's Organic Chickpea and Red Lentil Risoni
A legume-based alternative to regular risoni (aka orzo), Trader Joe's organic chickpea and red lentil risoni is made of chickpeas and lentils, and it's delicious. Top it with your favorite sauce for a dinner and you'll want it again and again.
34
Trader Joe's Cranberry Baked Camembert Cheese
Similar to Brie, just made in a different part of France, this creamy flavored-filled cheese is a dairy-lover's dream. Just bake in for a bit, and add nuts, honey, and jam to make it complete.
35
Trader Joe's Butternut Squash Ravioli
Sweet butternut squash fills these pasta pillows. Drizzle with olive oil and Parmesan for a comforting and quick autumnal dinner.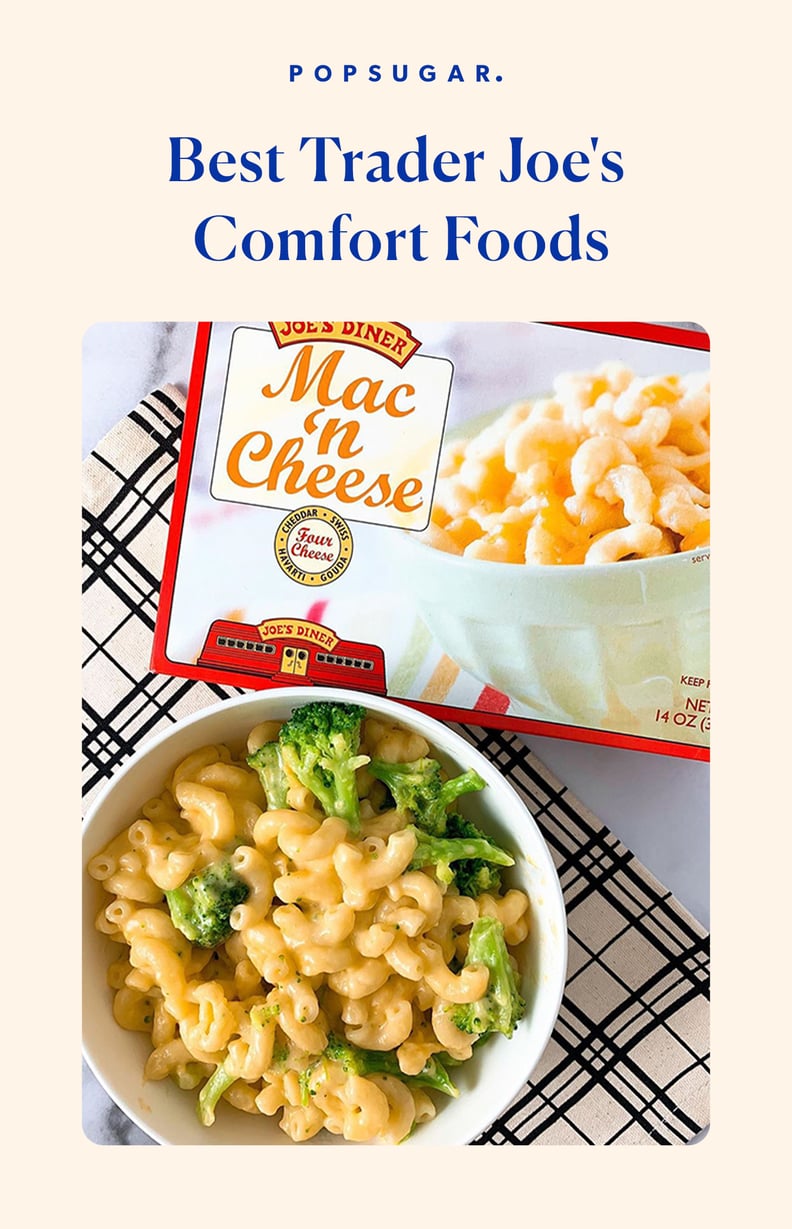 Pin It!