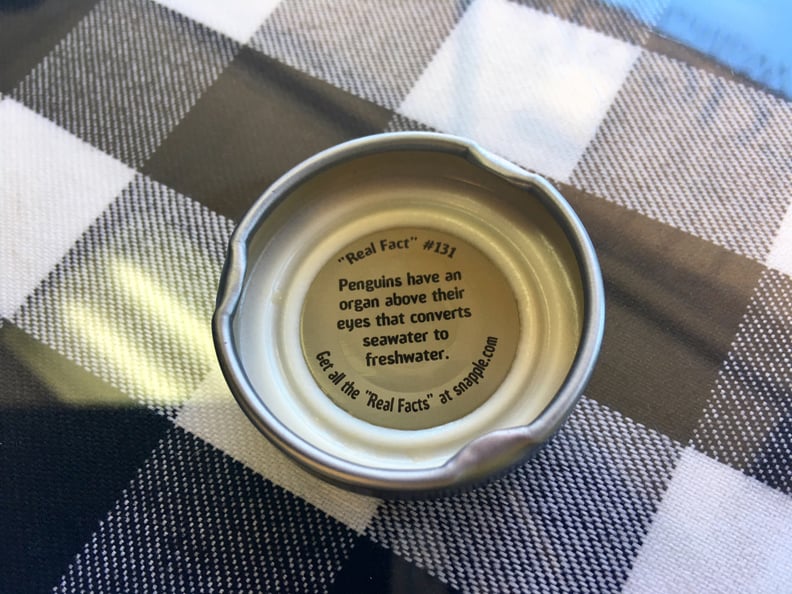 POPSUGAR Photography | Maggie Pehanick
POPSUGAR Photography | Maggie Pehanick
It's a scientific truth: you can't drink a bottle of Snapple without turning over the cap to see what your "Real Fact" is. Not a scientific truth? Most of those "Real Facts" . . . probably. Despite their label, Snapple Facts seem more like Snapple Myths. The internet is littered with articles claiming that the Facts are "often wrong," misleading," and straight-up "untrue."
While enjoying a bottle of Diet Peach Iced Tea recently, Snapple told me that "penguins have an organ above their eyes that converts seawater to freshwater." Seems like something you'd read on a placard at an aquarium, but it's not 100 percent accurate. Penguins are able to remove sodium chloride from their bloodstream using their supraorbital gland, but the gland doesn't just turn saltwater into freshwater.
This seems to be a theme throughout Snapple Facts; while many of them are true, elements of some are incorrect. According to David Falk, Snapple's former vice president of marketing, however, these tidbits are as accurate as they come.
"They are real facts, and we have teams here that fact-check everything," Falk told The Atlantic in 2013. "We go through a pretty vigorous process." In addition to checking each new fact, Falk said that there's a yearly evaluation of facts that are currently in circulation, in case something has changed. If a fact has become incorrect over the past year, it goes into retirement.
You're welcome to research them yourself, though. Snapple has made it all the way to Real Fact #1422 ("In India, mango leaves are used to celebrate the birth of a boy"), and all the facts are displayed on their official website. There will always be facts that are more difficult to prove ("About 18 percent of animal owners share their bed with their pet"), but as we Google to figure out the truth behind the facts, that's 100 percent more time we're spending thinking about Snapple as a brand. So isn't that a win-win for them, anyway?