A Review of Starbucks's New Pineapple Passionfruit Drinks
Starbucks's New Summer Refreshers Offer a Blast of Pineapple With Every Sip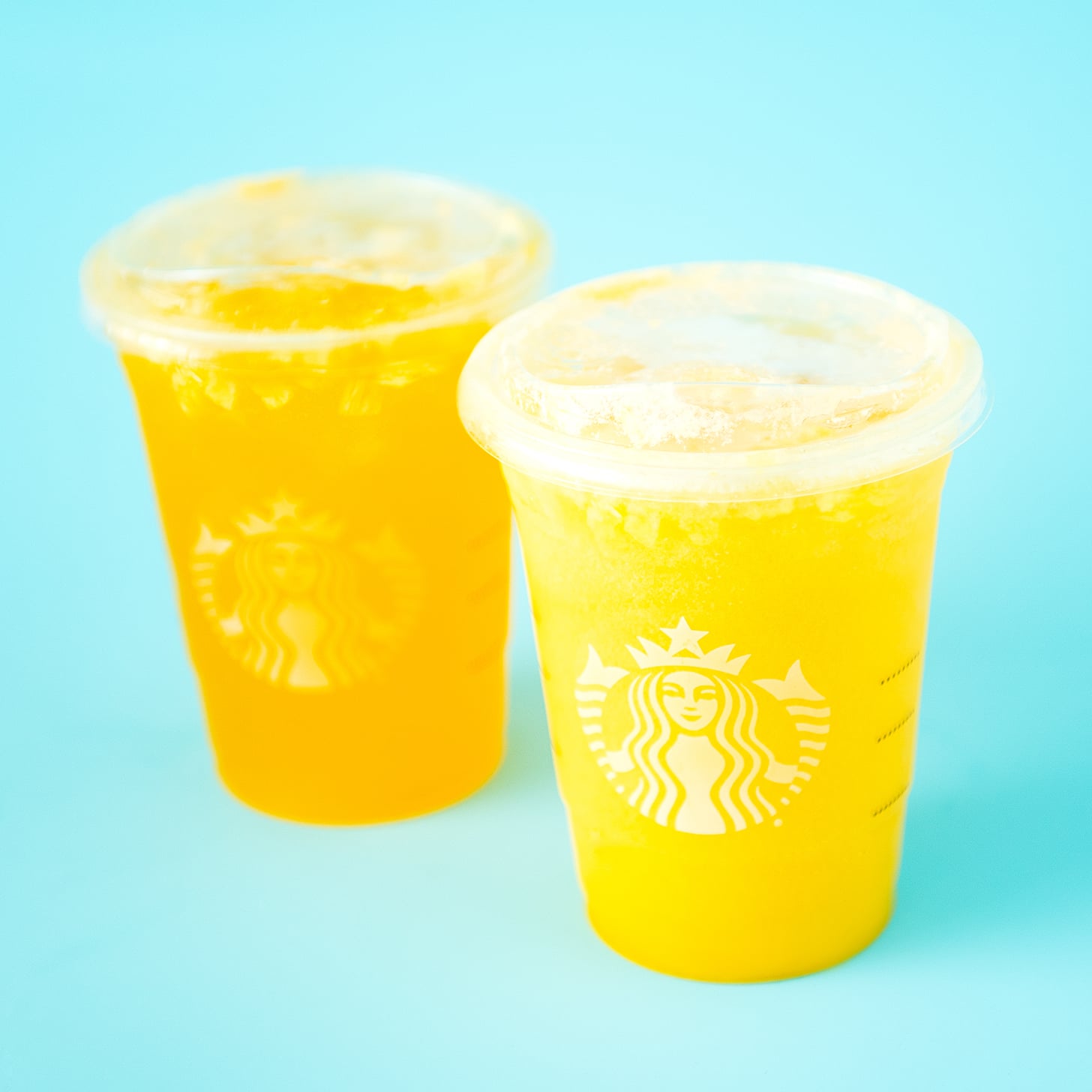 Starbucks is adding more pops of color to its menu. To celebrate the official start of summer on June 21, the coffee chain released two new beverages: the Pineapple Passionfruit Refresher and Paradise Drink Refresher. The additions are quite similar — the latter is basically just the former with coconut milk mixed in — and both are topped with real diced pineapple. I had the chance to try out the yellow drinks before they launched and can confirm they taste like a tropical vacation in a cup.
I started with the Pineapple Passionfruit Refresher. The brighter yellow of the two, it combines pineapple and passionfruit juices with ice and small pineapple chunks that rise to the top of the cup once shaken. At first I was mildly confused by the floating pieces — "Hold up, is that soggy popcorn?" I thought to myself — but after removing the lid and taking my first sip, my taste buds happily confirmed it was, indeed, pineapple. The chewy bits provide some welcome texture and make the drink feel like an indulgent two-in-one snack.
The concoction is quite fruit-forward and not as overly sweet as anticipated. The pineapple flavor definitely overpowers the passionfruit, but that could've easily been the result of mixed-up proportions since it's a drink baristas aren't as familiar with yet. If I ordered this one again, I'd likely ask for a bit of water mixed in to dilute the pineapple-heavy taste. Overall, this one wouldn't win over my other tried-and-true Starbucks orders in the future, but it was fun to try.
The Paradise Drink Refresher, on the other hand, has Drink of the Summer potential. As noted before, it features the same ingredients as the Pineapple Passionfruit Refresher, plus coconut milk, which gives it a lighter yellow hue. The nondairy milk is the exact creamy dilution the fruit juices need to make the drink more palatable. It is reminiscent of a melted piña colada and would likely taste divine with a splash (or three) of vodka or rum. Drinking the Refresher made me feel like I was transported to a lounge chair on a beach in the tropics, and what's not to love about a beverage with powers like that? 10/10, would order again.
The colorful drinks aren't the only new offerings hitting menus this month; Starbucks also just released a Chicken, Maple Butter, and Egg Sandwich that comes on a toasted oat biscuit roll and a Cookies and Cream Cake Pop that's topped with a dark-chocolate cookie crumble. Head to your local outpost to try these offerings and the Chocolate Cream Cold Brew that dropped last month, if you haven't already.
Image Source: POPSUGAR Photography / Bonnie Mills