The New Starbucks in Milan Is Unlike Anything We've Seen Before — Take a Look Inside!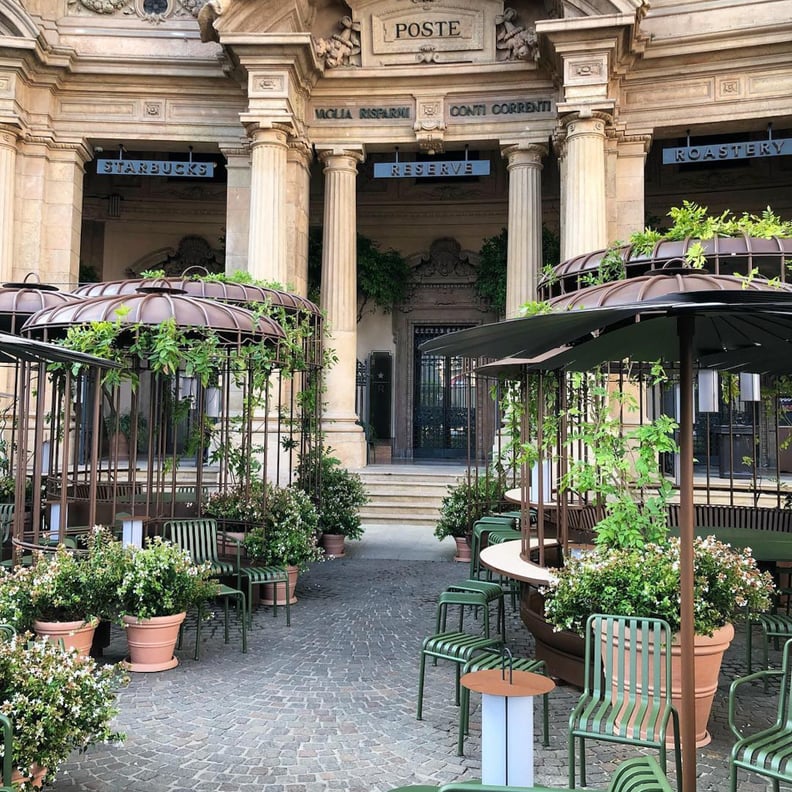 Extravagant. Gorgeous. Fancier than I'll ever be. These are just a few words to describe the new Starbucks Reserve Roastery in Milan. The enormous coffeehouse, which is Italy's first-ever Starbucks location, just opened its doors on Sept. 6, and it's straight out of our wildest coffee-loving dreams.
The 25,000-square-foot space is home to multiple coffee bars (and a cocktail bar!), lime-green coffee-bean-roasting equipment, mosaic flooring, an affogato station, a wood-fire oven, and marble countertops that set the stage for picture-perfect Instagram snaps. Oh, and we almost forgot to mention a very vital detail: pizza is on the menu! So, like, when can we move in?!
Although espresso-loving Italian locals were initially hesitant to welcome the global chain, the Reserve Roastery seems to be a huge hit so far, with thousands of visitors sharing pictures of the coffee shop's exquisite interior and cravings-inducing refreshments all across social media. If you don't have a trip to Milan in the works, we've put together a virtual tour of sorts so you can experience its beauty at your fingertips. Prepare to be blown out of the water, folks.
The Exterior of the Roastery Is Downright Stunning
It's Located in the Historic Poste Building in Milan's Piazza Cordusio
There's a Lovely Outdoor Seating Area
You Can Sit in the Shade as You Sip Away
How Cool Are These Umbrellas?!
The Lines Have Been Poppin' Off Since It Opened
The Interior of the Coffee Shop Is Jaw-Droppingly Beautiful
There's an Enormous Bronze Cask in the Middle of Everything
It's Basically a Palace Inside
That Feeling When a Staircase Is Prettier Than You . . .
There Are Shiny Details All Over the Space
The Fanciest Coffee Bean Holders I Ever Did See
The Inside Is Filled With Gorgeous Decor, Like This Painted Scooter
And This Sophisticated Statue
There's an Augmented Reality Experience That Teaches Visitors About Starbucks's History
There Are HUGE Windows That Let in Plenty of Natural Light
Hello, Caffeine! There's a Cold-Brew Bar
The Bean Roasting Equipment Is Lime Green
Here's a Video of It in Action
No Shocker Here: The Ceiling Is Also Breathtaking
There's a Paper Menu (That Unfortunately Doesn't Feature Frappuccinos)
But Hey, It DOES Feature Pastries Galore
I'm Officially Shook, You Guys
Here's the Affogato Station, For Anyone Who's Craving Ice Cream With Espresso on Top
There's Gelato, of Course
My Mouth Is Watering Over These Treats
Some of the Drinks Come in Cute Plastic Cups
Others Are Served Up in Black Cups
You Can Get Whiskey at the Cocktail Bar
BRB, on My Way to Milan Just to Devour These Drinks