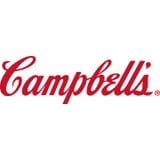 We teamed up with Campbell's® to give you easy ways to spice up every meal.
The Loco Moco Burger challenges all your preconceived notions about what makes a great burger. Food content creator Sydney Yorkshire used traditional Hawaiian ingredients like rice wine vinegar and sesame oil, combined with elements like Campbell's® Cream of Mushroom Soup and a fried egg to build what can only be called a meat masterpiece.
Loco Moco Burger
Sydney Yorkshire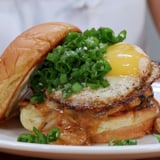 Ingredients
1 whole sweet onion
1/4 lb. ground beef
1 can (10.5 ounces) Campbell's® Cream of Mushroom Soup
1 egg
1 potato bun
Choice of mushrooms
1 cup Swanson® Beef Stock
Worcestershire sauce
Salt and pepper
Soy sauce
Scallions
Rice wine vinegar
Sesame oil
Sesame seeds
Butter
Directions
Preheat air fryer.
Pulse half an onion in food processor.
Make burger patties: Combine ground beef (80/20), onion, and Worcestershire sauce, and form into 1/4 lb. patties. Add salt and pepper to the outside — this should help form a crust in the air fryer. Add the patties to the air fryer for 14 to 15 minutes.
Make gravy: Slice onions into half moons and cook down with oil until translucent. Slice whole mushrooms lengthwise and add to onions. Sauté until tender, then add in beef stock. Bring to a boil then reduce to simmer. Add in 1/4-1/2 can Campbell's® Cream of Mushroom Soup (this also acts as the thickening agent for the gravy and more of the mushrooms will add extra umami!). Add Worcestershire and soy sauce to taste, and once burgers are done in air fryer, smother in gravy.
Toast buns. While gravy is simmering, heavily toast buns in brown butter.
Pickle scallions: Thinly slice scallions and add rice wine vinegar, sesame oil, and sesame seeds.
Fry egg in remaining brown butter.
Assemble burger.
Information
Category

Main Dishes
Image Source: Sydney Yorkshire