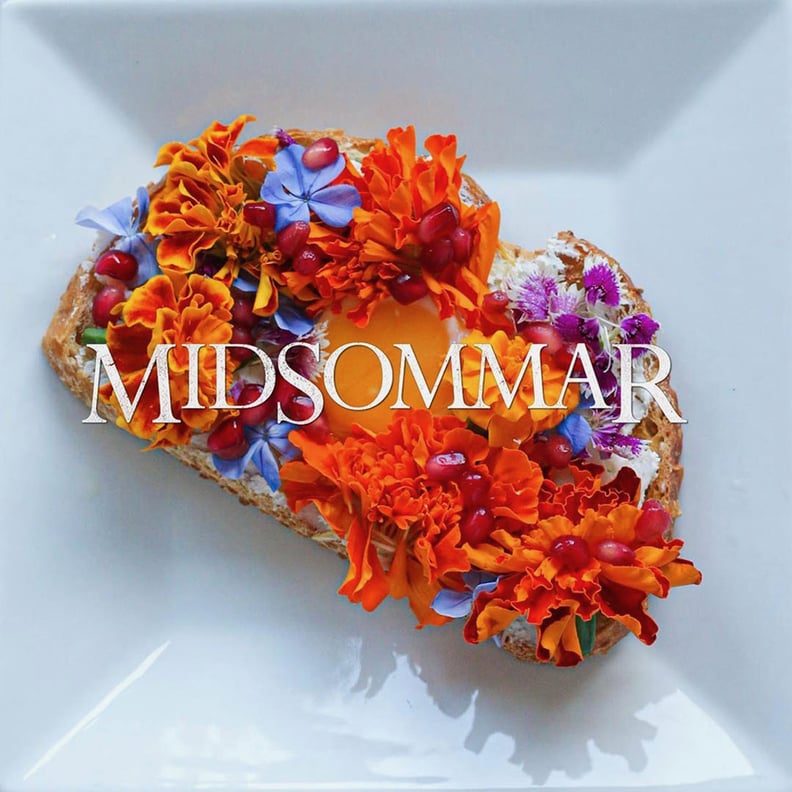 Watch your movies and eat them, too! That's essentially the message behind the TikTok account @technicolor_toast, which continues to gain popularity for its beautiful pop-culture-themed bread creations. Think Mamma Mia, Twilight, Shrek, Midsommar . . . the list goes on. Avocado toast, who? These are beyond one-note. In fact, they're practically works of art.
Zara Kaye is the real-life brain behind the now-viral account. The 21-year-old film student is a passionate self-taught cook and was encouraged by family and friends to start a YouTube channel or publish a cookbook. The busyness of life always seemed to get in the way, until the coronavirus pandemic and social distancing halted everyday activities. "When we went into quarantine, I was left with nothing but time on my hands, supportive roommates, and a pantry surprisingly well-stocked," Kaye told POPSUGAR.

"When we went into quarantine, I was left with nothing but time on my hands, supportive roommates, and a pantry surprisingly well-stocked."
"Needless to say, I was watching a lot of movies and eating a lot of really good food. As my cooking got more elaborate, the push to take it online grew even stronger," she continued. "With nothing to do, and the rise of TikTok, I didn't have an excuse anymore. I knew that if I just started filming and posting regular cooking videos, that they would be lost in the onslaught of content. So I began to wonder how to differentiate myself from everyone else."
Inspiration struck as Kaye was rewatching Call Me by Your Name. The infamous peach scene became the lightning bolt she needed to start "something that definitely hadn't been done before": original toast creations. She started posting at the end of June, and just a month later, she has 85,000 followers and the number continues to climb.
Kaye was shocked by the response her videos started getting. "As soon as the account started to gain traction, I was receiving DMs and comments, people telling me that it's the only thing that's keeping them going right now and providing a daily dose of serotonin," she said. "It's been such a pleasure to help bring a little light to people during such a strange and dark time."
She even has fans who've re-created her recipes and sent her their photos. "It is so exciting to see other home cooks putting their spin on my work," Kaye said. "It's been one of my favorite parts of this experience, actually."
You might wonder, what's been Kaye's favorite toast to make so far? Well, Ratatouille holds a special place in her heart. "The style of ratatouille from the movie is called confit byaldi, and I love that dish. It was a whole process, it took three hours of prep work, and it was absolutely worth it," she explained. "It was really delicious and my lunch that day."
Kaye keeps her working list under wraps, so there's no telling what's next, but she does take requests. Keep reading to see her culinary creations so far, then send your suggestions to her Instagram page.
Call Me by Your Name Toast
Avatar: The Last Airbender Toast