Trader Joe's Fall Turkey Chili With Pumpkin Recipe
Trader Joe's Fall Turkey Chili With Pumpkin Is Made in 1 Pot, So It's Easy and Delicious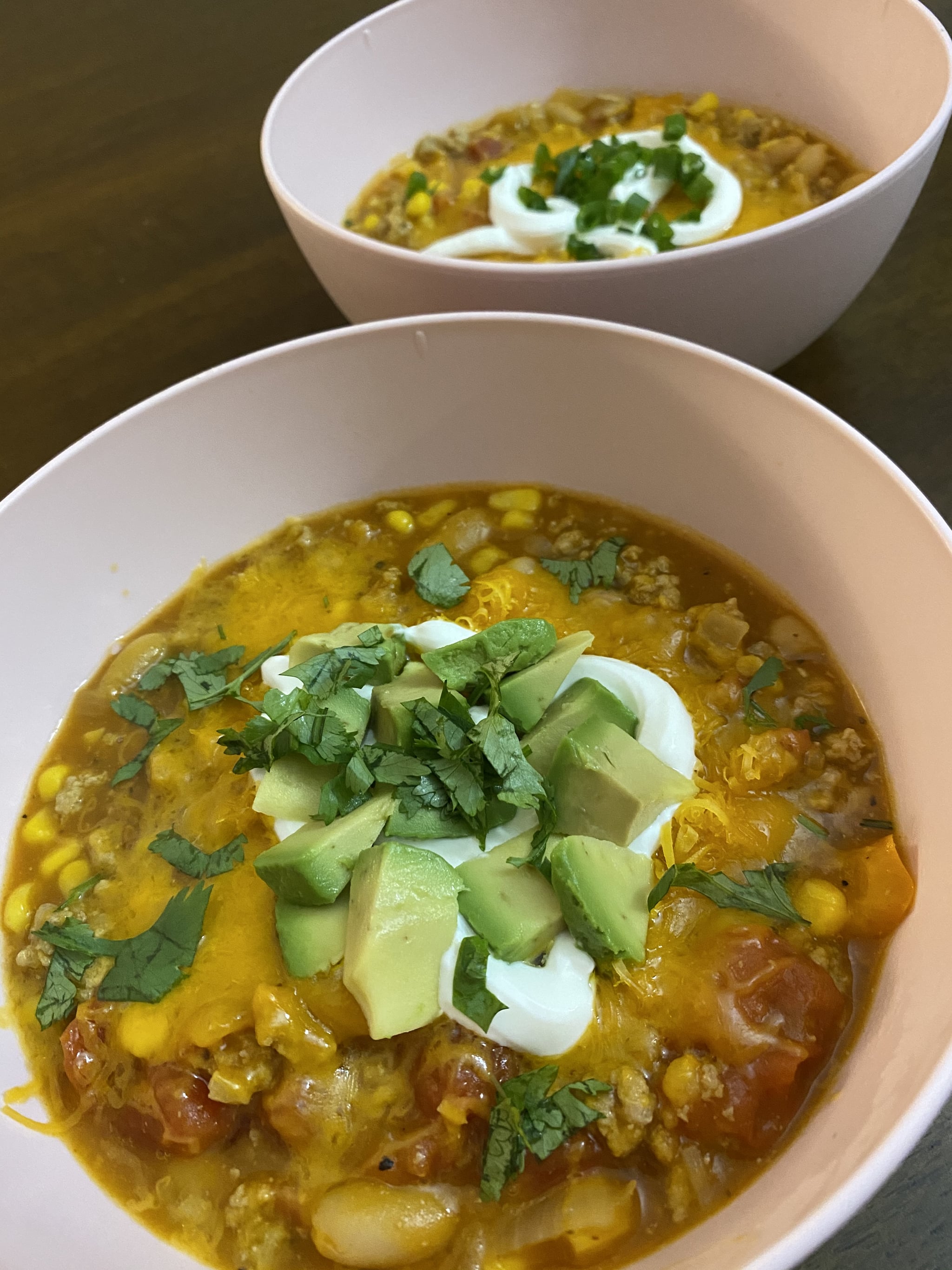 There's no meal that screams fall quite like chili does. Besides being hearty, warm, and packed with savory flavors, chili is easy to make and can be tweaked in a variety of ways to incorporate different elements. For the most part, chili includes staples like beans, tomatoes, and some sort of protein. This Trader Joe's turkey chili encompasses all the basics of the classic dish but adds fall's most beloved ingredient: pumpkin!
There are quite a few reasons to love this chili. First and foremost, it's incredibly delicious, and every ingredient in this recipe compliments one another perfectly. One of my favorite parts about making this dish was that you only use one pot to cook the whole thing, which means easy cleanup! And finally, this recipe makes a big batch of chili, so you can definitely feed a lot of people and count on leftovers to get you through the week. And, of course, everything you need to make this recipe can be found at Trader Joe's, so getting the ingredients and cooking everything is a total breeze. The next time you're stumped on what meal to make on a *chili* day, I highly recommend giving this one a try!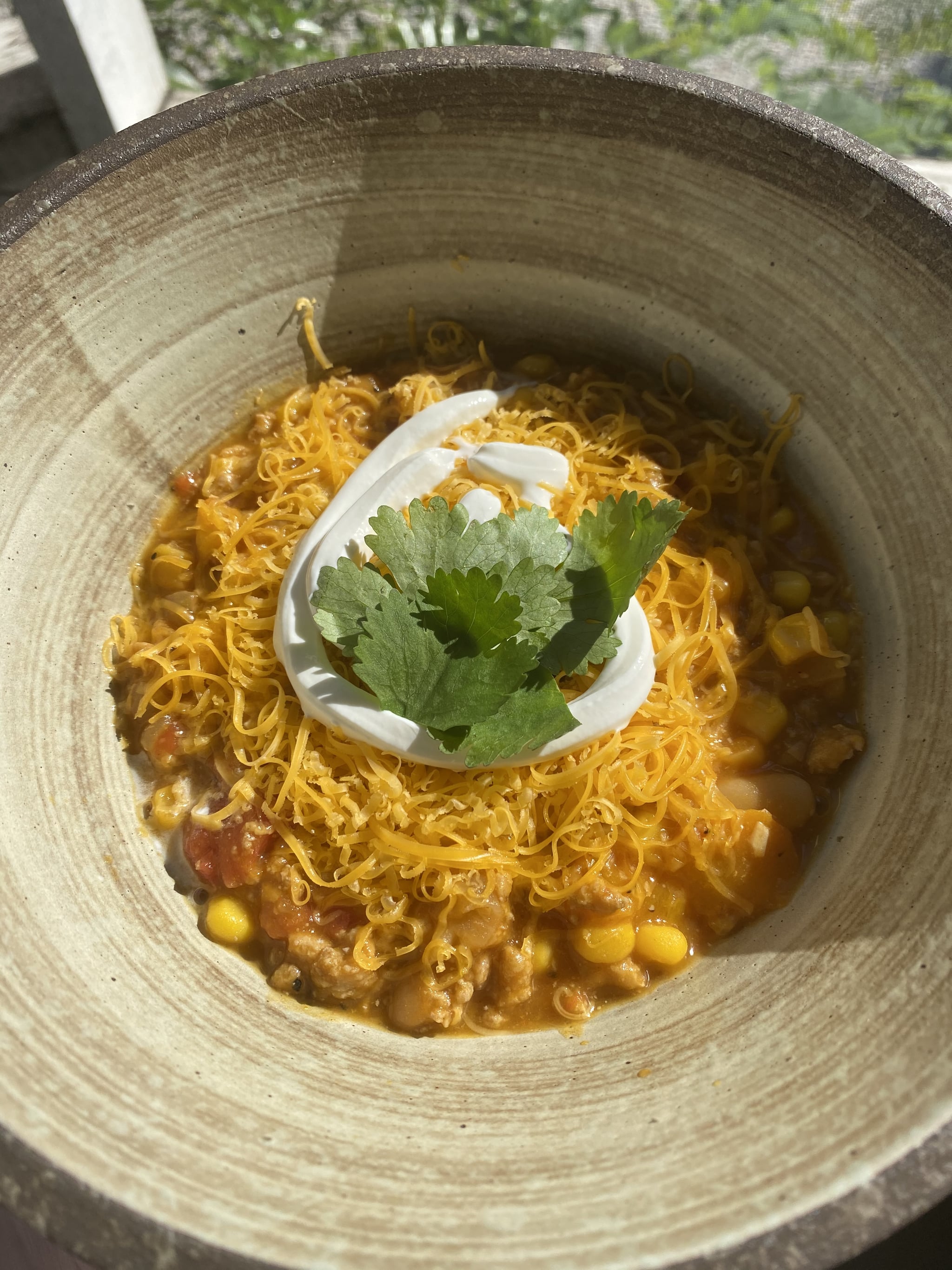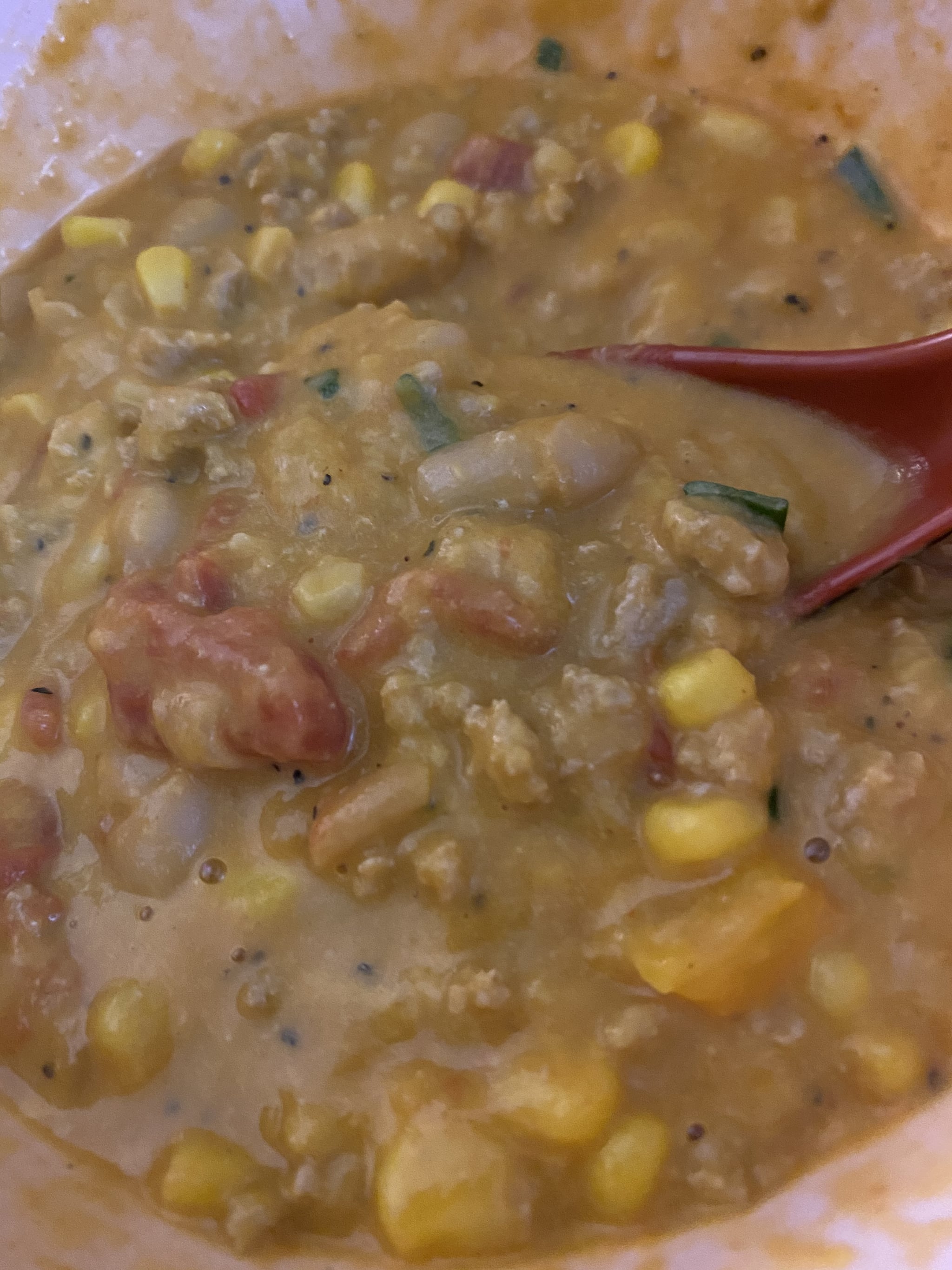 Fall Turkey Chili with Pumpkin
Trader Joe's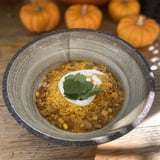 Ingredients
Chili:
1 tablespoon TJ's Pure Imported Olive Oil
1/2 TJ's White Onion, diced
1 TJ's Bell Pepper (orange or yellow), diced
2 cloves TJ's Garlic, minced
1 package TJ's All-Natural Ground Turkey
1 can TJ's Organic Diced & No Salt Added Tomatoes
2 cans TJ's Organic Pumpkin
1 can TJ's Organic Kidney Beans, drained
1/2 can TJ's Whole Kernel Corn, drained
2 teaspoon TJ's Sea Salt
1 teaspoon TJ's Cumin
1 teaspoon TJ's Ground Black Pepper
Garnish (optional):
1 cup TJ's Sour Cream
1/2 cup TJ's Shredded Cheddar Cheese
1 package TJ's Organic Cilantro
1 avocado, diced
Directions
Chop and dice white onion and bell pepper. Mince garlic.
Put a large pot on your stovetop and bring to medium heat. Add olive oil.
Add in chopped onion and bell pepper. Cook until the onion is translucent and fragrant, about 4 minutes.
Add in garlic and stir for about 30 seconds.
Next, drop in your package of ground turkey. Break up the turkey with your spatula and allow it to fully brown and cook through, about 10 minutes.
Mix in your diced tomatoes, kidney beans (drained), pumpkin, and corn. Add your salt, pepper, and cumin (and any other spices that you prefer). Make sure everything is evenly mixed.
Bring your chili to a boil, and then reduce heat to low. Allow your chili to simmer for 20-30 minutes.
Distribute chili into bowls, and garnish with cheddar cheese, avocado, sour cream, and cilantro. Enjoy!
Information
Category

Main Dishes

Prep Time

10 minutes

Cook Time

30 minutes

Total Time

39 minutes, 59 seconds
Image Source: POPSUGAR Photography / Julia Duda