Creamy Pumpkin Pasta Recipe
This Creamy Pumpkin Pasta Will Be Your New Go-To Dinner All Season Long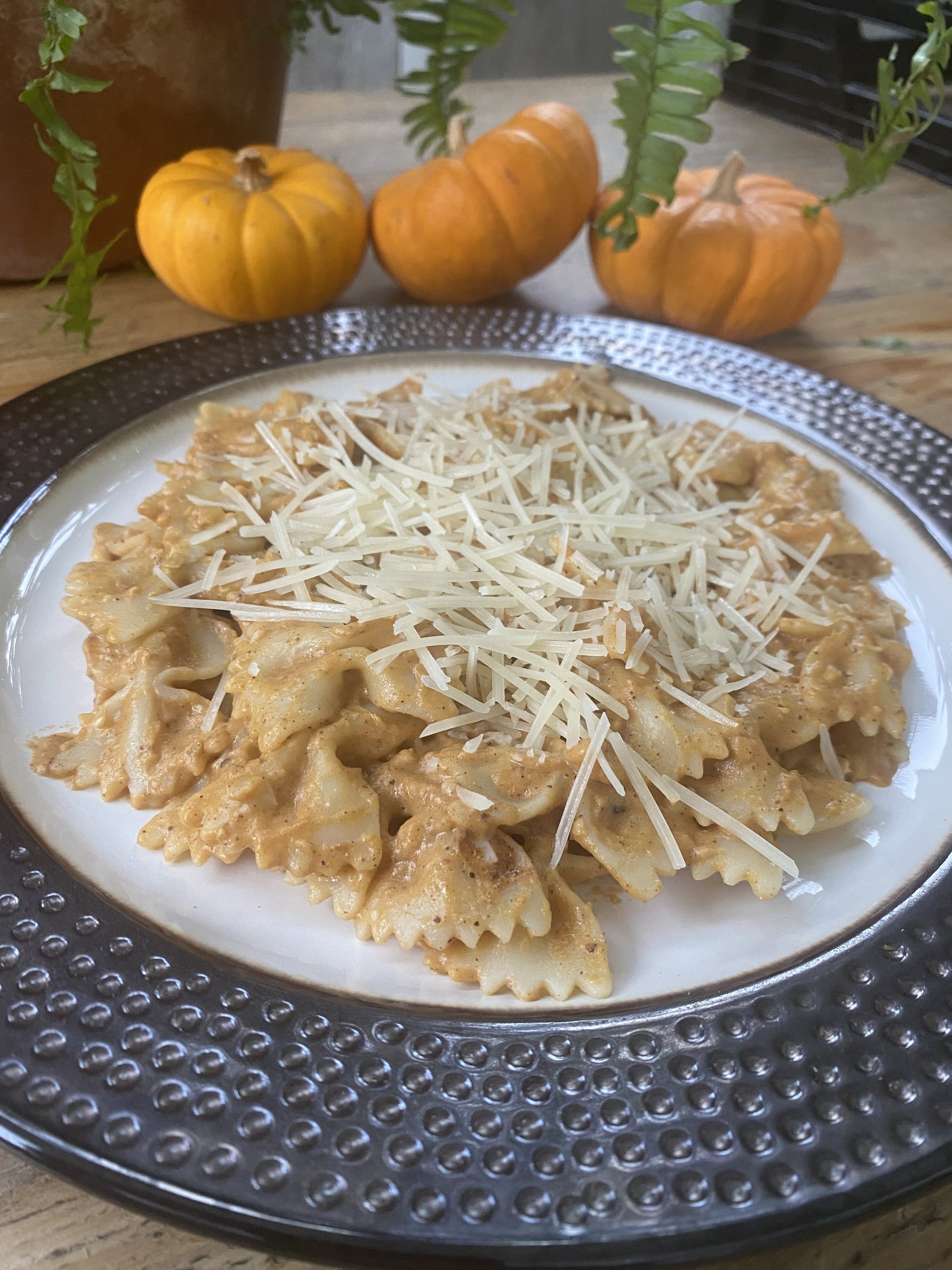 Pasta is one of my favorite meals any time of year, but there's something especially satisfying about pasta during the fall. It's one of the ultimate comfort foods, and what's better than embracing comfort food during the coziest season of all? Of course, delicious pasta often comes down to the sauce. Personally, I love creamy, savory, garlicky sauces, which this recipe definitely embraces. But I was eager to find a way to embrace one of my other favorite flavors into pasta: pumpkin!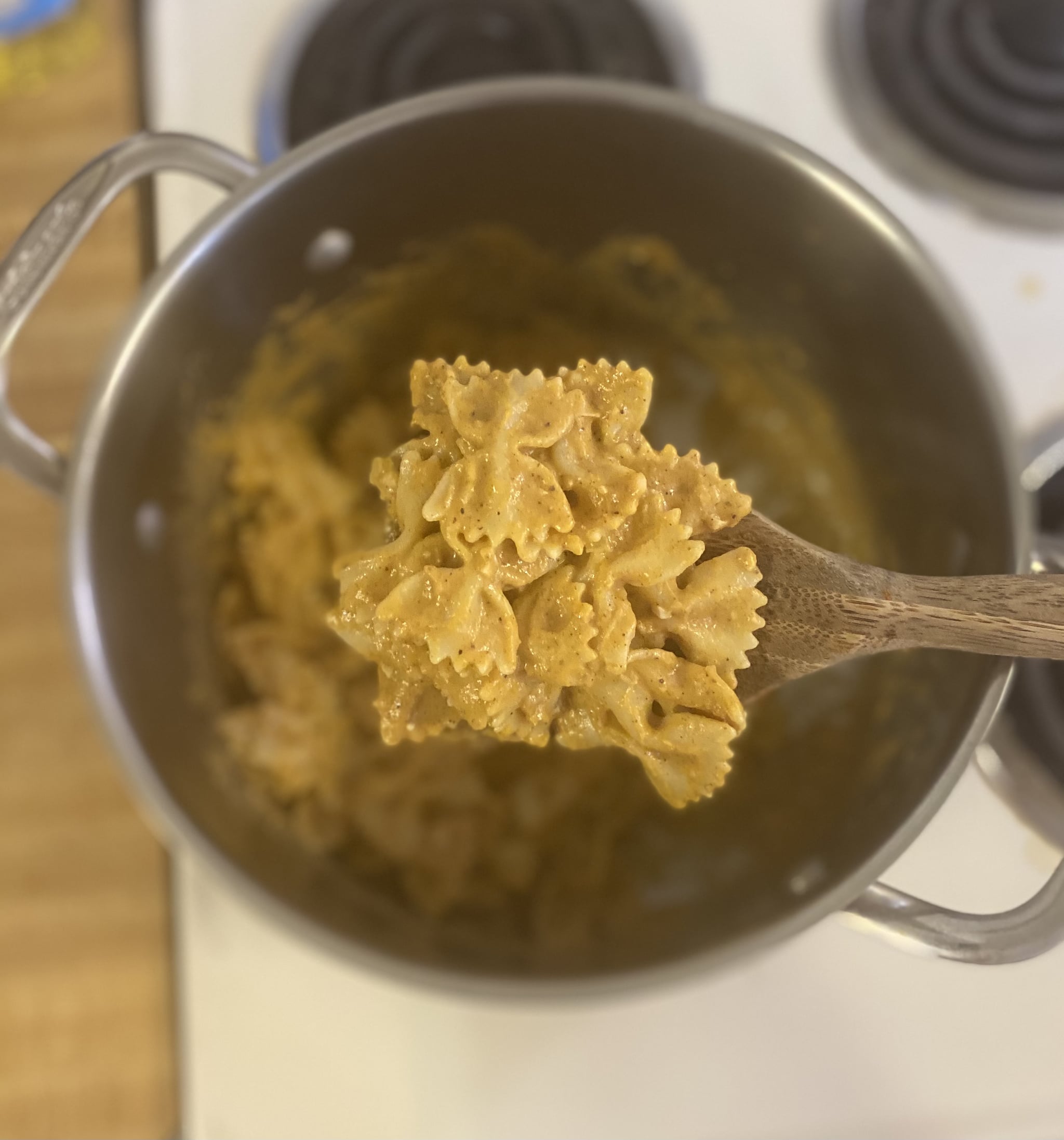 Though pumpkin is often associated with sweet treats like a pumpkin spice latte or pumpkin pie, it's actually quite savory by itself. With the help of nutmeg, ginger, allspice, and cinnamon, the best flavors of pumpkin transform into something that's savory, spicy, and just a little bit sweet. This recipe really embraces these flavors, which is what I love about it so much. Like I said before, I prefer creamy pasta sauce, and the pumpkin also works really well in a creamy context as well. I also like using farfalle — aka bowtie pasta — but you can absolutely improvise and use whatever type of noodle you like best.
This creamy pumpkin pasta recipe is ideal for a weeknight dinner — it's easy, embraces many fall flavors, and best of all, utilizes ingredients that you probably have sitting in your pantry right now!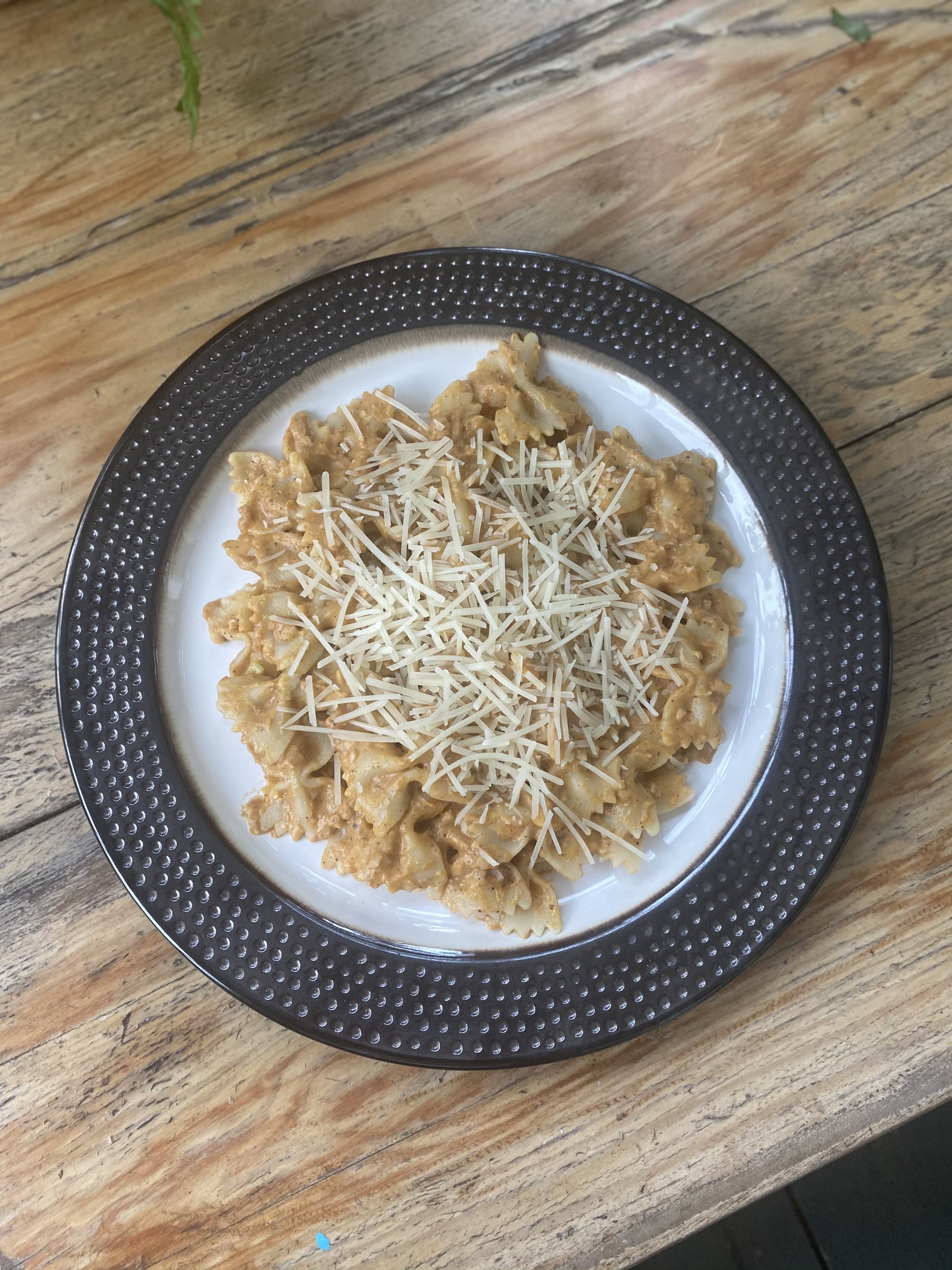 Creamy Pumpkin Pasta
Original Recipe by Julia Duda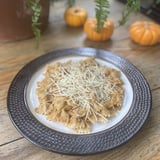 Ingredients
2 cups farfalle pasta
8 cups of water
2 teaspoons salt
3 cloves garlic, minced
4 green onion whites
1 1/2 tablespoons butter
2 tablespoons cream cheese
1/2 cup pumpkin puree
1 teaspoon nutmeg
1 teaspoon allspice
1/2 teaspoon ground ginger
1/2 teaspoon cinnamon
1 tablespoon shredded parmesan cheese (as garnish, optional)
Directions
Bring 8 cups of lightly salted water to a boil.
Once water is boiling, add in 2 cups of pasta. Cook for about 8-10 minutes, or until pasta is tender.
As pasta is cooking, prepare your garlic and green onion. Start by finely mincing 3 cloves of garlic.
Next, wash 4 stalks of green onion. Turn the green onion upside down, to the white side, and cut off the very ends. Then, finely chop the whites of the green onion until you just get past the green parts. Set both the onion and garlic aside.
Once your pasta is done cooking, set aside 1 cup of the pasta water (this is very important!). Then carefully drain your pasta.
Return your pot to the stove and set it to low heat. Add the butter and allow it to begin melting, about 30 seconds.
Once butter begins to melt, add your chopped garlic and green onion. Cook until fragrant, about 2-3 minutes.
Add 1/4 cup of your reserved pasta water to your butter, garlic, and green onion mix, and stir it all together. Let sit for about a minute.
Next, add 1 tablespoon of cream cheese. You can break it down into smaller chunks to more easily combine it. Your sauce will be lumpy at first, but the cream cheese will break down as you cook.
Add another 1/4 cup of pasta water and continuously stir.
Throw in another tablespoon of cream cheese. Continue stirring and allow it to break down and combine with the rest of the sauce.
Once the cream cheese is evenly broken down into the sauce, add in 1/2 cup of pumpkin puree. Stir until fully combined.
Add your nutmeg, cinnamon, ginger, and allspice, and stir. Also note that if your sauce is too thick, you can add any of the leftover pasta water to loosen it up and get it to your preferred consistency.
Carefully taste your sauce and salt to taste.
Finally, add in your pasta directly into the pot with the sauce. Stir until the pasta is fully immersed within the sauce.
Plate pasta and, optionally, add parmesan cheese on top. Enjoy!
Information
Category

Main Dishes

Yield

2 servings

Prep Time

10 minutes

Cook Time

20 minutes

Total Time

29 minutes, 59 seconds
Image Source: POPSUGAR Photography / Julia Duda