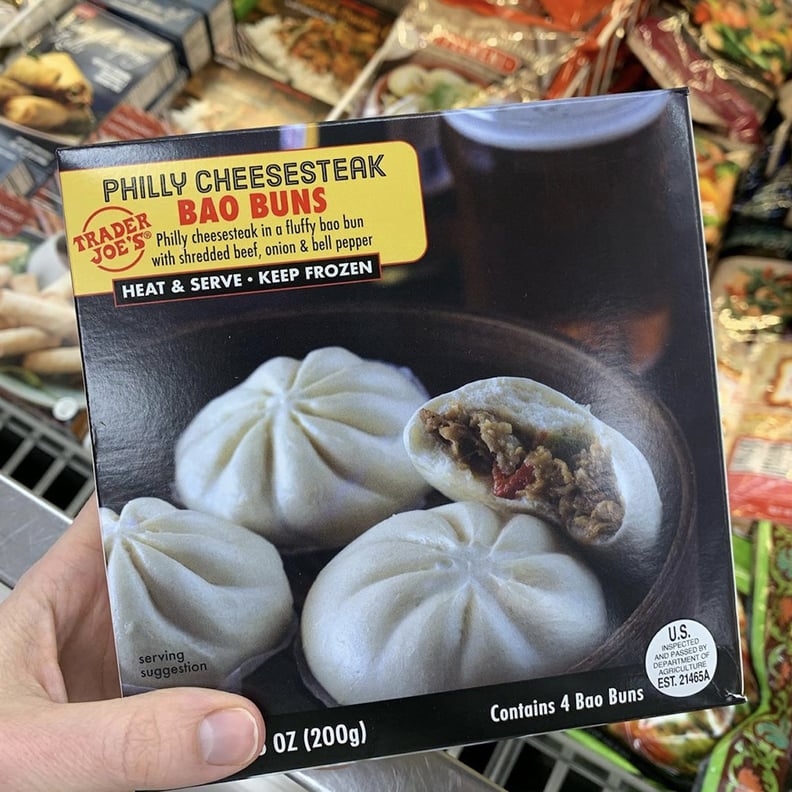 You really never know what to expect when browsing Trader Joe's frozen food section, but I wouldn't have predicted Philly Cheesesteak Bao Buns. According to eagle-eyed shoppers, however, that's one of the newest options at the beloved affordable grocery store. The steamed (and frozen) bao looks like a relatively standard bun on the package, but the inside is filled with shredded beef, American cheese, onions, red bell peppers, green bell peppers, and garlic powder.
Quite sacrilege, sure, but delicious? Reddit user nyxmaris thinks so. As one of the first people to spot this new item, the Redditor took one for the team by including a review in a buzzy thread that includes a photo of the finished product. After describing them as having "really good flavor" and "good, not sticky" dough, this Florida-based Trader Joe's shopper would definitely buy the Philly-inspired buns again.
Trader Joe's is home to popular frozen xiao long bao (soup dumplings) and Chinese-style pork buns with sweet and savory barbecued pork, but throwing American cheese and beef into the mix isn't something we've seen in . . . any grocery store. The comment debates have already begun, so take a look at more evidence of Philly Cheesesteak Bao Buns ($3), and decide if they deserve a spot in your red cart.
The Newly Spotted Philly Cheesesteak Bao Buns at Trader Joe's
Here's What the Philly Cheeseteak Bao Buns Look Like When Cooked
More Philly Cheesteak Bao Buns in the Wild (Well, Trader Joe's Frozen Section)