Trader Joe's Skillet-Baked Pumpkin Rolls
I Made Trader Joe's Skillet-Baked Pumpkin Rolls, and Damn, These Are Delicious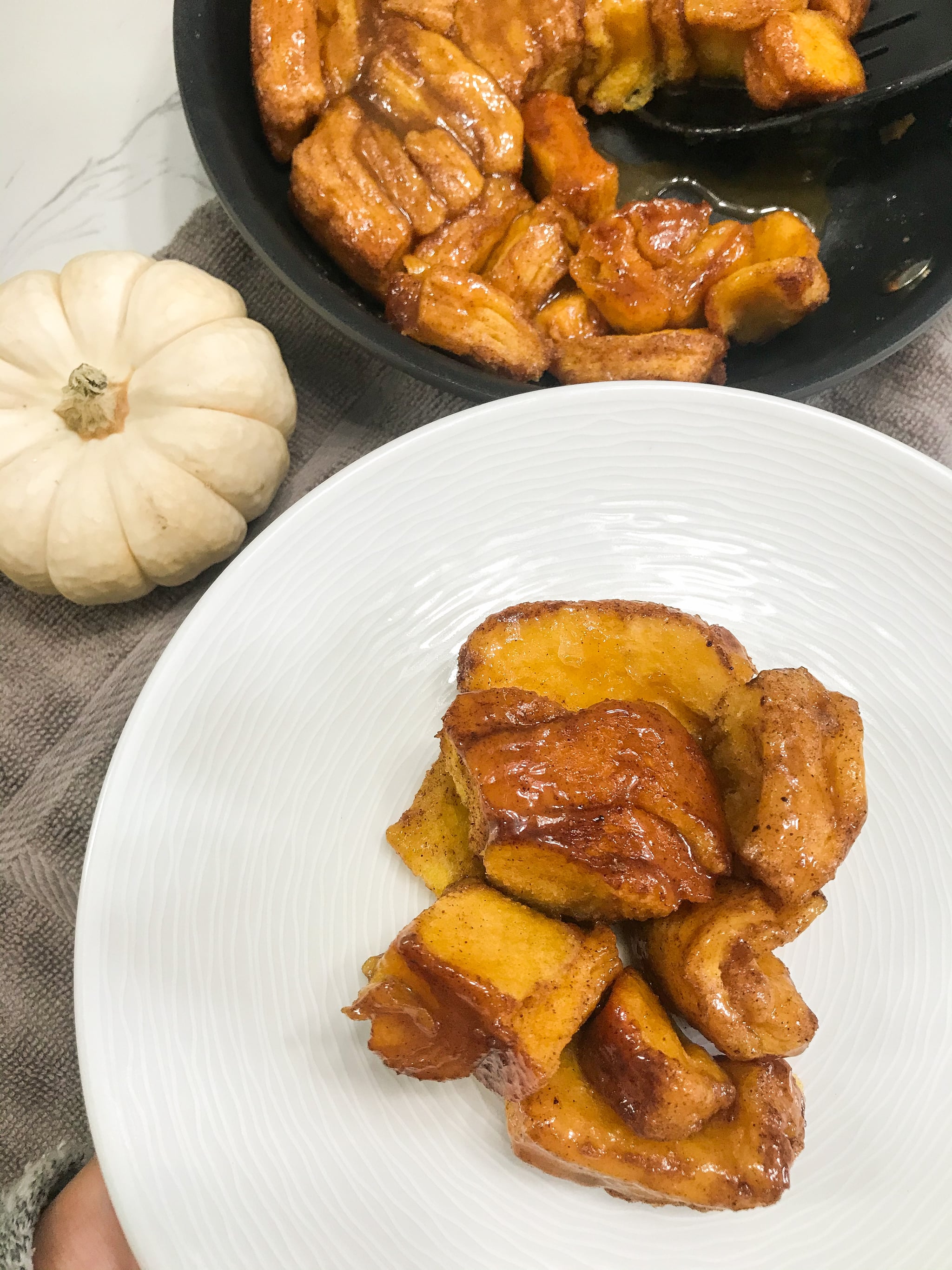 First off, I'd just like to say this Trader Joe's skillet-baked pumpkin rolls recipe serves six to eight people, and I ate half the pan in a matter of minutes. I literally couldn't get a forkful in my mouth fast enough. If you've ever made or followed along with a Trader Joe's recipe before, then it should come as no surprise how damn tasty these pumpkin rolls are.
Coated in a pumpkin spice and sugar mixture and brushed with melted butter, they're melt-in-your-mouth-fantastic. A straightforward recipe is always appreciated, and if the ingredient list and instructions are short, even better! Pop that can open, cut each roll into quarters, coat, and bake. For a bit of a crunch, you can sprinkle candied pecans or chopped walnuts as a bonus. That's all there really is to it.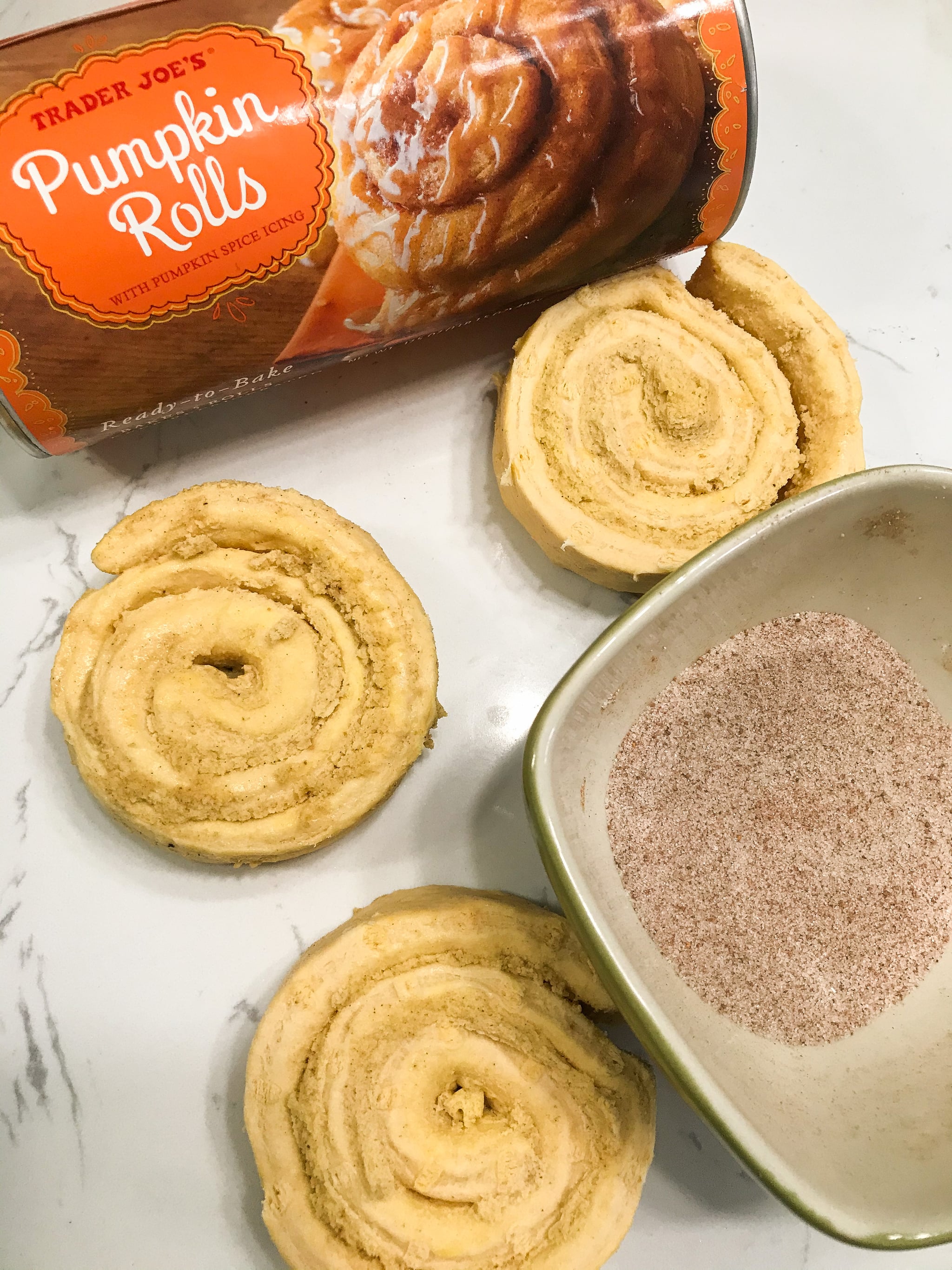 This fall snack pairs nicely with a gloomy, brisk day spent snuggled under your favorite blanket, binging TV, or caught up in a good book. Don't worry about lighting a candle — one whiff of these baked rolls and your home will be smelling like a pumpkin-scented candle.
Trader Joe's pumpkin rolls are only available for a limited time and are a hot commodity among pumpkin-lovers, so be sure to snatch a can before they're gone. Happy baking!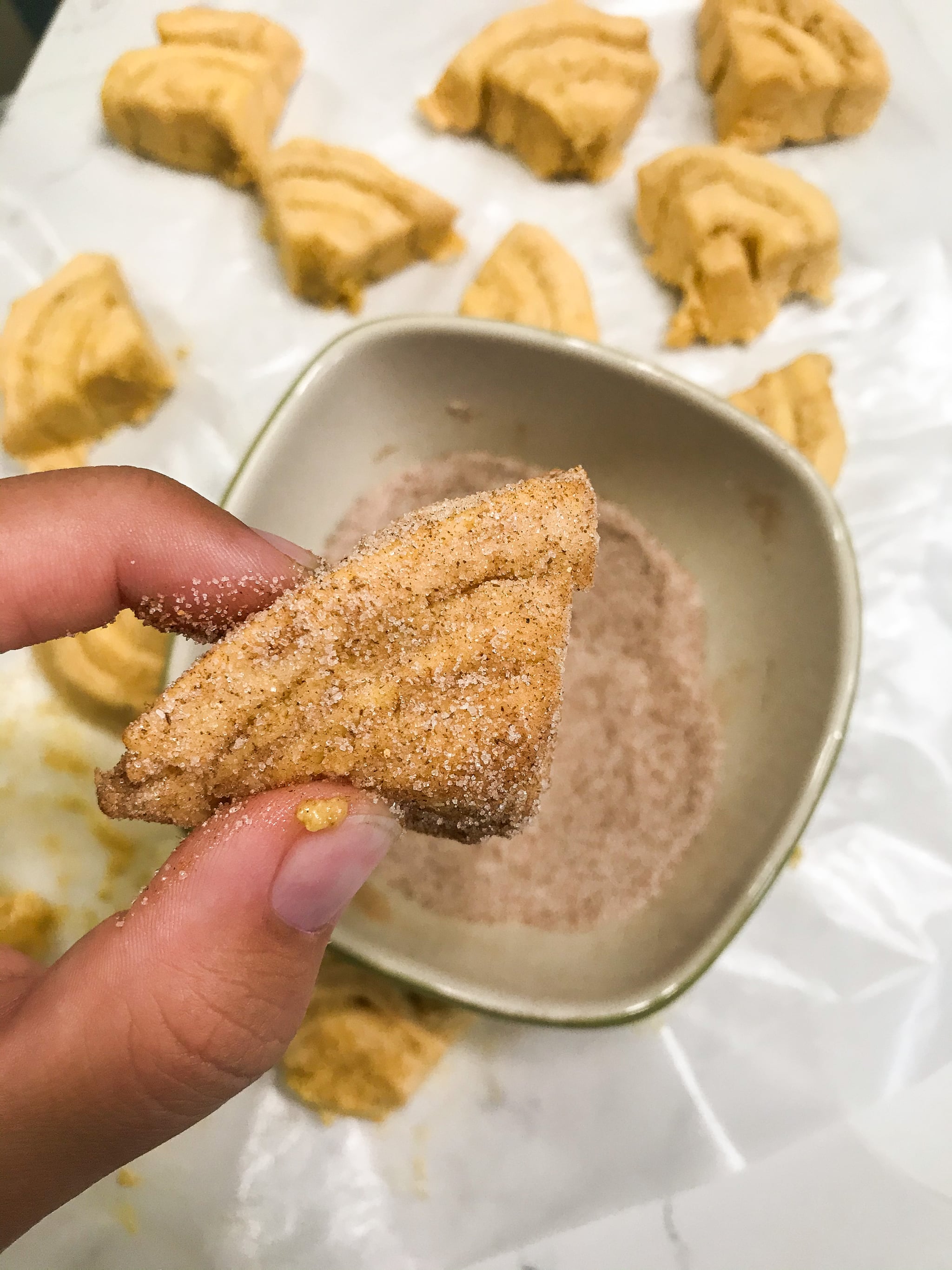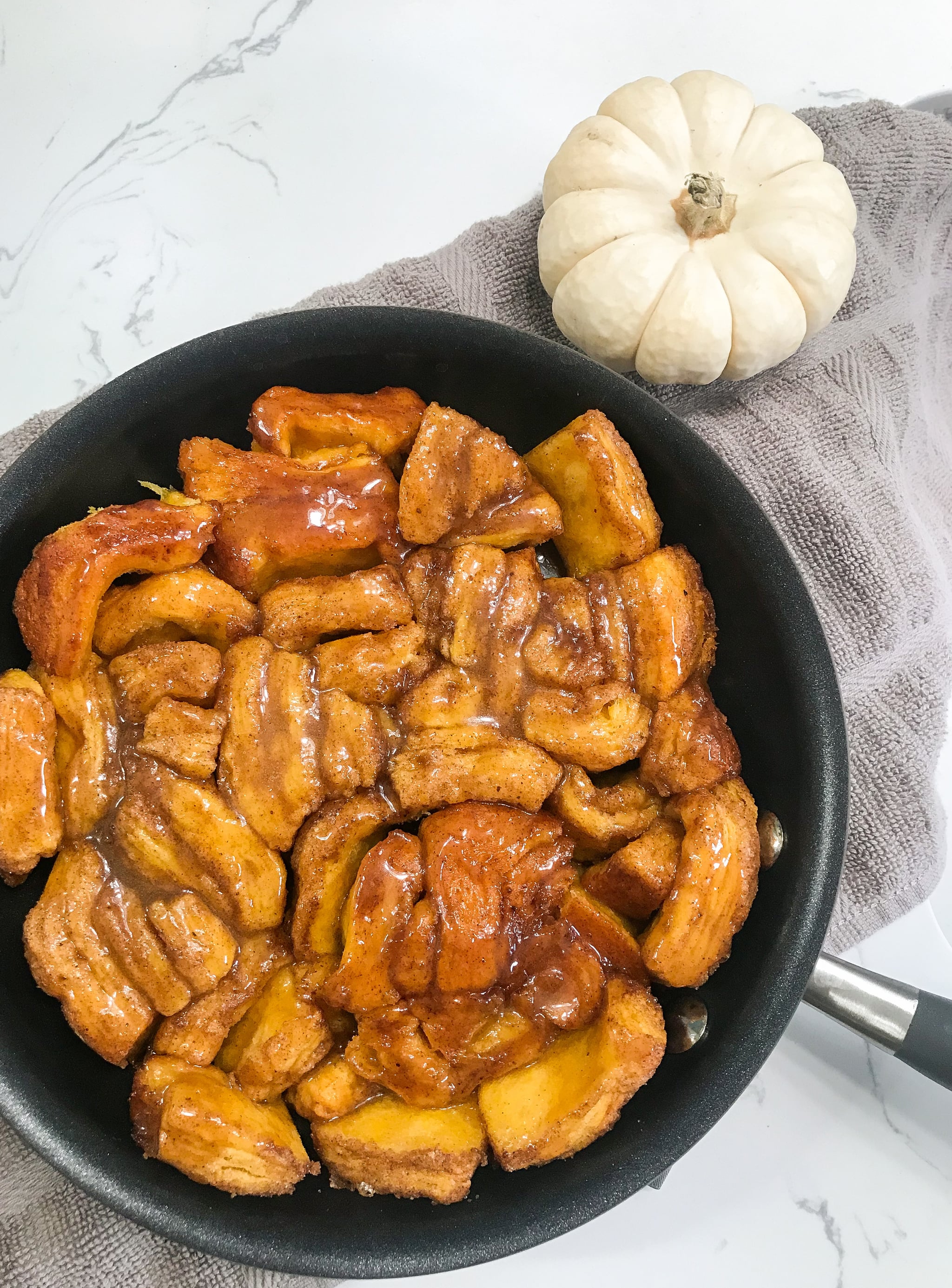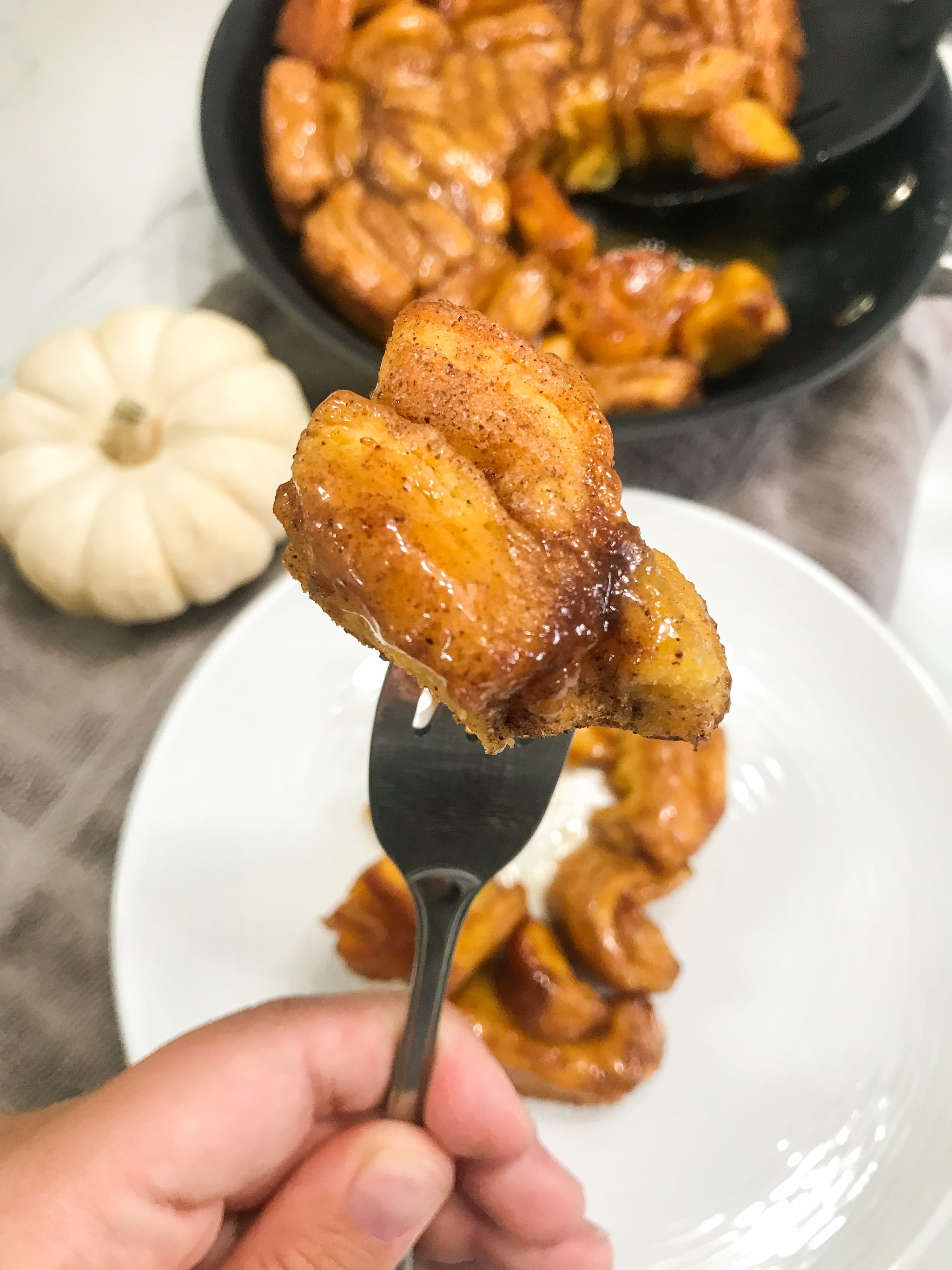 Skillet-Baked Pumpkin Rolls
Trader Joe's
Notes
If you cut the recipe in half, keep pumpkin rolls in the oven for about 15-20 minutes.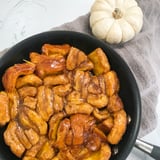 Ingredients
TJ's coconut oil spray
2 cans TJ's pumpkin rolls
3 tablespoons TJ's unsalted butter, melted
1/4 cup TJ's organic cane sugar
1 tablespoon TJ's pumpkin pie spice
2 handfuls TJ's candied pecans, chopped (optional)
Directions
Preheat oven to 350°F. Grease a 10-inch cast-iron skillet with coconut oil spray.
Remove pumpkin rolls from packaging, set icing aside. Lay each roll flat and cut into quarters.
In a small bowl, combine sugar and pumpkin spice. Coat each quarter piece in spice mixture and place in skillet (should be a snug fit).
Brush rolls with melted butter. Place skillet on center oven rack and bake for 25-30 minutes.
Remove from oven. In a small bowl, combine one icing packet with 2 tablespoons water. Brush over baked pumpkin rolls and sprinkle chopped pecans (optional). Serve extra icing on the side as dipping sauce.
Information
Category

Desserts

Yield

6-8 servings

Total Time

14 minutes, 59 seconds
Image Source: POPSUGAR Photography/ Emily Weaver