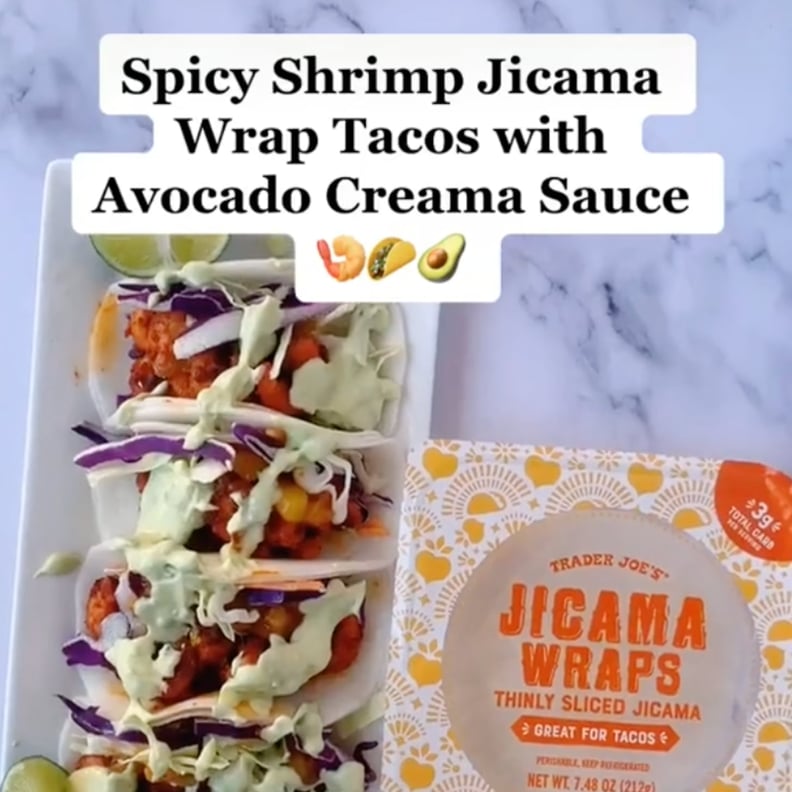 It could be argued that TikTok and Trader Joe's are two of the most beloved commodities of the generation. The social media platform has entranced millions of video viewers and content creators, while Trader Joe's has a dedicated following of shoppers who love the grocer's food just as much as they love the affordable prices. And when the two entities collide, magic happens. TikTok users have taken to the platform to profess their love for all things TJ's, including some of their most prized recipes. Made from ingredients you can find at Trader Joe's, these recipes are not only exciting, delicious, and nutritious, but they're also easy enough for a novice chef to re-create.
Complete with Disney-inspired treats and famous creations that are mouthwatering enough to make you drool on the spot, these Trader Joe's recipes are all you need to take your meals to the next level. Including — but not limited to — a TJ's baked feta pasta and a Disney dole whip spinoff, these ideas will fill your recipe book with droolworthy meals that are hard not to crave. Keep reading to see the best recipes you can make from Trader Joe's food items.
01
Trader Joe's Honey Aleppo Chicken Puff Pastry Pull Apart
Complete with cream cheese, Honey Aleppo sauce, chicken, and a puff pastry roll, how could this dish get any better? The rich flavors come to life every bite, meaning your meal is just what your taste buds have been looking for.
02
Trader Joe's Spicy Shrimp Jicama Wrap Tacos With Avocado Creama Sauce
Light and flavorful, these tacos will be your new favorite meal. With juicy shrimp, creamy avocados, and a blast of zesty spices, every bite of these tacos is better than the last.
03
Trader Joe's Elevated Cacio e Pepe
Take the traditional cacio e pepe to the next level when you add a bit of butter, salt, pepper, and lemon juice to the mix. Feel free to add your favorite cheese on top along with some bacon and spices. Dinner is served.
04
Trader Joe's Disney-Inspired Dole Whip
Re-create Disney's beloved Dole Whip the next time you stop at Trader Joe's. Grab some frozen pineapple, nondairy vanilla ice cream, and pineapple juice, and you'll make all your dreams come true.
05
Trader Joe's Chow Mein Noodle Soup
Forget takeout: this TJ's dish is all you need. Grab the chow mein from the frozen aisle, and get cookin'! Add a flavorful sauce and vegetable broth to the noodles, and let it boil. Once it's hot, it's ready to eat. Done and done.
06
Trader Joe's Cookie Butter Rice Krispies
Meet the dessert of your dreams. This TJ's twist features the iconic cookie butter alongside marshmallows and Rice Krispies. Does it get any better?
07
Trader Joe's Orange Chicken Pizza
Orange chicken plus pizza? Yes, please! Grab some pizza dough from TJ's, air-fry orange chicken, and get cookin'! Add mozzarella cheese to the dough along with the orange chicken and bake it up. Once that's done, add your favorite toppings and prepare to drool.
08
Trader Joe's Famous Breakfast Quesadilla
This breakfast quesadilla went viral on TikTok, and for good reason — it's so easy to make! Eggs, cheese, bacon, and pico de gallo work together to make this meal come to life in minutes. Feel free to douse each bite in hot sauce if you so please.
09
Trader Joe's Baked Feta Pasta
Re-create the famous baked feta pasta with ingredients straight from TJ's. Grab cherry tomatoes, salt, pepper, and of course, feta cheese, and get to work! Bake, stir, and add in the noodles of your choice. Bon appétit!
10
Trader Joe's Breakfast Bites
Rise, shine, and get ready for a meal that'll wake you right up. Made with hash browns, eggs, cheese, and Everything but the Bagel seasoning, this easy brekkie idea is all you need to start your day right. Give it a dash of hot sauce if you want to really elevate the flavors.
11
Trader Joe's Ahi Tuna Crispy Rice Cakes
These impressive crispy rice cakes will make your taste buds swoon — trust us. Fresh ahi tuna and crunchy rice effortlessly work together to bring out bright flavors. Munch on these as an appetizer before sushi, and you'll take your taste buds to heaven and back.
12
Trader Joe's Everything but the Bagel Egg Casserole
Bagels, cheese, and loads of seasoning make this the best egg casserole of them all. Pair it with bacon, sausage, and your favorite smoothie, and your taste buds will thank you.
13
Trader Joe's Chicken Enchiladas
Craving chicken enchiladas? Same. Use TJ's enchilada sauce for this recipe, and your taste buds will swoon. Just add tortilla chips and salsa to make this meal a masterpiece.
14
Trader Joe's Summer Salad
If you're craving a fresh salad, this is the recipe for you. You'll need mozzarella cheese, avocados, basil, tomatoes, lemon, balsamic glaze, and a dash of Everything but the Bagel Seasoning. How easy is that?
15
Trader Joe's Chili Onion Crunch Gyoza
If you want a snack, and you want it fast, try this recipe! Complete with a dreamy sauce and warm gyoza bites, this meal can be made in minutes flat.
16
Trader Joe's Keto Cauliflower Thins Pizza
Low cal and low carb, this crunchy pizza is both light and delightful. With mozzarella cheese, balsamic glaze, and tomatoes, this snack can be eaten any time the cravings strike.
17
Trader Joe's Shawarma Wraps
Make the wrap of your dreams with this easy idea. Air-fry potatoes to make crispy french fries, and add all the dips of your liking to a pita. Then add in the perfectly cooked shawarma chicken and some veggies, and your work here is done.
18
Trader Joe's Greek Chickpea Salad
Put down a base of greens and add TJ's famous chickpeas. Add your favorite veggies (we suggest cucumbers, tomatoes, and celery), and top it with some feta and seasonings. Feel free to add chicken or tofu if you want some extra protein.
19
Trader Joe's Personal Pizza
Got garlic flatbread? Good. Once you have that, add a hearty amount of the Chili Onion Crunch, tomato sauce, cheese, and pepperoni, and get ready to roll. Cook it up any way you like, and dive into a delicious personal pizza.
20
Trader Joe's Pesto Pasta With Veggies
Make homemade pesto in just 30 minutes when you try out this recipe. The rich pesto sauce mixed with the fresh veggies gives this dish a whole new range of flavors. Add Parmesan cheese and red pepper flakes if you want to give it a kick.
21
Trader Joe's Miso-Ginger Wonton Soup
Simple, quick, and easy to make, this miso soup features the famous Chili Crunch Sauce, and wow, is it good. Complete with wontons and nutrient-rich veggies, this is the easy dinner idea you need to add to your menu ASAP.
22
Trader Joe's Hash Brown Bites
Hash browns, avocados, Chili Crunch Sauce, a dash of hot sauce, and a fried egg are all you need to whip this breakfast up and start your day right. Feel free to add arugula, tomatoes, or even bacon to make this meal even heartier.
23
Trader Joe's Sweet Potato Gnocchi With Chicken Sausage and Brussels Sprouts
With flavorful Brussels sprouts and warm sausage, this sweet potato gnocchi just got the upgrade it needed. You'll get your daily dose of veggies and protein all while enjoying a rich gnocchi base.
24
Trader Joe's Buffalo Gnocchi
Give gnocchi a whole new flavor when you cook up this buffalo-style dish. Air-fry the gnocchi and grab your favorite buffalo sauce. Mix the gnocchi in the sauce, air-fry that up, and serve it on a bed of greens.
25
Trader Joe's Teriyaki Meatballs and Coconut Rice
If you want a meal that'll enlighten your senses, try this easy dish. With a flavorful coconut milk rice and perfectly cooked meatballs, you'll be craving this for every dinner of the week.
26
Trader Joe's Shrimp Pita Wrap
Want to take your pita to the next level? Add shrimp and avocado tzatziki dip. Spinach, tomatoes, and cucumbers will bring the flavor, so get ready to indulge. Top it off with more tzatziki dip if you want to get saucy.
27
Trader Joe's Cauliflower Stir Fry and Gyoza
If you want an easy dinner idea, and we mean easy, all you have to do is head down the TJ's frozen aisle. The cauliflower stir fry is a healthier alternative to the traditional stir fry, but it tastes just as good! Complete with pan-fried gyoza, this dish is sure to keep you full.
28
Trader Joe's Everything Bagel Stuffed Chicken
With every bite of this chicken, you'll get flavors of cream cheese, Everything but the Bagel Seasoning, and red pepper flakes. Add some veggies and sauce, and cook it in the oven with the chicken on top. Finish off this meal with a small side salad.
29
Trader Joe's Turkey and Balsamic Sandwich
Pst . . . the secret to this sandwich is the balsamic glaze. Arugula, tomatoes, onions, and turkey team up to deliver the nutrients you need, while the glaze ties all the flavors together. Yes, please.
30
Trader Joe's Elevated Avocado Toast
Take your avo toast to the next level with this delicious breakfast idea. Grab some sourdough toast and top it with mashed avocado slices. Then, add Everything but the Bagel Seasoning, red pepper flakes, and lemon. Top that off with grape tomatoes, mozzarella cheese, and the TJ's balsamic glaze. Enjoy!
31
Trader Joe's Thai Curry Over Linguine
Onions, chicken, broccoli, and coconut cream work together with the TJ's Thai Curry Sauce to give you the dinner of your dreams. Fat linguine noodles only add to meal by giving you the carbs you were craving. Need we say more?
32
Trader Joe's Shawarma Chicken and Veggie Wrap
Light, healthy, and perfect for when you're craving vibrant flavors, this pita wrap is as delicious as they come. The fresh tomatoes, cucumbers, and onions pair effortlessly with the warm shawarma chicken and light spread of tzatziki. Top it off with a spritz of lemon juice, and lunch is served.
33
Trader Joe's Cloud Eggs
Take the TikTok cloud eggs to a place they're never been before when you use all TJ's ingredients. Simply add on a dash of Everything but the Bagel Seasoning, and your taste buds will float higher than the sky. Add arugula, bacon, and hash browns to make this a complete meal.
34
Trader Joe's Sheet Pan Dinner
If you want to whip up a dinner that's not only easy to make but also easy to clean up, we've got the thing for you. You can decide what veggies you want to include in this dish, so feel free to get creative. Sweet potatoes, onions, Brussels sprouts, and broccoli are all great options! Add chicken and olive oil to the veggies, and season all the ingredients together. Cook it up, and dinner is ready to be noshed on.
35
Trader Joe's Sweet Potato Harvest Bowl
Complete with kale, quinoa, sweet potatoes, and chicken sausage, this four-i

---
ngredient bowl is easy to make and even easier to eat! Just add your favorite sauce, and you can dig right in.
36
Trader Joe's Sweet Chili Salmon
Salmon is healthy and easy to make, meaning it's the perfect weeknight dinner. Just add a dollop of Trader Joe's Sweet Chili Sauce to a salmon filet, toss it in an air fryer, and your work is done! Pair it with jasmine rice and veggies for best results.