Vegan Apple Cake Recipe
You'll Fill Your Kitchen With the Scent of Fall When You Make a Vegan Apple Cake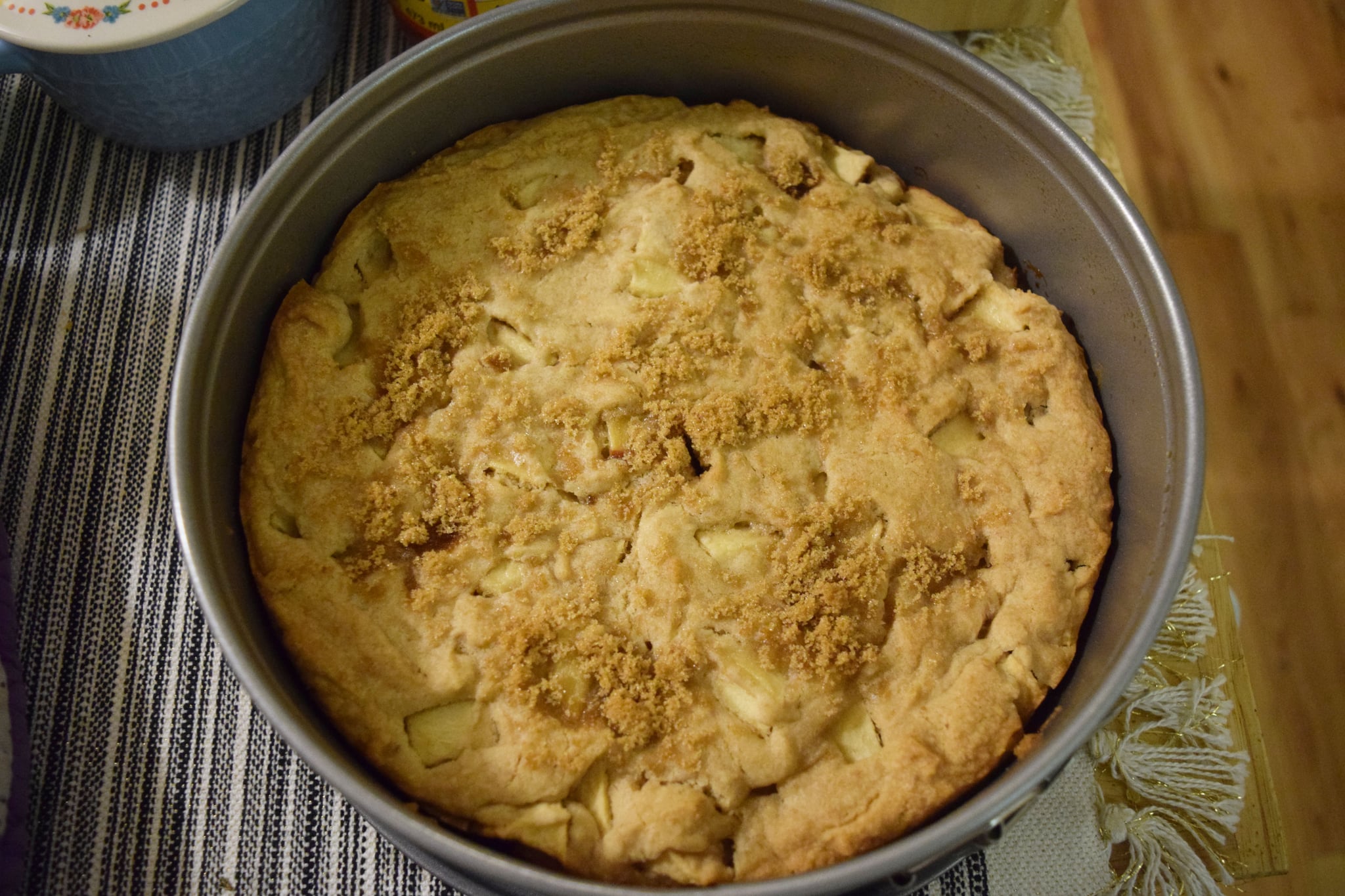 I don't follow a vegan diet, but that doesn't mean I don't love a good vegan dish from time to time. I'm often intrigued by the science that goes into vegan baking since you can't use the usual (and often crucial) ingredients like eggs or butter. Take this vegan apple cake by Blissful Basil, for example. It uses flaxseed meal and apple cider vinegar to give you the same lift and gooeyness you'd expect from a traditional cake. Plus, the apples in this recipe keep the cake so moist. And while it's definitely on the crumbly side, that's not a bad thing. When I cut myself a slice, the apples came tumbling out, which just made me feel like I needed to rescue them and eat them quicker.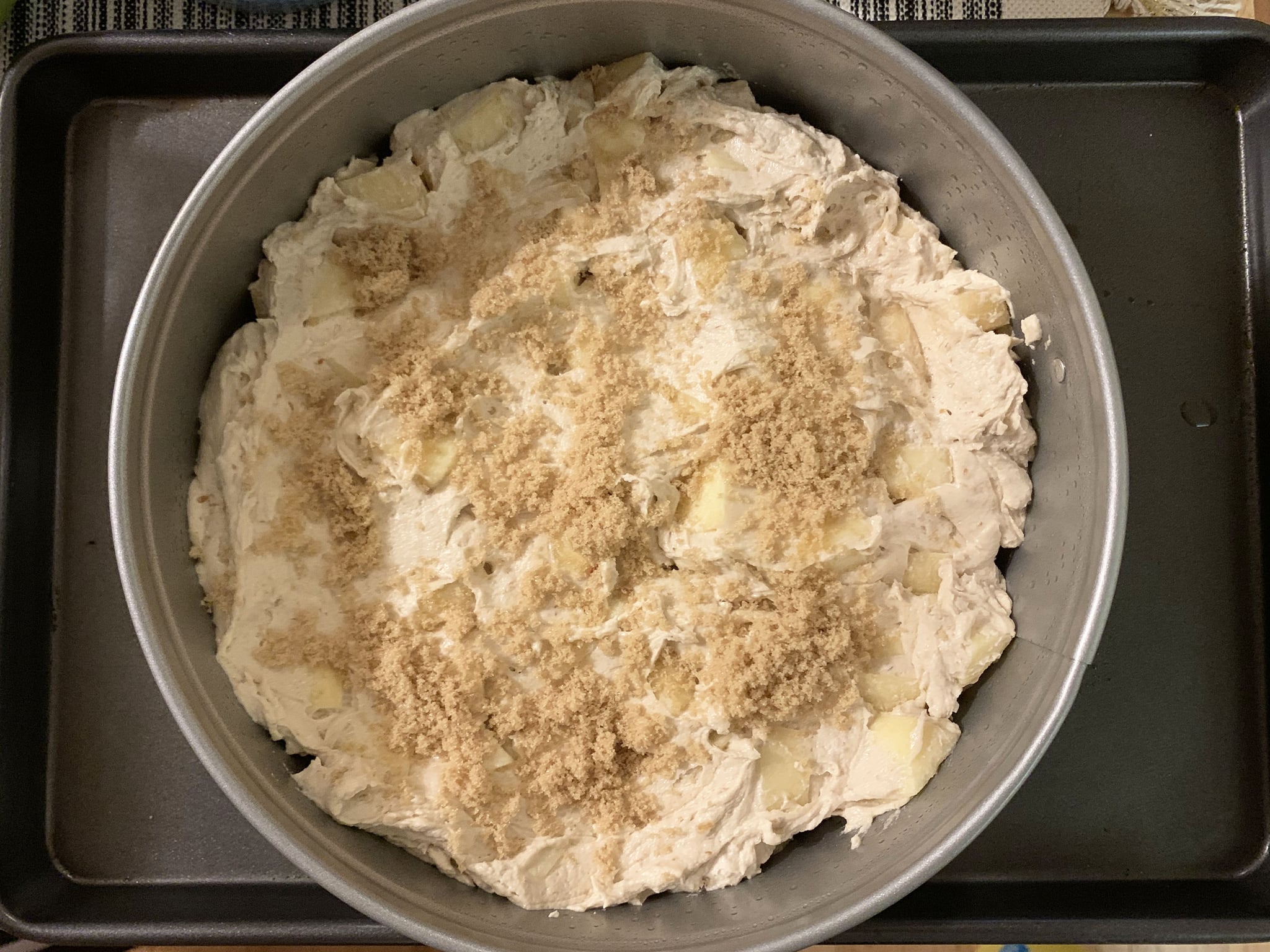 This recipe is pretty simple to follow and screams fall. While the original recipe calls for an optional sugar icing, I went without this time, because the recipe was already sweet enough for me. However, you could easily leave off the sugar on top before baking and then add the drizzle after or even dust with powdered sugar. You could even do a cinnamon sugar drizzle, which is what I think I'll do next time. Check out the recipe ahead, and try it out for yourself!
Vegan Apple Cake
Blissful Basil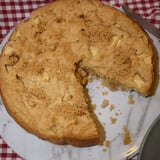 Ingredients
2 tablespoons ground flaxseed
1/4 cup + 2 tablespoons filtered water
1 stick (1/2 cup) vegan butter
1 cup organic raw cane sugar, plus more for topping
1/2 tablespoon apple cider vinegar
1 teaspoon pure vanilla extract
1 1/2 cups all purpose flour
1 1/2 teaspoons baking powder
1/4 teaspoon fine sea salt
2 apples, peeled and chopped
Powdered sugar (optional for icing)
Directions
Preheat the oven to 350°F. Line the bottom of a 9-inch springform pan with parchment paper and lightly grease the sides. Alternatively, line a regular 9-inch round cake pan with parchment paper. If you're using a springform pan, place it on top of a baking tray (this will catch any drippings in the event that the pan leaks).
In a small mixing bowl, whisk together the flaxseed meal and filtered water. Let stand for 5 minutes, or until thickened.
In a large mixing bowl, use a stand mixer or hand mixer to beat together the vegan butter and sugar on high for 2 minutes (set a timer). Add the thickened flaxseed mixture, vinegar, and vanilla, and beat again for 30 seconds, or until thoroughly incorporated.
In a medium mixing bowl, whisk together the flour, baking powder, and sea salt. With the mixer off, add the dry ingredients to the butter mixture. Slowly turn the mixer on low, increasing to medium, and beat for 30 seconds, or until thoroughly combined. The batter should be very thick and fluffy.
Fold the chopped apples into the batter.
Evenly spoon the batter into the prepared pan, using a spatula to smooth. Sprinkle the top with a thin layer of cane sugar.
Bake for 40 to 50 minutes, or until a toothpick inserted into the center of the cake comes out clean.
Transfer the cake pan to a heat-safe cooling rack. If you used a springform pan, release the wall of the pan and remove (this allows the cake to vent steam and expedites the cooling process). Cool completely.
If you'd like to ice the cake, vigorously whisk together about two cups powdered sugar with a few tablespoons filtered water, adding more powdered sugar as needed to thicken or more water as needed to thin. Drizzle over the cooled cake.
Slice and serve.
Leftovers will keep for up to three days in the refrigerator.
Information
Category

Desserts

Yield

1 cake

Prep Time

10 minutes

Cook Time

50 minutes

Total Time

59 minutes, 59 seconds
Image Source: POPSUGAR Photography / Hedy Phillips