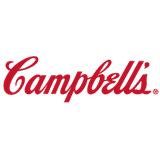 Staying connected is so important during this time, so we partnered with
Campbell's®
to showcase how cooking can help.
Just because we're not able to get together for a dinner party doesn't mean we can't still use cooking as a way to come together. Whether you're leaning on a recipe your mom always made when you were a kid, or a meal you and your partner can't get enough of while stuck at home, food can be a way to connect us to our loved ones even when we can't actually sit down next to one another. So we asked six of our editors to share the meals they've been cooking over the past few weeks to keep them connected and help them feel a little less isolated, especially when they're chatting with friends and family through a screen at dinnertime. Because sharing a meal is a cornerstone of life, even if it's around a virtual table.
"Grilled nacho night has given my family a reason to celebrate while social distancing. It's always a race to the table as we gather around a communal platter of sizzling nachos. On a grill-safe pan, we layer our favorite toppings (black beans, onions, jalapeño, corn, and olives) over tortilla chips and shredded Mexican cheese. After letting the nachos cook on medium heat for about eight minutes, we top them with dollops of
Pace® Mild Chunky Salsa
, guacamole, and sour cream before serving."
"With everyone sharing food, clinking glasses, and talking over each other, it almost feels as though we've been transported to our favorite restaurant for happy hour. We even save a place setting for a computer so friends can join in via Zoom."
— Lauren Pardee, associate editor
"One of our favorite meals to make when the weather is nice is pizza on the grill. Not only is it a family favorite but everyone gets involved, so it's also a nice quarantine activity. My husband rolls out the dough and mans the grill, I spread the pizza sauce, and my toddler gets to sprinkle the cheese! Sometimes we mix it up with additional toppings or dipping sauces. It's honestly so easy and even more delicious." — Amanda Elser Murray, associate style director
"My husband and I have pasta for dinner so often, it's pretty much a food group for us. It's filling, easy, and the ultimate comfort food. I love using
Prego® Traditional Italian Sauce
as the base for a simple red sauce, then adding whatever veggies and protein I have on hand. I don't really follow a recipe — I stick to combinations that I know we love, like ground beef, mushrooms, and zucchini for a veggie-packed bolognese sauce or hot Italian sausage, red pepper flakes, and summer squash for a spicy version. Top it off with a dusting of Parmesan cheese, and dinner is served!"
— Annalise Mantz Lowenstein, living editor
"Between the dreary weather and drearier news, we're all looking for comfort wherever we can. And while hugs and physical contact are discouraged, curling up with a steaming bowl of soup is the next best thing. Since we started social distancing, there's been some kind of soup in my meal plan at least once a week: my mom's Italian
wedding
, loaded baked potato for my husband, and our newest weeknight staple: homemade ramen. With
Swanson® Chicken Broth
in the pantry, a bit of garlic and ginger, and a few tablespoons of soy sauce, a shoyu-style broth comes together in a matter of minutes, which is perfect for a Wednesday night after a long day of video calls." "I've added dried ramen noodles, fresh pasta I made myself, and even the remains of a long-forgotten package of whole wheat spaghetti to the broth, depending on what I was able to score at the grocery store that week. Pairing those with the last of a rotisserie chicken, a soft-boiled egg, and some greens (bok choy for the win!) makes this dish a well-rounded one-pot meal, versatile, inexpensive, and most importantly: comforting."
— Christie Rotondo, editor
"I love my slow cooker, but I've never been confident enough to leave it running while I was at the office — before social distancing. I'd save recipe on recipe for months — even years — for slow-cooked meals that had to be reserved for the weekends. Now, that's changed. I've had a chance to comb through pages and pages of slow-cooked meals while self-isolating and while, yes, I've managed to make almost every one I once neglected, I've since found a weekly favorite I can't stop making:
Swedish meatballs
.""Luckily, the recipe list is comprised of things I tend to keep on hand in bulk, like
beef broth
. My mother and grandmother always had broth and stock piled high in their cellars, so by habit, I do the same. I know it's almost summer and warm meatballs don't sound on-brand for the season, but let me tell you, there's nothing more comforting in these trying times than a bowl of this slow-cooked recipe. Better still, if you're tight on time, you can easily make the same recipe in a stovetop skillet. Either way, the velvety sauce will cure your I've-been-alone-in-my-apartment-for-weeks blues."
— Samantha Sasso, associate beauty editor
"Meatloaf may have been more of my brother's favorite meal growing up, but it's what I'm turning to these days when I need a dish that reminds me of home. I follow the recipe my mom made for us when we were kids, which calls for a can of
V8® Original Vegetable Juice
mixed with ground beef, onion, celery, and breadcrumbs. I serve it with a side of creamy mashed potatoes (of course) flavored with garlic and rosemary. I'll text my mom a question about the preparation as I'm cooking and send my brother a photo of the finished dish — it makes me feel closer to my family even when we're all sitting down to dinner hundreds of miles apart."
— Andrea Morabito, lead editor
Credits: Editor: Aviel Kanter; Design: Samara Grossman