Alison Victoria's Kitchen Pictures
7 Unexpected Styling Tips From This HGTV Star's Kitchen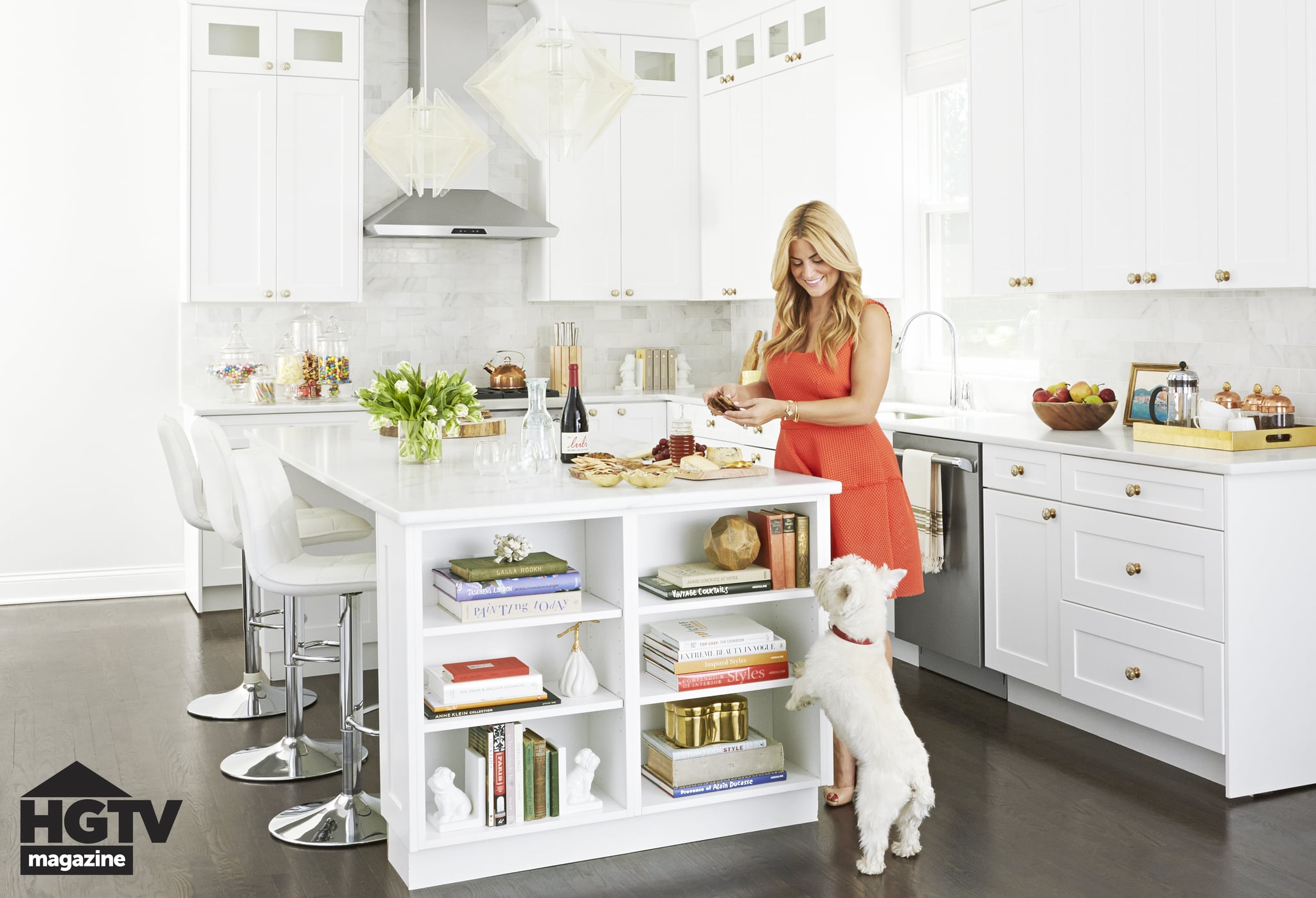 As the host of HGTV's Kitchen Crashers, Alison Victoria has, unsurprisingly, her own TV-worthy kitchen at home. What we didn't see coming? A glamorous space so well thought out that it could accommodate a professional cook-off, small dinner party, or afternoon nap (thanks to the chic lounging nook!). It was originally featured in HGTV magazine, and we couldn't help but share some of our favorite pictures. Keep reading for the seven brilliant design moves you'll want to take mental inventory of.
Mix your metals: Alison's obsession with of-the-moment gold accents didn't sway her from choosing classic chrome for staple pieces like the faucet, appliances, and counter stools. Instead, she chose to let gold shine through in the smaller details that could be easily switched — like cabinet knobs and decorative accessories.
Style a coffee tray: Instead of having a huge coffeemaker hog precious counter space, Alison placed a french press on a tray and stocked it with pretty canisters filled with beans, a sugar bowl, and white cups.
Upgrade your eat-in experience: Sitting in the plush linen wingback chairs "feels like you're being hugged," says Alison. A large-scale abstract art piece and pretty linens make it elegant enough to skip the dining room altogether.
Play with decorative accents: Just because it's a kitchen doesn't mean you can't introduce a little eye candy. Break up shelves of cookbooks with beautiful objects. Alison even uses a pair of owl bookends from Homegoods to keep boxes of pasta in one place.
Display your edibles: Forget the pantry — keep candy, your favorite snacks, or even dog treats within reach by displaying them in beautiful apothecary jars.
Go glam with cabinet hardware: The wild cards on Alison's traditional shaker cabinets are the stunning brass and mother-of-pearl knobs from Anthropologie. "To me, this hardware is as pretty as any bracelet or ring I would wear," says Alison.
Create a minilounge: Kitchens are a natural place for people to gather — whether it's guests mingling during a party or kids hanging while a parent cooks. If you have an awkward space that you aren't sure how to utilize, like a wall with a window, slide a comfy settee against it, and you have a cozy seating area. Bonus points if you add a stylish pouf and a minibar setup!
For even more pictures of Alison's kitchen, take the full tour at HGTV!