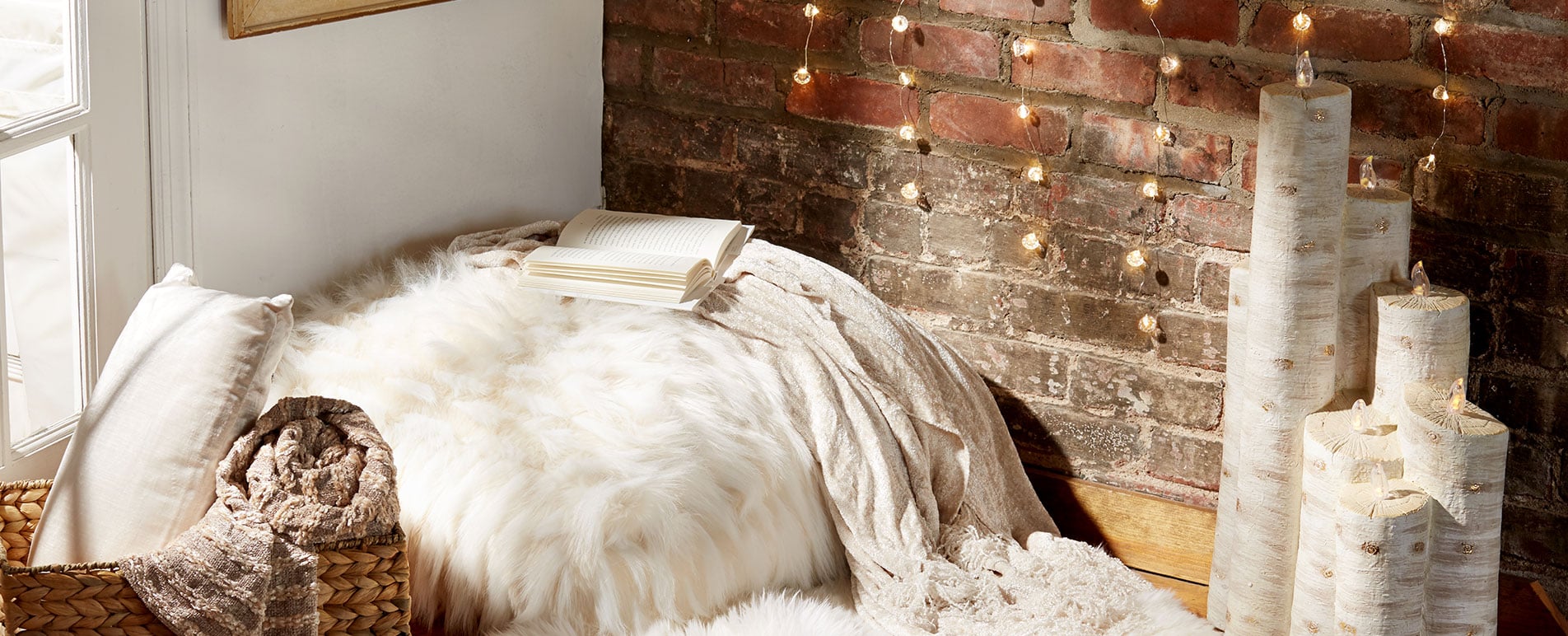 Image Source: POPSUGAR Photography / Jeff Harris
Cozy Bedroom Ideas
How to Make Your Bedroom Your Cozy Command Center For Winter
Winter is a wonderful season for hibernating in your home. That's why we partnered with
Pier 1 Imports
to share simple tips for creating a cozy haven.
Winter is the perfect opportunity to curl up at home with a queue of your favorite films and a steamy mug of something comforting — especially when your space is optimized for coziness. When creating a bedroom that balances sophistication with snug, go for a mix of rustic, sophisticated, and plush decorative accents. Read on for seven ways to make your bedroom a Winter wonderland.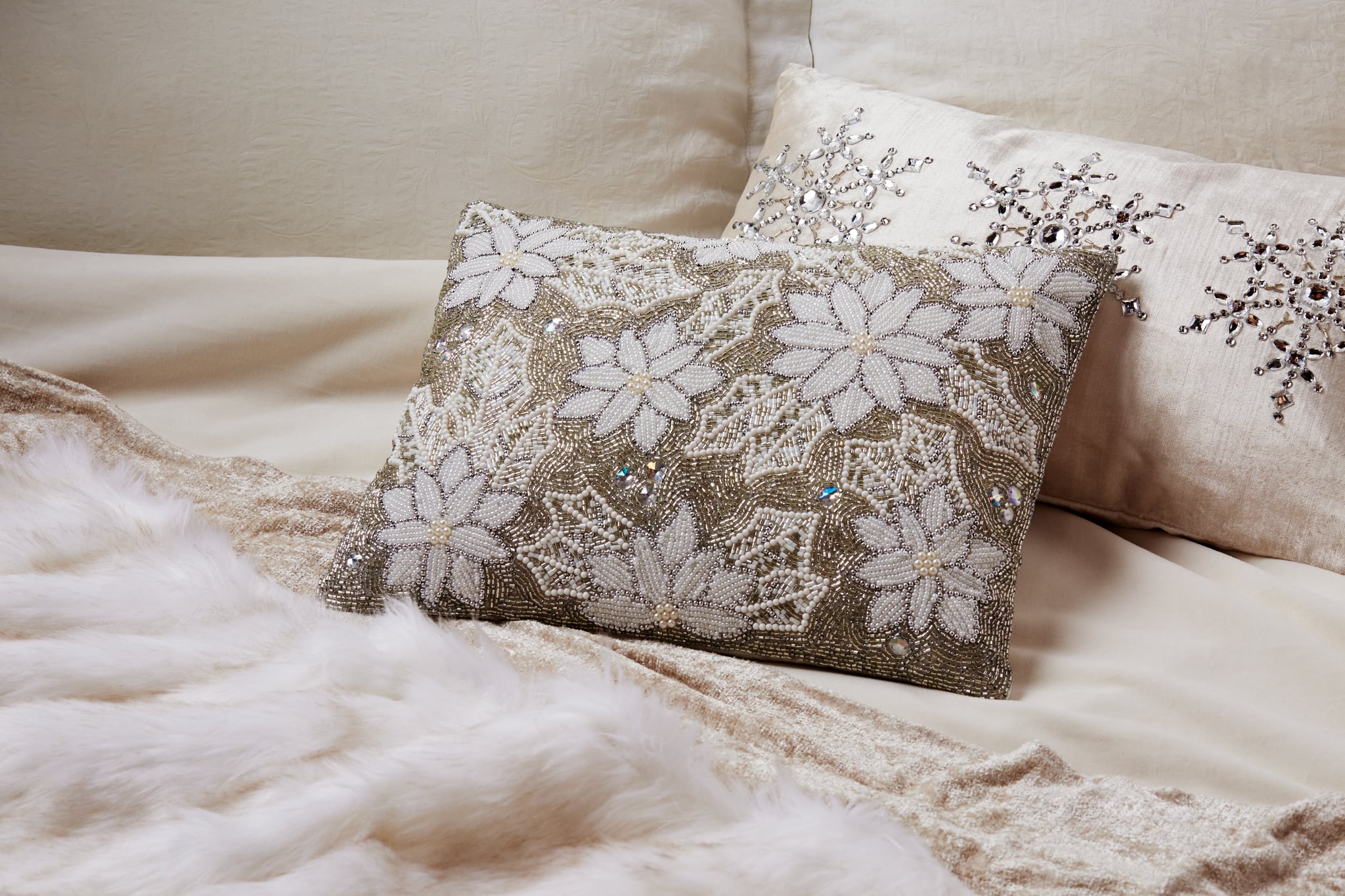 Image Source: POPSUGAR Photography / Jeff Harris
Relaxation begins with a plush and pillow-laden bed that invites you to flop down the second you walk in the door.
Select linens in soothing shades of cream and white to create a calming atmosphere.
Next, layer on pillows that are perfect for reclining and reading. Select a handful of throw pillows with beading to up the elegance.
Finally, add several throw blankets of different textures that can be tucked in on Winter evenings.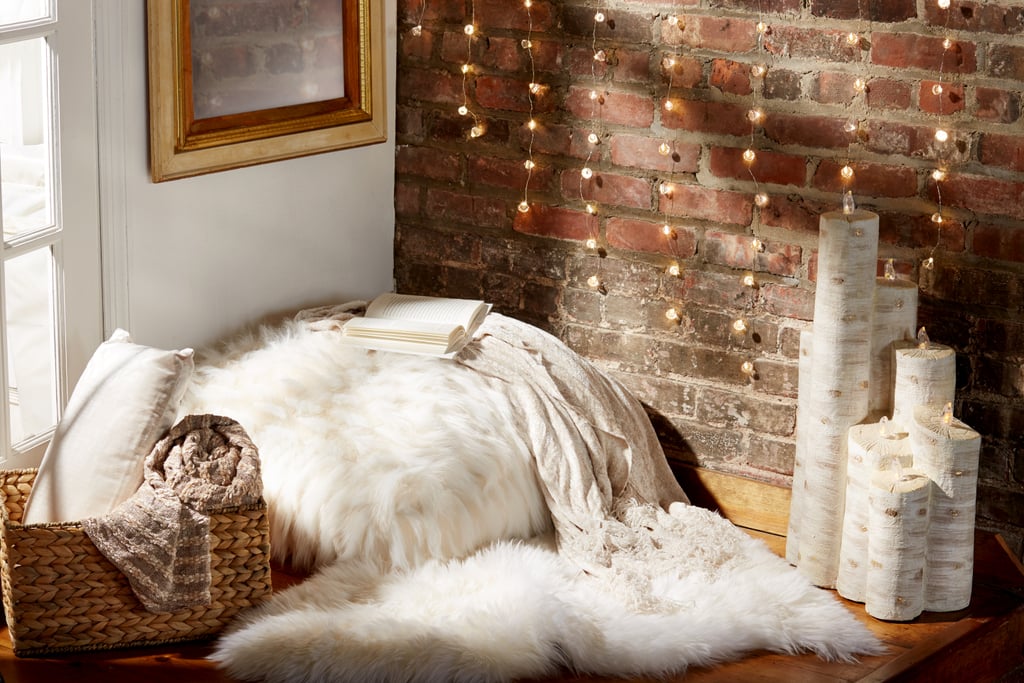 Image Source: POPSUGAR Photography / Jeff Harris
Nothing is more comforting on a stormy evening than curling up in a cozy corner with a favorite book. Create an especially cushy space with elements that have soft textures and feature muted hues.

Add a shearling rug for ambience and warmth. Adding a buffer between your toes and freezing floorboards will help keep your feet warm and toasty.
Position a pouf and throw blankets against the corner to create a snug alternative lounging space.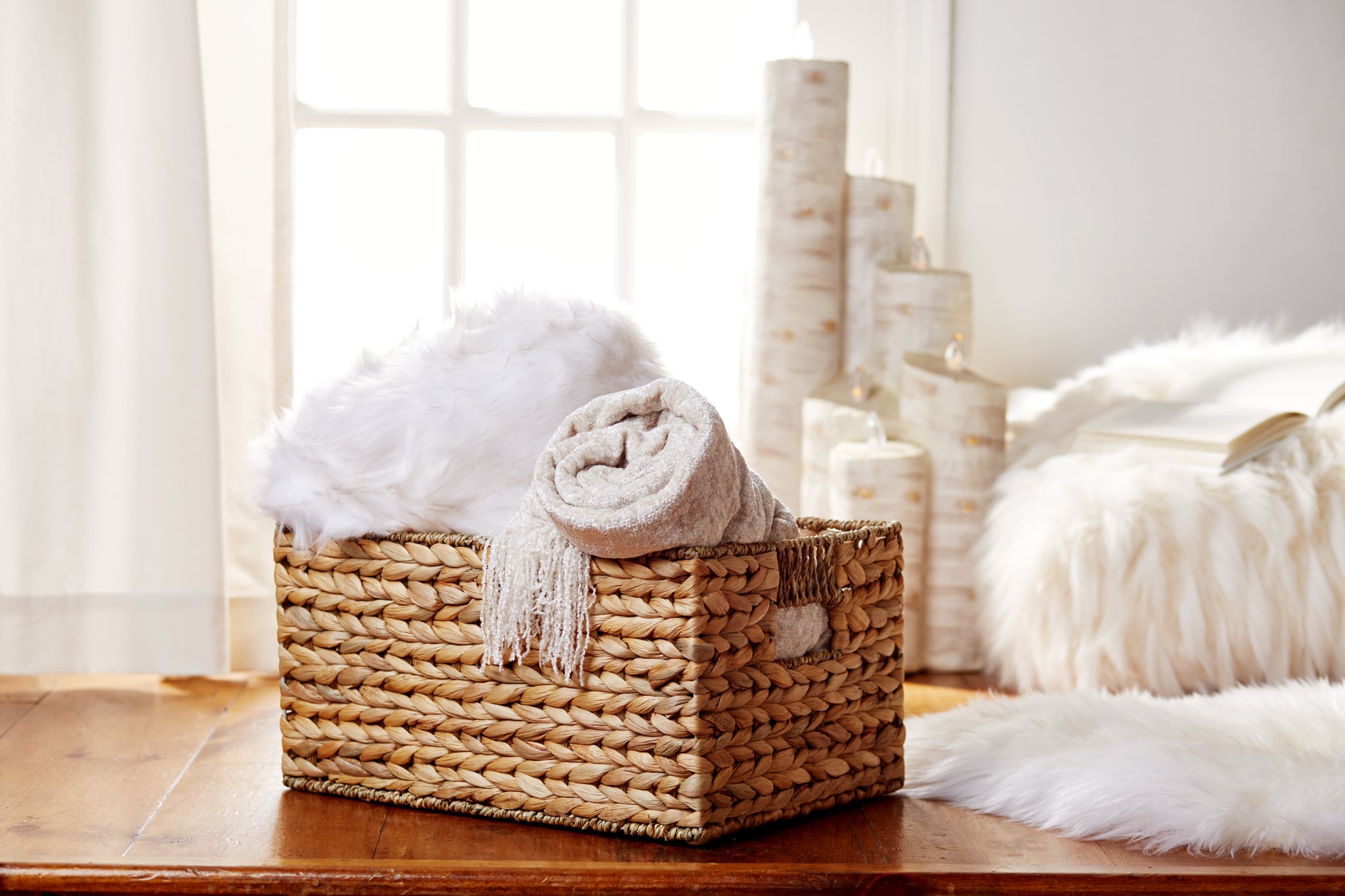 Image Source: POPSUGAR Photography / Jeff Harris
There is no such thing as too many blankets or pillows, especially on those bone-chilling Winter evenings when layers don't quite cut it.
Keep a stash of additional throw pillows and blankets on hand for those blustery Winter days when hygge is extra important.
Choose a mixture of textures and fabrics that complement each other, while keeping the color palette muted.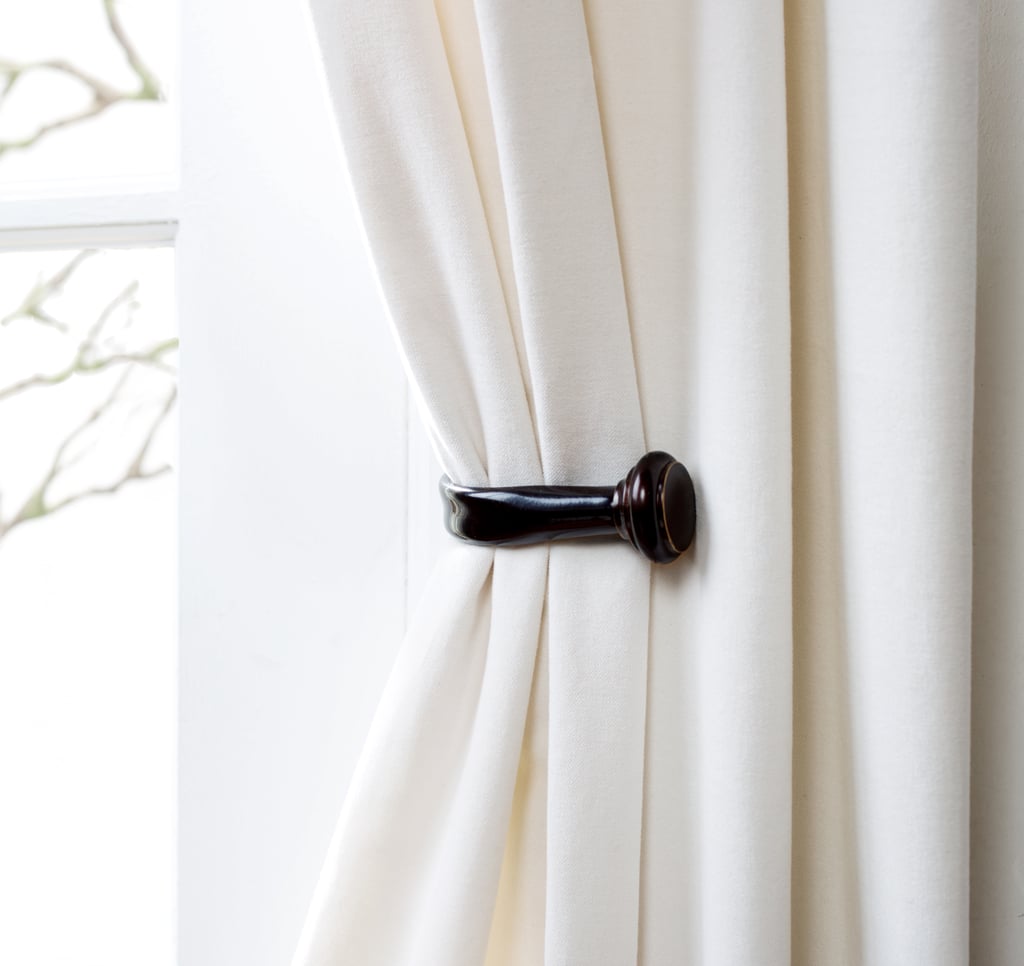 Image Source: POPSUGAR Photography / Jeff Harris
When Winterizing your apartment, beat the blues with elements that amplify natural light and create the illusion of space.
Place mirrors in strategic locations to reflect the light that filters in through your windows. This small touch will make your room feel more spacious and reduce cabin fever during the long Winter months.
Warm does not have to equal heavy or dark. Soft white or beige curtains maintain an airy vibe while blocking cold drafts that can slip in through thin or unsealed windows.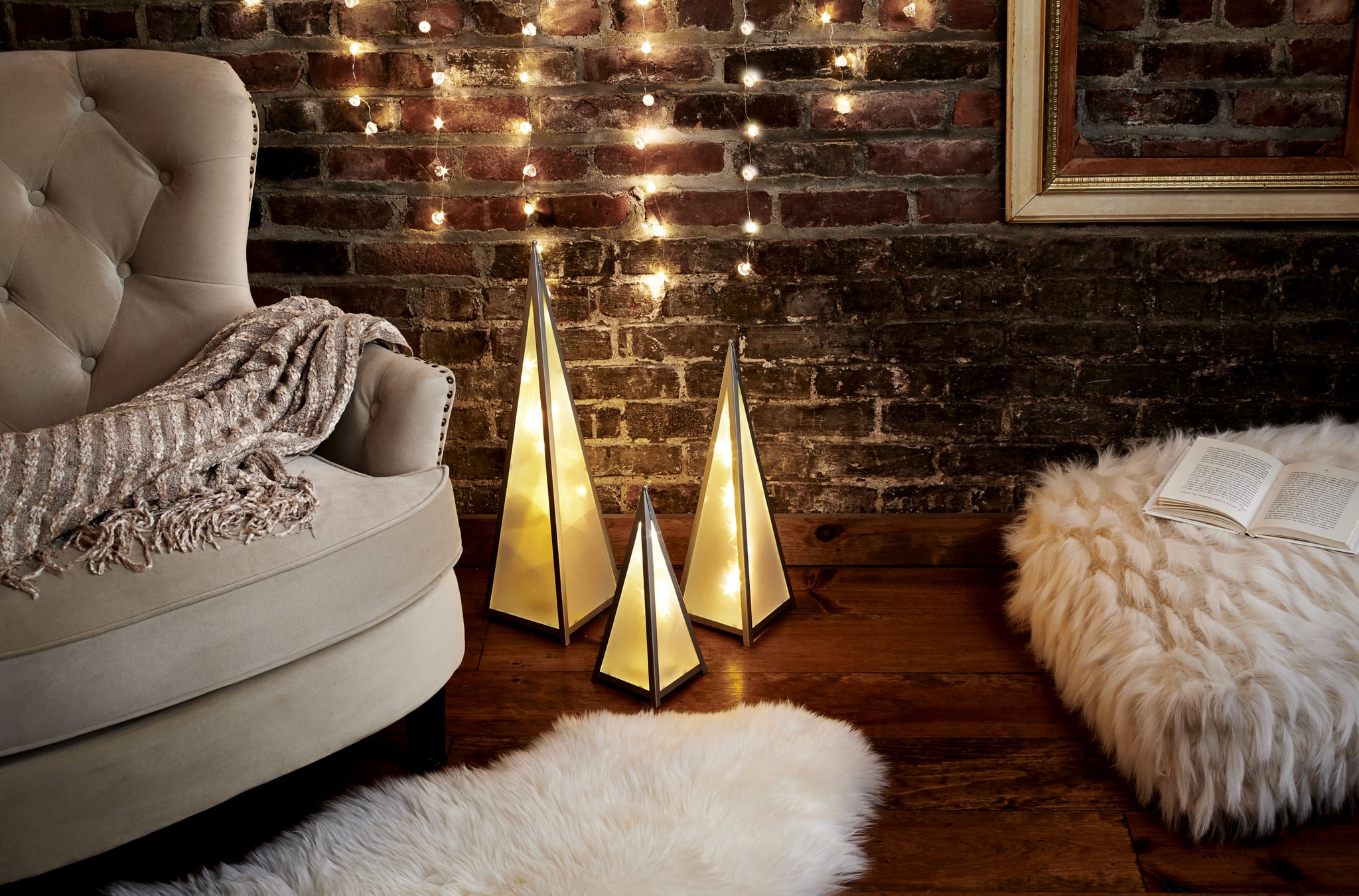 Image Source: POPSUGAR Photography / Jeff Harris
Twinkling holiday lights aren't just for the holiday season. Bring a little magic into your space by mounting twinkle lights on a blank wall.
Fixing the lights to a bare wall with the help of strategically placed nails will help to disperse light throughout your space.
Add a small collection of illuminated pyramids to create a dynamic visual effect.
Image Source: POPSUGAR Photography / Jeff Harris
You can easily shift your bedroom into chic ski chalet mode with a few flourishes that conjure up the feeling of a trendy ski lodge.
Bring the outdoors inside with an al-fresco-inspired tree-bark vase and softly lit lanterns on your mantel.
If you can find one, sit your vase and lanterns on top of a distressed leather trunk — where you can also store those extra blankets.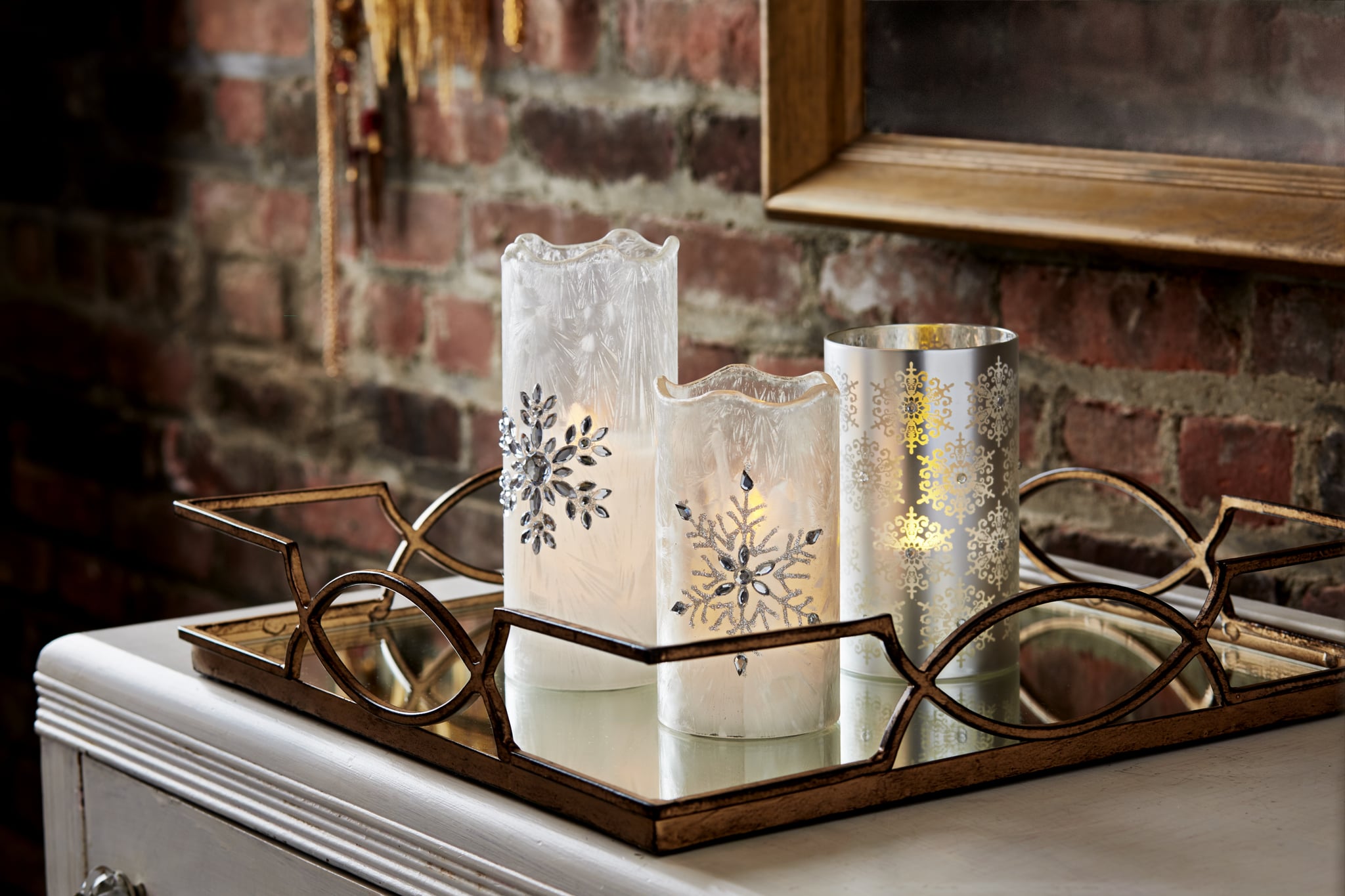 Image Source: POPSUGAR Photography / Jeff Harris
Glaring fluorescent lights are the enemy of a Zen space. Instead, create illumination with a collection of softly flickering candles.

Invest in flameless candles that can be left flickering overnight as you drift off to sleep.
To create a dynamic display, select candles in a variety of heights and colors. Don't be afraid to mix in metallics for a more luxurious look.
READY TO EXPLORE EVEN MORE DECOR?
To shop all of the products shown in the article, click here or visit your local Pier 1.
Get free shipping on orders over $49+ or free in-store pickup on all orders.
Credits:
Photographer: Jeff Harris
Prop Stylist: Anna Lemi
Producer: Andi Hensley & Kerrie Cline