How to Design a Media Room
Where to Place the Flatscreen TV and 4 Other Tips For Creating the Perfect Media Room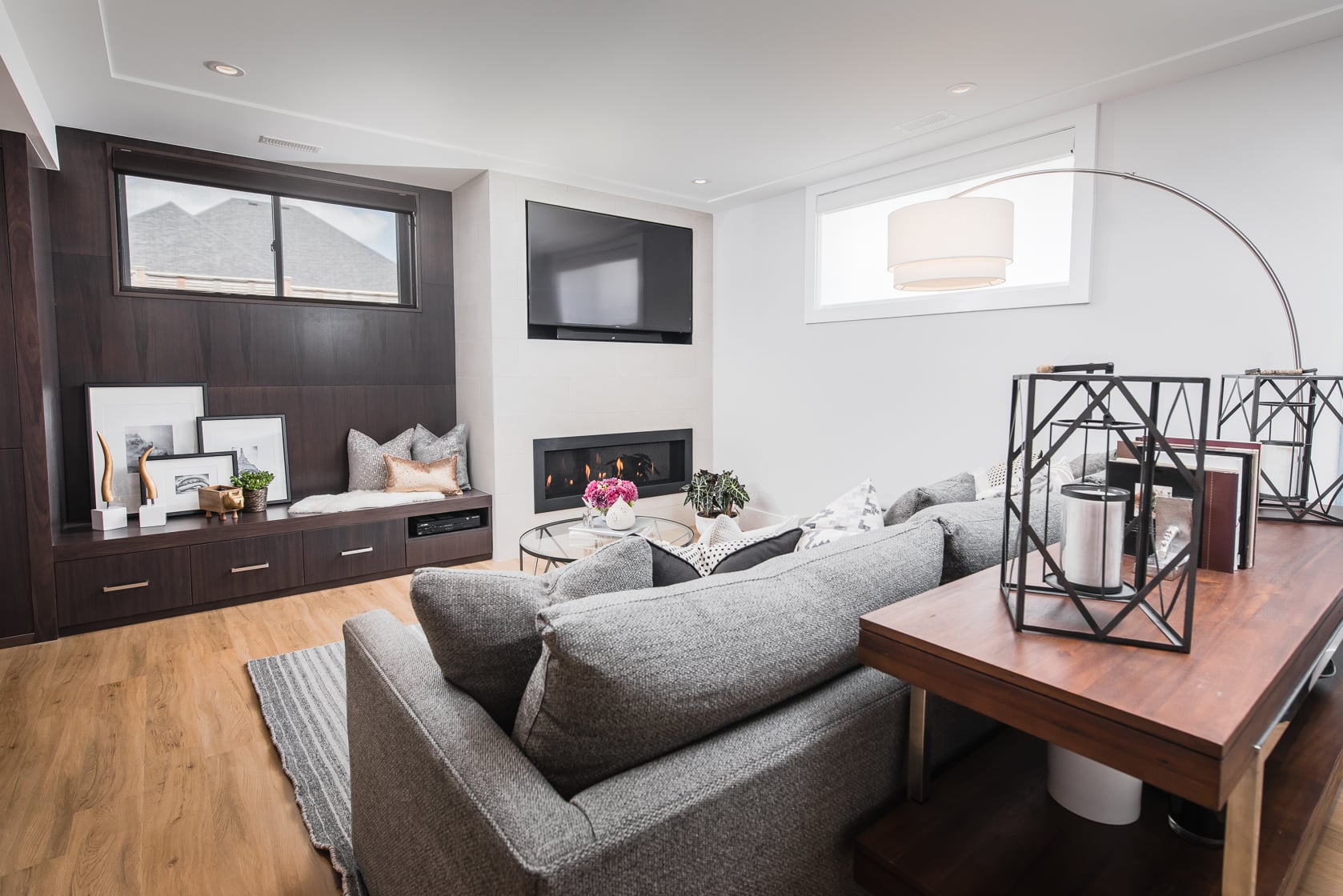 When it comes to finding smart and stylish solutions for our everyday home design dilemmas, there's no one better than renovation and real estate expert Scott McGillivray. In Scott's Reno to Reveal, his new digital design and reno hub, he designed a contemporary media room that thinks of everything, including where to mount that flatscreen TV!
"In every living room or family room you run the risk of having too many focal points," Scott says. "In this room there's a TV, a fireplace, and multiple windows. I wanted a way to streamline all the separate pieces while maximizing the space and providing extra storage." Read exactly how he did it below and catch his special, Buyers Bootcamp on HGTV airing this Saturday, Oct. 1, at 1 p.m.
1. Mount the TV
"Incorporating a TV is always the hardest part. Since this one is big, I decided to incorporate it into the right-hand side of the unit above the fireplace," Scott explains.
2. Pick Complimentary Design Elements
"The fireplace was specifically chosen to match the size and style of the TV as closely as possible. Then I chose a light-colored linear tile — significantly different from the rest of the wall — in order to make it stand out and create a column-effect. When placed together one over the other in this way, the TV and fireplace read as one unit."
3. Build Out Features Thoughtfully
"On the left-hand side, I created a built-in home bar, complete with wine cooler, pull-out bottle storage, extra shelving, and even an electrical outlet," says Scott, adding, "The beauty of this design is that if future homeowners don't want to use it as a bar they don't have to. New shelves can be put in place of the bar fridge and it becomes a regular storage cabinet."
4. Troubleshoot Pesky Room Elements
Scott reveals that "the window posed a bit of a problem — actually it was a nightmare. Because this room is in a basement, I wanted to let as much natural light in as possible, but since it's so close to the TV, it creates a competing focal point and a glare." Luckily, he's a clever problem-solver. "The solution was to install an automated blind with two separate functions — a sheer layer to stop glare while still allowing some light to filter through, and a blackout layer to completely block light when you want it to disappear. Both layers are black so that they blend in with the rest of the unit and eliminate the extra focal point."
5. Balance Storage and Living Space
"Although storage is important, I didn't want the whole unit to be full of cabinets. I liked the idea of leaving some space in the middle to use for extra seating," says Scott. "Since this entire space is designed for entertaining, seating trumps storage. The recessed space adds depth, and when it's not in use, you can use it as a display area. In the future, you could even have a cushion made to fit and turn it into a great reading nook."