How to Host a French-Themed Party
5 Secrets to Entertaining Like a French Woman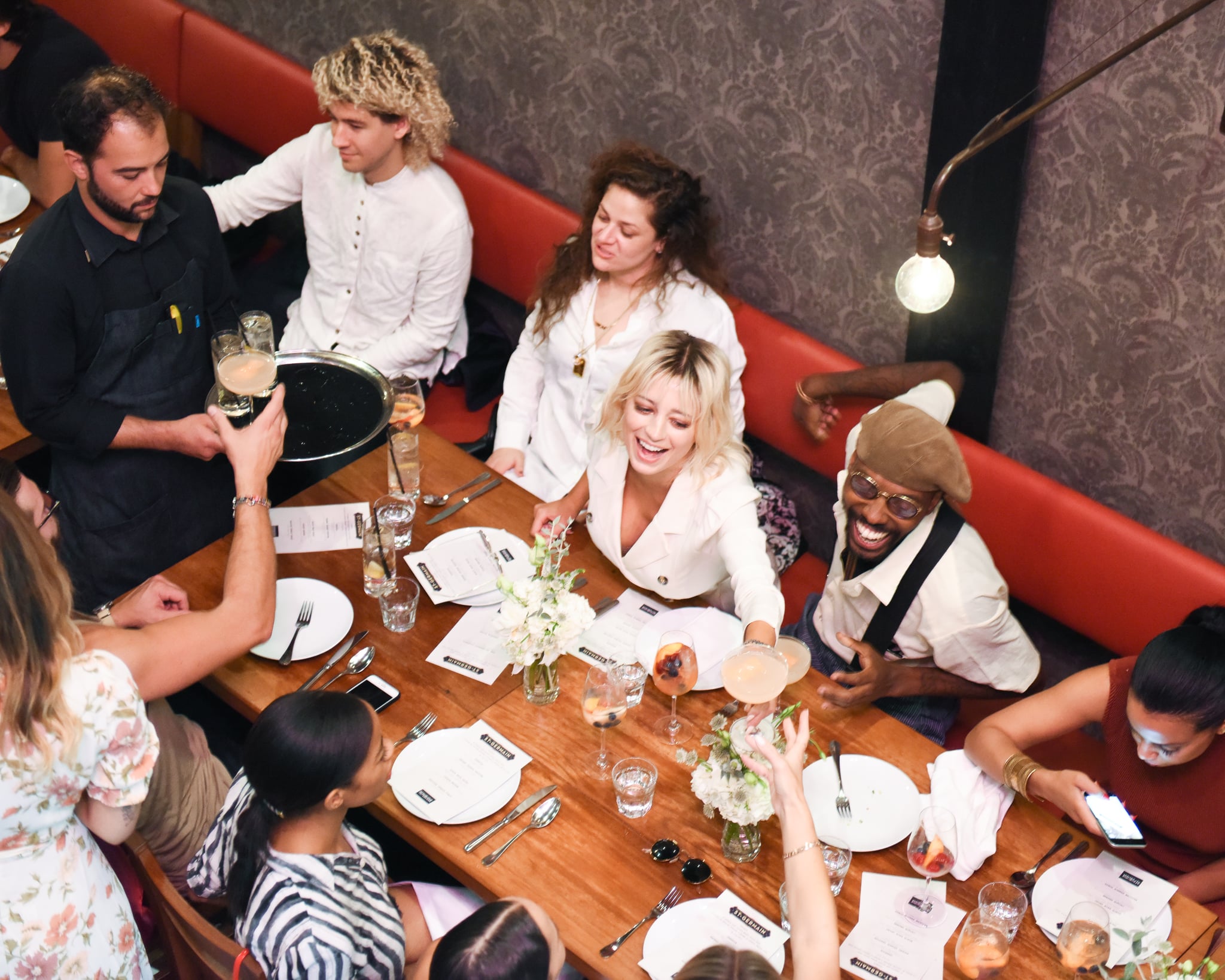 When your great-grandmother is the woman who coined the phrase "The first rule of being chic is to arrange to be born in Paris," as Caroline Vreeland's did, you grow up knowing a little something about French style. "When I started to spend time there in the last couple years it was like a whole new world for me," the singer and model, whose great-grandmother Diana Vreeland was a legendary fashion editor and icon, told us.

Although Caroline was raised in the States, she tells POPSUGAR she fell in love with the spontaneity and je ne sais quoi that's drawn people to Paris for generations — especially when it comes to the citizens' approach to partying. "Paris has a way chiller vibe," she says. "You'll meet someone casually, and they'll say, come by! It's very much less planned. Spontaneous. It's not a stress."

Here are Caroline's tried-and-true tips to throwing a party that takes its cues from Parisian entertaining:
1. Craft Your Own One-of-a-Kind Signature Drink
When Caroline hosted a recent brunch in LA at French restaurant Republique with St-Germain, she decided a signature drink was a must. "I thought to myself, 'What would a French girl do? She would make her own drink.'" She and a friend, with the help of the bartender, invented their own cocktail. To replicate it at home, blend half an ounce of lime juice, half a shot of St-Germain elderflower liqueur, a shot of mezcal and a shot of grapefruit juice. Top with two dashes of rosemary tincture, et voila!
2. Embrace Imperfections
"The reason French women are so easy and sexy and chic is that they embrace their imperfections and embrace their flaws," Caroline says. That ethos extends to their approach to party planning. Take a lesson from the French and take the pressure to throw the world's best bash off your own shoulders. "I think you tend to really worry when it's your own home if everyone has everything they need, if everyone has a drink — you need to just let go!" Caroline says. "That was a big lesson for me [living in France], because I was obsessed with making sure everyone was OK."
3. Invite an Eclectic Bunch
Instead of worrying too much about how well everyone on your guest list will mesh, focus on inviting a fun mix of different people. Caroline says if you surround yourself with people you like being with, the whole crowd is guaranteed to have a good time. "I have friends who are stylists, painters, so I like a mix," she says. "I think the French girl inside all of us knows, if you're dope and you're confident, people want to meet the people you want to be around."
4. Set the Scene For All Senses
Caroline's great-grandmother was known for her love of Rigaud candles. Caroline says she's inspired by that obsession to always think about creating a scent — versus just a visual aesthetic — at her own parties. "I always want to have calla lilies," she said. "And I always associated the Rigaud candle with my grandmother. I love to have one of those burning."
5. A Cheese Plate Is NOT Optional
"If you go to a party and there's not cheese, there's no reason being there," Caroline, a woman after our own hearts, insists. "I always encourage a supersharp, crumbly cheddar. That's universal. You should have a soft cheese, as well — a blue or inky cheese — and port salut is a nice middle ground for a trio." When it comes to accoutrements, she favors an unexpected one: basil sprigs.