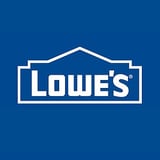 Does your home need some sprucing up? We partnered with Lowe's to provide all the inspiration you need to create a welcoming outdoor space.
Decorating the outside of a home is just as important as decorating the inside, especially for Spring. If you're unsure of how to give your space an extra dose of curb appeal this season, we've got you covered. Keep reading for inspiration on how to make your exterior the most charming on the block no matter if you own or rent.
Find new throw pillows in seasonal prints: Throw pillows are a testament to your taste, so really think about what you want your guests to feel when they arrive. Go with designs that reflect the current season and trends.

Image Source: Lowe's

Add chairs to each side of your front door: Create a welcoming and comfortable space by placing chairs outside your front door. On brisk Spring evenings, you'll be able to sit and enjoy watching the activity in your neighborhood.
Arrange flowers along your walkway: Planting flowers along the perimeter of your walkway is like leading guests toward a vibrant and happy space. Choose plants that complement each other and the vibe of your entire home.
Replace an old doormat for something new: Your front entrance is the first impression guests get of your home, so swap out your old doormat for a fresh and clean one that shows off your personality.

Image Source: Lowe's

Hang a Spring wreath on your front door: Festive wreaths aren't just for the holidays. Embrace the spirit of Spring with a succulent arrangement to hang on your front door — it'll smell and look amazing.
Switch up your front doorknob: Replacing your front doorknob is possibly the easiest way to add character to your home. There are so many fun shapes to choose from that the possibilities are endless!
Paint your front door a bright color: Choose an airy color and get the whole family involved in painting your front door. It's a fun activity for everyone to be a part of and will make a big difference in your curb appeal.

Image Source: Lowe's
More From Lowe's
Check out Lowe's on Instagram for even more DIY and curb appeal inspiration.