Two Chicks and a Hammer | New Series on HGTV
How This Mother-Daughter Duo Became the Newest Stars of HGTV
Imagine this: thanks to a shared passion, you and your mom are able to start a business. You find some local success, and then one day, Hollywood comes calling, and a Skype meeting turns into a series deal from a major cable network.
That's pretty much what happened in the case of Karen Laine and Mina Starsiak, a mother-daughter duo from Indianapolis whose contracting company, Two Chicks and a Hammer, caught the eye of producer Tina Seiler from High Noon Entertainment. Mina, the daughter, received a message from High Noon, and like anyone who hadn't been looking for a career in the spotlight, was worried that she and her mother were about to be scammed.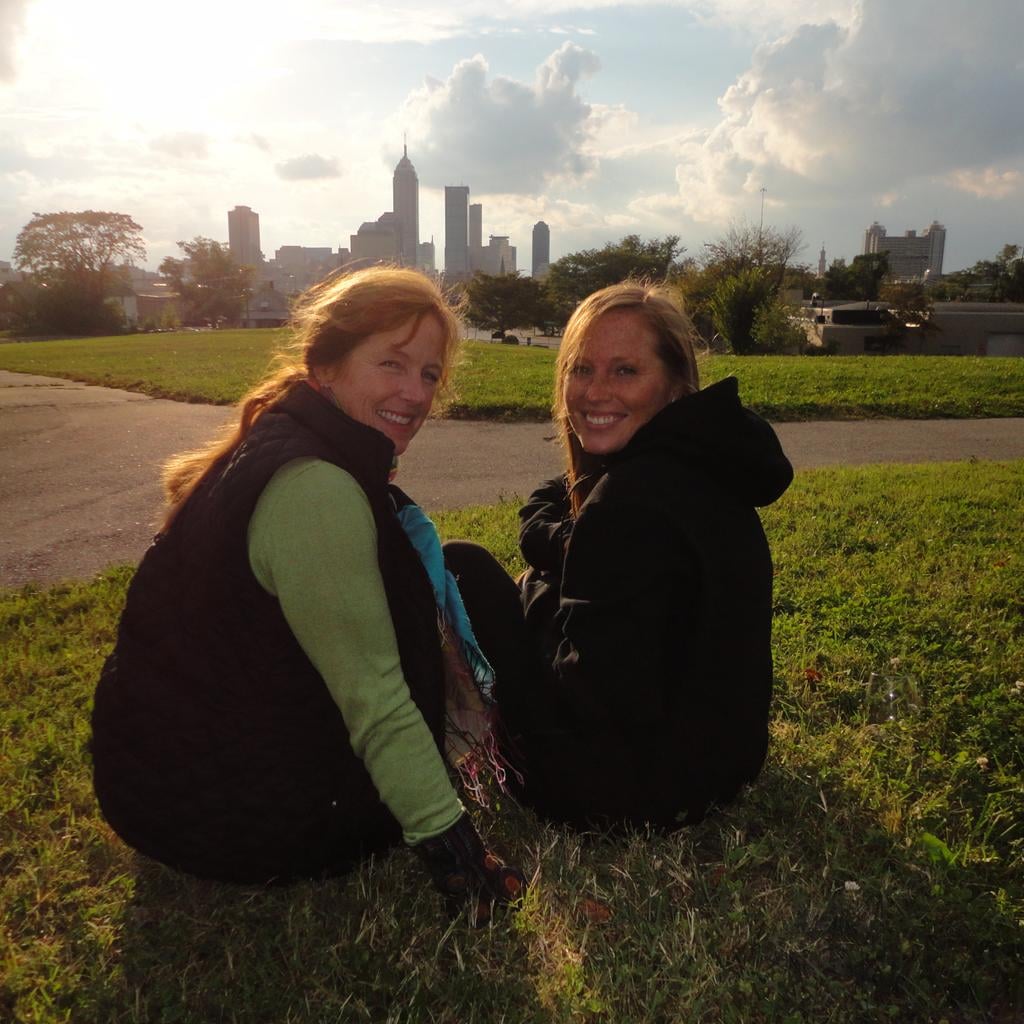 "Did they ask for your social security number or bank account number?" Karen, a lawyer, remembers asking at the time. "No? Then it's fine."
Mina and Karen connected with High Noon via Skype, a meeting that lead to shooting a sizzle and a pilot that aired on HGTV last month. Suits at the network evidently loved what they saw in the test episode of Two Chicks and a Hammer, which followed along as Mina and Karen bought an inexpensive Indiana home, gutted it down to the studs, and oversaw the renovation. Filming for the first full season is due to begin soon.
The forthcoming episodes will follow along as Mina and Karen oversee renovations on homes they or others own. All of the action, though, is likely to be centered on the Indianapolis neighborhood of Fountain Square, where both Karen and Mina live — next door to each other, naturally.
"We've both been living here for years now, and I think that really helps the neighborhood rally behind what we're trying to do," Mina explained. "Because we're in it for the long haul."
Committing to a television series has brought change for both Mina and Karen. Karen is putting her legal career mostly on pause and is in the process of referring clients to other attorneys. The clients, however, are having trouble adjusting. "Some of them have not reacted well," she said. "They've been very dissatisfied that I'm changing things in my life. And I get that!" Mina, meanwhile, is gearing up for her wedding. The self-diagnosed "control freak" was proposed to on March 6 and managed to nail down every detail by the end of that month.
Even a few minutes on the phone with Mina and Karen instantly remind a viewer of the hilarious chemistry they displayed on Two Chicks and a Hammer's pilot. They love each other's company, and it shows. So, are they really having as much fun as it seems?
"Any mother-daughter duo who says they'd love to work together only says that because they haven't done it!" Karen joked. But seriously, Karen added, "We've been able to figure out that we both have a skill set, and they mesh really well. I don't get in her way, and she stops me from doing stupid things."
"There's a level of trust you don't get even with a lifelong friend — you can't get that unless you're with family," Mina added.
The Laine-Starsiak family, of course, now includes the gang at HGTV. And Mina is looking forward to their shared future. "I know there was a big HGTV Christmas party," she said. "I'm like, 'Yay! We get to go to that this year!'"
The HGTV holiday party will likely be a more festive occasion than the day Mina and Karen found out HGTV was picking up their show.
"We have a lot of properties with yards we have to maintain so the city doesn't get mad. People tend to dump trash in them, and [cleaning up the yards] was what we had on the calendar for that afternoon," Mina recalled of the moment they received the happy news. "We got the phone call as we went out the door. We went and played in trash and weeds."
Sounds like pretty good television. Look for Two Chicks and a Hammer on HGTV in early 2016.