Determining when a thank you card is in order can be a tricky challenge. That's why we partnered with Tiny Prints to help you make the right decision for any situation.

Sending an email or text is the quickest way to acknowledge a person when it comes to thanking someone, but it just seems a bit informal. Getting an actual card in the mail is such a surprise that makes you feel so good it's hard not to smile. Emily Post suggests sending a written thank you note after receiving a gift with a few exceptions. Making sure you're within the correct time frame, and if it's the appropriate reason, is also a big consideration when putting pen to paper. Here's a breakdown:
Graduation, Baby Shower, or
Wedding

Gifts

If you're being celebrated in a special way or with a big party, all gifts deserve a personal thank you letter. While in the moment, take time to personally talk with guests and thank them for attending, but that's not enough after opening congratulatory cards and gifts. It's a way to share your gratitude for the well-wishers' acknowledgement of a big life event, which deserves a few thoughtful sentences tucked in a cute card.

Time frame: Old etiquette suggests you have up to a year to send a thank you after a big event, but three months is a better time frame. And if gifts are received after the event, do get a personal note in the mail within two to three weeks.
Condolence Cards or Gifts During an Illness
People want to let you know they're thinking of you during tough times, and it's understandable you might not be in the mood to write out thank you cards. But those who send notes of encouragement or flowers deserve acknowledgement. If you aren't feeling up to it, enlist a good friend to help you write notes or call or email close friends and relatives.
Time frame: There isn't a defined time frame for writing thank you notes with this situation, but you might find it soothing to write a few notes sharing your feelings or working through grief.
Holiday or Birthday Gifts
Similar to a graduation or wedding, if you receive a birthday or holiday gift, it's proper to send a thank you card. Someone spent the time selecting something special for you, so make sure to personalize the card by commenting on how you feel about the item. Showing gratitude is a big part of letting others know you care and appreciate them, and proper etiquette proves the right thing is to spread the love with a thoughtful thank you card. Don't put it off.
Time frame: Get a holiday gift thank you in the mail before the new year. Send birthday gift thank yous within two to three weeks after receiving.
After a Job Interview
Sending a thank you card after interviewing for a job you're really excited about definitely won't hurt your chances — especially if it's done right. Use your notes from the interview to help craft a personal thank you, creating different notes for each of your interviewers. It's acceptable to send an email if you know a quick decision is being made. Do keep it short and sweet and always double check grammar. And don't send the same message to everyone you interviewed with.
Time frame: If you're sending via email, 24 to 48 hours is acceptable. For snail mail, get the thank you card in the mail the day after the interview.
Going Away Party or Housewarming Gifts
If you're gifted items at a party and open them in front of the giver, a verbal thanks works. It's still a nice gesture to pop something in the mail after the event, but an email or call is OK too. Do take the time to verbally thank gift givers and if you aren't able to, follow up with an email or phone call. Don't ignore receiving the gift — which leaves the person wondering if you got it at all!
Time frame: There's no defined time frame so go with what feels right.
More From Tiny Prints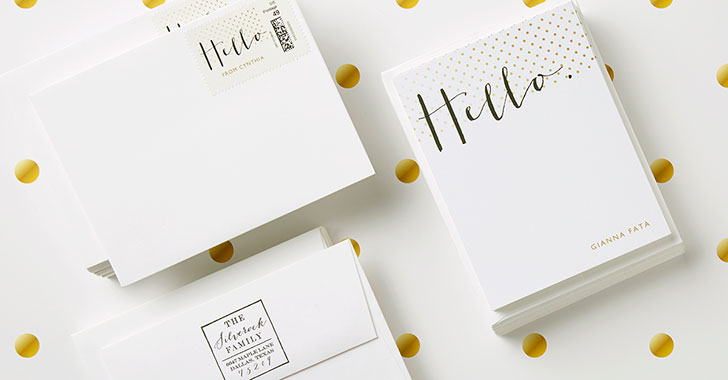 Graciousness is a timeless gesture that exudes style and it is a part of the modern-day woman's toolkit. From birth announcements to personalized thank you cards, Tiny Prints offers you numerous ways to showcase your style and consideration of others. SHOP NOW.