As POPSUGAR editors, we independently select and write about stuff we love and think you'll like too. If you buy a product we have recommended, we may receive affiliate commission, which in turn supports our work.
Black Friday has arrived in full swing, and if you're in need of furniture or decor, today is the best day of the year to shop for incredible deals. No matter if you're looking for a new TV for your living room or a couch that's made to wedge into a small apartment, we've thought of all the niche, useful, and undoubtedly popular home and furniture items worth picking up.
To direct your attention to the sales that matter, we curated a list of 30+ Black Friday sales on home items and furniture that are selling quickly. Because let's face it, bedding and furniture are some of the most expensive purchases you're likely to make.
As shopping editors, we've thought of all the big-ticket items — like sofas and mattresses — that are all discounted enough to fit into a budget. And of course, we only included the aesthetically pleasing items we'd choose for our own homes, so you can trust this list is highly vetted. We searched top brands like Target, Wayfair, Amazon, Castlery, and more to guarantee an incredible find. Keep reading to shop the top discounts available right now.
Shop early Black Friday home and furniture deals: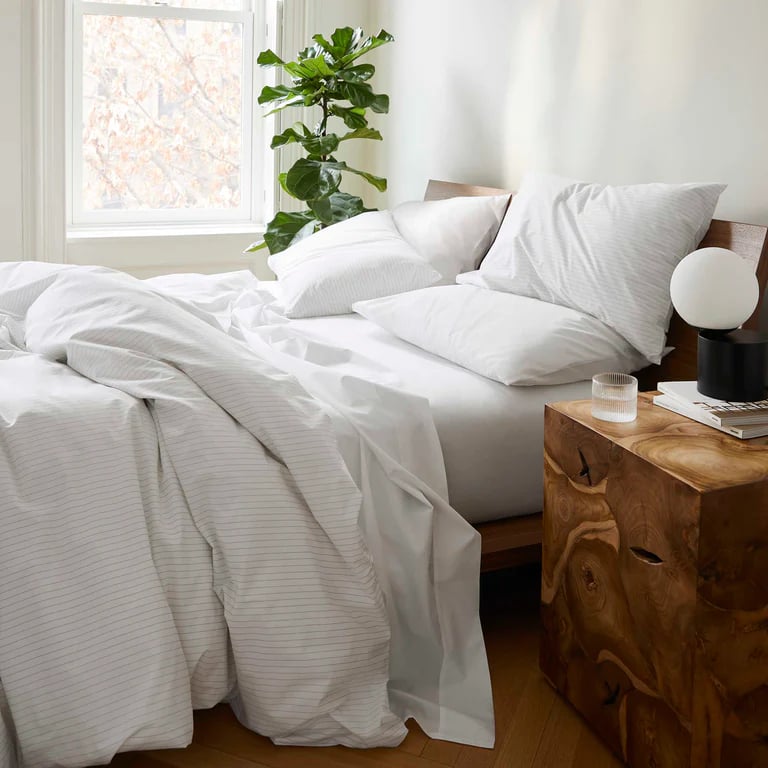 Best Black Friday Bedding Deals 2022
When it comes to bedding, there are a lot of deals to consider to make your (or a loved one's) sleeping quarters feel and look the best. Nordstrom, for starters, has an incredible discount on a Linen Duvet Cover and Shams Set ($100, originally $229), perfect for a king bed. The set's lightweight linen is great for keeping temperate in both the summer and winter months and has a color that blends in anywhere. Another discount to consider is the Easeland Queen Size Mattress Pad ($33, originally $50). The pad has a soft down-alternative fill that will gently ease them to sleep. The discount listed is for the queen size, but prices vary if you have a twin or king. Lastly, the Linenspa Queen Comforter Duvet Insert ($31, originally $36) is one we can't imagine going without. The comforter has a box-fill construction that keeps all its fluffy filling in place. Pair it with a duvet cover and this Brooklinen Luxe Core Sheet Set ($134, originally $179) in size Queen, and you'll have the perfect bedding set. Seriously, Brooklinen is one of our favorite spots to shop for luxury sheets.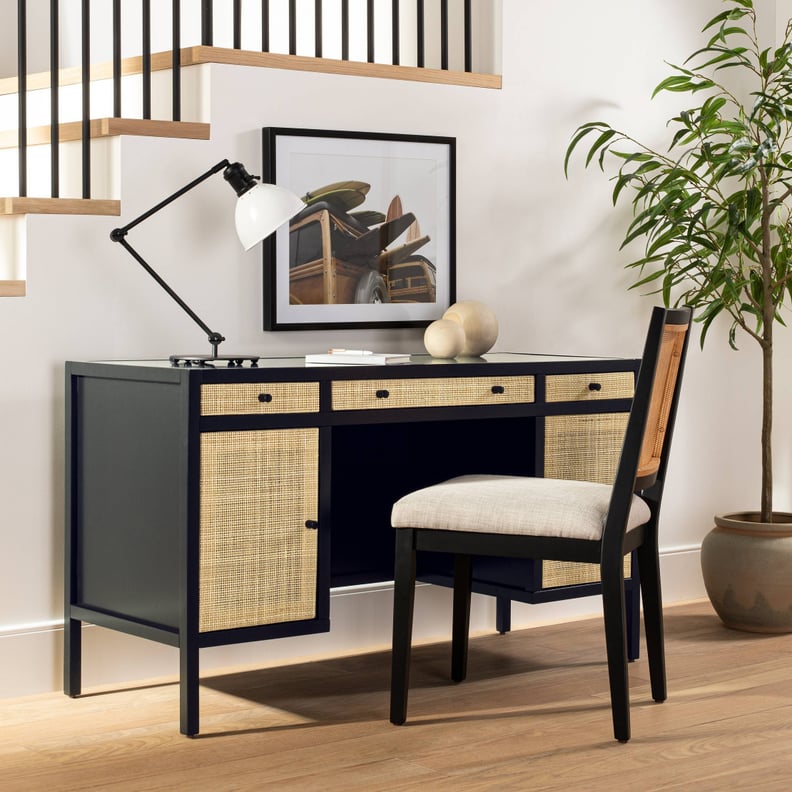 Best Black Friday Furniture Deals 2022
Getting a deal on a furniture piece feels like a huge win, and this Threshold Designed With Studio McGee Springville Desk ($300, originally $400) is $100 off right now. The desk features five compartments for storing essentials and is the perfect size for a home office. Pair it with the Threshold Designed With Studio McGee Ventura Accent Chair ($180, originally $240) for a comfortable place to sit that emphasizes the desk's natural rattan. If you're looking for something more modern for your work-from-home setup, this Honey-Can-Do Computer Desk ($60, originally $351) is one of the best deals we've come across. The desk has built-in USB ports and outlets for added convenience. Not interested in home-office furniture? Grab this Saracina Home Hooper Transitional Combination Wardrobe ($371, originally $530) for your bedroom. The dresser features four drawers that glide with ease and a cabinet with adjustable hinges to fit shirts, pants, shoes, and other clothing items.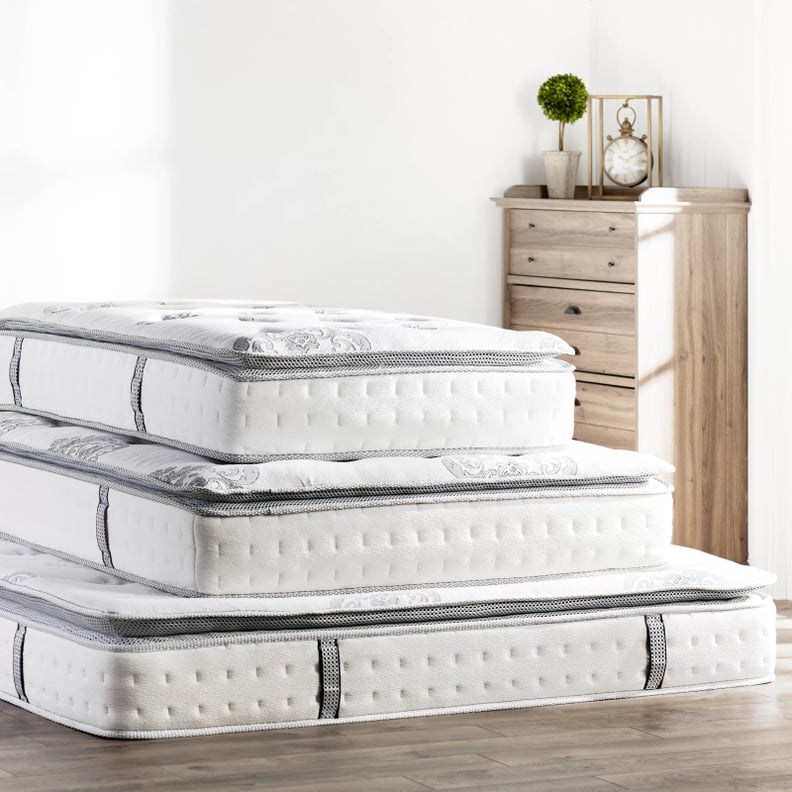 Best Black Friday Mattress Deals 2022
We've said it before, and we'll say it again: never skimp out on a mattress. Sleep is not something you should compromise on, so we've rounded up three mattress deals to best suit your needs. The Wayfair Sleep 12" Medium Pillow Top Hybrid Mattress ($490, originally $740) has springs and foam for support and comfort. It's perfect for those who don't prefer a full foam mattress but rather a bed that resembles what they've grown up with. If you want a mattress a little less thick than 12 inches, opt for the Fontoi Queen Size Mattress ($199, originally $268). The mattress is made of foam and gains its shape 24 to 72 hours after receiving it. Last but certainly not least, we went with an editor favorite. The Casper Original Hybrid Mattress ($1,271, originally $1,695) has AirScape technology that will keep you cool on the hottest days. It is perfect for hot sleepers and has ergonomic support to keep them comfortable all night long. Read our Casper Mattress review for more details. Another mattress deal worth considering is the Burrow Lyric Core Mattress ($649, originally $1,095). The mattress has built-in handles that make it easy to move and has three unique gel layers that curve to your body. All of the above mattresses come in a box, which is a huge bonus for apartment renters.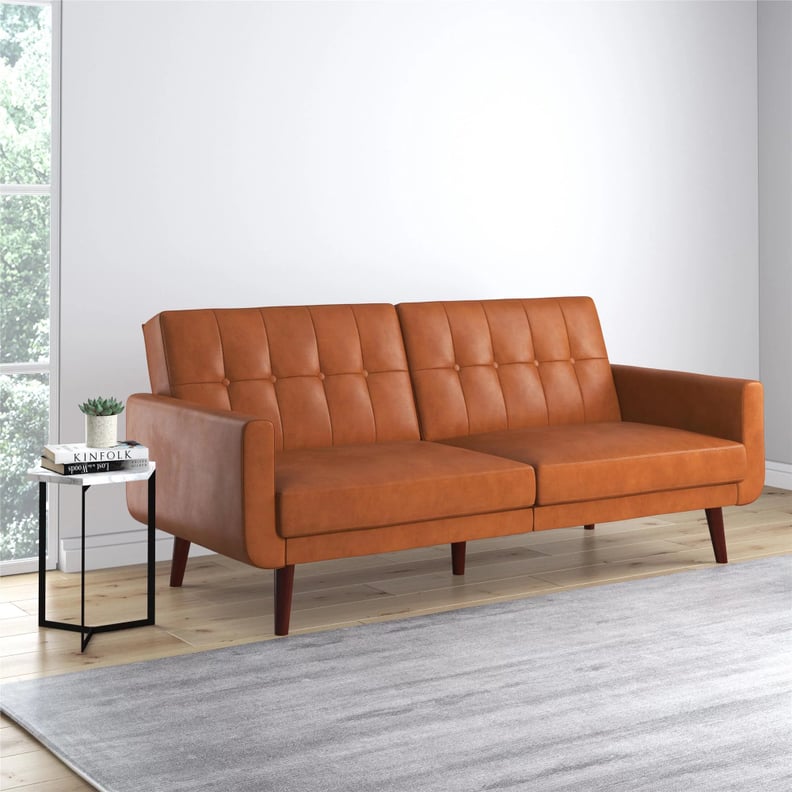 Best Black Friday Sofa Deals 2022
Finding the perfect sofa is never easy. We know the challenges of doing so (and how hefty the cost can be), so we started on the lighter side of the price scale. Better Homes and Gardens Nola Modern Futon ($255, originally $454) is a great apartment sofa. It's made of faux leather that will warm up your interior and even has the ability to transition into a bed. The futon's modern style will effortlessly match any space. Additionally, if you want something that's more every day, we recommend this Perdue Velvet Square Arm Convertible Sleeper ($490, originally $880). The sofa is smooth and sophisticated and can also be converted into a bed, making this another great apartment addition. If you live in a home or have a large living room, we love this Miller Sofa ($1,060, originally $1,649). It is a great anchor for any living room and has a modern touch that will stand the test of time. Another great sofa for a home is this Pottery Barn Turner Square Arm Leather Sofa ($3,299, originally $5,499). It's a best-seller and comes in a plethora of fabric options to best suit your space. We personally like this dark leather for a more sophisticated feel. Finally, if you're in the market for a sectional sofa that's small enough to fit in an apartment, look no further than this Emma Reversible Sectional Sofa ($756, originally $840). The sofa has comfortable seating and is available in five different shades, making it a great decor fit. Don't miss out on these sofa deals — it might be a while before you see a price this good.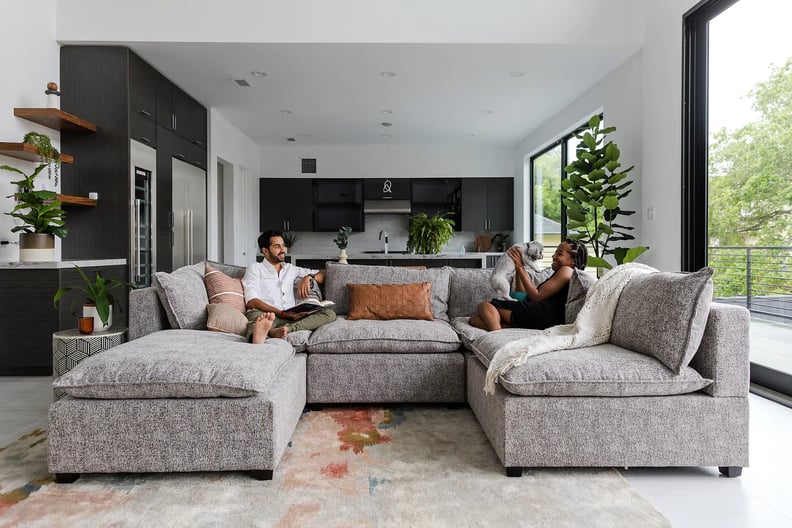 Best Albany Park Black Friday Deals 2022
Albany Park is already discounting a select amount of its furniture pieces, and on top of it all, it's offering 15 percent off with code BF15. With its code reflected, this Kova L-Shape + Ottoman ($3,595, originally $4,895) is a great price. The sofa is a POPSUGAR-editor favorite for its comfortable cushions and modular pieces that allow you to configure it to your lifestyle. Read our in-depth review of the Kova L-Shape + Ottoman for more details. In addition to the sectional, if you want a matching armchair, the Park Swivel Armchair ($905, originally $1,005) is a great bet. The chair swivels 360 degrees to ensure you always have the best seat in the house. All of its fabric options are on sale, so you can choose which one fits your home best. Last but not least, this Albany Sofa ($1,395, originally $1,599) is a great bet for small apartments. It's designed to maneuver through small spaces with ease and is super comfortable to sit on.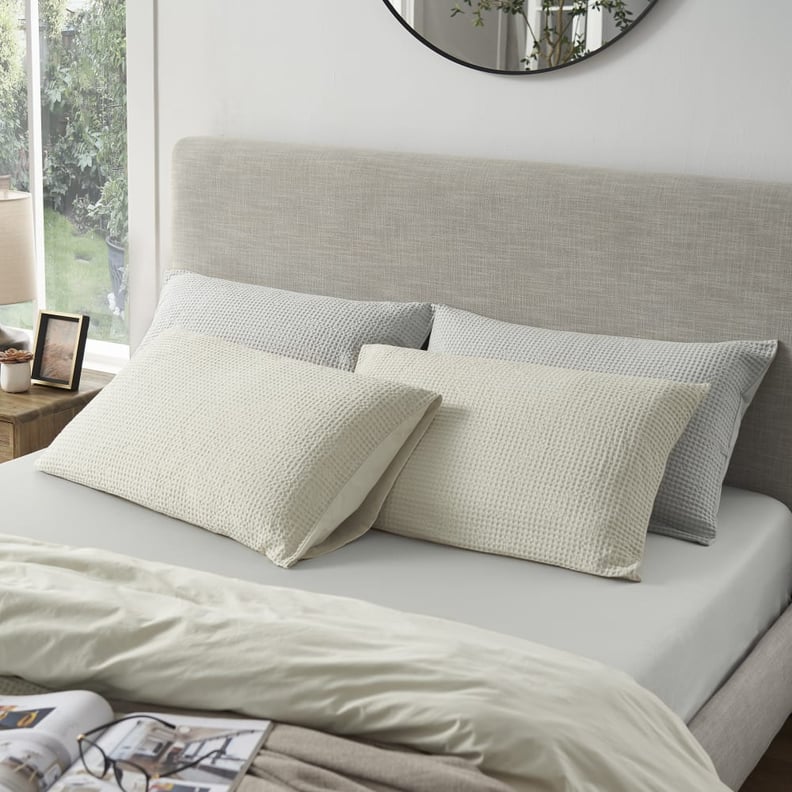 Best Castlery Black Friday Deals
There are so many reasons we adore Castlery. For one, the brand's quality is off the charts, and two, it sells this Waffle Pillowcase ($29, originally $35). The pillowcase comes in a set of two and is made of a cozy percale material that will elevate your bedroom and quite literally put you to sleep. It's the perfect gift for someone you know or even yourself if you want to elevate your bedding. However, if your living room is your area of focus, we love this Seb Rectangular Coffee Table ($269, originally $299) for its rustic and homey charm. Its distressed finish gives it a comforting look, and its size fits nicely into a small living room. Speaking of which, we'd be rude not to include a Castlery sofa in this Black Friday roundup. The Tana Chaise Sectional Sofa ($1,699, originally $1,999) is one of our favorites that's worth the hype. The sofa has a stylish yet soft silhouette that can easily blend into your living space. It's a sectional, too, making it perfect for larger homes.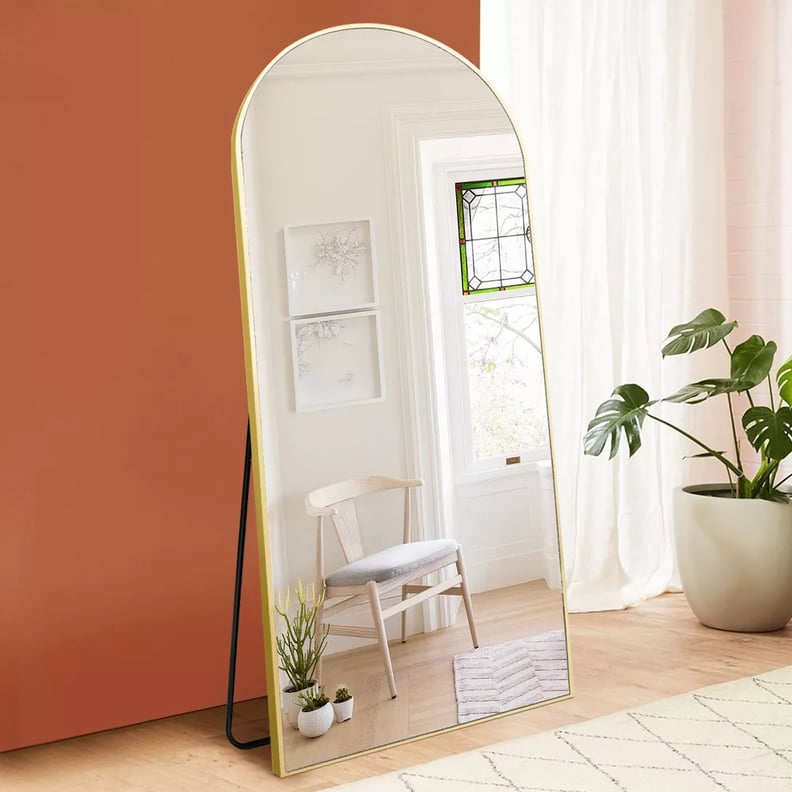 Best Target Black Friday Furniture and Home Deals 2022
Target isn't holding back when it comes to Black Friday. In fact, the retailer already has an impressive assortment of deals to consider. In particular, this Muselady Oversize Arch-Crowned Floor-Length Mirror ($370, originally $440) is calling our names. The mirror is the perfect accent for a bedroom or office. We love its sleek appeal and the way it elevates a room. For more incredible home decor, we love this Parkman Washable Border Diamond Rug ($35, originally $50). It's the perfect size for an entryway or kitchen and its abstract design will give any room an earthy edge. Speaking of kitchens, the Nespresso VertuoPlus Coffee and Espresso Machine by De'Longhi ($140, originally $200) is 30 percent off and comes with a $25 Target gift card. It's perfect for brewing a single cup of coffee or espresso that's rich and delicious (and looks great in your kitchen). Lastly, as far as deals go, we have to mention this TCL Smart Roku TV ($230, originally $400). It is 43 percent off, is a smart TV, and has Roku built in to play all your favorite TV shows with the touch of a button. It's 43 inches, making it ideal for most living rooms or bedrooms.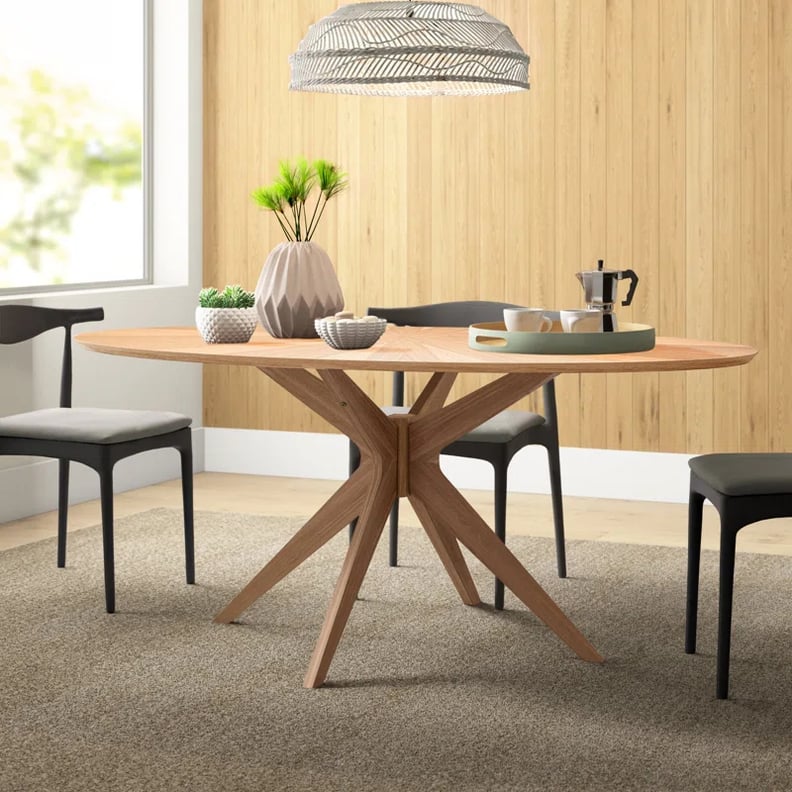 Best Wayfair Black Friday Deals 2022
Wayfair is another brand that's not holding back on Black Friday. If you need something new for your dining room or living room, we've found a few deals worth mentioning. To start, this Thomas Pedestal Dining Table ($600, originally $1,047) caught our eye. It is modern and sleek and has a striking oval finish that can fit an assortment of chairs around it for households small and large. However, if your family room is your main priority, we love this Bria 4 Legs Coffee Table With Storage ($214, originally $345). Its walnut finish can blend with a slew of decor schemes, and its sliding doors on each side of its center compartment give it a unique touch. Pair it with this Espinosa Geometric Area Rug ($118, originally $250), and you'll have a living space you'll never want to leave. The 5"x7" rug is incredibly plush with a long pile height that makes sitting on the floor not seem so bad. As for your bedroom, this Abdiel Upholstered 3 Piece Bedroom Set ($186, originally $220) is a great find. The set features two nightstands and a bedframe that are all made of solid wood.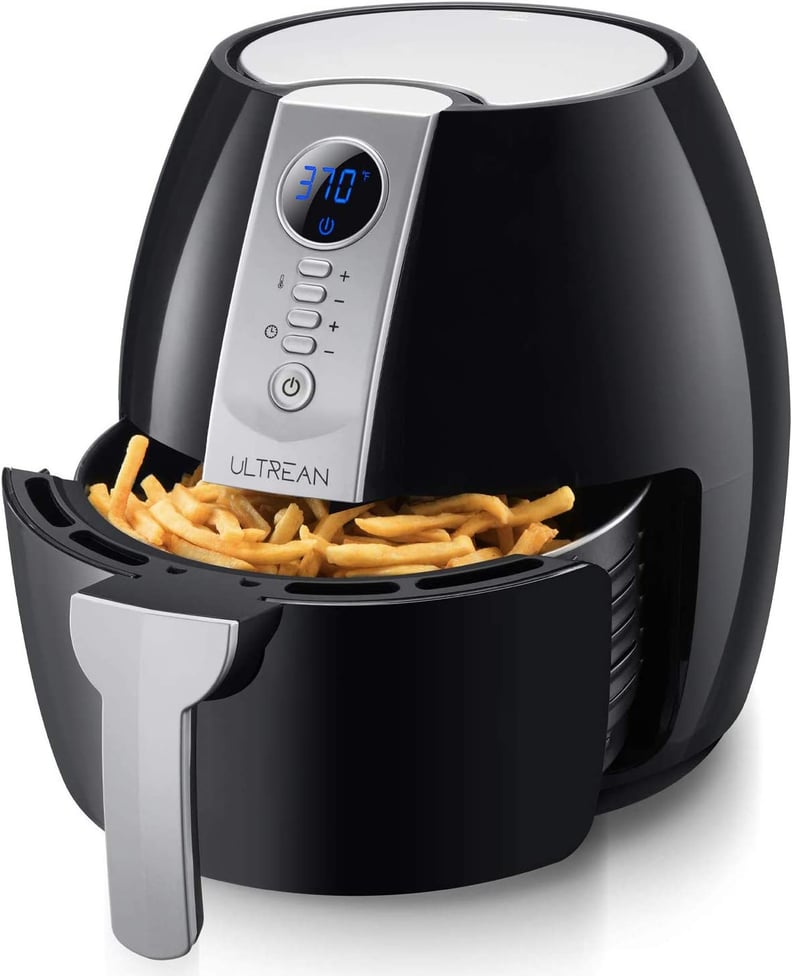 Best Amazon Furniture and Home Black Friday Deals 2022
Between Amazon's Early Access Sale and its early Black Friday deals, it seems as if we can always find an incredible discount on the site. To start, this Ultrean Air Fryer ($48, originally $96) is a deal you don't want to pass up on. The air fryer allows you to crisp foods with less fat and grease and has an easy-to-use construction. Another discount that we can't believe is real is this Robot Vacuum and Mop ($216, originally $710). The vacuum does the cleaning for you and is discounted at 75 percent. It both vacuums and mops your home and can be controlled with an app, remote, or even your voice. It's great for cleaning up leftover food scraps, like ones made in the Cooks Standard Professional Stainless Steel Cookware Set ($93, originally $120). If you're interested in new cookware, this set is stainless steel and dishwasher safe, and it works on all stove types. Decorate your bedroom, dorm, and more with these LiyuanQ 40 LED Photo Clip String Lights ($14, originally $20). The lights can be controlled with a remote and have eight lighting modes to set the mood with. Frankly, we think all of these deals make great gifts for the holiday season — and their prices are incredible.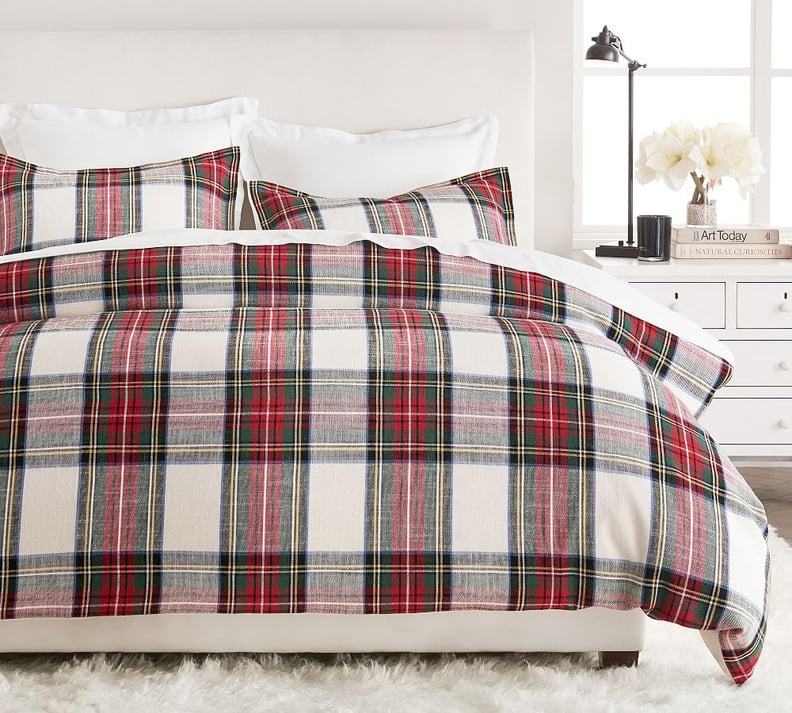 Best Pottery Barn Black Friday Deals 2022
Pottery Barn's early Black Friday deals are already in full swing with discounts of up to 50 percent off on bedding, furniture, and more. To get you started, we found this comfortable-looking Stewart Plaid Cotton Duvet Cover ($101, originally $169) that's perfect for the holidays. This queen-size cover has a timeless design that's appropriate all winter long and can even reverse to a solid color if you want a change. Next up is the Toscana Extending Dining Table ($1399, originally 1999), which is ideal for a farmhouse aesthetic. The dining table seats up to eight people and has a distressed look that can be mistaken for salvaged wood. Finally, if you love a cozy aesthetic, this Luxe Faux Fur Double Length Hide ($104, originally $139) is a great gift to give (or keep). Its yarn-dyed fabric has a rich color that holds its vibrancy over time. Simply throw it in the wash once it gets dirty — it's a faux hide blanket worth keeping.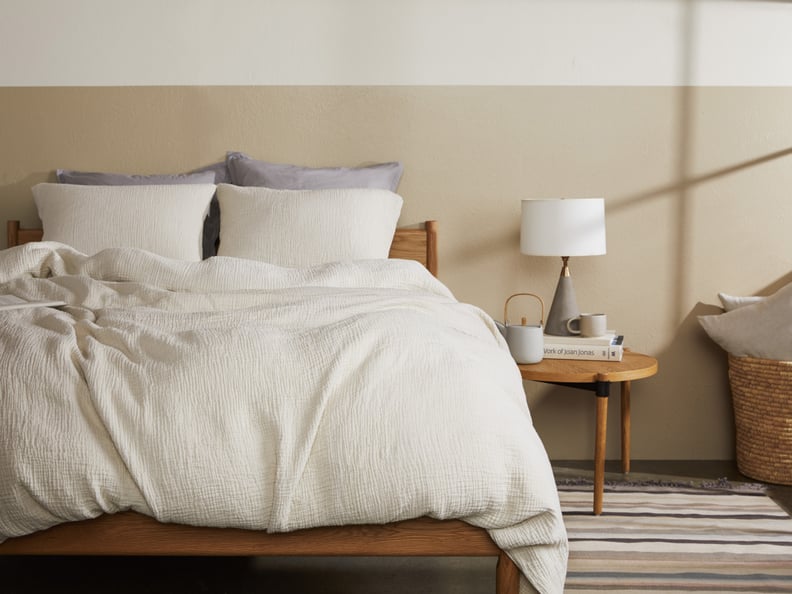 Best Parachute Home Black Friday Deals 2022
In honor of Black Friday, Parachute Home is offering 20 percent off everything in-store and online while supplies last — aka it's time to get shopping! This Organic Cloud Cotton Duvet Cover Set ($223, originally $279) is one of the first things that caught out eye. It's fluffy and inviting and comes with two shams in addition to its duvet. Another item we're loving that, ironically, goes with the duvet set is this Checkered Wool Rug ($279, originally $320). The rug showcases a plush textural pattern that will feel great on your feet. Round out your bedroom design with this Grove Side Table ($279, originally $349) which features rounded edges that soften a room. It's modern, sophisticated, and an overall great household addition.