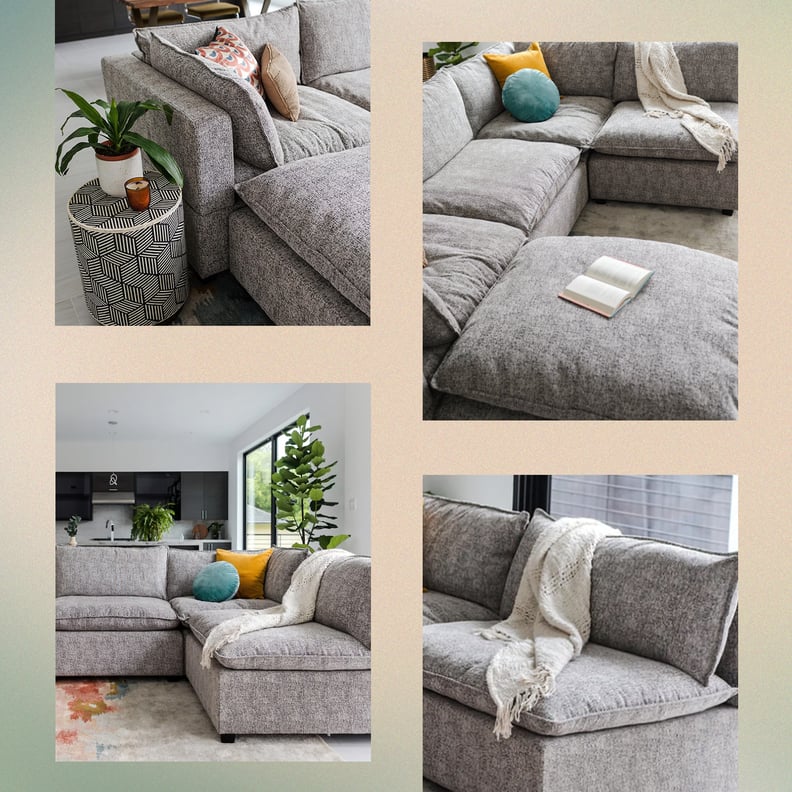 Albany Park
Photo Illustration: Keila Gonzalez
Albany Park
Photo Illustration: Keila Gonzalez
As POPSUGAR editors, we independently select and write about stuff we love and think you'll like too. If you buy a product we have recommended, we may receive affiliate commission, which in turn supports our work.
Finding furniture that's both comfortable and stylish is next to impossible. Enter Albany Park, a brand that's making all my lounging dreams come true with couches and sofas that are beautiful to look at as well as enjoyable to lounge around on all day long. Albany Park is currently hosting a major sales event that features deals across a number of the brand's bestselling models — including the Kova Sectional, which is one of my personal favorites.
Albany Park was kind enough to send me this sectional to try out firsthand, and I can't tell you how much I honestly, truly love it. I never want to leave it. In fact, I'm writing this article while sitting on it at this very moment. My boyfriend and I spend our nights sprawled out on this sectional (because yes, there's plenty of room for both of us to completely lie down if we want) — it's perfect for binging hours of a show, taking a nap, or working from home. We can even move the ottoman to the center of the couch if we want more of a bed-style way of relaxing.
Beyond the comfort level, this design is incredibly well-made; the quality of the structure and fabric is impressive. When the boxes arrived, it took us about 30 minutes in total to build the sofa and have it completely put together. Locking in each piece is quite simple, and I like that if we decide we want to make it even bigger, we can purchase more pieces.
I'm sure you have plenty of additional questions, so ahead is a breakdown of all the details, as well as more photos of my new sectional. Keep reading to find out more.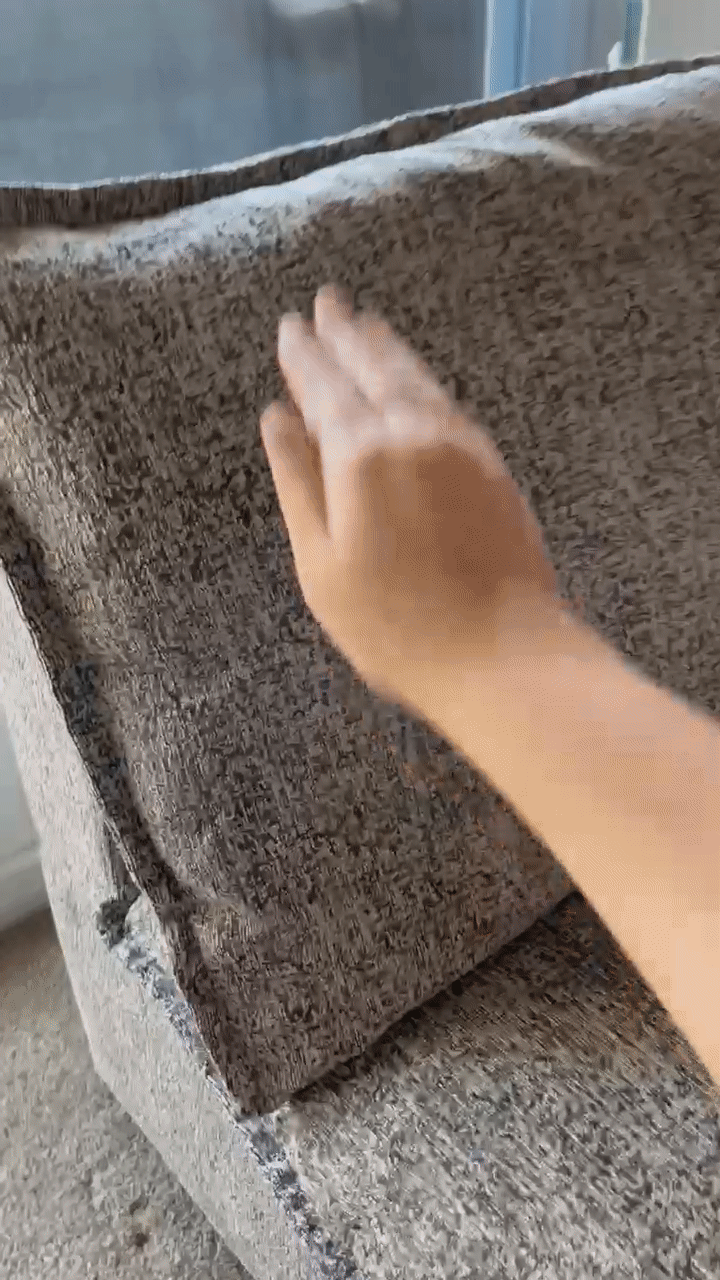 Beyond-Comfortable Cushions
This couch feels like a cloud — each cushion is filled with a feather-fiber blend that is so soft and fluffy. I also appreciate that the cushions are reversible, so if I spill something that stains badly (hello, red wine), I can just flip over a cushion.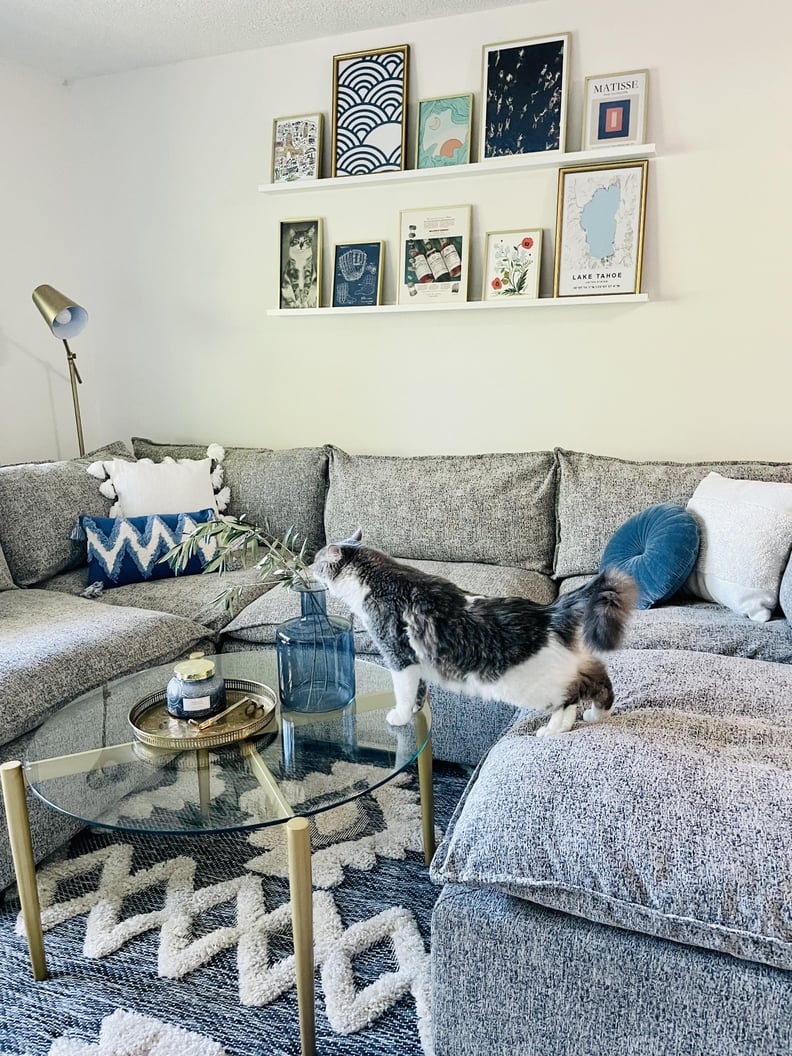 Pet-Friendly Fabric
Choosing the right fabric is incredibly important to me because I have both a cat and a dog. Getting animal hair stuck to furniture is a nightmare I've experienced plenty in the past, and I didn't want to make that mistake again. Luckily, the gray fabric my couch is made in is a dream come true. I never see hair on the couch — in fact, I inspect it looking for hairs, and I can't find a single one. The durable fabric is fantastic for pets.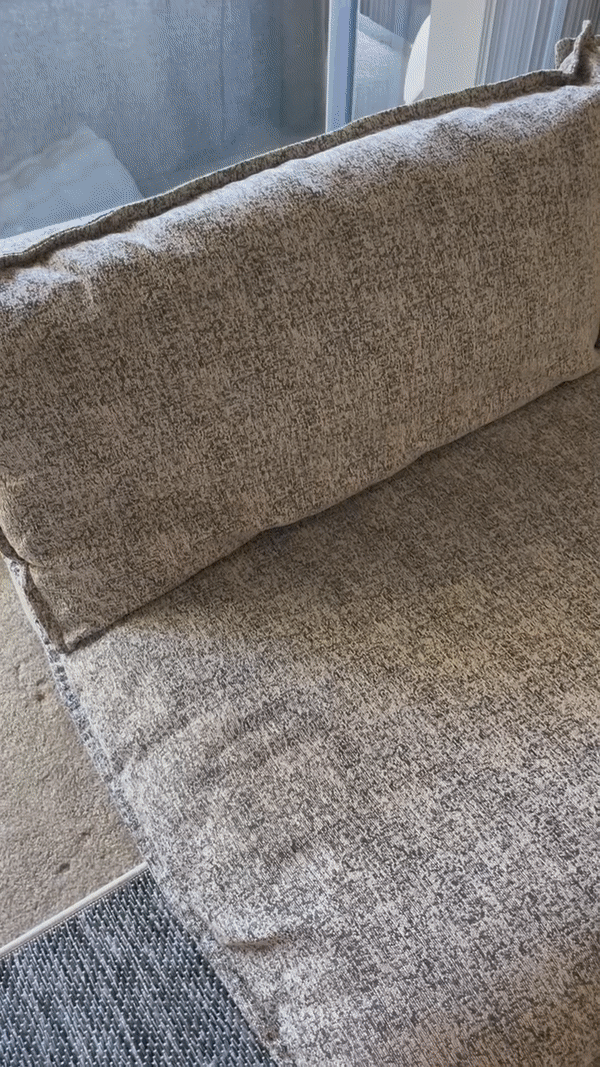 A Closer Look at the Kova Sectional
I wanted to give you a closer look at this sectional so you can get a good idea of the details. You'll see that the cushions hold their form quite well for being so fluffy. The fabric color is a blend of both light and dark gray, which made decorating even easier because I could bring in multiple tones.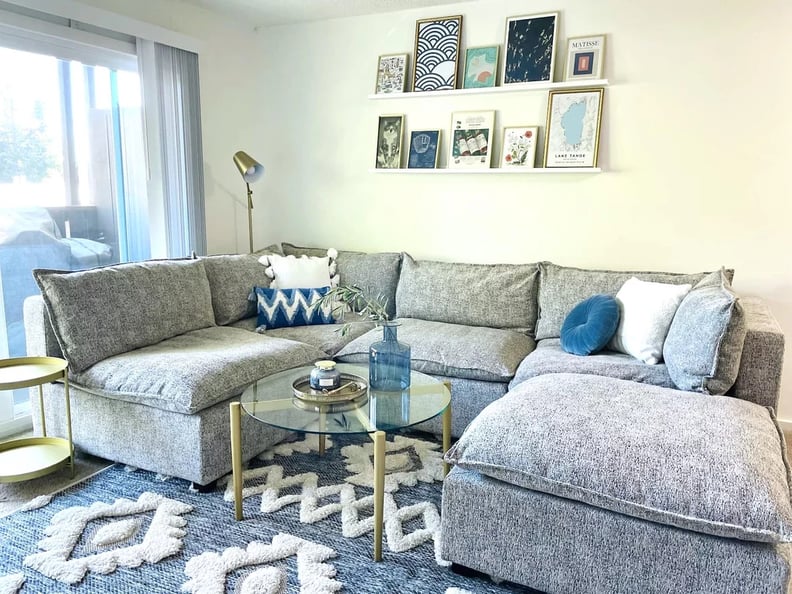 It's Huge! Plenty of Room
I can't stress enough how spacious this couch is. Four people could comfortably lounge around, but if you were having a party, six people could sit on it no problem. The seats are very deep, which is a big plus as well.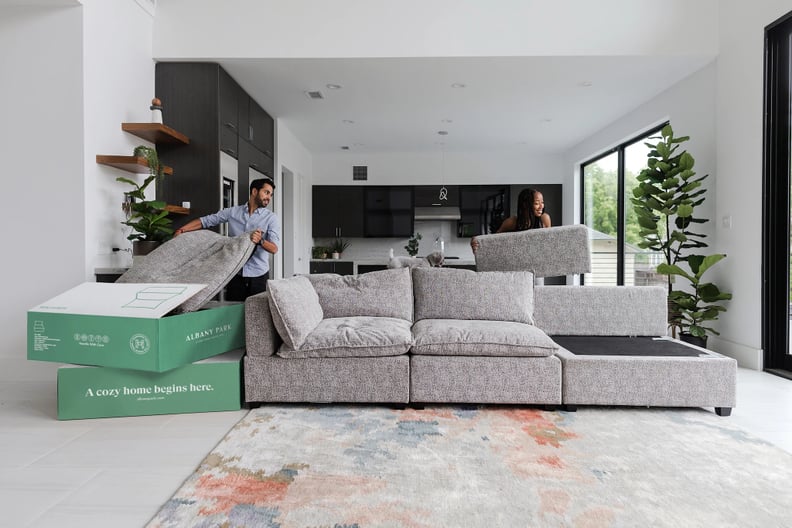 Easy to Assemble
Each module of the sofa comes in its own box, so we built each section at a time. Then, we connected them all together. The whole thing was done in 30 minutes. If you live somewhere with small doorways or tight corners, the way this couch is packaged will be great for you.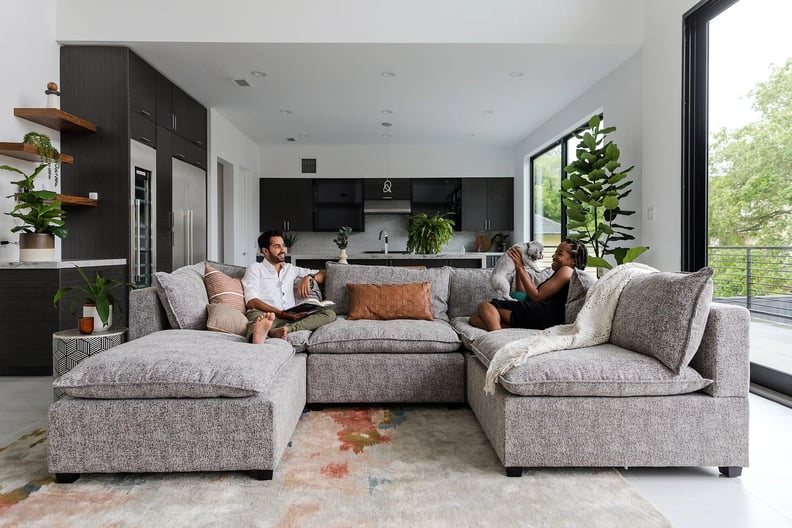 My Exact Couch
Albany Park Kova L-Shape + Ottoman Sectional Sofa ($2,999, originally $3,345)
This comfortable sectional is my exact design. Overall, I absolutely love it and give it a five-star rating. I have been telling all my friends they need to invest in an Albany Park piece. Keep reading for more pieces to consider.
★★★★★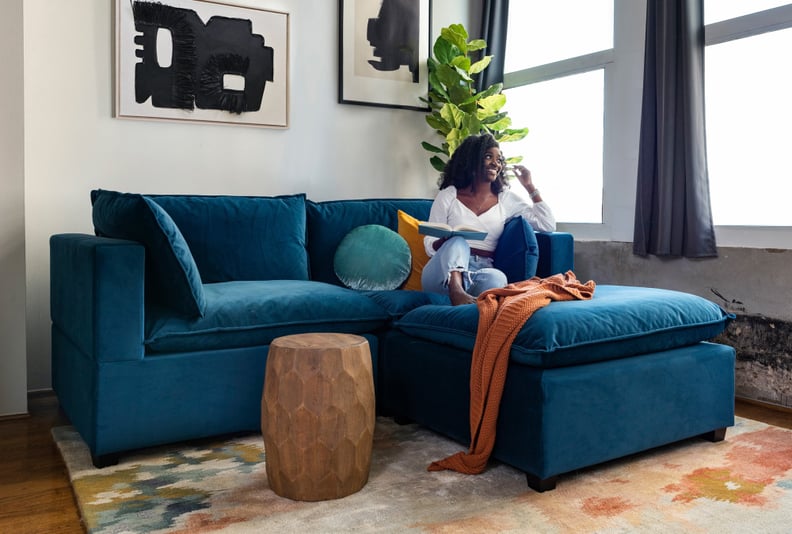 A Small-Space Sectional
Albany Park Kova Sofa and Ottoman ($1,849, originally $2,047)
If you're wishing for a big, cozy sectional but you live in a small space, then behold this compact sectional sofa from Albany Park. Its functional design gives you all the comfort packed into the perfect size.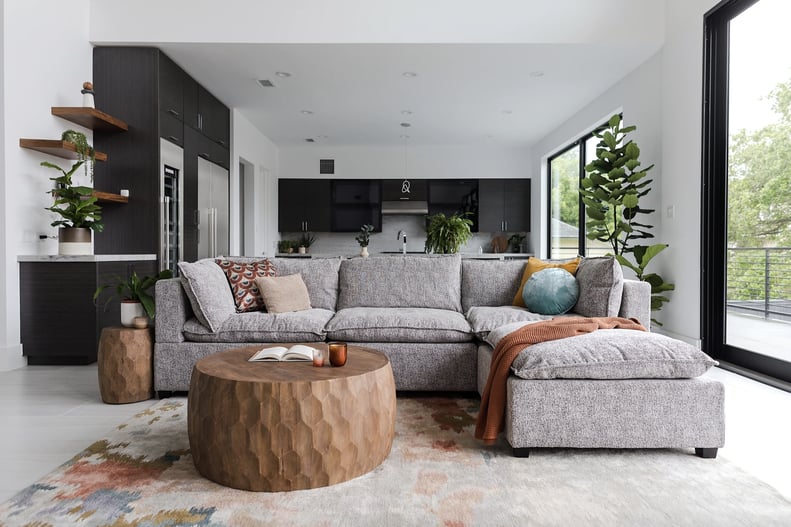 A Movie-Watching Sofa
Albany Park Kova Sofa + Ottoman ($2,449, originally $2,696)
Looking for the ultimate movie-watching sofa? I found your match with the plush and cozy Kova Sofa. Hailed as being one of Albany Park's most popular sectionals, the piece is made from 100 percent vegan cushions that are soft to the touch and boast a cloud-like plushness you'll want to lounge on 24/7.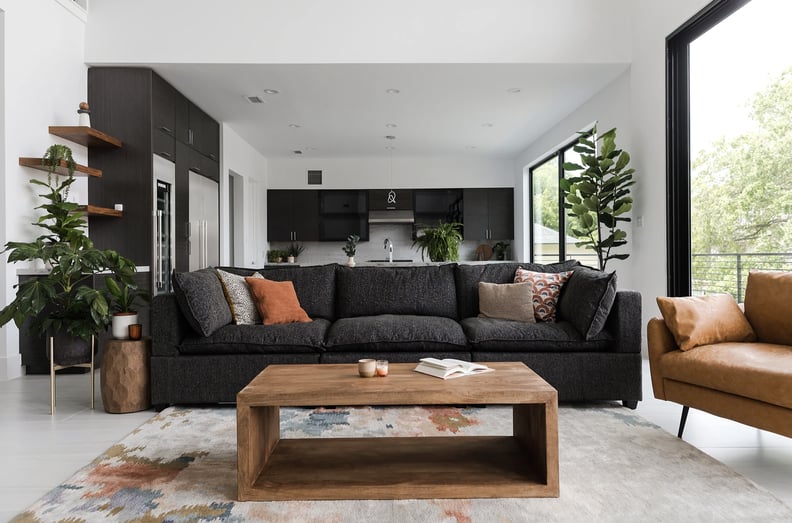 A Three-Seater Sofa
Albany Park Kova Sofa ($1,979, originally $2,147)
If you like large, sink-in-style sofas, then you'll love this bestselling model from Albany Park. It comes in a number of colors, soft fabrics, and fun velvet shades, so you'll have the ability to customize the piece so that it matches your exact design style and seating needs.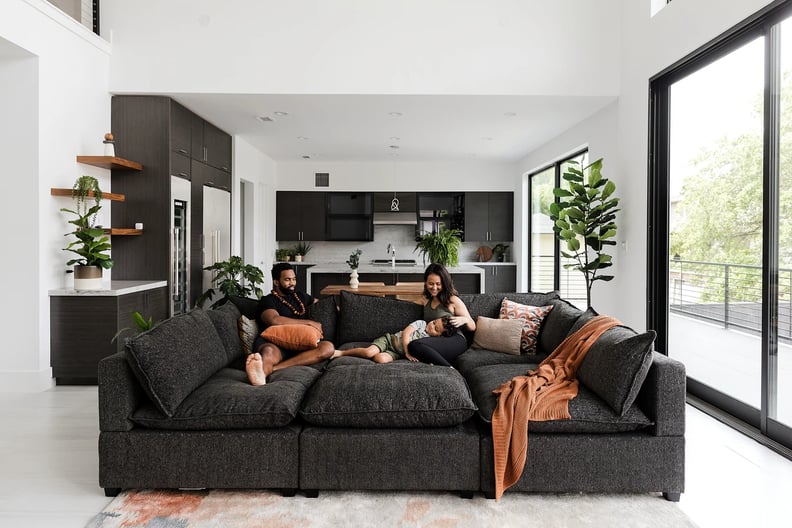 A Large Sectional
Albany Park Kova Pit Sofa ($3,649, originally $3,994)
This huge sectional might be the brand's comfiest design yet; just imagine how many people you can fit on this! Designed like a pit, the piece boasts a ton of extra seating space which makes it ideal for larger households or even shared apartment spaces.