As POPSUGAR editors, we independently select and write about stuff we love and think you'll like too. If you buy a product we have recommended, we may receive affiliate commission, which in turn supports our work.
A few months ago, we had some work being done in our master bedroom, and we spent a couple of weeks sleeping in our guest bedroom. One night after taking a shower, I had my head wrapped up in a microfiber towel, and I somehow managed to completely stain our headboard. I tried everything to get it out, even going as far as to purchase a stain removal machine — but nothing worked. We had had the headboard for years, and it had held up great, but honestly, the look was a little outdated, and I realized it was time for something new. I spent hours scouring websites looking for the perfect replacement for our old headboard, but nothing felt right — until I came across the Casper Bliss Attachable Headboard ($640).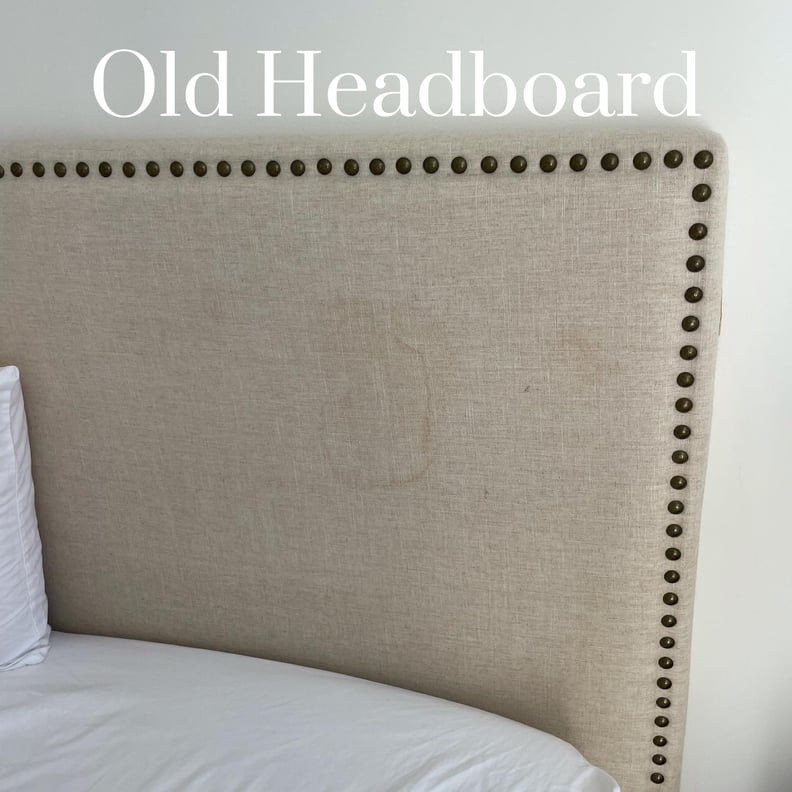 The Bliss Attachable Headboard comes in two different colorways, "Boucle Cream," a lighter cream color, and "Boucle Ash," a darker grey shade. I immediately fell in love with the cream color as soon as I saw it, and I knew it would fit perfectly in our mostly neutral guest room. Not only is the boucle look super on-trend right now, but it was the perfect piece to add a little texture to the room without going too overboard.
As for the logistics, the headboards are compatible with Casper's Adjustable Bases and Metal Bed Frames, but they also attach easily to non-Casper bed frames and bases, which is what I have. They come in both queen and king sizes, and I opted for a queen.
As I awaited my new headboard's arrival, the one thing that made me nervous was the assembly, but to my surprise, putting this headboard together was actually a lot easier than I thought it would be. It arrived in a pretty compact box, and I was honestly unsure how a queen-size headboard could actually fit inside. Once I opened everything up, I realized that the headboard came in two pieces and needed to be put together. Inside the box, I found the two panel pieces that would make up my headboard, a headboard slipcover, two legs to attach the headboard to my metal bed frame, plus the bolts and tools I needed to put everything together.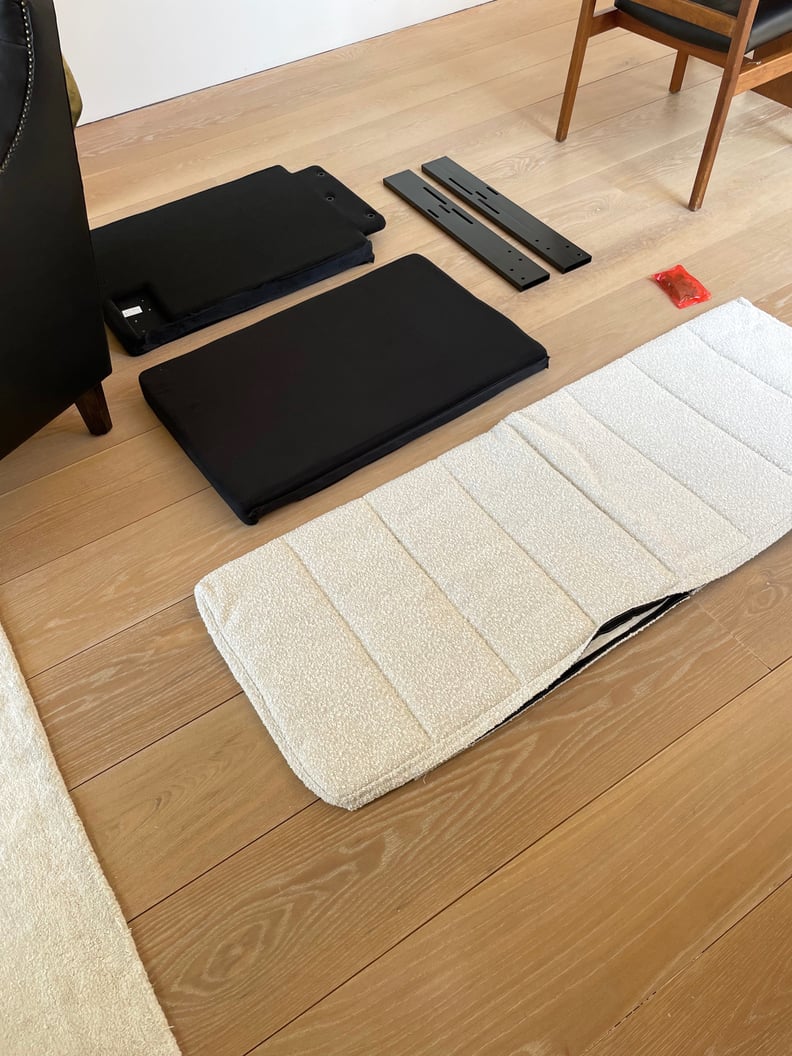 Although I thought the process of putting the headboard together would be daunting, I was actually able to put it together on my own in about 20 minutes flat. It came with everything I needed, so I didn't even need to dig through my boyfriend's tool chest. I put everything together downstairs on our dining room floor, and the only thing I needed my boyfriend's help with was carrying the actual headboard upstairs into our guest bedroom. From there, I was able to easily attach it to my metal bed frame using the tools that came with the headboard.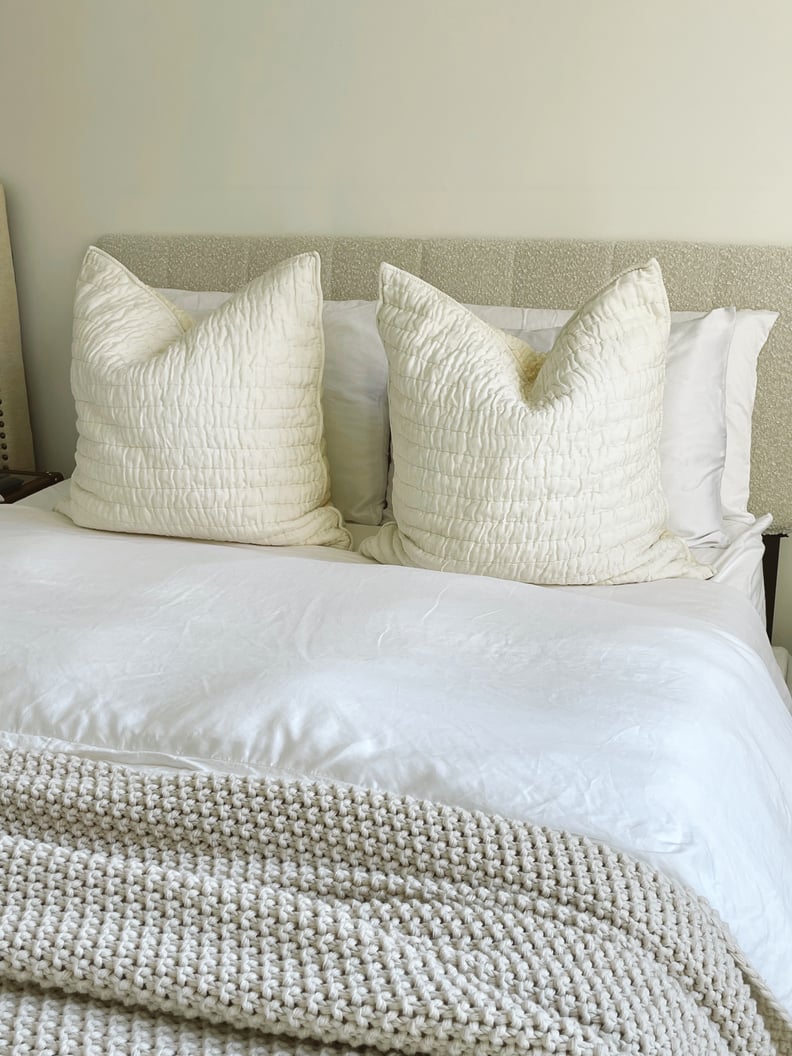 Once everything was put together, the bed was made, and we stepped back to survey the results — we were more than impressed. It was the perfect update to our guest room, and the new Casper headboard actually looked way better than the original headboard we had prior. Plus, the quality is unmatched. I could see and feel how sturdy the materials were when putting everything together. The slipcover is also incredibly soft, and if Casper comes out with any more furniture made from the same material, I'm definitely going to buy it. The headboard is a piece I'm going to have for years to come (as long as I don't stain it).