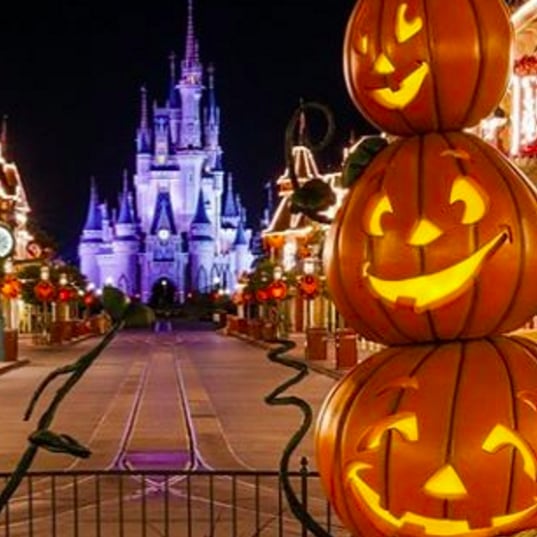 If you are looking for some new ways to decorate your home this Halloween season, Disney parks are a great source of inspiration for festive decor ideas. Around this time every year, the Disney grounds are magically transformed into a dazzling Halloween display for park-goers to admire and enjoy in the weeks leading up to the Fall holiday. While we wish we could be there ourselves, we have scoured Instagram for the next best thing: amazing visitor snapshots proving that a Disney Halloween is truly a one-of-a-kind decor experience. Read on to see more of this beautifully embellished space with 12 of the most influential images.
Fall Foliage
Smiling Mickey Mouse pumpkins are beautifully surrounded by Fall foliage wreaths all throughout the parks, an idea that can easily be applied to your home with a simple Pinterest project.
Poison Apple Cups
Disney's signature poison apple cups are sure to inspire several skeleton decor motifs around the home.
Cinderella's Halloween Castle
Your home can welcome trick-or-treaters in the same fashion as Cinderella's Castle with smiling stacks of jack-o'-lanterns, a bold yet effective decor move.
Spiderweb Balloons
The color orange may typically steal the show for Halloween, but these unique Mickey Mouse-shaped balloons make a great argument for shades of purple.
Oversize Mickey Mouse Pumpkin
It wouldn't be a Disney Halloween without a grand shout-out to the classic Mickey Mouse. While re-creating a pumpkin this size may prove to be quite difficult at home, an easy carving print-out will still achieve a similar vibe!
Halloween Scarecrows
Halloween scarecrows set up shop in various areas of the parks, serving as both a seasonal and startling decor element. Displaying your own scarecrow lookalikes in the yard will surely intrigue any idle passers-by.
Tons of Mums
A mix of mums in varying colors instantly conjures up feelings of both Halloween and Fall for the park's visiting guests, and this look can easily be mimicked in your own home after a visit to your local flower shop.
Festive Window Treatments
No stone is left unturned when it comes to jazzing the Disney parks up for Halloween — even the windows have custom orange and yellow treatments. We see you, Disney, we see you.
Light-Up Details
The usage of light elevates the park decor in the evenings, and it can also do wonders for your own home decorations, too.
Bright Pops of Orange and Yellow
We love how pops of bright orange and yellow can be seen draped throughout the Disney parks during this colorful time of the year. Sometimes, simple does mean better.
Pumpkin Patches For Days
Your front lawn can rival Cinderella's with a gorgeous, straight-forward patch of pumpkins.