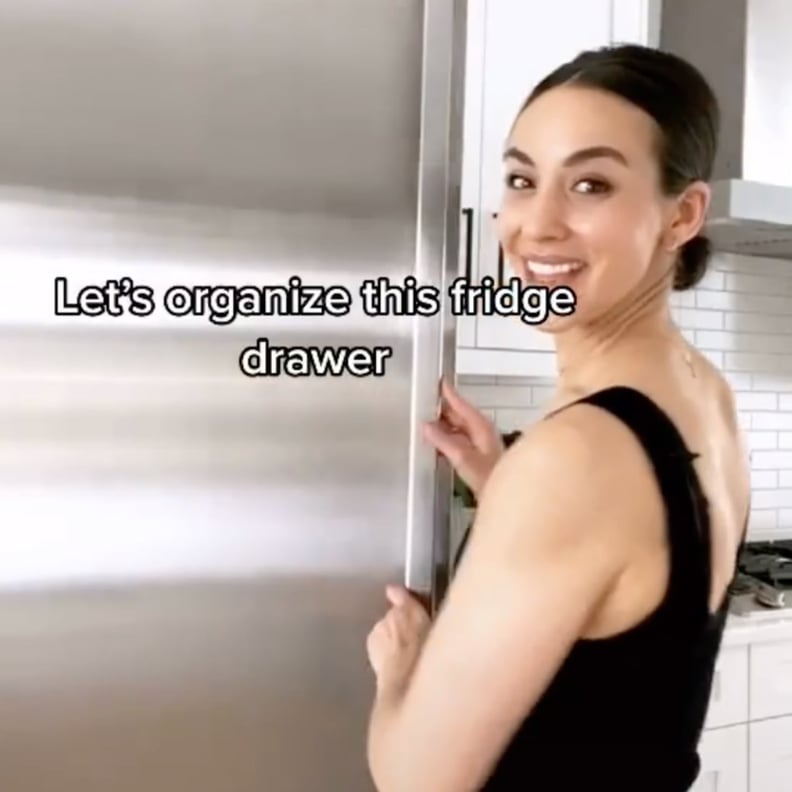 A clean house starts with the will to organize, and nothing's more intimidating than knowing you have a messy fridge to tackle. Expired food, pesky crumbs, and wrappers from meals past can come back to haunt you every time you attempt to look for a snack, making the thought of cleaning so much more daunting. But this spring, take charge and organize your fridge from the outside in with tips and tricks from TikTok users who know how to keep it clean. From how to arrange containers properly to where you can buy the perfect bins for produce, these videos will give you all the tools you need to organize — and most importantly, stay organized. Keep reading for some of the best fridge-cleaning secrets on TikTok.
01
Take Everything Out of the Fridge, and Spray It Down
To ensure you have a superclean fridge, take everything out of it (food, containers, etc.), and wipe down the inside of the fridge with an antibacterial or disinfectant spray. This will pick up everything from grime to gunk.
02
Buy Organizational Products
Most refrigerators don't come with extra storage bins that are necessary for staying organized, but you can get some at Target, The Container Store, Dollar Tree, and more. Label each bin to make it easier to know where things go.
03
Stack Containers on Top of Each Other
To save room in the fridge, stack products such as yogurt, dips, and Jell-O on top of each other. Put them in easy-to-organize bins to make them more accessible.
04
Organize Produce in Your Fridge With the Help of Bins
The best way to keep your fridge clutter-free if you have a lot of produce is by getting separate bins to house each fruit and veggie in. Complete with labels that tell you what each bin can store and a supercool lemon-juice spray bottle, @slyinspireme will motivate you to keep it fresh in the fridge.
05
Wash Produce Before Putting It in the Fridge
If you like to stock up on fresh produce, here's a great way to keep it organized in your fridge: wash it all first before putting it away so it's ready to eat. Then, put it in containers that are easy to access. You can also put milk in cuter containers (like these ones from Amazon) to give your fridge a cleaner aesthetic.
06
Take Grapes Off the Vine
Instead of throwing a bulky bag of grapes into the fridge, wash them and take them off the vine first. Then, put them into a clear container so you can see them and easily access them when you're hungry.
07
Add Labels to Sections of Your Fridge to Keep It Organized
Adding labels to certain areas and/or bins in your fridge will be super useful in keeping you organized. You'll know where to put the eggs, milk, and more after you use it when you have a label that makes things plain and easy to see. Note: this tip is especially helpful if you live with roommates, kids, or just someone messy!
08
Organize Food by Color
If you have a colorful selection of food in your fridge, it's time to color-code it! Doing this will not only make it pretty to look at but will also make it easier to put things back where they belong since you can identify where they should be based on the color.
09
Arrange Products by Size
To make the most of your fridge space, organize products by size. Put the smallest items on one side of the fridge and the largest on the other. Fill in the middle ground with items that range in sizes. Pro tip: copy @alexa_de and stack egg cartons on top of each other to save space.
10
Get a Lazy Susan to Hold Containers
Salad dressing, condiments, and loose bottles can be housed in a lazy susan inside the fridge. Not only will this save space, but it will also make them easy to grab when needed.
11
Keep Water Bottles in a Container
Instead of letting water bottles roll around the fridge, keep them in a container or bin. This will eliminate clutter and keep them right where you need 'em.
12
Buy a Bottle Pusher Glide
If you like bottled water, soda, flavored drinks, and more, you need a pusher glide. Not only will it remind you when you need to restock, but it will also keep bottles right where they belong.
13
Store Items Sideways in the Doors of the Fridge
Fridge doors offer additional spaces to store things. Sometimes the doors can get cluttered when you throw condiment bottles, milk, and other things there, so maximize space by storing items sideways, as shown by @zulaykhanaim.
14
Get Beeswax Wrap to Cover Fruit and Veggies
If you ate half an apple or have a kiwi you're saving for later, use beeswax wrap to keep it fresh. This kind of wrap is not as bulky as a container, meaning you have room for more items in the fridge.
15
Plan Out Meals
Keep your clutter at bay in the fridge when you plan out your meals for each week. This will help you use up food before it expires, thus not having to deal with a smelly fridge. Check out some great meal-prepping ideas here.
16
Use the Top of a Mini Fridge to Store Kitchen Items
If you're lucky enough to have a supercute mini fridge like this one, make sure to maximize it! You can do this by keeping kitchen must haves like coffee makers, tea pots, and more right on top of it. This way you can show off your cutest kitchenware all in one place.