I Tried Courteney Cox's Luxe Home-Care and Cleaning Brand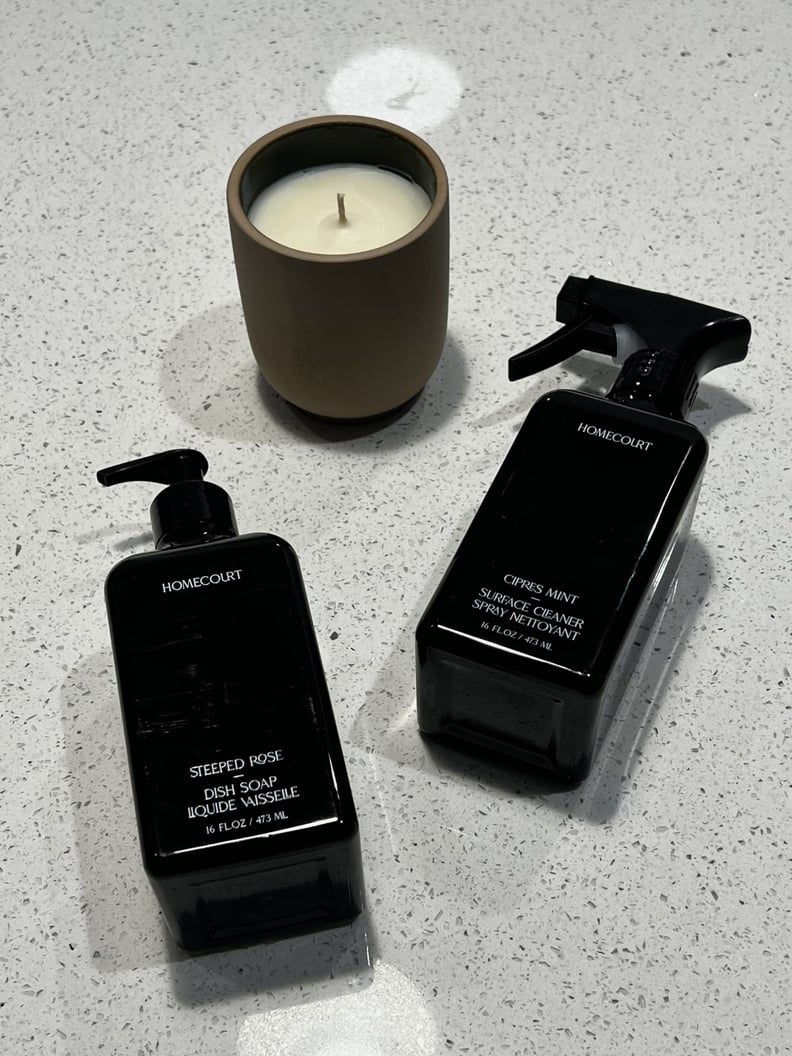 POPSUGAR Photography | Anvita Reddy
POPSUGAR Photography | Anvita Reddy
As POPSUGAR editors, we independently select and write about stuff we love and think you'll like too. If you buy a product we have recommended, we may receive affiliate commission, which in turn supports our work.
I'm a self-proclaimed neat freak. I spend nearly an hour or two every day making sure my home is pristine. I have to make my bed right when I get up, and my morning routine isn't complete without wiping down the bathroom counters and mirror. I can't go to bed unless the kitchen is spotless with dishes washed and the stove looks good as new. Just like Danny Tanner in "Full House," I vacuum my apartment almost every day. There's no one I relate to more than Monica from "Friends" when it comes to cleaning and staying organized. When I found out that Courteney Cox came out with her own home-care and cleaning brand, the inner Monica in me was elated.
Cox founded Homecourt as a way of extending self-care and wellness to your environment, essentially creating "beauty products for the home," as the brand's site states. She wanted to fill the gap between effective cleaning products that actually smell heavenly and look as good as they work. The nontoxic line aims to elevate home care, giving your daily chores a luxurious feel. For Cox and I, having a clean space is an act of daily self-care, so why not romanticize the process?! Cox is also a self-proclaimed clean freak, so I had high expectations for Homecourt's cleaning products.
What I Like About Homecourt:
Out of Homecourt's lineup, I got to try out the Surface Cleaner in Cipres Mint ($20), the Dish Soap in Steeped Rose ($25), and the Cece Candle ($60). Right off the bat, I was really impressed with the packaging. The surface cleaner and dish soap come in glossy, opaque black recyclable plastic bottles that are thick and sturdy. The bottles are made out of 100 percent post-consumer recycled plastic and equipped with reusable pumps. The packaging is so sleek and elegant, it's not going to see the bottom of my recycling bin. Instead, I'm going to reuse them and fill them up when I run out. Even the candle has a stunning natural vessel made out of clay that is kiln-baked.
The Homecourt Surface Cleaner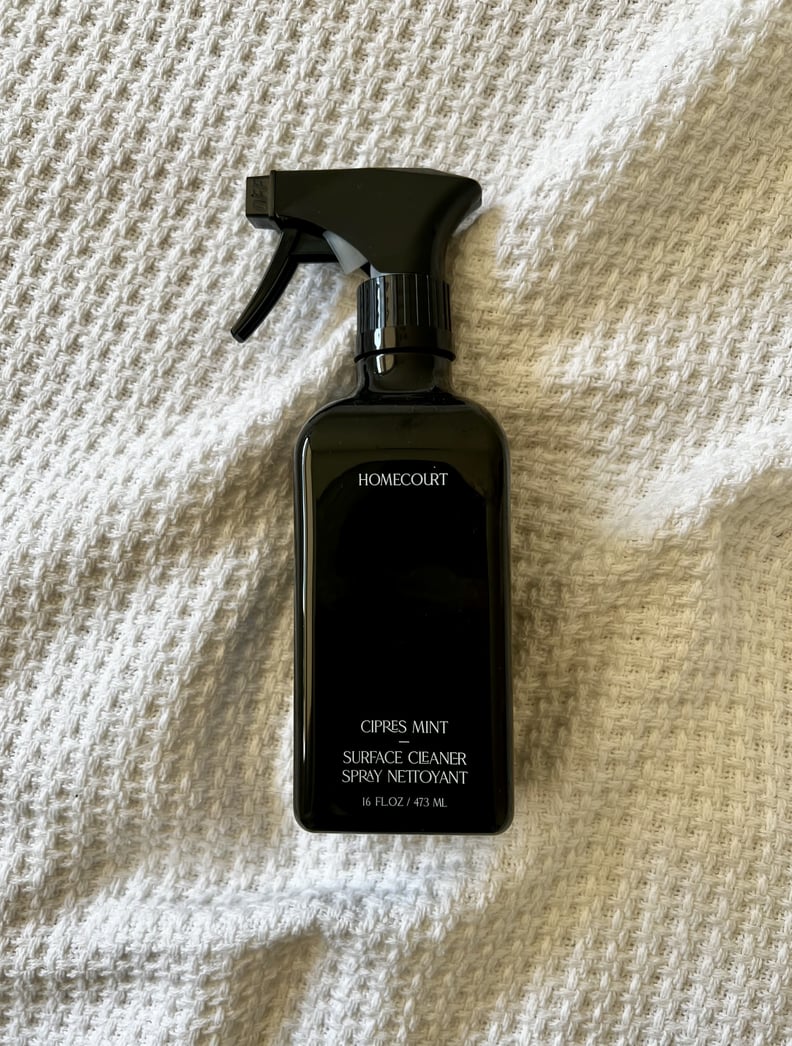 What I like about Homecourt's Surface Cleaner is that it's safe to use on many surfaces, including finished wood, tile, sealed stone, stainless steel, and granite. It even works on glass and mirrors without leaving streaks. With just a few spritzes, I can tackle and clean up spills, dust, crumbs, and even smudges. It's great for cleaning up grease and oil spots on stoves as well, as long as you let it soak for a bit. The cleaning solution contains a coconut-derived degreaser to help dissolve grease and Mediterranean cypress oil to help purify. Another thing I appreciate about this surface cleaner is how the scent lingers for a while. Any time I walk by a wiped-down surface, I get a subtle waft of minty, earthy freshness.
The Homecourt Dish Soap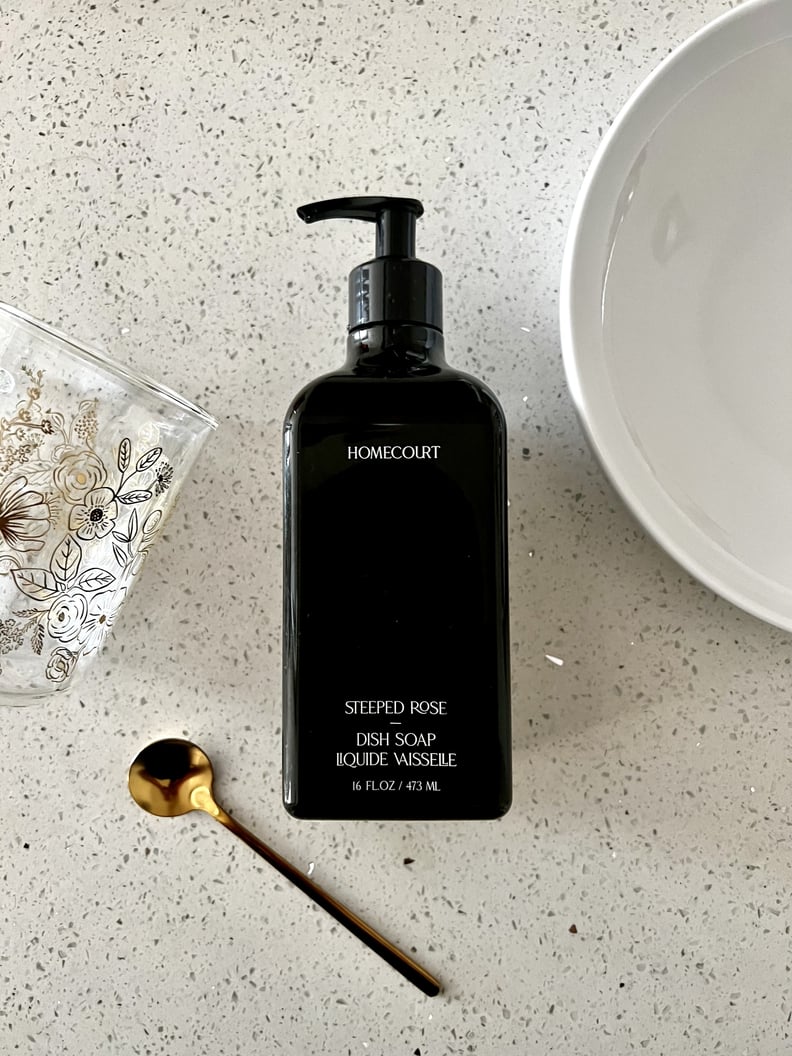 Homecourt's Dish Soap creates a rich foam with plant-derived surfactants that remove stuck-on food and thoroughly disinfect. A big thing to note with the dish soap is that it does not leave my hands feeling overly dry and stripped. The formula contains glycerin to hydrate the skin. The scent just fills the air around your sink to give you a sense of calm while doing the dishes. Another thing I love about this dish soap is that it leaves my glasses, dinnerware, silverware, pots, and pans looking shiny as ever. It effectively cleans and disinfects while giving my kitchenware a nice, sparkly finish.
The Homecourt Cece Candle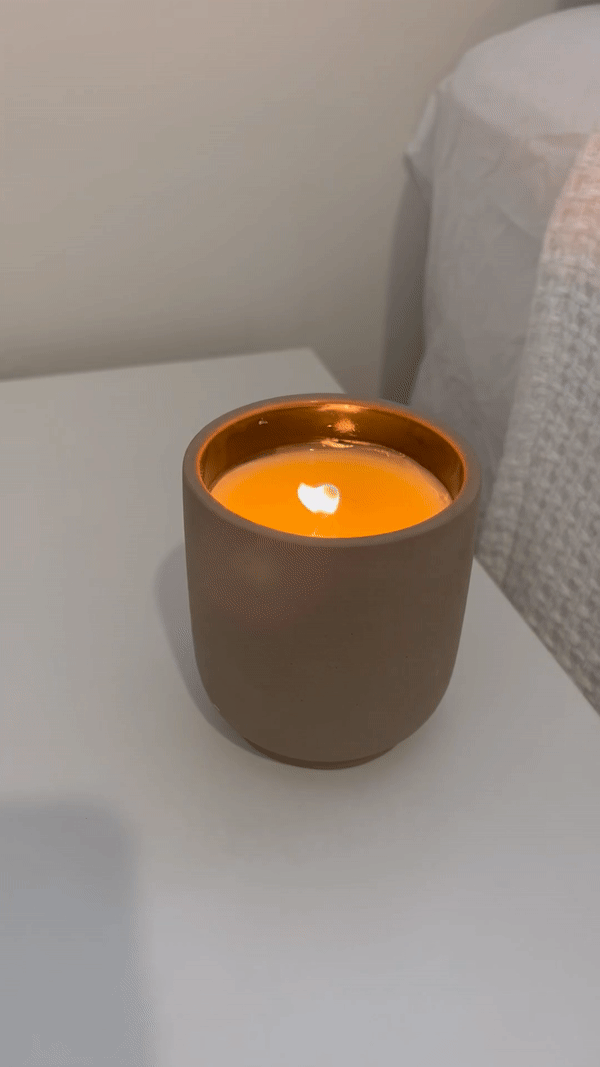 When lit, the Cece Candle fills my room with a wonderful scent, which is quite impressive since I have high ceilings. It's a clean-burning candle with an organic cotton wick in a soy-wax base. It has a burn time of 60 hours. The fragrance is so rich and decadent that it lingers throughout my space for a long time — we're talking 48 hours with only one burn. In fact, I only need to burn it for an hour or two. Plus, the clay vessel gives my surfaces and space a sophisticated look. It's a stunning, reusable piece that can go with a variety of decor aesthetics.
What's Worth Noting About Homecourt:
Although the line elevates my cleaning and home-care experience, I still have to turn to tougher and stronger cleaning agents for deeper, stuck-on grime. The line also doesn't have a shower cleaner or toilet cleaner yet, so I can't replace my entire cleaning routine just yet. The scents of the surface cleaner and dish soap last for a while, but they only last for about 24 hours post cleaning.
While using the surface cleaner, I find it best to use paper towels, lint-free cloths or towels, or a sponge to make sure your surfaces are spotless and shiny. The dish soap can be used as an effective overnight soak as well. Just add a few pumps to your sink or dish and fill it up with water. In a few hours, the stuck-on grime will slough off easily. You can reuse the candle vessel by removing the excess wax. You can use it as a decor piece, a vase, and even a teacup.
Who Homecourt Is Best For:
Homecourt is best for those who treat their home like their sanctuary. If you're also a clean freak like me, it's a great way to treat yourself and your home to something a little more luxe and sophisticated. It's something the homebody will appreciate and use and is perfect for gifting as well.
Is Homecourt Worth the Splurge?
The Homecourt line is pricier than the options you can get at the grocery store or wholesale stores. The quality and long-lasting scents of these products will make your home feel like a hotel experience. However, this is something that will make daily chores feel a little less stressful. Washing dishes won't feel so messy and off-putting when you smell a burst of fresh roses or the other calming, elevated scents. These are products you'll want to use all the time to keep your home clean, giving it the care it truly deserves. You'll look forward to your chores rather than dread them.
Additional Details:
The entire line comes in four core scents that complement each other.
Cipres Mint: This scent smells invigorating, earthy, and woodsy with a refreshing minty aroma. It has notes of eucalyptus oil, spearmint, black tea, white cedarwood, and Indian papyrus.
Neroli Leaf: This scent is crisp and bright with a fruity and floral blend. It has notes of sparkling apples, Brazilian green mandarin oil, North African orange flower, neroli blossoms, basil leaves, jasmine petals, and vanilla.
Steeped Rose: This scent smells exactly like freshly cut roses. It's light, uplifting, and sultry. It has notes of upcycled rosewater, Egyptian geranium oil, guiacwood, ylang-ylang oil, and vanilla.
Cece: This scent is a cozy, sultry scent that's fall in a candle but with an elevated flair. It's Cox's signature scent with notes of cedarwood, sweet cardamom, cinnamon, patchouli oil, vetiver oil, dried mate absolute leaves, and white leather.
Where Is Homecourt Available?
The Homecourt Surface Cleaner in Cipres Mint, Dish Soap in Steeped Rose, Cece Candle, and all the other products and scents are available on the brand's site.
Rating:
★★★★