8 Ways to Turn Your Bedroom Into a Floral Oasis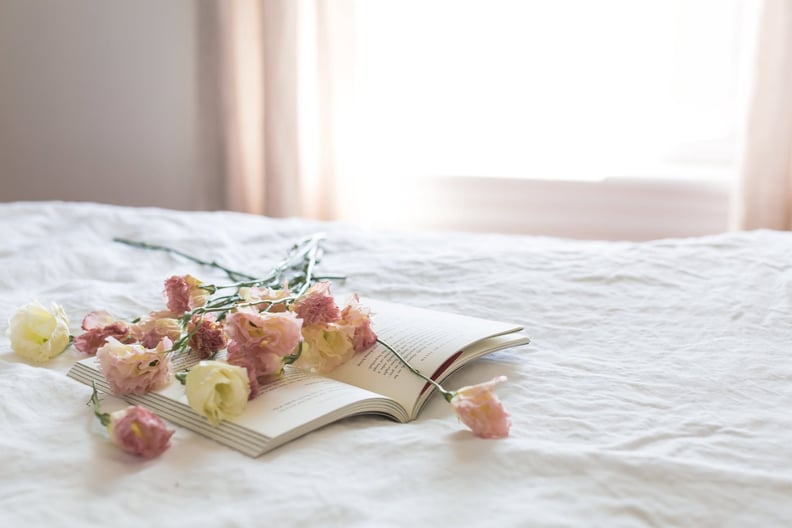 Pexels | Burst
As a child, my parents and I devoted a lot of our weekends to being outdoors, tending the yard and its garden of flowers. A lot of my most vivid and peaceful memories of growing up involve taking packs of pansies and softly planting them into soil. For many, flowers are not only a symbol of beauty — they enchant childhood whimsy, encourage care and responsibility, and simply brighten the world around us that can often feel dull.
While much of interior design in 2020 is circulated around muted shades, white duvets, and simple green houseplants, a touch of floral magic can bring life and color into your space. For me, I focus on my bedroom as a floral oasis. Be that through a duvet pattern, wall decor, or simply my real plants, flowers help transform a bedroom into a place of fantastical charm. Another bonus? Having such a bright and happy personal space can do wonders for your mental health. While I love to keep things vibrant, others might want to focus on pastel and muted ivory petals to be a more calming solution. Either way, here are eight ways to make your room a floral retreat from the real world.
01
Utilize Your Window Sill For Potted Plants
The window sill is a perfect area for potted plants because they're able to get sunlight for at least a portion of the day. For me, I love African violets as a potted plant, which are pictured above. These are pretty low-maintenance, and they can stay in their small pots for a long time. They come in a beautiful variety of hues, but my favorites are the purple ones. This is a great way to bring real, living, vibrant color into your room, and it gives you something to take care of, which can be very therapeutic.
02
Orchids Can Set the Decor Tone
Orchids are fabulous houseplants that require very little watering. In college, I had an orchid in my room, and I only had to put a little water in the pot once a week. Orchids are elegant, so they might be a flower of choice if you have a more minimalist aesthetic to your room. They, of course, also come in a beautiful range of pastel shades and have gorgeous blossoms. They're a fabulous houseplant to have, and they definitely bring floral oasis vibes. Just remember: you might have to water them a little more when the weather gets dry.
03
Hang Some Plants
Macramé plant hangers are perfect if you have very limited window sill space. I like to fill them with succulents (donkey tails are my succulent of choice because they cascade). Since these are exclusively green, I like to jazz up the arrangement by picking a brighter pot. While white gives off a clean appearance, I find myself partial to yellows and pastels. You can find these hangers across the internet at a variety of price points!
04
Pick Up Fresh Bouquets
Though fruits, veggies, and honey are obvious picks from stores and farmers markets, a lot of venues also carry beautiful bouquets of fresh cut flowers. An activity of self-care that I enjoy is buying myself bouquets (I deserve it!). Changing out a bouquet of flowers once every one to two weeks is a great way to avoid letting your aesthetic go stagnant, as you'll always be changing it up a little. If I'm seeking peace, I look for muted bouquets. If I want energy, I go for a brightly colored pink arrangement. Bouquets are great because they're not permanent, but they're real and add life to a room.
05
Make a Flower Wall
This video features a DIY on how to make a flower wall using real flowers, but you can get creative in many more ways with the same prompt! With fake flowers, you can make a hanging flower curtain. With fake ivy, you can make an ivy wall. Basically, just find a way that adding a piece of floral wall decor will work with your current space. It can even be wallpaper!
06
Do Something Handmade
If you're in the market for a new hobby and embroidery has caught your eye, you can certainly spice up your walls by using embroidery hoops as decor. Not only will this add a completely original flair to your space, you can also hand select the colors and kinds of flowers featured. I'm a sucker for bees, so I like to embroider those little dudes on my flowers to give it a personal touch. Again, this is a more permanent decoration that will still bring a floral touch to your space without necessarily coming with a plant-life commitment.
07
Put Blossoms on the Bed
Floral duvets and quilts come in a vast array of aesthetics and designs. The pictured duvet from Urban Outfitters is white with flowers scattered all over it, but other duvets will feature a simple pastel floral pattern. Find something that makes you feel peaceful and joyful, since it will be in your primary area of relaxation.
08
Make It You
Exploring blogs is one of my favorite ways to find decor inspiration. Floral decor is often considered exclusive to people who favor vibrant colors or pastels, but there are plenty of arrangements and fake flower DIYs that feature burgundy, navy, and black flowers for someone who enjoys a deeper palette or dried flowers for a more gothic feel. The most important part of creating a floral getaway in your room is to cater it to what makes you happy — otherwise, it's no getaway at all.