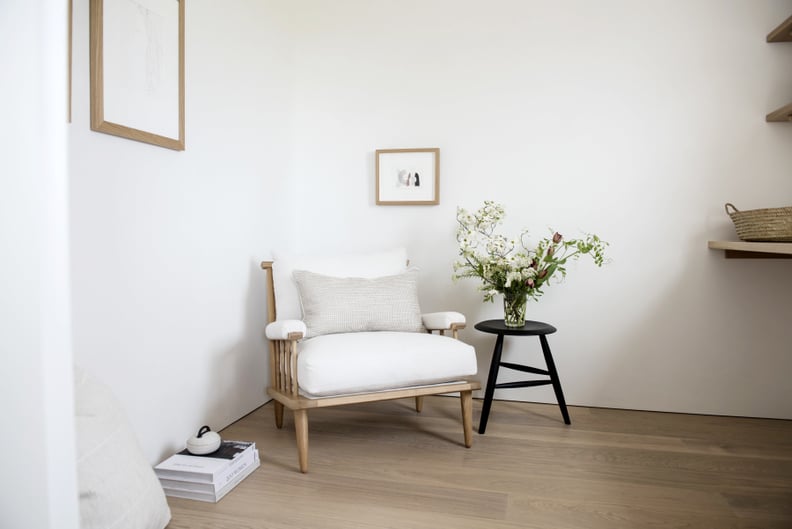 POPSUGAR Photography | Julia Van Arsdale
POPSUGAR Photography | Julia Van Arsdale
After four months of social distancing at my parents' house, it's finally time for me to return to my apartment. With concerts, rooftop gatherings, and most summer plans on hold, I'll be spending more time inside. That means I'll need to make the most out of my tiny space by keeping it tidy and bright. Instead of giving my apartment a deep clean once a month, I'll be focusing on simple tasks that I can accomplish every day. Scroll through to find my go-to tips for maintaining a clean home all summer long.
Use the Eye-Level Test
When cleaning surfaces, and in particular, kitchen countertops, I rely on this one hack to ensure every bit of dirt is gone. After wiping down the surface with Clorox® Clean-Up® Cleaner + Bleach, get down to eye level. You'll easily be able to see any bits of crumbs left on the countertop so you can wipe them away.
Disinfect the Doorknobs
Just think about all the hand traffic your doorknobs deal with: roommates, food deliveries, you name it. Now, more than ever, you need to clean doorknobs, light switches, and handles at least two times a week. Thankfully, it's a quick and painless task. All you need is some disinfecting spray and a rag. Wipe them down, then let them air-dry.
Don't Forget to Look Under the Furniture
Take a peek under your dresser and you'll be surprised to find lost pens, clothing tags, and a lot of dust. Instead of neglecting the floor space hidden away for months on end, clean underneath one piece of furniture every time you take out the vacuum or broom. This way, you'll prevent the buildup of dust, dust mites, and other unwanted bugs, all while keeping the air in your home fresh.
Clean the Toilet Every Week
It's the most dreaded chore in any household. But if you truly want to keep your home feeling fresh, then you'll need to clean the toilet every week. Yes, every. Single. Week. Luckily, it doesn't have to take a long time. Just grab a bottle of Clorox® Toilet Bowl Cleaner - Clinging Bleach Gel and a brush, then get to work. You'll be in and out of there before you know it.