Work Smarter, Not Harder, With These 8 Must-Have Upgrades to Your Cleaning Routine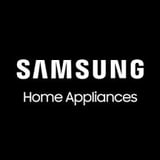 We've partnered with Samsung Home Appliances to help you streamline your routine and make the most of your time at home.
Cleaning supplies are one of those adulting purchases you don't really think about until you live on your own. Turns out, you need quite a few appliances and supplies to keep your home sparkling clean — and setting up your cleaning routine can turn into a real investment.
Choosing the cheapest option isn't always the right move, either. If you're making do with a 10-year-old hand-me-down vacuum or mop that's about to fall apart, you're not cleaning efficiently. To really level up your cleaning game, invest in these upgrades to streamline your routine — and save some precious time.