How to Sustainably Decorate Every Room of Your Home
Here's How to Sustainably Decorate Every Room of a Conscious Home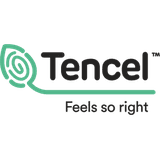 We've partnered with
TENCEL™
to help you learn how to decorate your eco-friendly home in a way you can feel good about.
When you're decorating your home, style isn't the only thing to keep in mind: eco-conscious shoppers will also want to consider the sustainability of every piece. Thrifting one end table or opting for sheets made from renewable materials might not seem like a big deal, but each of these individual choices add up.
Choosing the environmentally friendly option over and over again is really what it takes to decorate a sustainable home. Keep reading to pick up a few shopping and decorating tips that will come in handy, whether you're starting from scratch or revamping your space.
When you're looking for large pieces like couches and coffee tables, shop for secondhand and vintage options whenever you can. Giving previously owned furniture a second home extends its life span, getting as much use out of it as possible. Browse local thrift shops and antique stores in your town, or look online at sites like Chairish, AptDeco, and Etsy.
Keep sustainability top of mind when shopping for smaller accent pieces, too. In addition to thrifted finds, you might look for pieces made out of recycled or sustainable materials. That could mean brand-new products like rugs made out of eco-friendly TENCEL™, or one-of-a-kind pieces made from reclaimed wood, broken furniture, or junkyard metal.
The same rules for large furniture pieces apply to the dressers, bed frames, and coffee tables in the bedroom. Of course, you also have to consider all of the textiles. From sheets to pillows to quilts, all of the fabrics used have an environmental cost. Choosing sustainable products made out of fibers like TENCEL™ — an eco-friendly material made of cellulosic fibers — can help reduce the environmental impact. Not to mention, TENCEL™ bedding is soft to the touch and absorbs moisture more efficiently, keeping you cool while you sleep. Look for bedding made from TENCEL™ branded Lyocell fibers at retailers like Pottery Barn, West Elm, and Williams Sonoma.
In the bathroom, sustainable decorating is all about reducing excess waste. So much of the typical bathroom routine uses single-use items like cotton balls and makeup wipes. Instead, seek out reusable and refillable products, like a durable cotton-swab alternative or refillable hand-soap kit. That extends to toilet paper, too: installing bidet attachment on your toilet can greatly reduce your TP consumption. For the linens, keep an eye out for eco-friendly TENCEL™ Lyocell fibers in everything from bath towels to mats. TENCEL™ towels are strong enough to withstand repeated wash and dry cycles without losing softness, making them a perfect choice.
If you're remodeling or building a kitchen from scratch, you have an opportunity to really design an eco-conscious space. When you're choosing materials, look into sustainable options like renewable bamboo, reclaimed wood, scrap metal, and post-industrial plastics and paper. You can rely on vintage and antique pieces for your dining-room table, kitchen island, bar stools, and so on instead of buying brand-new furniture. For appliances, look for the energy-efficient Energy Star label to conserve water and power.
Once you're ready to fill those cabinets, choose quality over quantity. Instead of stuffing the drawers with junky gadgets you'll only use once or twice, carefully select a few high-quality hero pieces that you'll use for years to come. Think steel canisters for storing bulk foods, glass jars for leftovers, and cast-iron skillets for everything from fried eggs to roasted veggies.