Jiggy Puzzles Are a Great Way to Bring Friends Together, Because You're Gonna Want Help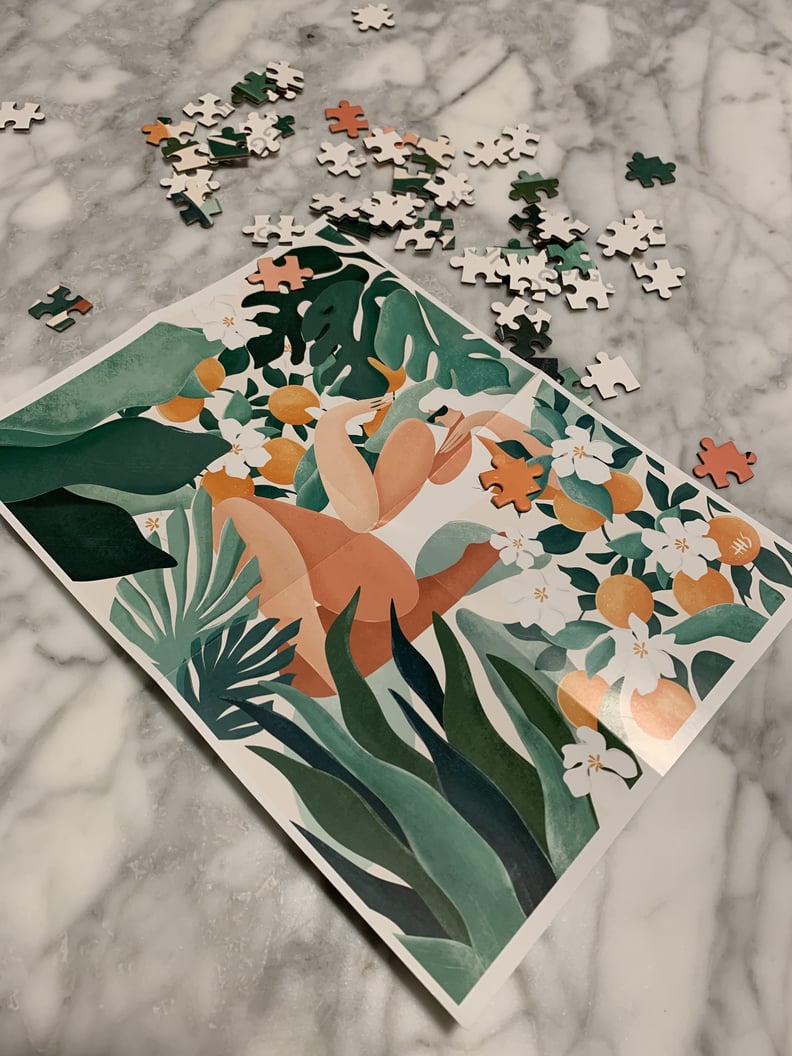 POPSUGAR Photography | Kelsey Hurwitz
POPSUGAR Photography | Kelsey Hurwitz
As POPSUGAR editors, we independently select and write about stuff we love and think you'll like too. If you buy a product we have recommended, we may receive affiliate commission, which in turn supports our work.
Jiggy was my Everest. At 800 pieces, the puzzle seemed like a conquerable feat, but the journey to placing that final piece involved more snack breaks, patience, and adaptability than I could've anticipated. Instead of relying on ropes and carabiners, I relied on a Spotify playlist of the Supremes, a series of early 2000's flicks (I'm looking at you, Charlie's Angels), and most importantly a group of friends who helped me complete the puzzle. In the end, it was just as marvelous as the view from the highest peak — not that I would know, I'm definitely not a hiker.
There is so much to love about Jiggy puzzles. The woman-founded company highlights the work of emerging female artists who get a percentage of each sale, they make quality puzzles, they send you everything you need to turn those puzzles into display pieces, and everything ships carbon neutral. We love an eco-friendly activity.
The puzzle that I assembled is called Plants Over Plans ($49), and was designed by Maggie Stephenson. I love that each puzzle tells you who the artist is behind the piece. It creates a greater sense of connection to the project, and helps you find cool artists whose work you might not have known about otherwise.
I will say, I am by no means a puzzle expert. In fact, I think my puzzling reputation is more one of fatigue and frustration than domination and expertise. But like many people, I dabbled in the art of puzzle assembly during the deepest phases of lockdown, and I do on occasion enjoy having something to do with my hands while I play a movie I've seen a thousand times in the background. There's something about feeling like you're building, like you're creating something from nothing that truly satisfies about puzzle-making. So though I'm not an every day puzzle kind of gal, I do enjoy sitting around the kitchen table with a group of friends and occasionally being celebrated with a high-five when I fit the correct piece into place.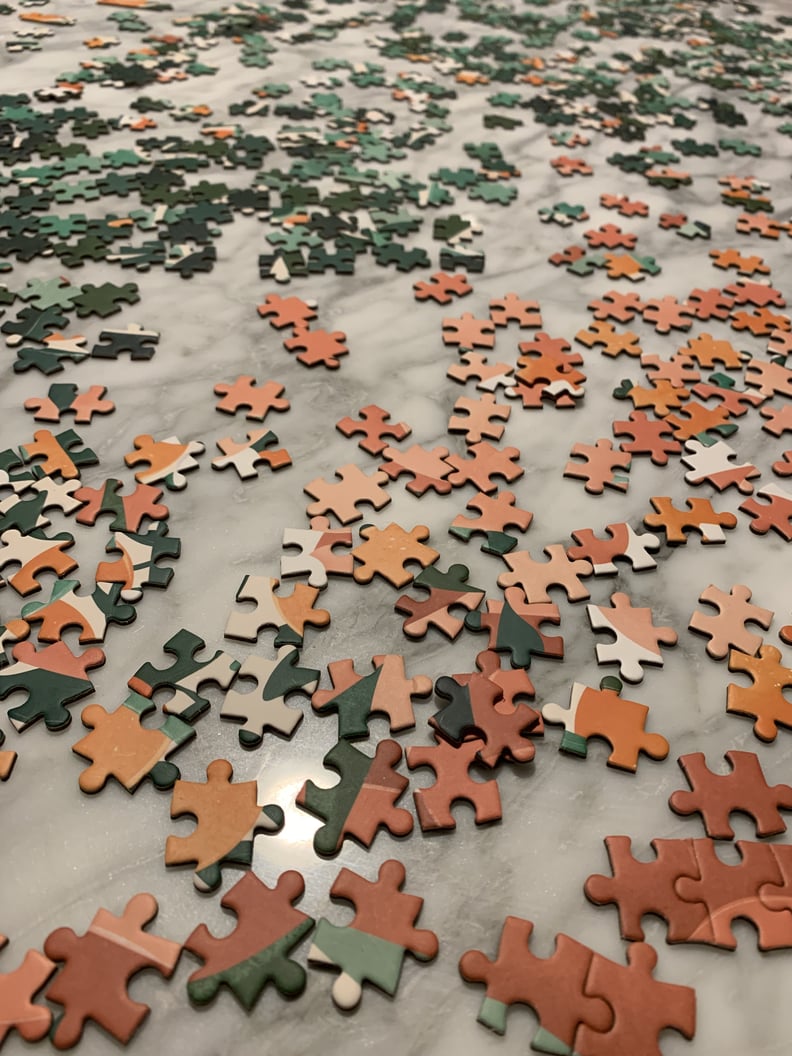 Yes, the puzzles are a bit expensive, especially when compared to my usual source of puzzles — garage sales and secondhand shops — where you can get them used (and often missing a couple pieces) for a few bucks. But I think if you look at the experience more as assembling a piece of art than simply your average puzzle, it's easier to wrap your head around. After all, each of these puzzles comes with special glue to lock the pieces into place after assembly, which means the transformation from activity to wall art is pretty seamless.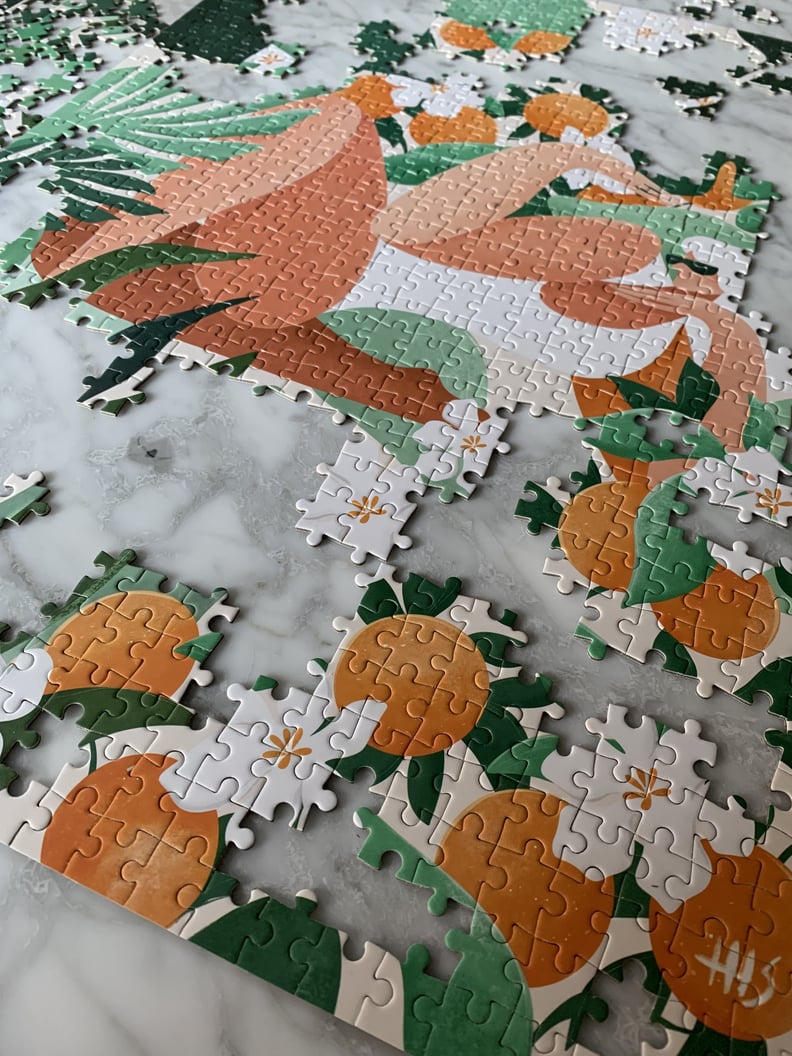 For serious puzzlers, there is the Jiggy Puzzle Club, a monthly subscription where each month you'll receive a 500-piece puzzle that was designed specifically for club members. I certainly don't have the patience or fortitude to commit to a monthly puzzle, but if I find myself in need of a snowy day activity or if I want to decompress after a long week, I'll definitely go back to my Jiggy puzzle. Whatever your level of puzzle expertise, it's the perfect excuse to gather together some friends, since if you're anything like me, you're gonna want some help with this.