With vaccinations on the rise and summer right around the corner, we're hoping to see somewhat of a return to "normal" life in the near future — and if there's one thing it seems people can get excited for again, it's hosting (safely, that is). Whether it be a backyard cookout or a game night with friends, we know we can count on Shea McGee to give us some great advice. The designer of Netflix's Dream Home Makeover and Target's Studio McGee and owner of McGee & Co knows what it takes to make someone feel welcome — she does it for a living! POPSUGAR chatted with Shea, who is currently expecting her third child with husband Syd, about her new collaboration with Airbnb on her "Designed to Host" online experience, and she also gave us some hosting tips for ourselves; hint: it's all about the trays.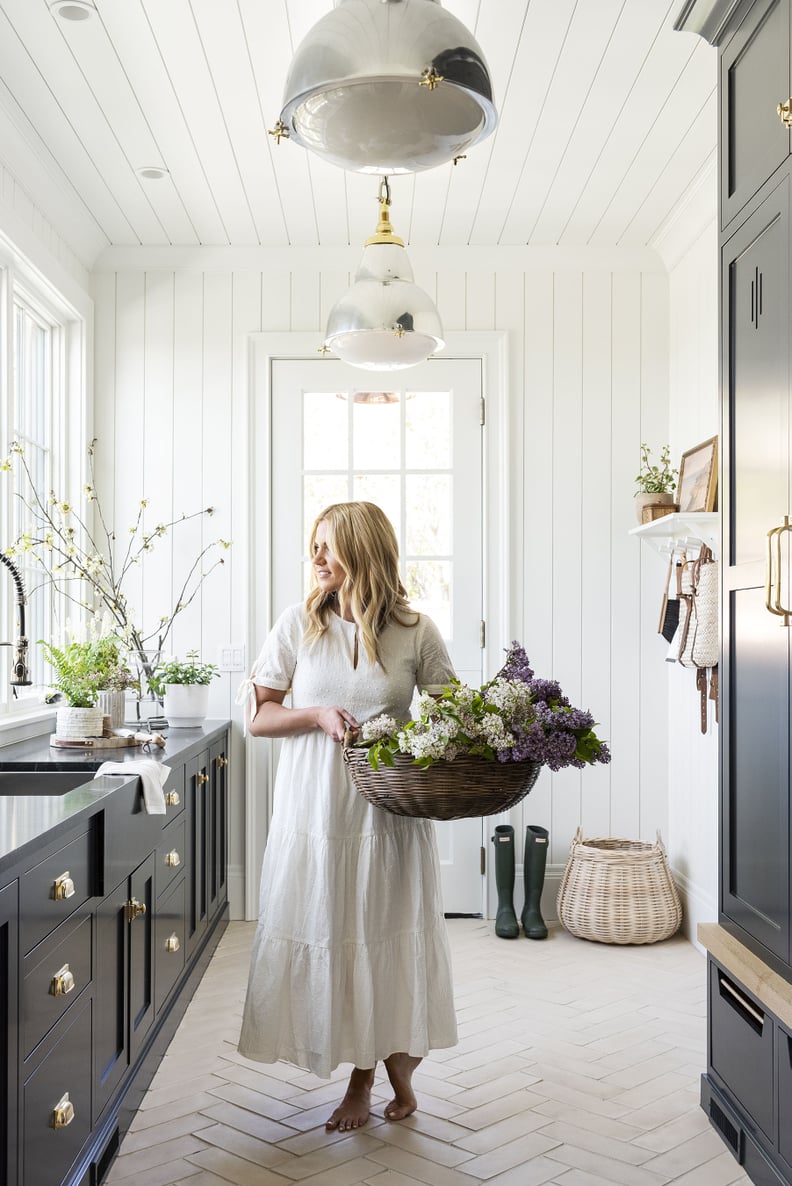 POPSUGAR: Hosting can be overwhelming; do you have any tips for people hosting their first gatherings?
Shea McGee: I think that hosting isn't necessarily about going over the top but is about paying attention to the actual experience. So when I stay at Airbnb and I go into the room and get into bed at the end of a long travel day, it's not necessarily about the pillow combination on the bed as a designer, it's more so, "Does this bed feel good?" So I think that paying attention to the quality of textiles and just having amenities that make people feel at home are what make a really enjoyable experience.
PS: What from the Studio McGee line at Target would you recommend for hosting?
SM: Trays. I'm all about trays. I think that they're good for appetizers, you can carry them around and put them on a coffee table, and even if you don't have a huge, giant table, you can use a tray as an opportunity to create a surface for putting flowers or drinks. So yeah, we have a couple of trays out, and I think we have another one coming out soon. They're my go-tos; I love a tray.
PS: Do you have tips for decorating a tray, or is it better used as a functional item?
SM: I say you put one pretty thing on a tray, and you fill the rest in with the functional. So you know, if you can fit in a little vase with flowers or a candle or something that is more elegant, the rest can be used for more functional purposes like coffee-table books, remotes, or if you're entertaining, use that as a place for drinks.
PS: Bar carts are very popular right now. What are your biggest tips for decorating them?
SM: The great thing about bar carts is that liquor and alcohol can be beautiful if they're in great bottles. [I suggest using] really cool glasses, and think about corralling things in areas so that all the glasses are in one area instead of spread out throughout the bar cart. Use little dishes and trays for limes and things that add some color, because I think the items that you're using can be colorful and add to the decor as well.
PS: When you are staying at different places, what stands out to you the most?
SM: You want to feel like you're at a home away from home, so putting importance on where you rest your head at night is really big. Also, I think that keeping it simple is easy to do and people enjoy walking into a space that feels clean . . . less is more when it comes to hosting. Also, just having a few comforts of home . . . I love it when Airbnb hosts have thought about a tea kettle or whatever it is that makes it an easy experience.
PS: How has your life changed since the Netflix show Dream Home Makeover?
SM: I think that over this last year, it's kind of interesting. We didn't do the traditional media tours because I haven't been out, but we have been able to connect with people from our own homes. I get recognized at the grocery store, that's changed for sure — I need to look at myself in the mirror before I go out! But most of our connections this past year have been an online fan base growing from around the world. That's been the incredible thing about the reach of the show is that it's been so international. It's cool to think about what we have in common. It doesn't matter where you're from, we're all interested in making a house feel like a home.
PS: How have you juggled family life with your growing businesses?
SM: Oh yeah, you know [laughs], it's always a juggling act, but it's good. I'm excited and a little bit nervous, of course, but right now we're managing.
PS: When can we expect season three of Dream Home Makeover?
SM: So we just announced recently that we'll be doing a season three, which is really exciting. I'm due this summer, so the season will start filming again in just a few weeks. So you'll be following that and a nursery reveal probably — lots on the horizon!