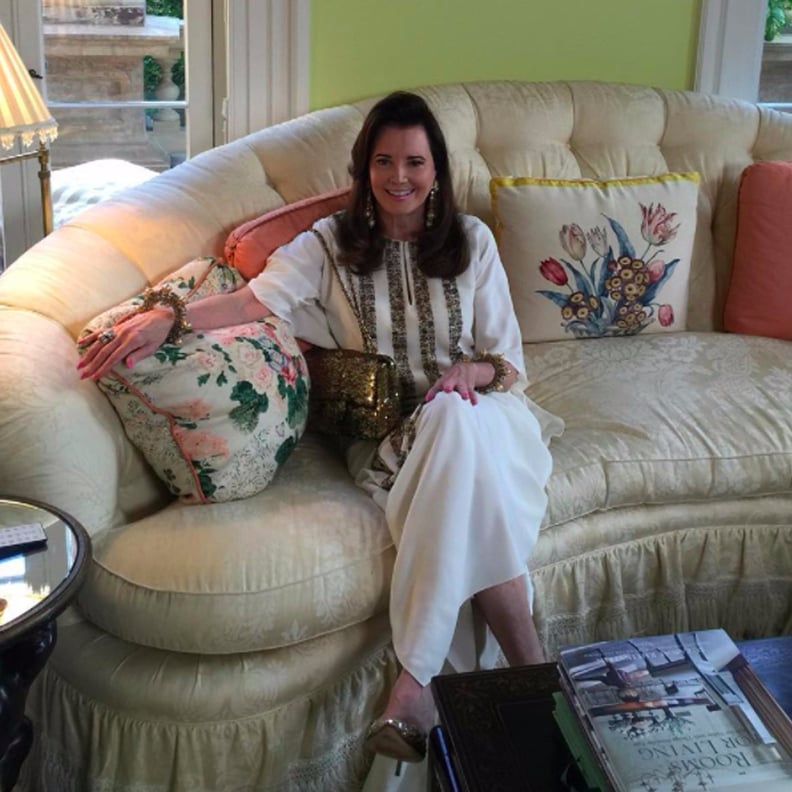 When it comes to Bravo's hit series Southern Charm, it is definitely safe to say that matriarch Patricia Altschul always knows best. From party planning, to dinner parties, and even down to how to make the perfect dirty martini, Patricia has proven that she is the prime example of Southern elegance and class. And while we have been gifted little snippets of her historical Charleston, SC, home on the show, we were still curious to find out a little bit more about Patricia and her impressive home style. Read on as we have searched her Instagram for the most over-the-top design tips straight from our favorite Southern belle.
Bright Colors
This sunny yellow paint hue proves that Patricia is definitely not afraid to keep it bright and bold.
Patterned Drapery
Patricia's home is filled with tons of gorgeous prints, and we especially love this elegant pattern she chose for her drapery. (Sidenote: her pup modeling that little cap is also equally eye-catching!)
Gorgeous Crystal Chandy
A Southern home wouldn't be complete without a showstopping crystal chandelier, and this piece hanging in Patricia's dining room is truly exquisite (and we are loving the Easter decor, too).
French Dog Bed
Based on the over-the-topness of this 18th-century French dog bed, we have to assume that her pups are absolutely living the life.
Blue & White
Is there anything more traditionally Southern than the pairing of blue and white? From the vase, to the wallpaper, even to the dog cushion, it works for all kinds of decorative accents.
Front Door Swag
We all know and adore Patricia's Southern hospitality, and this pineapple wreath is the perfect way to welcome guests into her fabulous home.
Cozy Lighting
Patricia's sitting room comes equipped with just the right amount of cozy lighting, making this spot the ideal place to sip some wine and chat with her guests.
Floor-to-Ceiling Windows
Our idea of a perfect afternoon is sitting on this couch in Patricia's home, enjoying the gorgeous sunlight pouring through these floor-to-ceiling windows.
Casual Patio Furniture
Patricia's casual patio furniture is comfy enough to house all of her favorite co-stars for an afternoon martini.
Pristine Upholstery
We think we speak for everyone when we say Patricia hands down wins the award for most pristine white couch ever. It is seriously flawless!
Lush Greenery
Please pause for a moment to take in all that is Patricia's backyard. Clearly, nothing complements a pool quiet like tons of lush, vibrant greenery.
Dark Wood
Furniture in darker wood typically creates a more traditional vibe, and this beautiful piece is no exception. While we are on the subject, we have to wonder just how many amazing antiques Patricia has displayed in this home.
Stacks of Coffee Table Books
Like many of us, Patricia too is a fan of stacking coffee table books to add an additional cozy element to her sitting area. We think we even spy her own book on top!
Green Shutters
The shutters on the outside of Patricia's home make us green with envy! What a way to add to the already gorgeous curb appeal of this home.
Striking Columns
The architecture of Patricia's home is so classically Charleston, and we can't get enough. Plus, this porch is made for displaying patriotic decor.
Dream Pool Yard
With a dream pool yard like this, it isn't hard to understand why Patricia is truly the hostess with the mostest.
Prints on Prints on Prints
Patricia proves that a Southern lady can simply never have too many prints, showcasing a mix of florals, stripes, and polka dots in this adorable living room.
Stocked Bar Area
Our favorite Southern matriarch loves a dirty martini, but we can only imagine what other types of drinks her butler can concoct with such a striking bar area like this.
Bold Fireplace
While a majority of Patricia's space is filled with patterns and bright colors, this bolder and more reserved fireplace shows a different side to her home style.
Over-the-Top Flower Displays
Patricia is certainly no stranger to hosting a party, and this over-the-top flower display makes this party table all the more alluring.