Source: Sean T. Smith / David Nicholas

Freeform's Party of Five is bringing out all the feels. We teamed up to premiere the first episode of the new show and hosted a panel with the cast to highlight the importance of diverse representation on TV and get the inside scoop on everything to expect this season.
I remember struggling with my identity when I first moved to the US. Should I use my American-sounding nickname Gracie, or introduce myself as Maria? For a while, I thought blending in meant changing who I was, without realizing diversity is one of the biggest strengths of this country.
Now it's almost a decade later, and this sentiment is stronger than ever. We're seeing major changes in the music we listen to, the food we consume, and the TV shows that are being made.
Freeform's Party of Five is just that — a celebration of diversity, a story about immigrants who came to this country with a dream to find a better life, to thrive, and to provide the best for their family. Immigrants who never forgot where they came from and made sure their children knew so they, too, could be connected to their heritage.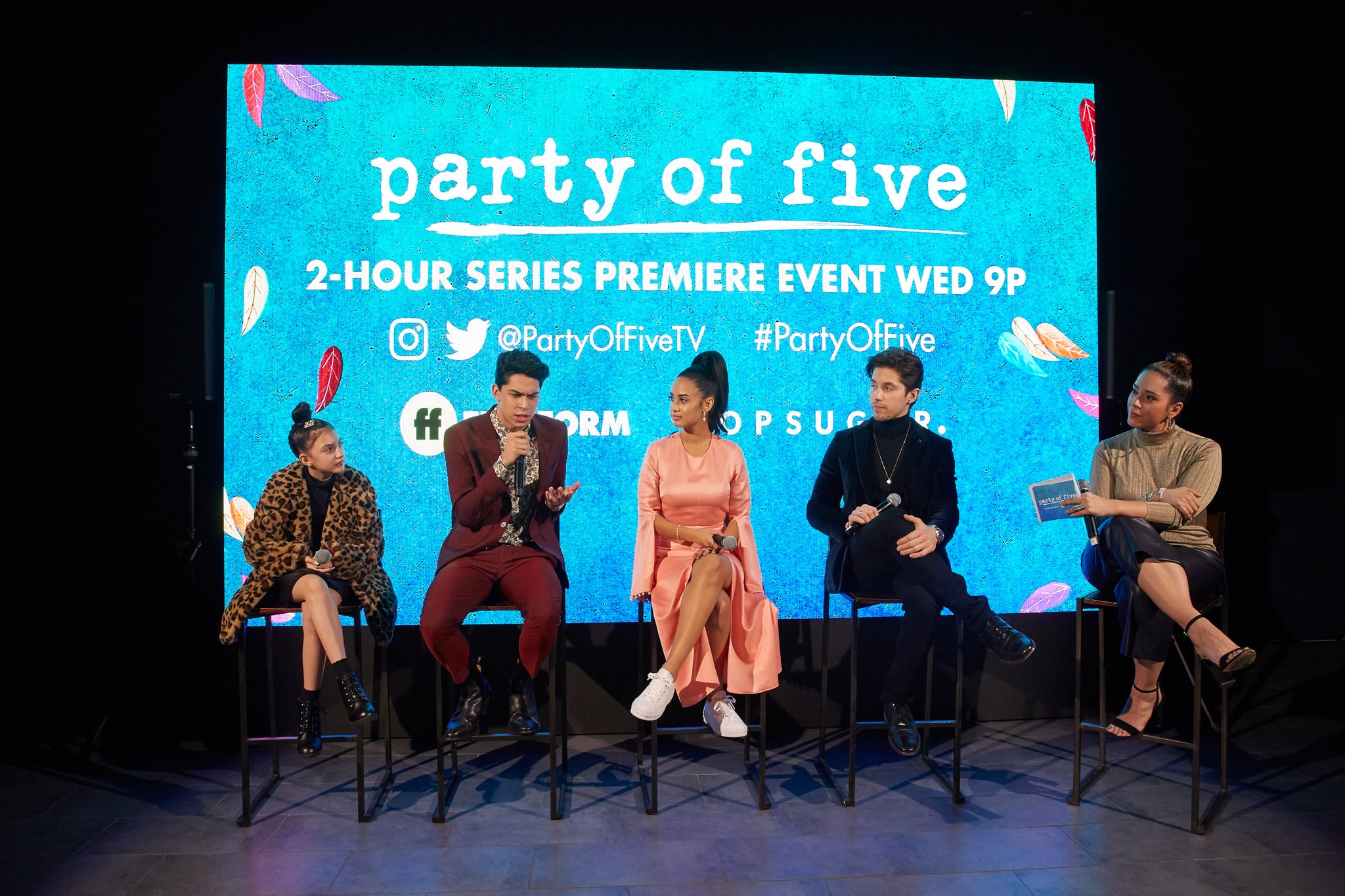 While the premiere episode takes an unfortunate and heartbreaking turn when Javier and Gloria Acosta, parents of five, get deported back to Mexico, it also teaches us how resilient immigrants can be and how, with the support of our family, we're able to find the light at the end of the tunnel.
I got a deeper appreciation for this show at the premiere event hosted by POPSUGAR when, after crying my heart out watching the first episode, I sat down with the four oldest Acosta siblings: Brandon Larracuente (Emilio), Emily Tosta (Lucia), Niko Guardado (Beto), and Elle Paris Legaspi (Valentina). We had an insightful panel discussion and got the inside scoop on what to expect from Freeform's Party of Five. Mingling with the Acostas in the flesh gave us all the feels.
This group of extremely talented Latinx actors play complex yet very relatable characters and are wise beyond their age. They gave me and the incredible audience a deeper look into the show and their characters. Here are the main things I learned, directly from the actors themselves.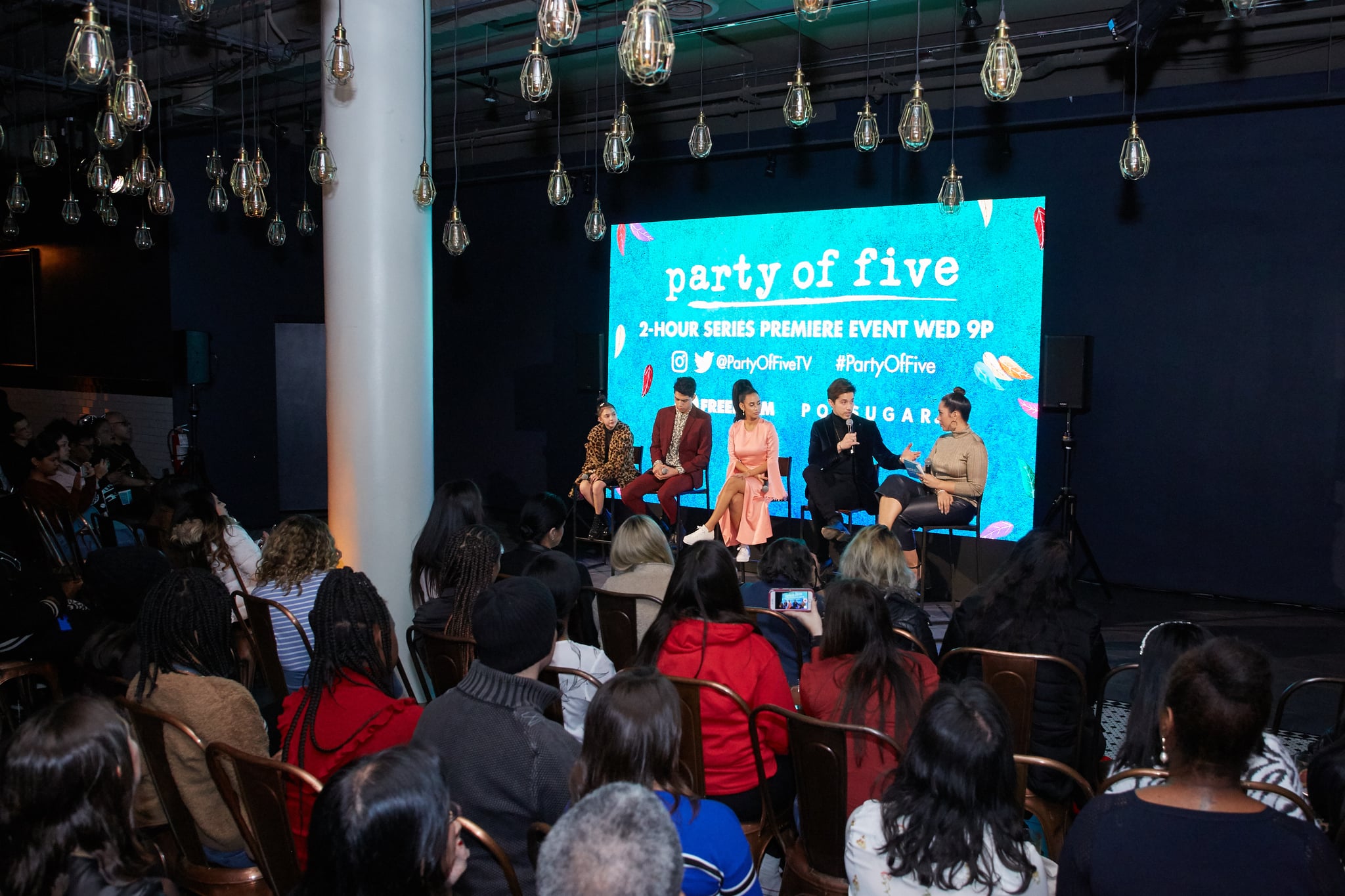 Bringing Awareness to Something That Matters
"This show is incredibly relevant because it's happening right now, in this country," Tosta said. "Every single day, our families are being separated and there are kids being taken from their parents. We read it all the time, and it's very sad. So I think it's extremely important that we get to portray these characters and that we get to shine a light and bring awareness to something that matters. I think it's something that TV and film needs more of, and I'm honestly so proud and happy that we can take that step forward to talk about topics like these."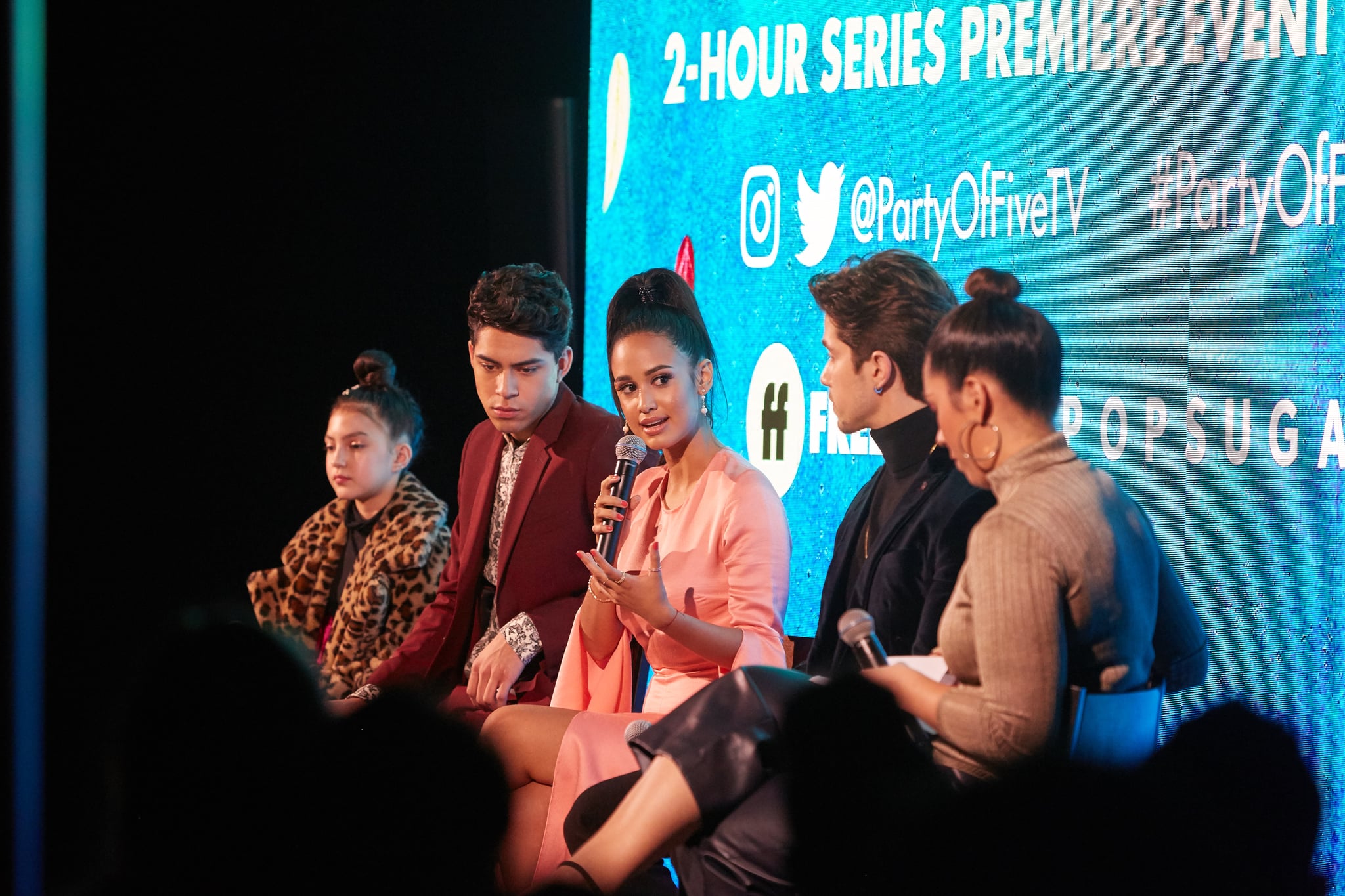 Staying Truthful to the Current Reality of Immigrants
"There's this one scene that I probably shouldn't talk about, but it was actually something that happened in real life, and the writers and creators took that straight from the news," Tosta said. "They're not ashamed of it and they're not afraid to do that. And that brings so much realness and authenticity to the show, which is important."
Chemistry That Transcends the Screen
"When we were auditioning, there was just so much chemistry that it didn't feel like an audition," Guardado said. "It's going to sound so cliché and corny, but it was literal chemistry. You can't explain it, you just felt it. And with Emily, I go to her with a lot of stuff in life, personal stuff. She truly has become my twin."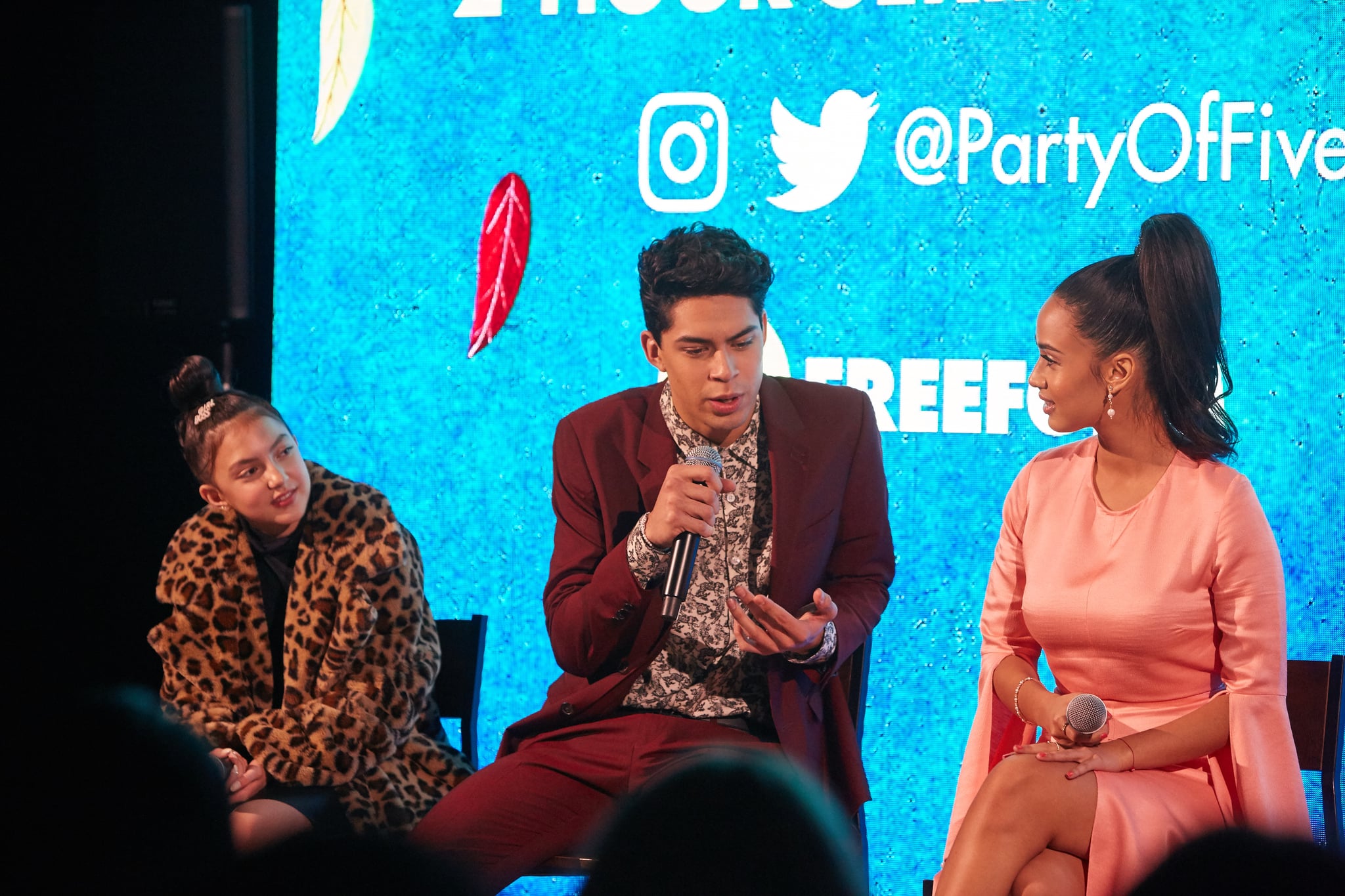 Redefining Your Latinidad
"I've always been proud to be Latino, but I think this show has made me a lot prouder that I want to scream it through the rooftops," Larracuente said. "I shouldn't be ashamed of who I am, who my grandparents are, and all the hard work they put in in order to get me to this point in my life, to be able to portray these characters to hopefully inspire the next generation. So, if anything, it's made me more comfortable in my own skin."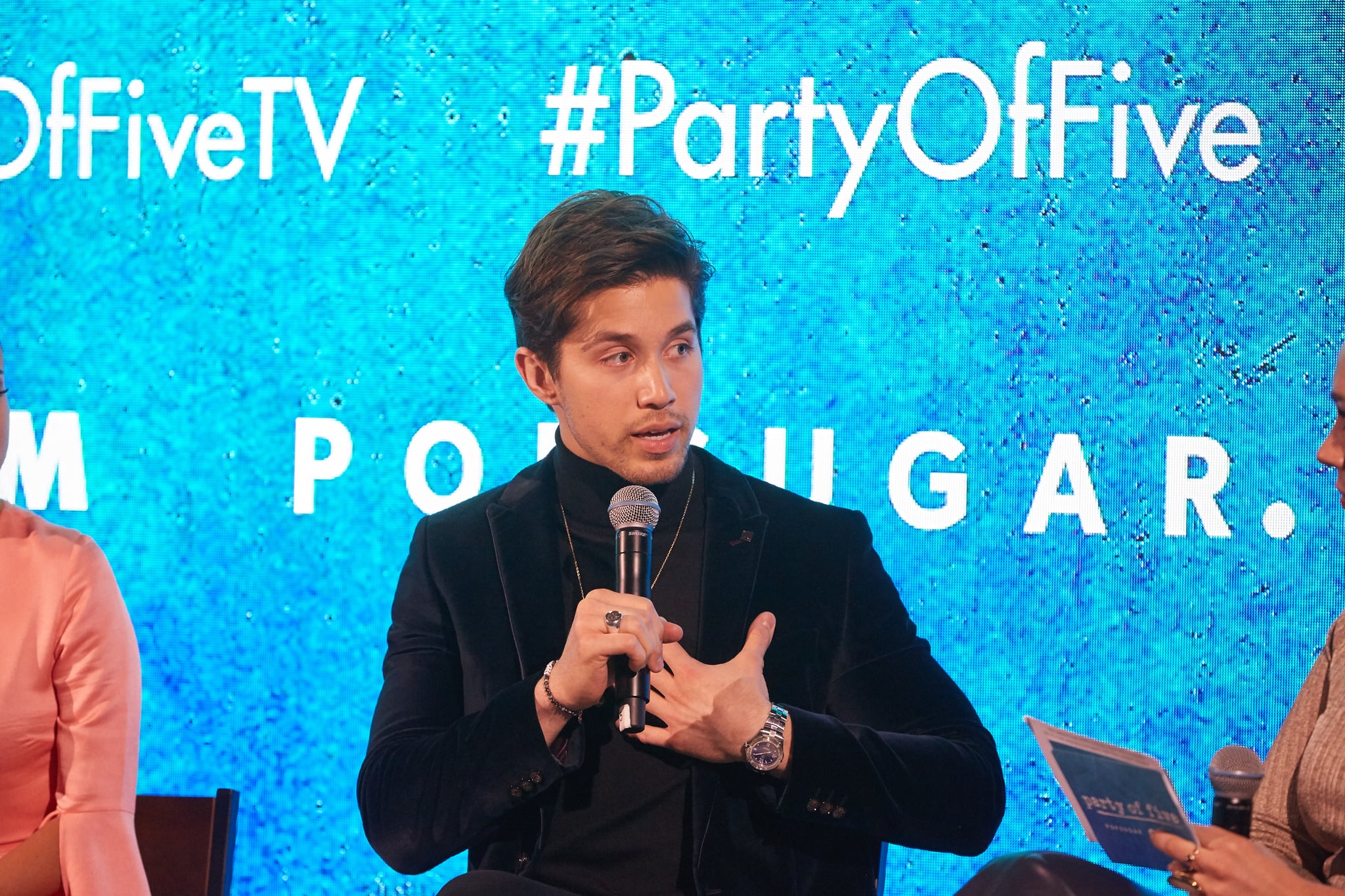 "I don't speak Spanish, but I think this show has brought me so much closer to my culture," Guardado said. "I was on a different side of the culture. My grandparents came here and were frowned upon. They were told, 'You're in America, speak English,' which is unfortunate. Being around Brandon and Emily and the rest of the cast and crew that speaks Spanish, I start to learn it every day and I just feel so much closer to my roots."
Complex Characters We're Rooting For
"The thing I love about Lucía is that she's not afraid to speak her mind, you know? I think out of everybody in the Acosta family, she's the one who's the bravest," Larracuente said. "She's not afraid to say what everyone else is thinking. My favorite thing about Beto has to be that from the very beginning, there wasn't a question in his mind. He said, 'Yes Mami, we'll handle this,' whereas my character, Emilio, was a bit hesitant and selfish because he's out there chasing his dreams of being a musician. Valentina is the anchor, she's our foundation. At the end of the day, we all come home to her and the baby, because they need caretaking, so she kind of holds that together."
"I think Valentina's biggest weakness is probably knowing that her parents aren't there and knowing that she has to take care of the baby at 12 years old," Legaspi said. "I feel like she overcomes her feelings by being around her siblings, especially Beto. He's always there to comfort her, and nurture her, and he's like her dad. I try to put myself in my character's shoes, and say if that were happening to me, how I would be feeling, how I would react, and how things could've been if my life was like that."
Being Able to Relate to a Story For Once
"Some of the messages that we've gotten from people who are going through the same situation, or who have family who have gone through the same situation, are so heartwarming," Tosta said. "They're saying things like, 'We're finally being represented on TV,' or, 'Our stories are finally being told,' or, 'We've never seen a show or a movie that talks about what's going on with us.' And even things such as, 'Thank you so much for being lead Latinx actors.' It's just messages like that that makes us all really proud and happy to represent our culture."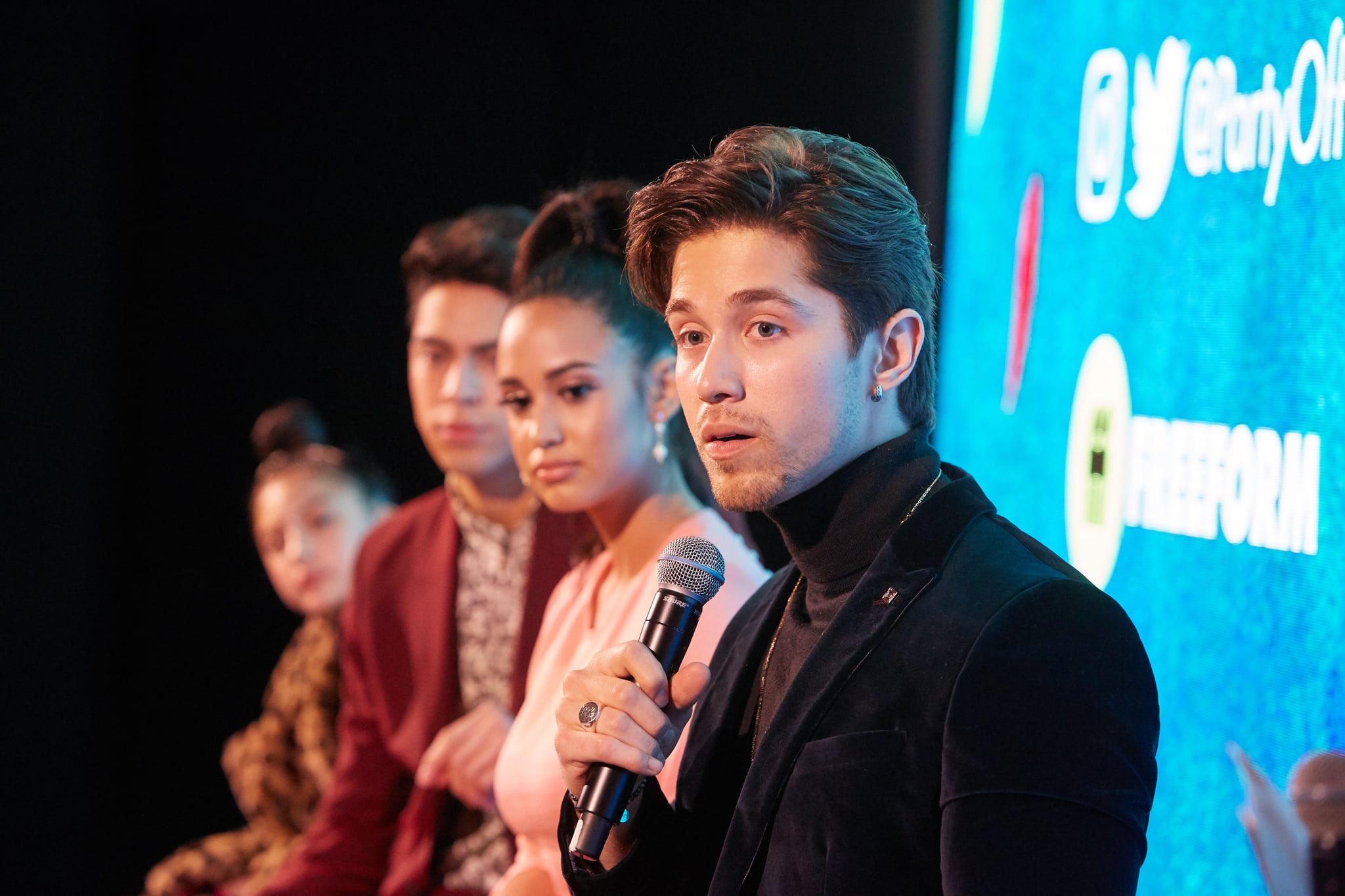 All About La Familia
"Sometimes the world is not a happy place, but I hope that people will find comfort with this family," Guardado said.
"At the end of the day, what I hope you guys take away is that this is a show about a family who navigates through the hardships of life," Larracuente said. "So just be kind to others, today and tomorrow, and every day moving forward. Lend a helping hand. There's nobody getting ahead in this country without the help of somebody else."
And Then There Was More!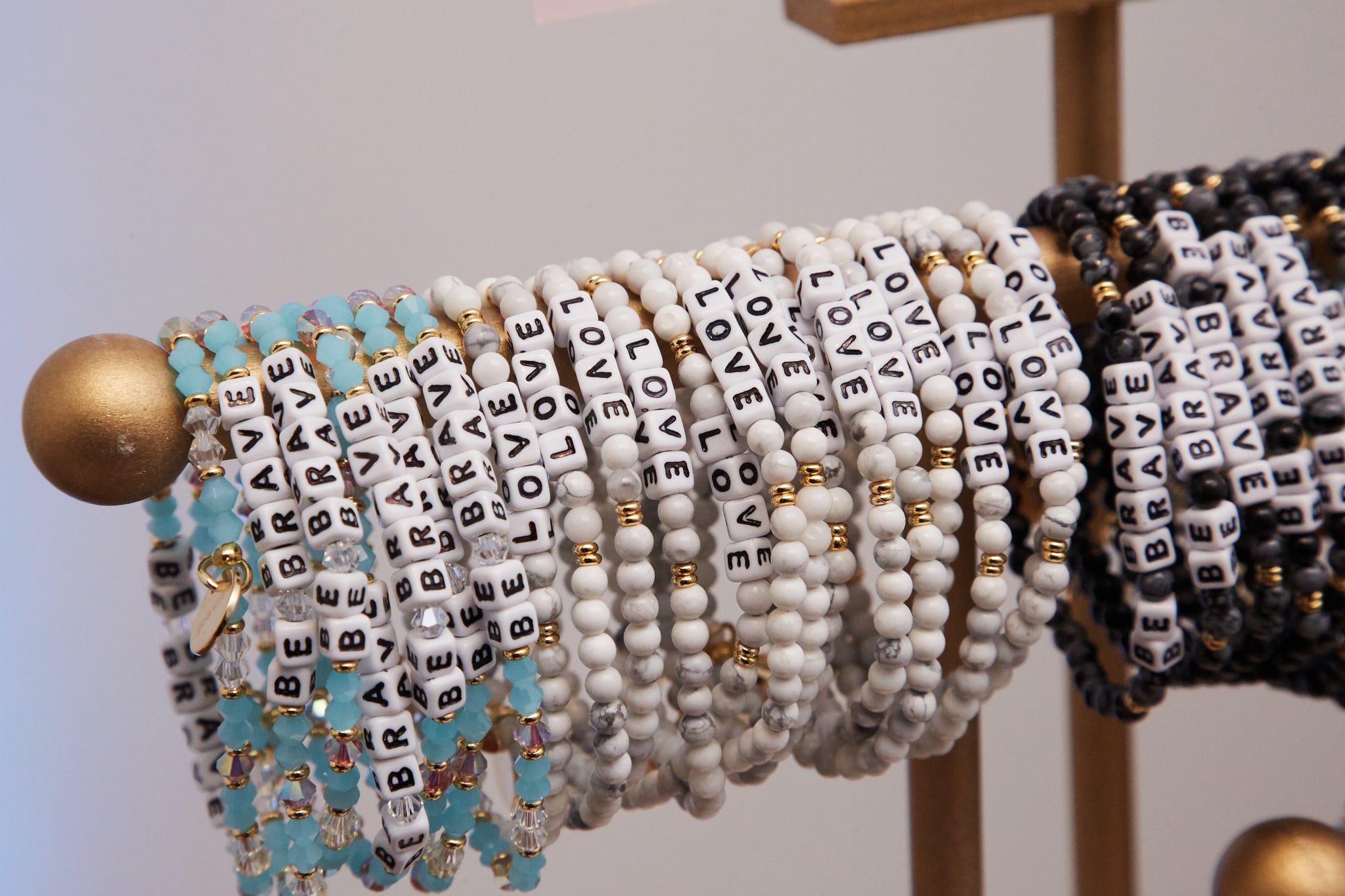 At the event, guests were also able to customize their own bracelets with words of kindness and encouragement. These bracelets are meant to be gifted once they've served their purpose in your life. They all have a unique tracking number you register online to see its journey and where it ends up cheering up someone else's life.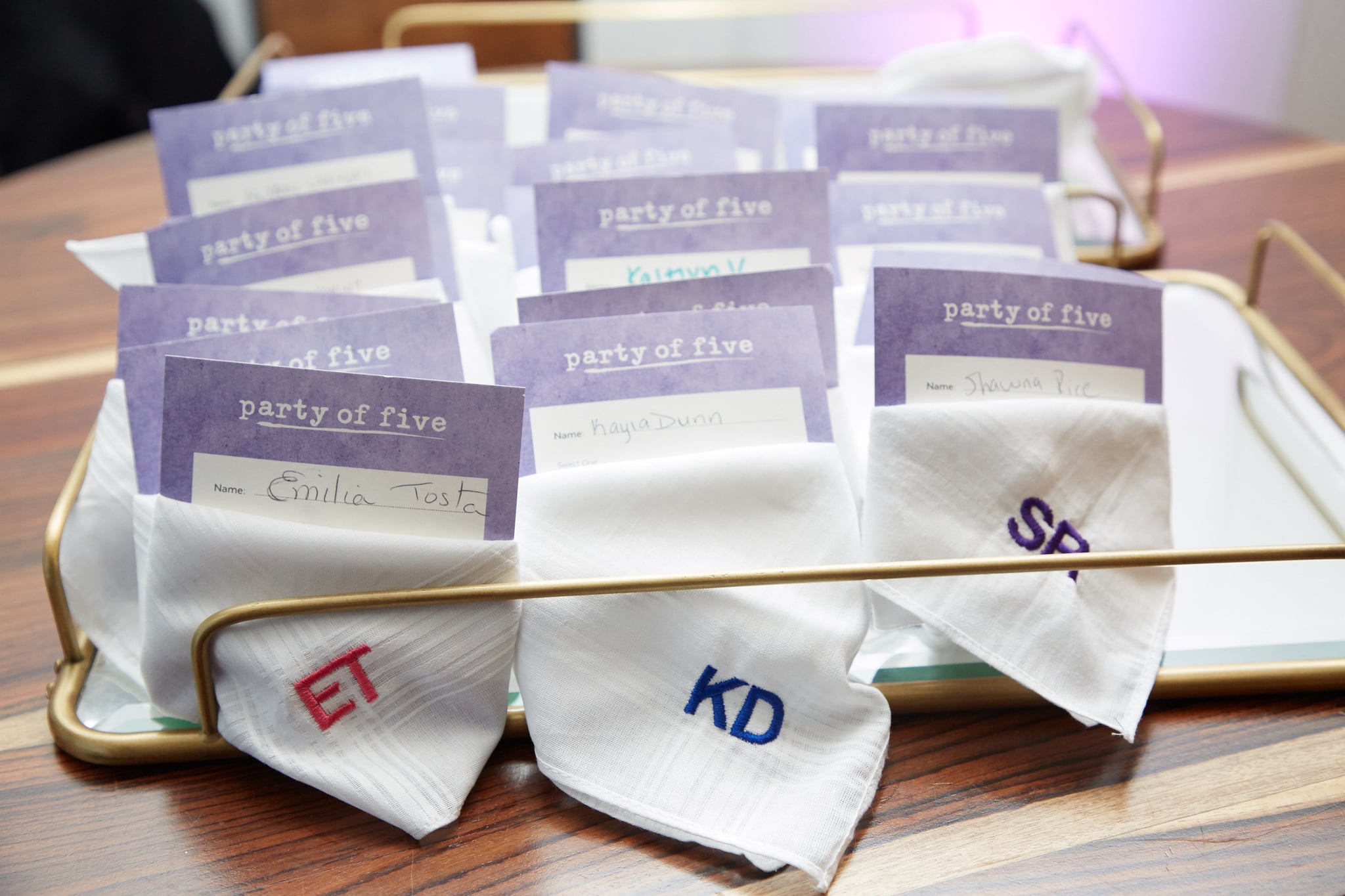 There was a booth where guests could get their initials engraved on a handkerchief — and they will definitely be needed to continue watching the show every Wednesday at 9 p.m. I was the first one in line, because based on the first episode, there's going to be a lot of crying on my end.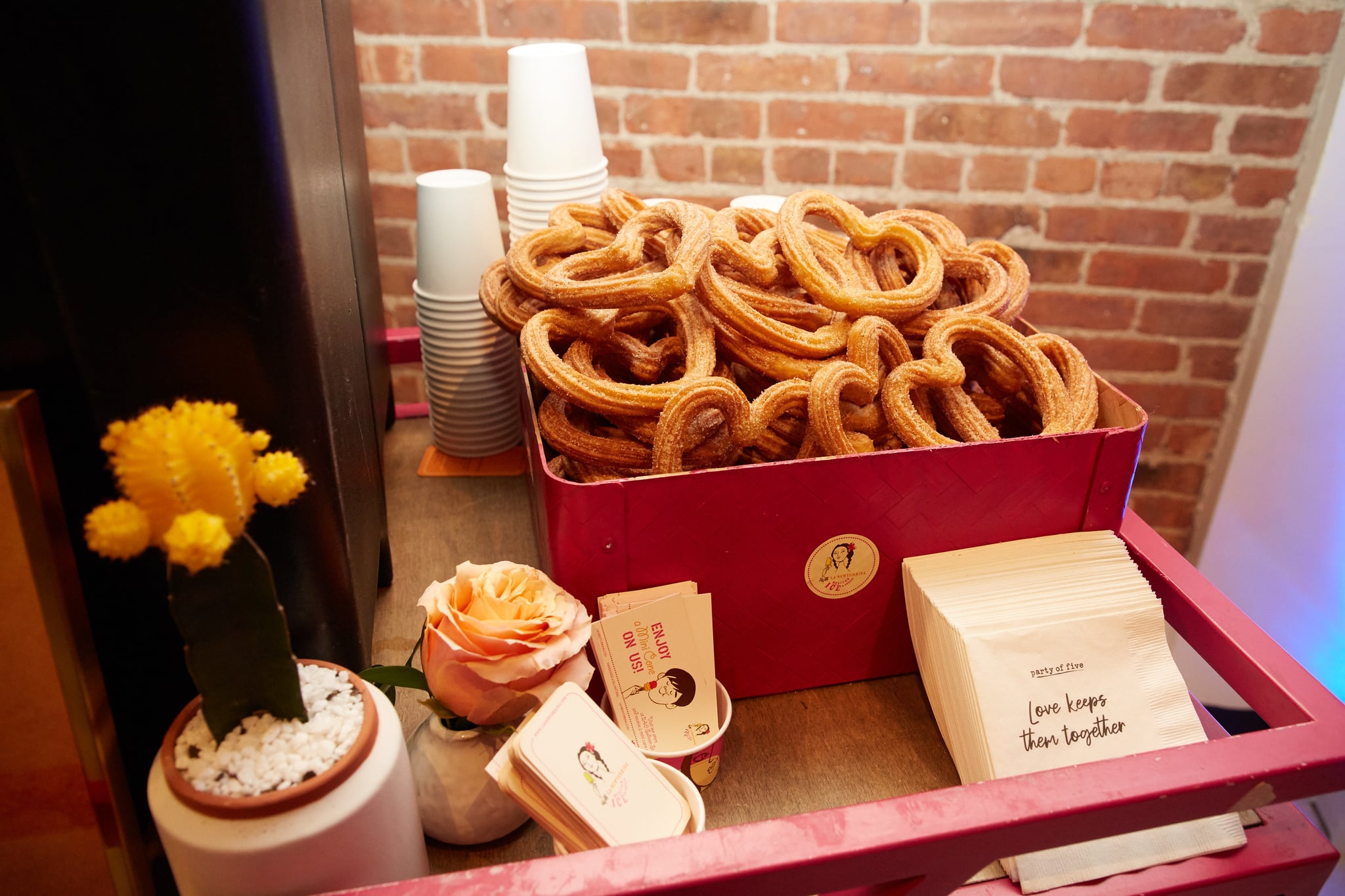 There's nothing more soothing than comfort food when you're feeling extra emotional, and these churros really hit the spot afterward. They were the perfect amount of tasty and crispy and really made us feel better.
After this premiere event, I'm ready to dive into the Acostas' lives on Party of Five every Wednesday at 9 p.m./8 c on Freeform.
Image Source: Sean T. Smith / David Nicholas