Alejandro Aranda Is Latinx to Watch on American Idol
Why I'm Rooting For Alejandro Aranda on American Idol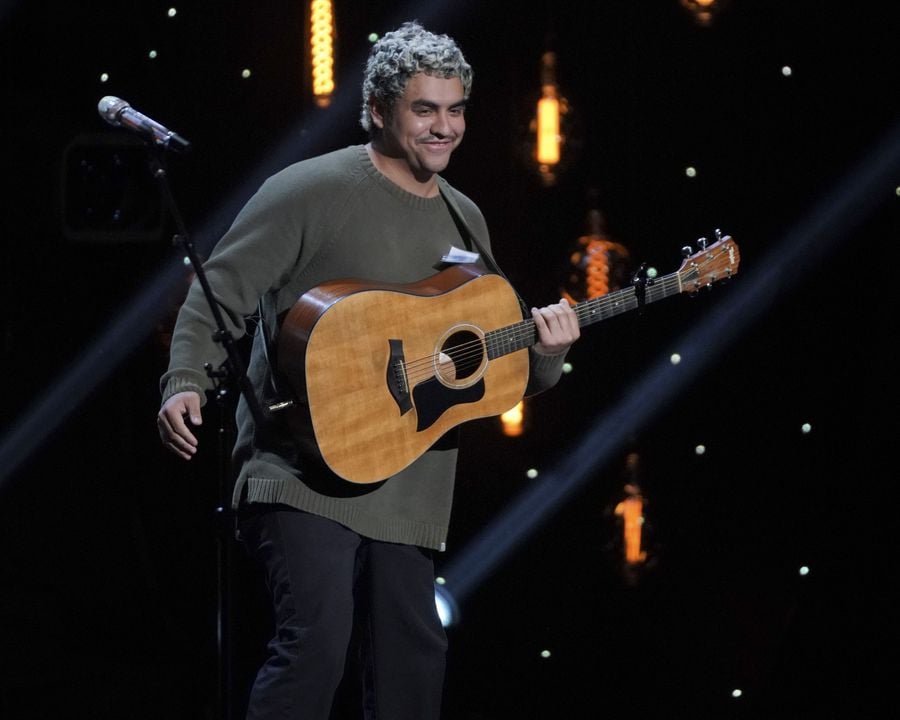 Image Source: ABC
I personally wasn't planning on watching American Idol this season. I feel like the show is way past its prime (even back when Jennifer Lopez was a judge — and I'm such a fan, I should get an honorary PhD on J Lo Studies). However, this season, that's changing for me. While I try to stay away from shows I don't care for, some things will fall through the social media cracks, and this time I'm happy it did.
After it was shared and reposted too many times to count, I caved and watched Alejandro Aranda's American Idol audition. He performed his own song "Out Loud," which you can hear on Spotify under his artist name Scarypoolparty, and it blew me away — not only because he was beyond talented as a musician, singer, and songwriter, but because of his great humility and nonchalant attitude toward the whole situation. It's like he didn't even realize the magnitude of the show and what it could do to his very promising career.
He was cool and collected the whole time and accepted the judges' praise without making a big deal out of it. Luke Bryan said he felt "in the presence of greatness" and the performance "rocked his world." Katy Perry asked him the tough question, "Why do you think you're special?," to which Alejandro replied that he didn't think he was special, he was "just hardworking." She also called him a "genius." Lionel Richie took a more spiritual approach to things, saying they were "the lucky ones" because "the universe chose this time to bring you in front of America." During Hollywood Week, he performed a rendition of Justin Bieber's "Sorry," which, after making it his own, seemed as if Bieber's hit was intended for him all along.
So who is Alejandro Aranda, and where did he come from? It turns out he's a 24-year-old dishwasher from Pomona, CA. He "grew up just like any other kid" but was homeschooled and picked up music later in life. He didn't do it with the intention of becoming famous but because he needed a way to vent after work. He would go out and play on the street and eventually realized he was passionate about it; I'm so glad he did.
Viewers are connecting with him, and his artistry speaks to the masses. But for me, in particular, it's a breath of fresh air to see a Latinx be uniquely authentic and thrive in a global market. On his fairly new Instagram account, he describes himself as a "Spanish boy" in his bio. He seems to love anime and likes to score popular scenes with his own music for fun. He's happy to be on the show and has thanked everyone for accepting his "awkwardness" and also revealed that he writes songs for girls — and now I want my own personalized song from him.
Alejandro is projected as one of the favorites to win this season, and I'm all for it. I'm excited to have more Latinx representation. Last season, we had Michelle Sussett, who was extremely talented, but her show persona seemed like a caricature of the typical Latina stereotype. This year, we also had Juan Pablo, who didn't make it past Hollywood Week but still was a visible representation. He brought the intensity from the moment his audition began. I did love the fact he sang "Bésame Mucho" in Spanish but also felt uncomfortable watching his performance because it seemed as if he was auditioning for the leading macho in a telenovela — and I'm over that drama.
(Side note to American Idol's YouTube channel: "Bésame Mucho" is not a song by Andrea Bocelli. It was written in 1940 by Mexican songwriter Consuelo Velázquez and one of its most famous versions is by Trío Los Panchos. Although Bocelli has made it popular in non-Hispanic households, you've got to do some better research.)
I've got my eye on Alejandro. While his talent is beyond what I had expected to come out of a show like American Idol, I will also be watching and supporting his journey because he brings a different type of representation to the mix. He's not your typical Latino heartthrob. He doesn't have the macho attitude about him, and he might not even know Spanish, but he seems like a kind person who's eager to put in the work, cute in his own way, and very real and authentic to himself.
And that's what we, as Latinx, are all about. We might have some characteristics that make us seem similar sometimes, but we're all different. We like a wide variety of things — there are certain foods that some of us won't eat, we don't necessarily share the same musical tastes (Alejandro admires Trent Reznor, Bach, and Chopin, for example), and overall, we're a very diverse group that's finally finding its place in today's landscape, making that diversity our strength.