Chef Mia Castro Hamachi Tiradito With Leche de Tigre Recipe
Try This Easy Chef Mia Recipe to Impress Your Guests With a Fresh Asian-Latinx Fusion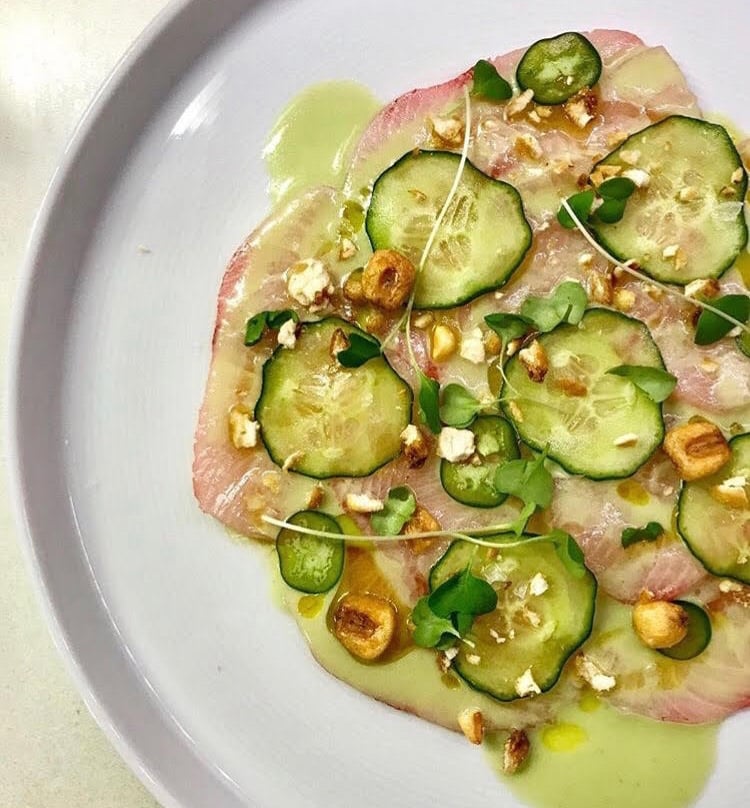 One of the things I love about living in the US, and specifically in NYC, is how multicultural it is. You can find people from all backgrounds, ethnicities, and religions, who immigrated and settled in this country many years ago, and although they've assimilated, they still promote their culture however they can.
It's even more impressive to see how totally different cultures who found each other on the same land can mix and create delicious outcomes. Case in point: Chef Mia Castro's Hamachi Tiradito With Cucumber Leche de Tigre. The Puerto Rican chef mixes Japanese elements like hamachi fish (a type of yellowtail native to the northwest Pacific Ocean from Japan to Hawaii) and leche de tigre (a citrus-based, spicy marinade used to cure the fish) in classic Peruvian ceviche.
Despite its fancy name, this recipe is easy to make and offers a fresh alternative whenever you are feeling adventurous or just want to impress your guests.
Hamachi Tiradito With Cucumber Leche de Tigre
Chef Mia Castro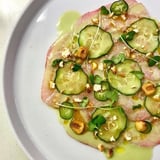 Ingredients
8 oz. hamachi, fresh (never frozen, but kept very cold) sushi-grade, cleaned, sliced into 1⁄6" pieces, (reserve
white scraps).
For leche de tigre:
hamachi scraps (white, no blood line)
3⁄4 english cucumber
1 lime, zest and juice
2 scallions, chopped
1⁄2 jalapeno (no seeds)
2 garlic cloves
1 tbsp. honey
2 tbsp. extra virgin olive oil
salt (to taste)
For garnish:
1⁄2-3⁄4 cups leche de tigre
1 tbsp. extra virgin olive oil
1 english cucumber, sliced paper-thin
1⁄2 jalapeño, sliced paper-thin
flaky sea salt (to taste)
1⁄2 cup salted cancha corn or plain, salted corn nuts, coarsely crushed
mild-tasting micro greens (ex. micro cilantro, micro broccoli, micro basil, etc.)
Directions
For leche de tigre:
Place all ingredients in a high-speed blender. Blend on high until completely smooth (30
seconds to one minute). Adjust flavor with salt and acidity level with honey. Use your judgement.
Strain through a fine mesh sieve.
Chill.

Assembly:

On a cold, round plate, assemble 2 oz. of hamachi slices, flat.
Spoon 1-2 tablespoons of chilled leche de tigre directly over the hamachi and spread it
evenly with the back of your spoon.
Drizzle droplets of olive oil onto the leche de tigre (so it's visibly suspended over it).
Arrange 5 slices (each) of cucumber and jalapeños flat over the hamachi.
Sprinkle flaky sea salt over every piece (to taste).
Sprinkle 1-2 tablespoons of crispy corn over everything.
Garnish with 5-7 micro green leaves.
Serve cold.
Information
Category

Appetizers

Cuisine

Other

Yield

4 servings
Image Source: Courtesy of Chef Mia Castro