Chef Mia Castro Interview: Heritage, Confidence, & Good Food
How Chef and Reality TV Star Mia Castro Brings Her Puerto Rican Heritage to Her Cooking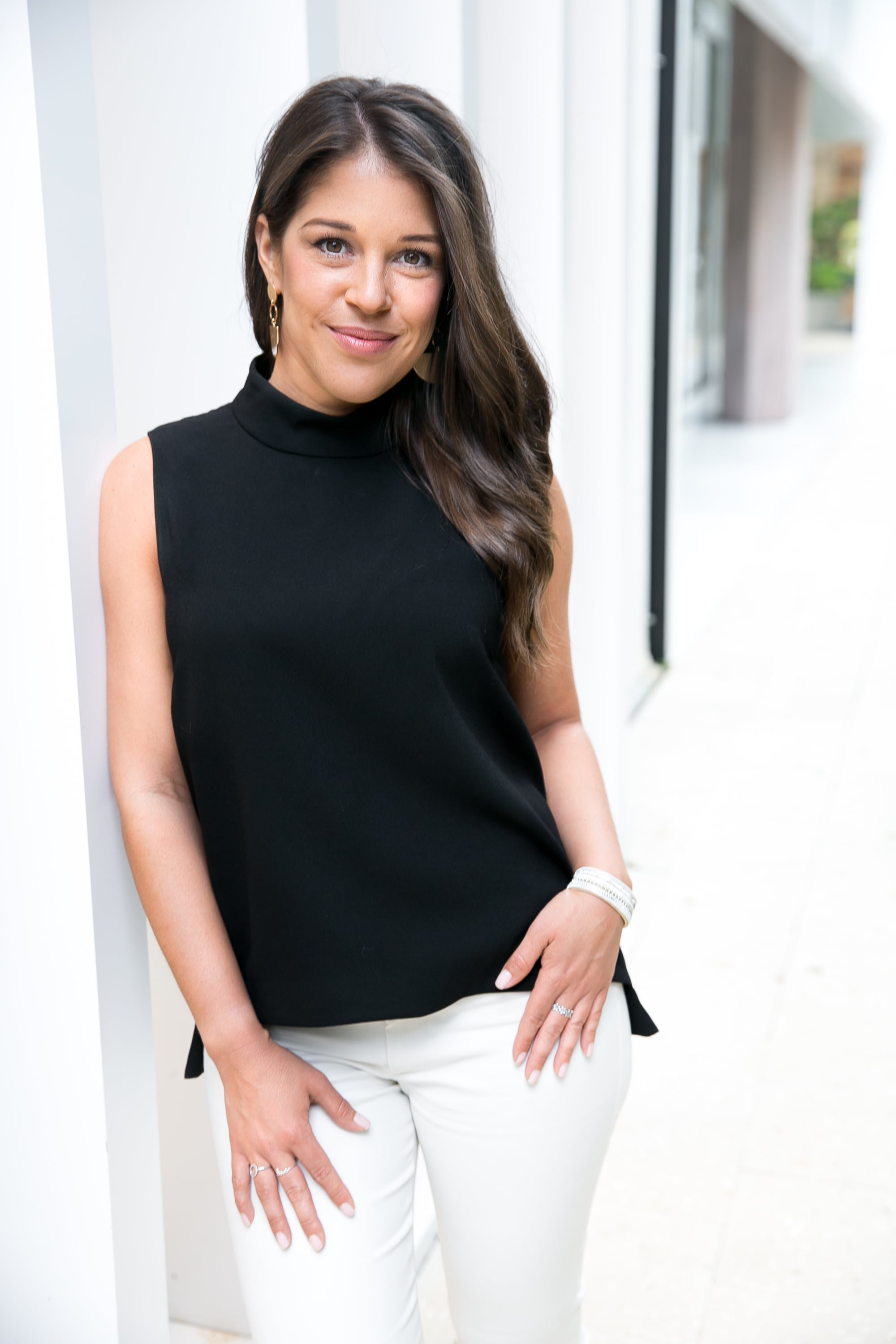 Once in a while you'll come across women who are so unapologetically themselves, you can't help but feel inspired by them. It doesn't hurt if they're also extremely successful and not only making strides to reach the top of their craft in a male-dominated industry, but do it with a little Latina flair. I'm talking about chef Mia Castro.
If her name sounds familiar it's because she competed in season 13 of Food Network's Chopped when she was only 23 years old. She made it to the final round where she was defeated by Royden Ellamar, executive chef of Sensi (now Harvest) at the Bellagio in Las Vegas. Now 28, she recently competed on the 18th season of Fox TV's hit show Hell's Kitchen, hosted by world-renowned chef Gordon Ramsay. As one of the youngest contestants, she again earned a spot in the final, only to be defeated by chef Ariel Contreras-Fox. But that hasn't stopped Mia, who now works now full time as a private chef in NYC.
POPSUGAR caught up with this hardworking Puerto Rican, who has continued inspiring us as she makes strides and positions herself as one of the best chefs in the country.
POPSUGAR: When did you know you wanted to be a chef?
Mia Castro: About a year before high school graduation. I was forced to decide what field I wanted to specialize in. Cooking had always been a passion and hobby of mine, so it was only fitting to pursue culinary school.
PS: What would you say is your style? What do you enjoy cooking the most?
MC: When it comes to food, my philosophy is "less is more." I like to cook with fresh ingredients, and allow those to speak for themselves and shine on their own, only applying techniques that will enhance them.
Risotto is one of my favorite things to cook and I've gotten to practice and perfect my technique through the years. It is a great canvas to showcase seasonal ingredients.
PS: How has your background influenced your cooking style?
MC: I grew up cooking with ingredients that were hand-picked by my grandparents from their yard and now focus my cooking on highlighting fresh, wholesome products. I think it's safe to say my background is what propelled my entire career.
PS: What are your favorite foods to eat?
MC: Fresh, handmade pasta and rice. All the carbs, really. And ice cream, duh!
PS: What's your go-to dish?
MC: White rice with a runny, over-easy egg to mix in. It was my mom's go-to dish when she was tired from work, so I think it's comforting because it reminds me of her. And now, as a busy adult, I understand why it was hers and I appreciate it even more.
PS: Do you play music when you cook? If so, what's on your playlist?
MC: I love music when I cook, and also wine! What I listen to depends on my mood. Saturday and Sunday mornings are the days when I'm more likely to get in the kitchen and elaborate as a hobby. If I do, I'm probably in a chill, ready-to-relax-and-unwind kind of mood. In these instances, I love Latin reggae bands like Cultura Profética, and also Latin pop and bolero singers such as Vicente Garcia, Carla Morrison, and Natalia Lafourcade. If I'm feeling energized and find myself moving to the music, I'll play some salsa by El Gran Combo, Rubén Blades, and Marc Anthony, or some merengue by Juan Luis Guerra.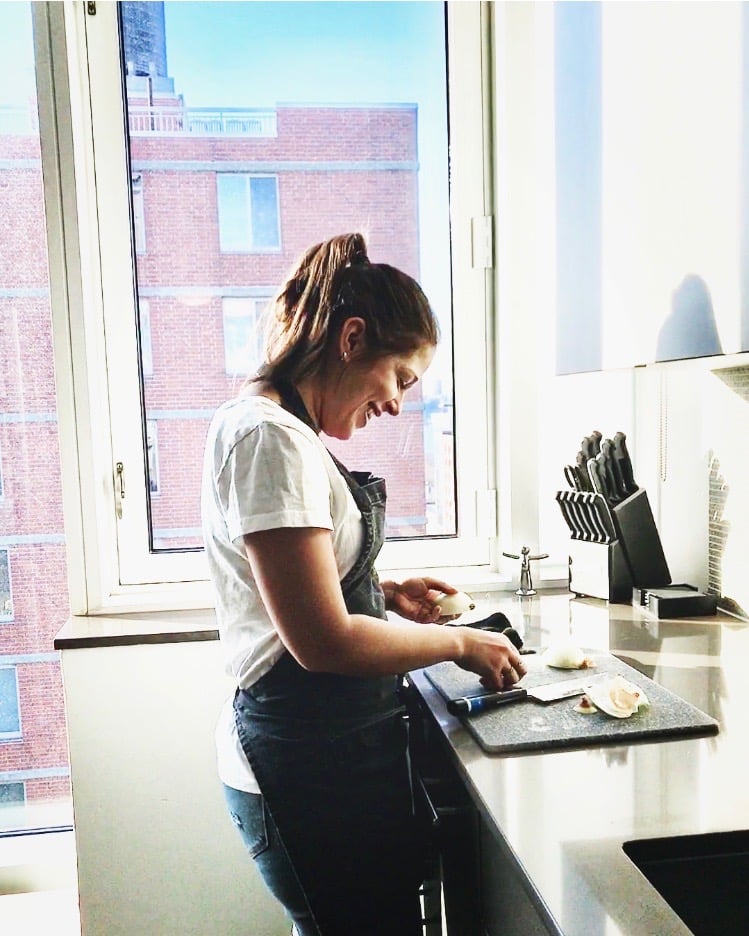 PS: You've been hustling since a very young age, competing against established chefs when you were 23 and now again at 28. What was the key to surviving those competitions?
MC: Working hard, surrounding myself with positive, constructive influences, learning from my only-human mistakes, and learning to recognize negative influences in order to ignore any crap they may try to throw my way. Sorry, but it's true.
PS: Women, and especially Latina women, have to fight extra hard in order to claim our rightful space in any industry we choose to work in, sometimes resulting in people categorizing us as "arrogant" or "bitchy." Have you experienced this type of issue, and how have you addressed it?
MC: Of course I have, and that's OK. Thankfully I only care about how I feel about myself at the end of the day and not what others think or say about me. I'm a no BS kind of girl, and those who truly know me know I mean business. That's the reason why I've achieved so much at my age. Because of my work ethic, goal-mindedness, professionalism, and enthusiasm to learn, excel, and push my own personal boundaries, I've earned the respect of people I look up to, and those are the people whose opinion I like to focus on.
PS: Does it bother you when people call you arrogant?
MC: Not at all. It just shows they don't truly know me because the ones who do and don't want to bring me down have a different word for it: confident.
PS: Do you feel like your personality has gotten in the way or helped your success?
MC: It has helped me succeed all the way. Being in this industry has helped me grow a thick skin, but I always try to remain who I am as long as what others say or do doesn't affect my work-life quality. I may look sweet, nice, and smiley, but I will never allow anyone to walk over me or push me around. And I think I've proven I can stand up for myself.
PS: What advice would you give young chefs trying to get established in the industry?
MC: People who try to bring you down are probably jealous or scared that your success will dull or affect theirs. Always focus on yourself and your goals — not others. Don't stop learning — be a sponge! Find ways to improve yourself and your work, and don't pay attention to anyone who tells you you're not good enough, because it's probably a reflection of themselves.
PS: What has been the best life advice you've received and how have you applied it to your career?
MC: My Godmother Tatiana — may she rest in peace — would always tell me: "A genius will learn from others' mistakes, an intelligent person will learn from their own mistakes and, well, someone who is less than that, won't ever learn." Her advice always resonated with me and I try to apply it to my entire life in order to become a better person and professional. I always observe others and try to learn good habits and recognize bad ones to avoid making mistakes. But making mistakes is human and inevitable so, in that case, I strive to always be at the very least intelligent. I like to believe that was her point.
PS: What's next for chef Mia?
MC: One request I always get is, "When can I taste your food?" So, I will be cooking at the Saborea Festival in Puerto Rico from April 4 to 7, and will hopefully do a pop-up dining experience in New York soon for press and meet-and-greets. I'm also working very hard right now on a few projects that are currently being developed and involve getting some fresh, personal content out. Hopefully a cookbook and more TV soon!.
Image Source: Chef Mia Castro