Churro Ice Cream Sandwiches Recipe
You Might Want to Sit Down! Here's a Recipe For Churro Ice Cream Sandwiches
Hold on to something, take a seat, and get ready to shout from the mountaintops that you have found the love of your life. What follows is a recipe for churro ice cream sandwiches. Are you back from screaming in joy around the house and enjoying a quick happy dance? OK, then we can continue. Yes! Churro ice cream sandwiches, created by chef Christy Vega from Mexican restaurant Casa Vega in Sherman Oaks, CA.
We're not going to sugarcoat it; these aren't a piece of cake to make. They require some patience and a lot of ingredients, but trust us when we say they are totally worth it. Just look at that picture above and tell us you're not dying to taste them.
Churro Ice Cream Sandwich
Christy Vega for Casa Vega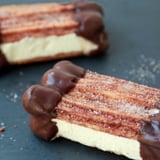 Ingredients
For the churros:
1/2 cup unsalted butter
1 cup water
1/2 tablespoon granulated sugar
1/4 teaspoon salt
1 cup all-purpose flour
3 large eggs, beaten
Vegetable oil
For the cinnamon sugar:
1 cup granulated sugar
2 tablespoons ground cinnamon
For the apple filling:
4 large Granny Smith apples, peeled, cored, and sliced
1/4 cup granulated sugar
1/4 cup brown sugar
1 teaspoon cinnamon
2 tablespoons butter
For the sandwiches:
2 pints vanilla ice cream
1/2 cup caramel sauce
Directions
To make the churros: In a medium saucepan, melt butter over medium heat. Stir in water, salt, and sugar; bring to a boil. Reduce heat and stir in flour. Continue to stir over low heat for about 1 minute. Remove from heat and allow to cool.
Make sure the dough has cooled in order to prevent eggs from scrambling, then incorporate 1 egg at a time into the dough, stirring until well-mixed and the dough is smooth.
Prepare a pastry bag fitted with a large star tip. Set aside.
To make the cinnamon sugar: Mix together granulated sugar and ground cinnamon in a shallow pan.
Line baking sheets with paper towels and set aside near frying station.
Using a wok or large saucepan, heat vegetable oil to a temperature of 350°F. Pipe 4 inches of dough into the oil, no more than three at a time. Fry until golden brown, using tongs to turn the churros. Note: maintaining the oil temperature at around 350°F is important. If the oil becomes too hot, the churros will brown quickly on the outside, not thoroughly cooking through.
Remove crispy churros from the oil and roll into the cinnamon sugar. Set on prepared baking sheets to cool.
Continue steps until all the dough has been fried. Allow churros to cool completely.
To make the apple filling: In a large bowl, toss apple slices, sugars, and cinnamon together. In a medium skillet, melt butter. Stir in apples. Sauté until tender. Set aside and allow to cool completely.
To make the sandwiches: Slice churros horizontally in half. Line three halves side by side. Fill with ice cream. Add layer of sliced apples and drizzle with caramel sauce. Top with three more churro halves.
Wrap in plastic wrap and freeze until firm, at least 2 hours. Serve with additional caramel sauce to dip.
Information
Category

Desserts, Frozen

Cuisine

South American

Yield

8 sandwiches

Total Time

2 hours, 29 minutes, 59 seconds