Crudite With Chimichurri and Balsamic Onion Dip Recipe
We Found the Best Crudité Platter, Featuring Spicy Chimichurri and Onion Dip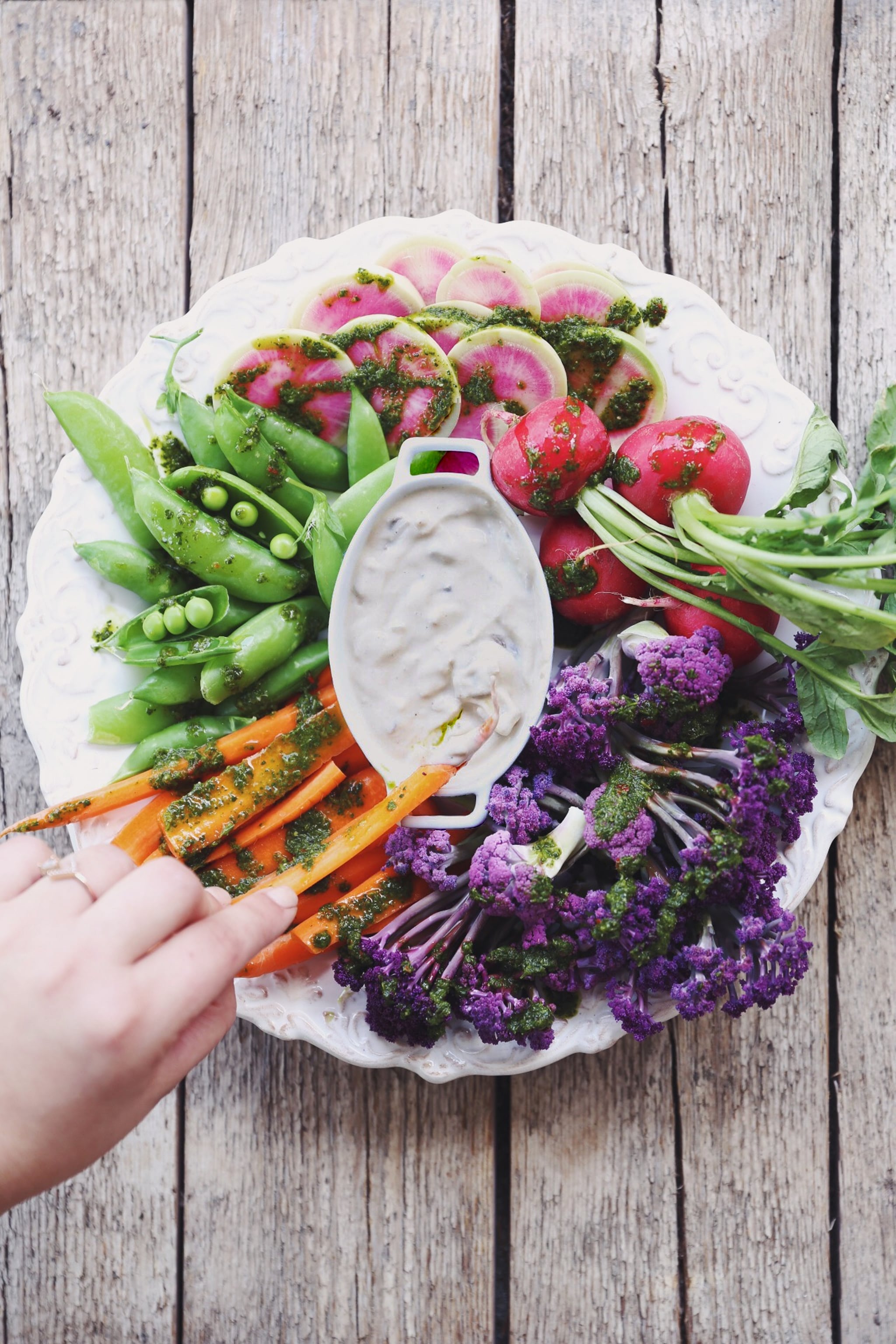 There's no denying Spring is the best season for delicious, fresh vegetables, and we've found the best way to take advantage of that perk: a colorful and delicious crudité platter, featuring spicy chimichurri and a balsamic onion dip.
Food Network's Marcela Valladolid, the cohost of The Kitchen and creator of this yummy Latin-inspired recipe, only has one rule: "If it grows together, it goes together." All the veggies in the photo above came straight from her organic home garden and are cut up in different sizes to add texture and crispiness to the dish. So, grab your knife and get ready to chop, chomp, and dip.
Crudité Platter With Balsamic Onion Dip and Drizzled Spicy Chimichurri
Ingredients
For the crudité platter:
Carrots
Cauliflower
Snap peas
Celery
Radishes
For the balsamic onion dip:
2 tablespoons olive oil
1 1/2 cups chopped onion
1/4 teaspoon salt
2 tablespoons balsamic vinegar
1 cup sour cream
1 cup mayonnaise
1/2 teaspoon garlic powder
1/4 teaspoon pepper
For the spicy chimichurri:
1 cup fresh parsley, packed
1/2 cup fresh cilantro, packed
1 shallot, chopped
4 roasted garlic cloves
2 small crushed red peppers
1 teaspoon salt
1/2 teaspoon freshly ground black pepper
1/3 cup red wine vinegar
1/2 cup olive oil
Directions
For the crudité platter:
Cut up the raw vegetable and set aside in a serving platter.
For the balsamic onion dip:
Heat the oil in a large skillet over medium heat; add the onions and 1/4 teaspoon kosher salt.
Add balsamic vinegar. Cook and stir until the onions are caramelized to a nice golden brown, about 20 minutes.
Remove the onions from the heat and cool.
Mix together the sour cream, mayonnaise, garlic powder, white pepper, and remaining kosher salt. Stir in the onions when they are cool.
Cover and refrigerate the dip for at least 2 hours before serving.
For the spicy chimichurri:
Add the parsley, cilantro, shallot, garlic, crushed red pepper, salt, and pepper to a food processor. Pulse for 5-10 seconds to combine.
With the food processor running, slowly add the vinegar and then the olive oil until blended.
Drizzle over vegetables.
Information
Category

Appetizers

Cuisine

South American

Yield

1 large platter
Image Source: Isabella Martinez Funcke