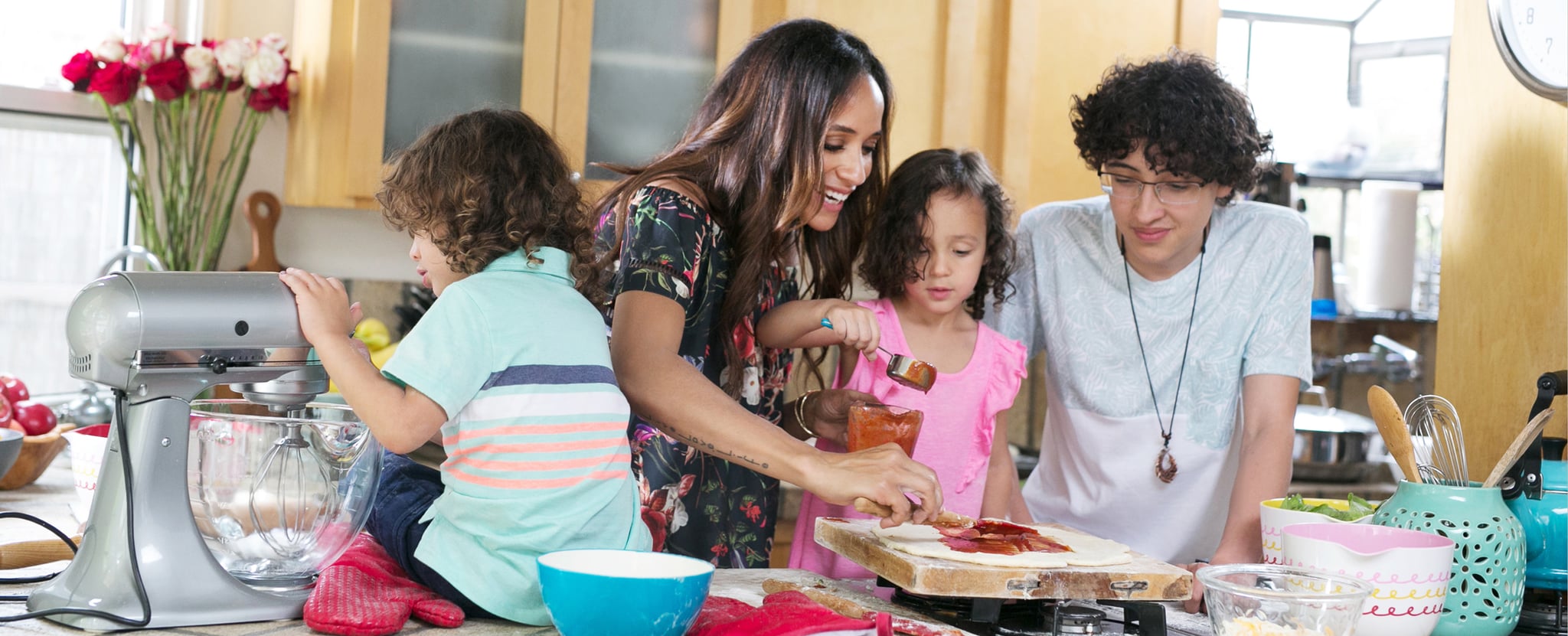 Image Source: POPSUGAR Photography / Sheila Gim
Dania Ramirez on Being a Mom
How This Celebrity Mom Discovered the True Meaning of Motherhood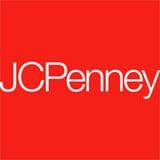 Mastering work-life balance is not easy, especially when you're a mom. This
Mother's Day
, we've partnered with
JC Penney
to see how actress Dania Ramirez juggles it all while looking stylish.
Born in the Dominican Republic, actress and director Dania Ramirez came to America to fulfill her dreams — just like so many of us. Beyond her work, she enjoys her other full-time roles as wife and mother. In an interview with POPSUGAR, Dania shares her story what it's like being a mother, her complicated relationship with her own mother, making time for family, and tackling every challenge in style. Her unique perspective, personal take on fashion, and great strength is beyond inspiring.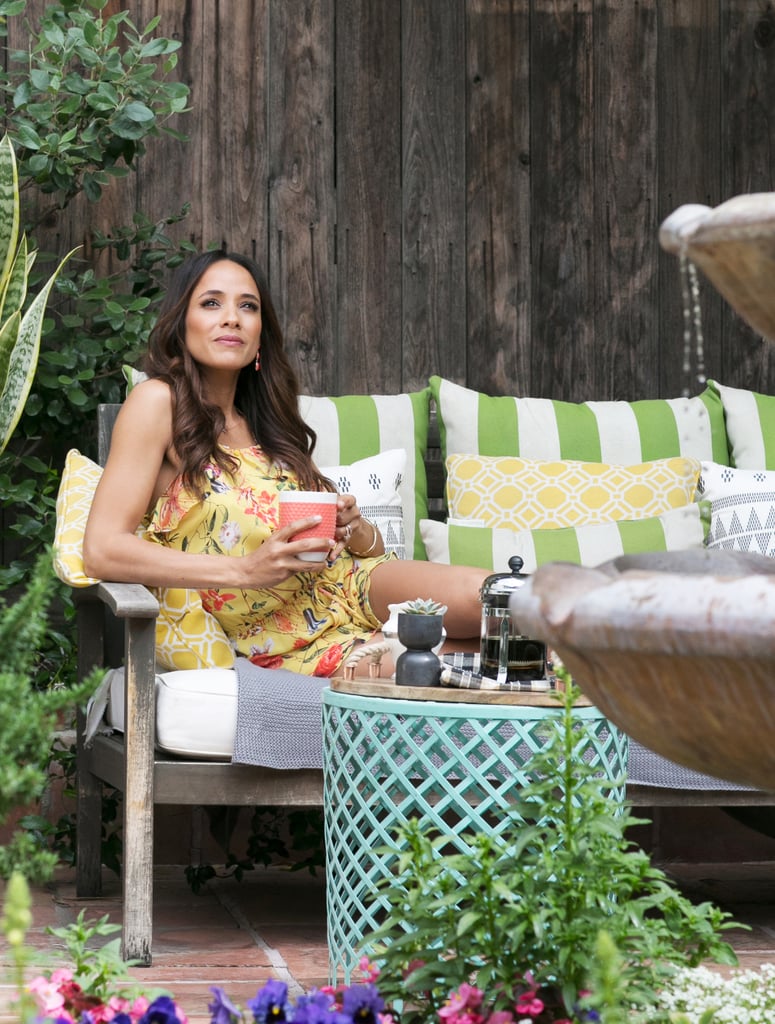 Image Source: POPSUGAR Photography / Sheila Gim
POPSUGAR: How has your style transformed throughout the years and why?
Dania Ramirez: It's transformed the more I know about style and the more I get to know myself. I'm all about making a statement and how I'm feeling that day. I didn't even know what style was; when I came to this country I was just happy I had socks and shorts — just happy to have clothes. And I definitely went through moments in my life when I used to think style does matter and expensive stuff matters, but then I got to a place in my life where its all about knowing who I am and putting things together that make sense to me. Being confident with what works and mixing things that are expensive with ones that are not. As a mom I'm all about being comfortable. I'm not much of a dress girl, although I do like to feel dressed up for the right occasion, just soft and comfortable.
PS: How has motherhood changed your style, and how do you think your fashion sense impacts your kids' style?
DR: When I'm with my kids, I love to be comfortable. My daughter doesn't like dresses; she loves being comfortable, too, and wearing shorts and sneakers. I love wearing off-the-shoulder tops, and my daughter will wear them and go to the mirror and say, "I look just like mommy." We like to have fun.
"I'm all about making a statement and how I'm feeling that day."
PS: How would you describe your mom's style versus your own? How has her style influenced you?
DR: I would always look at photo albums of my mom back in the '70s and early '80s and ask [her], "Why didn't you keep all this stuff? Where are all your '70s high-waisted pants?" I always thought she was so stylish and so gorgeous, but she didn't really care about style. She made it simple for me — it was about trying to figure out what you wanted to do and that influenced me a lot. Never be anything but who you are. Sometimes I take it a little too far, my mom is more conservative.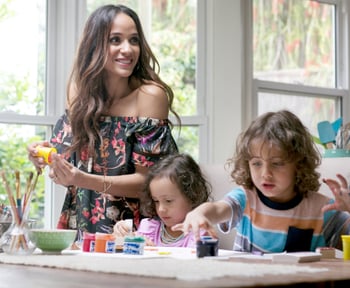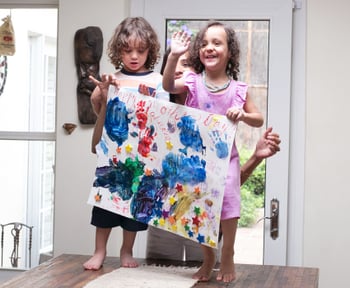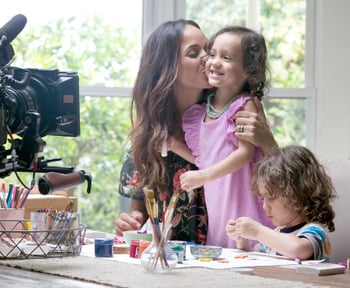 Image Source: POPSUGAR Photography / Sheila Gim
PS: What are some qualities that your mom instilled in you that you would like to instill in your own daughter?
DR: I think my mom was careful about trusting people and with your real self and the things that matter to you. That's something I want to instill in my daughter. We live in a world where there's a lot of different people and all kinds of energies and to make sure to keep yourself protected. My mom also instilled in me so much patience.
PS: Growing up my mom would always tell me, "You're not going to know what it's like until you have children of your own."
DR Absolutely, 100 percent. You don't understand the level of commitment and love that really comes from being a mother. Someone that comes from you — there's something different about how deep the love runs and how committed you are to these children who absolutely love you as soon as they come out, and it's incredible.
PS: Now that you're a mother, is there more appreciation and understanding for your own mom?
DR: Being a mother has brought me closer to my mother. She just wanted something better for us and that's something I couldn't understand until much later in life. My mother and father immigrated to the states when I was six months old and I was raised by my grandmother. My whole life I felt like I missed out. No matter how great my life was going to turn out to be because of their sacrifice, there was a level of resentment at one point. I felt abandoned. There's no right way to say that, but as a child when you don't grow up with your parents and you see all the other kids with their parents you feel abandoned in a way. It wasn't till later on in life that I really got to really see life from her perspective. I believe motherhood and parenting goes hand in hand with sacrifice and unconditional love.
"I believe motherhood and parenting goes hand in hand with sacrifice and unconditional love."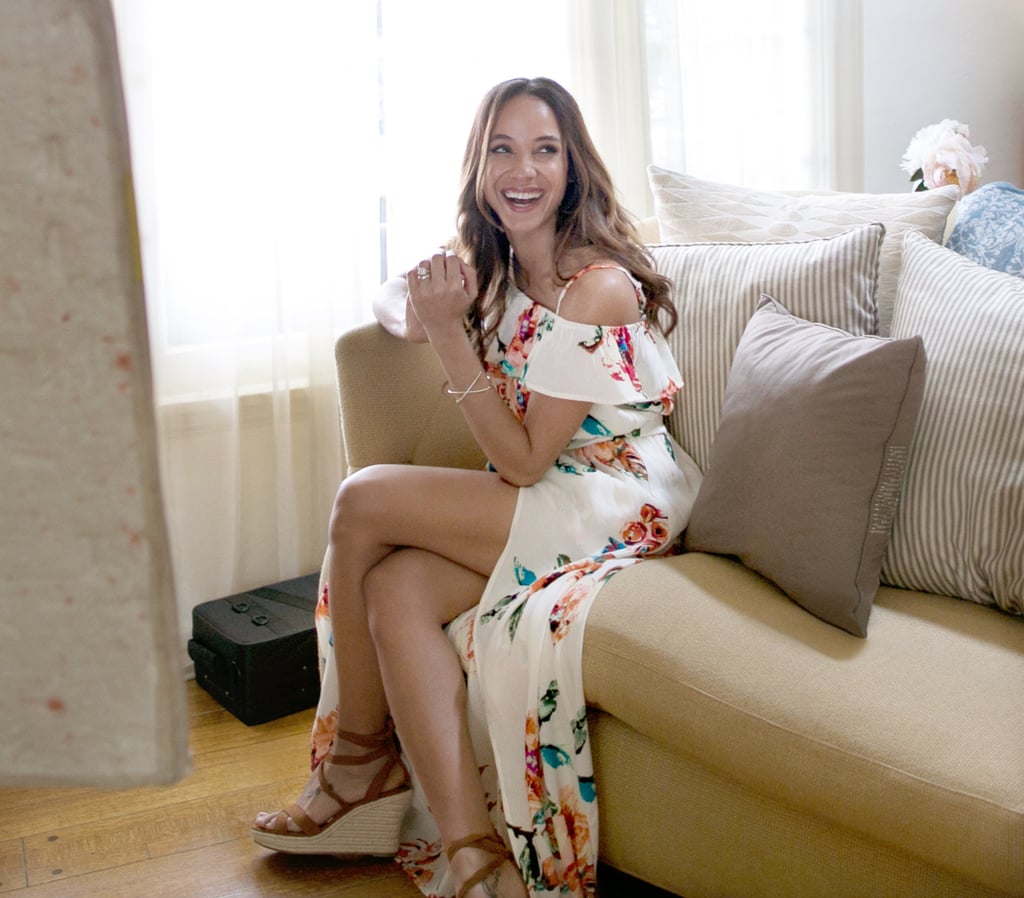 Image Source: POPSUGAR Photography / Sheila Gim
PS: For a portion of your childhood, you grew up with your grandmother. How did her customs and traditions influence yours?
DR: My grandmother had 12 kids — 10 girls and two boys, and they all kind of raised each other. We grew up not having much. It was very obvious that we had to look out for each other and that's always stuck with me. Family comes first. The one thing that really stuck with me about my grandmother was to just really look out for one another, and that's one of the things I want my kids to keep in mind.
PS: Latina women tend to be more traditional. Are there any traditions that were passed down to you that you would like to teach or show your children?
DR: I grew up in a nun school where it was a very old-school mentality. I got away from religion at one point because of how rigid and judgmental I felt it was, but it's definitely something I've gone back to now with my children. We do prayers at the end of the night. I take my kids out every single night to say goodnight to the moon and stars and universe. Just because of how our world is nowadays, I want them to have an open mind and to be progressive thinkers. That's one of our traditions. For Dominican Republic Independence Day, I try to do something traditional. Saturday is cleaning day. People think I'm crazy, but I have a little toy cleaning set for them, which makes it fun. I remember in the Dominican Republic growing up that's what we would do, cleaning and listening to music. And on Sunday is family day and just spending time at home.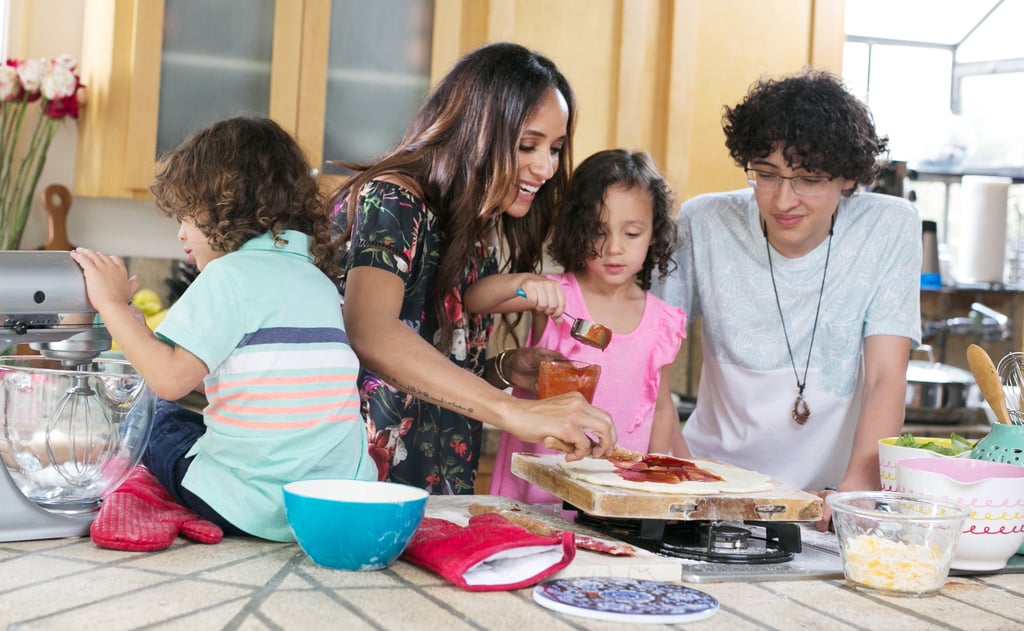 Image Source: POPSUGAR Photography / Sheila Gim
PS: Being such a successful woman, how do you balance work and life?
DR: By including them, and making them a part of it. It's all part of the journey. I want to make life meaningful. I always wanted to have it all, and part of that is being open and being able to take it all on. Sometimes I'm like, this is so much work! That's why I believe Mother's Day should be everyday, especially for the women of today. I'm working every day, but I want to spend time with my kids and be a wife to my husband. It's tricky, and this is why a lot of people don't have the stamina to commit to it, but I know how great it is. My parents are still together and I've seen them go through their struggles. Nobody is perfect, families are not perfect, and it's owning up to what it is, but at least it's my own.
SHOP THE LOOKS FEATURED IN THIS POST