Demi Lovato and Taylor Swift Friendship Details
Were Demi and Taylor Ever Friends? The Answer Is Simply Complicated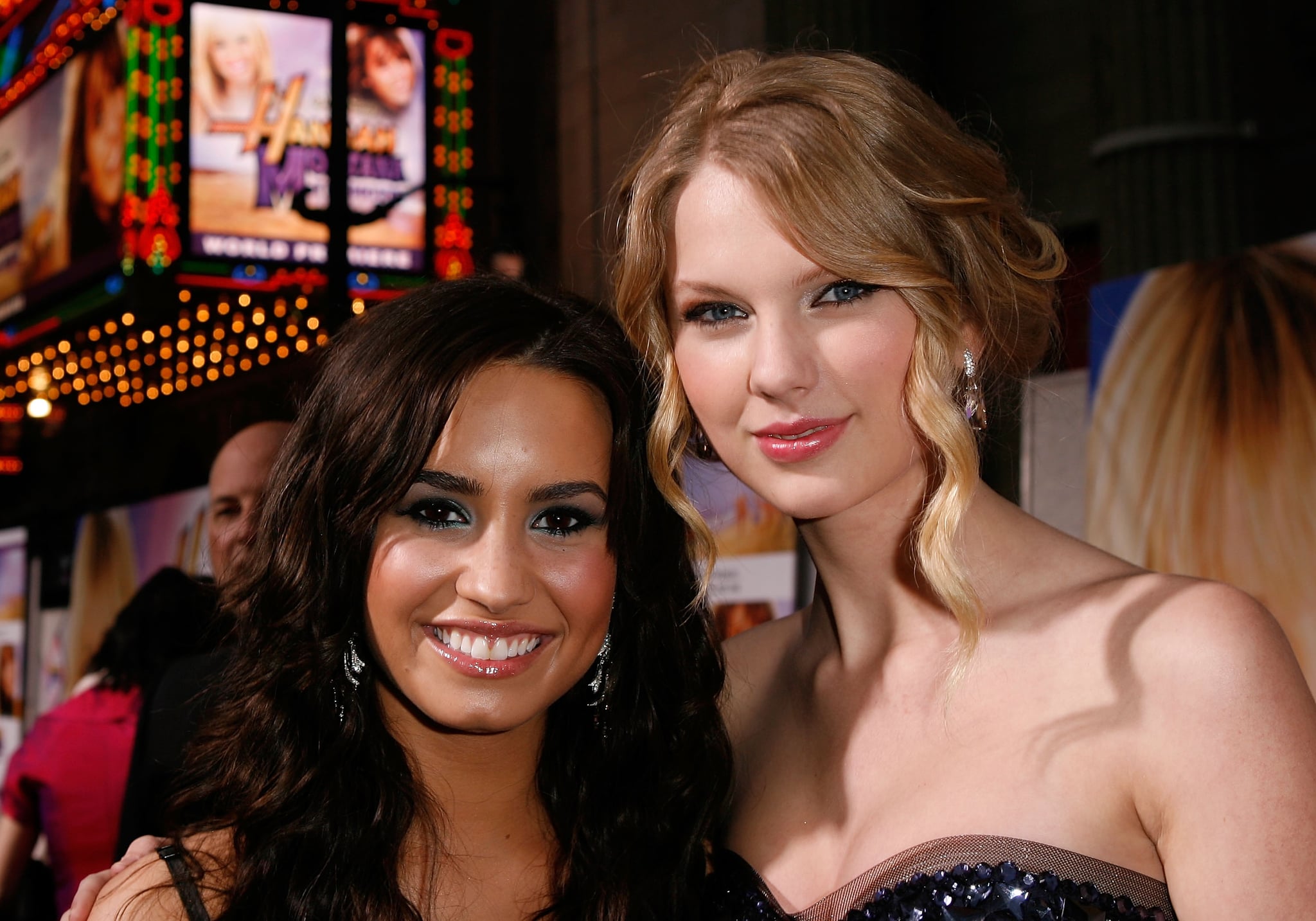 Demi Lovato and Taylor Swift have both been in the spotlight for a long time and at one point ran in the same group of friends, so it only makes sense that they would eventually develop a friendship. Right? If only it was that easy. The answer to that is simply complicated (see what we did there?). The emotional roller coaster these two have taken the world on gives Six Flags's Kingda Ka a run for its money.
The duo seemed close when they walked the red carpet for the premiere of Miley Cyrus's Hannah Montana: The Movie in 2009. Things took a turn when Demi was signing autographs in 2010 and a fan asked her, "How's Selena?" She responded with, "Ask Taylor." The "Sorry Not Sorry" singer also went on to date Taylor's ex Joe Jonas for about a month.
The same year, Demi entered rehab and revealed to Access Hollywood that the "Look What You Made Me Do" singer had reached out to her. "Taylor Swift sent me an email saying, 'Hey, I don't know if you have a phone right now, but are you OK?'" She didn't elaborate on what her response was.
Fast forward to 2013 when Selena posted a photo of her FaceTiming with Demi while being with Taylor. The trio couldn't look happier. Selena and Demi stopped being friends around the same time, but Demi and Taylor looked like they were still cool at the 2014 MTV Video Music Awards.
Then came the now infamous Swift Squad in 2015, and Demi wasn't in it. In early 2016, Demi threw a very public jab at Taylor via Twitter when it came to light that the 27-year-old had donated $250,000 to help Kesha with her legal fees after she lost the case against Dr. Luke. Demi didn't agree with the fact that Taylor didn't make a statement defending the "Praying" singer.

I'm also ready for self-proclaimed feminists to start speaking out or taking action for women's rights.

— Demi Lovato (@ddlovato) February 21, 2016
Take something to Capitol Hill or actually speak out about something and then I'll be impressed.

— Demi Lovato (@ddlovato) February 22, 2016
After the Swifties came after her, Demi went on Instagram to clear up her comments and take the focus off of her. She also went on to comment back to a fan on Instagram: "I didn't shade Taylor. If you take it that way fine. I'm just tired of seeing women use 'women empowerment' and 'feminism' to further brands without actually being the ones that have the uncomfortable conversations. I get shade and I don't give a f*ck because someone has to be the one to take it. At least I'm getting my hands dirty."
In a Refinery 29 interview, Demi made it very clear that she and Taylor aren't friends. "Listen, there's nothing positive that comes from pitting women against each other," she acknowledged before noting, "There are women that I don't get along with, and that's fine." There you have it, folks: these two just don't seem to be on the road to becoming friends any time soon, and that's OK.